Hey there, friend, come on in!
You definitely knocked on the right door if you're ready to turn your house into the uncluttered home you're honestly not even sure is possible (spoiler alert: it is!).
From the newsletter to the blog to one-on-one coaching, I help women who want to feel at peace in their own home and are struggling to make it happen. I take impossible messes and break them down into super-simple cleaning & decluttering anyone (even YOU!) can do. Because who wants to feel like a failure if your socks aren't color-coded, indexed, and folded up like tiny little Christmas presents? I'm guessing not you!
Nobody wants to feel overwhelmed by trying to not feel so overwhelmed! That's why everything you find here is infused with loads of encouragement (not guilt – we've all wasted enough time on that) and is built around what works in real life…YOUR real life!
"Thank you for your help in home organizing and de-cluttering a home. Being organized is much better with help." – Holly
WELCOME!
Simple Everyday Home is DEFINITELY for you if you want to:
"Thank you for your blog!!! My house is still far from magazine picture perfect but it's waaaay neater than before." – Susan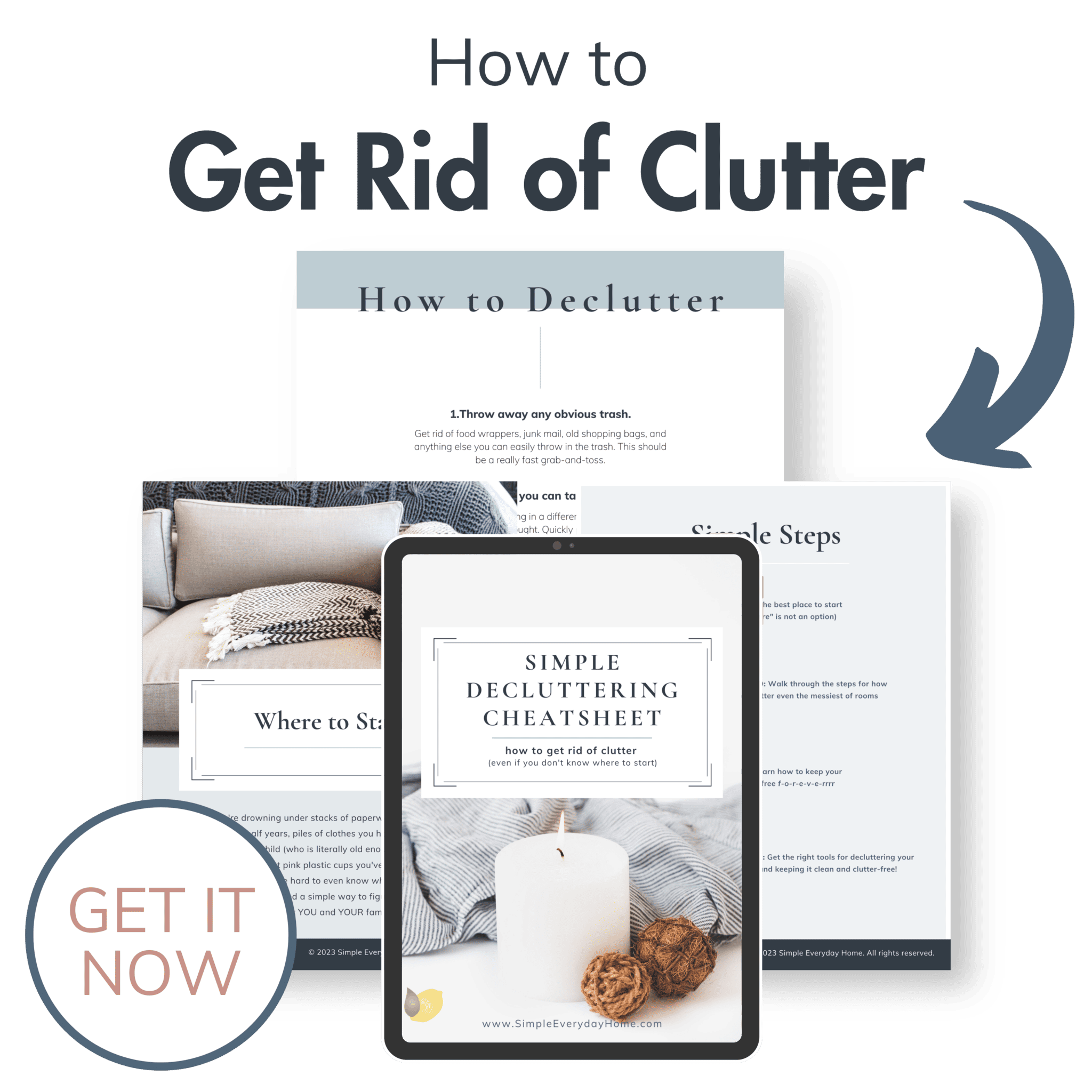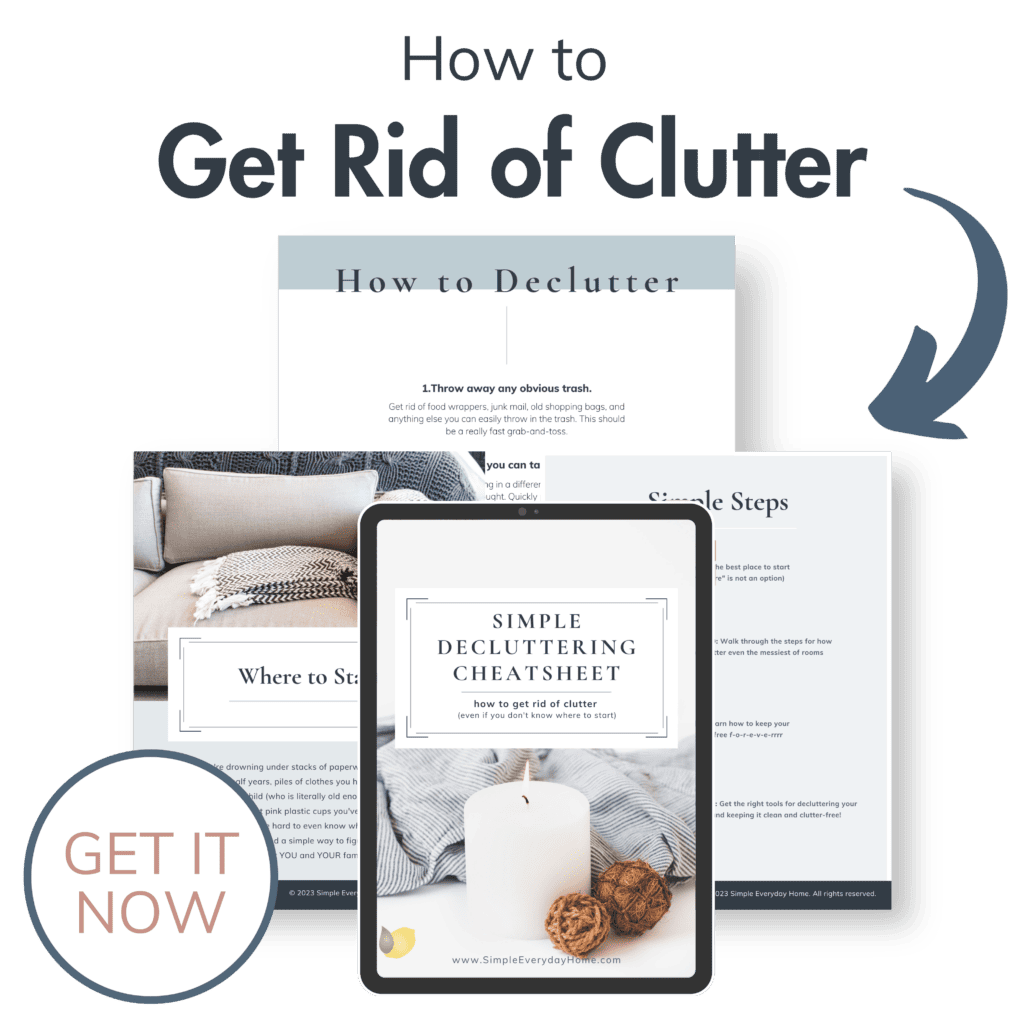 "Your writing and suggestions have given me so much hope!" – Heather
Get Your FREE Simple Decluttering Cheatsheet!
Your email is safe with us. We wouldn't dream of sharing it with anyone else!
Hi, I'm Amy.
I'm a blogger, lifestyle coach, and the founder of Simple Everyday Home, a website dedicated to helping women turn their house into the uncluttered home they didn't know was possible with super-simple cleaning and decluttering anyone can do. And how did I learn this simple cleaning & decluttering wizardry? Through a whole lot of ugly tears and countless hours of frustration.
I was one of those little girls whose only real ambition was to be a mom when I grew up. Oh, sure, I went through a phase of wanting to be a teacher (which I planned to do until I'd start having kids), and for a time I wanted to be a lawyer (which I planned to do until I'd start having kids), and at one point I even wanted to become a political campaign organizer (which I planned to do until…well, you get the point). But really, all I truly wanted was to find a great guy to marry and become a mom.
So, I graduated from high school…ran off to Vegas and got married…and started having those dreamed-up kids by the time I reached my early twenties.
Imagine my surprise/shock/horror when I found out how HARRRDDD it was to take care of a tiny, adorable human – and eventually even more humanssss – AND keep the meals cooked, the laundry clean-ish, the mail sorted, the toys from covering every single inch of the (embarrassingly filthy) carpet, and the dishes washed 8,315 times a day. All while my husband worked freakishly insane hours in the restaurant biz. Oh, yeah, I had that going for me, too.
I was a mess…and so was my house! I had to find a way to get rid of the clutter and chaos in my home and still have time to take care of my family before I either lost my everloving mind or started resenting those adorable mess-makers I'd spawned.
I checked out every book I could on housecleaning and home management from our local library (I think there were four of them. Four. In our whole two-story library. They clearly couldn't care less if I lost my mind or not!). And I started reading all the decluttering blogs I could locate on our "lightning fast" dial-up internet (there were only about four blogs, too. Hey, it was the '90s.). Then, I did something that made the biggest difference in my out-of-control world. It was more important than all four of those books and even more important than the blogs I read…
I sat down at my computer and typed out a list of things I would do every day and every evening to keep my home from becoming a disaster area and keep me from locking myself in the bathroom and crying while small children banged on the door and said things like, "Can we come in the potty with you?" and "We need a SNACKKKK!" These were basic lists with items that only took a few minutes to complete each day. I put them in page protectors, grabbed a pack of dry-erase markers, and crossed the tasks off each day then wiped them clean each night.
You know what? It was addicting. Starting a load of laundry and then crossing that bad boy off the list felt like SUCH AN ACCOMPLISHMENT in the middle of life with small children (which, let's be honest, can feel sort of like a neverending cycle of fixing snacks and then cleaning up said snacks over and over again, fifty-eight times a day). As time went on and my routines became habit, I was finally able to relax and actually enjoy those kiddos I loved so very much. I didn't have to worry about the laundry because it was on my list. So were dishes and cleaning up the toys and giving the kids their baths. Everything I needed to do on a consistent, daily basis was written on my lists.
And I started to feel like freaking rockstar. (Well, I felt like I was keeping my head above water and not totally drowning, so that was sort of like hitting rockstar-status at that point in my life.)
After becoming a frazzled-mom-turned-rockstar with the little, everyday tasks that needed done for our mere survival, I felt motivated to start working on the clutter and messes that had built up around the house and were keeping us from feeling at peace in our home. I applied the same principles of breaking down the chores into tasks that would only take a few minutes a day and then celebrating every little accomplishment. Well, that magic pixidust worked again, and I made progress – real progress – on our home's piles and clutter. And because I had routines in place to keep up with the basics, the spaces I was cleaning up were staying clean (well, as clean as possible with three little ones pulling me in sixteen different directions all the time).
Those chaos-filled days feel like a lifetime ago, and I guess they are. When I got on that plane to Vegas and married the forever-love-of-my-life over twenty-seven years ago, I thought I knew what I was getting into. I thought being a wife and mom and taking care of a home would come naturally to me. I thought it would be fun and easy, like it seemed to be for everyone else. It wasn't. It didn't come naturally and it wasn't easy (although it was kinda fun because of the cuties I spent my days with). But here's the thing: I learned that it didn't have to come naturally in order for me to be able to keep our home clean and organized. With routines and small techniques, I could keep my house peaceful and enjoyable without having to become a full-blown minimalist or a natural clean-freak (which I'm clearly not).
So, does that mean my house is perfectly clean and organized all the time now? BWAHAHA! Umm……..no. We like to live in our house, so keeping it clean and clutter-free is an ongoing process, but it's manageable and almost always just a few minutes away from being company-ready. It's comfortable. It's relaxing. It's peaceful. It's lived-in. It's home.
And really, that's why I started Simple Everyday Home and set out to help other women who don't necessarily fit into the trendy, minimalist-mold. As online decluttering sites fill the internet and impossibly perfect home pics are plastered all over Facebook and Instagram, real women like you and me with real clutter issues struggle to measure up to the unrealistic expectations of the new "minimalism or nothing" mindset. My goal is to use encouraging coaching and practical tips to help you learn how to break your decluttering into tasks you can easily accomplish and gain confidence and motivation to finally have a home you're proud to share with others…and have the tools to keep it that way!
Are you ready to get started writing your own frazzled-to-rockstar story? Grab your FREE Decluttering Cheatsheet, and let's do this thing together!
"I was shocked when I came across your site, I absolutely felt alone in my overwhelmed state. When I read your words it was like you were saying exactly what I was thinking!" – Darcie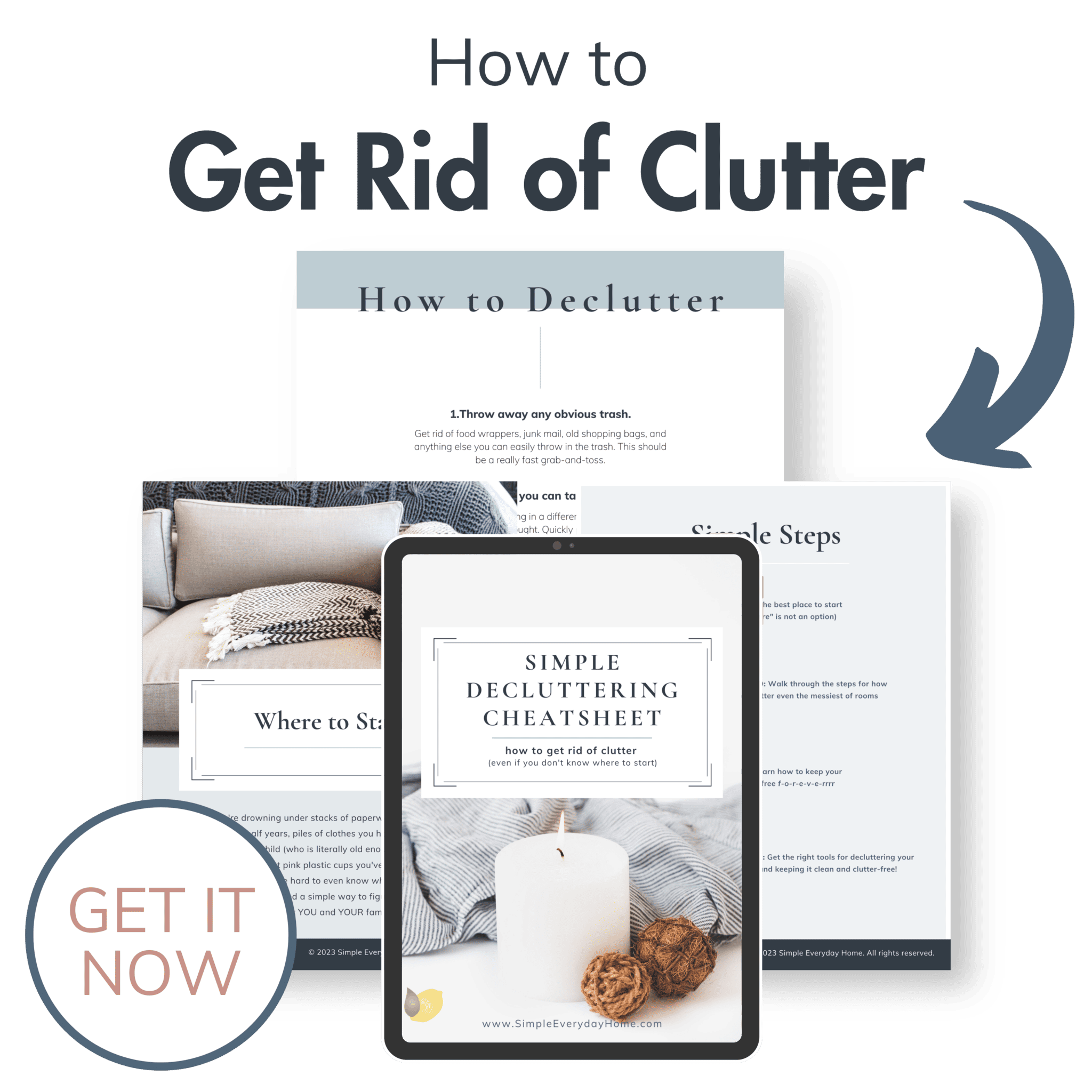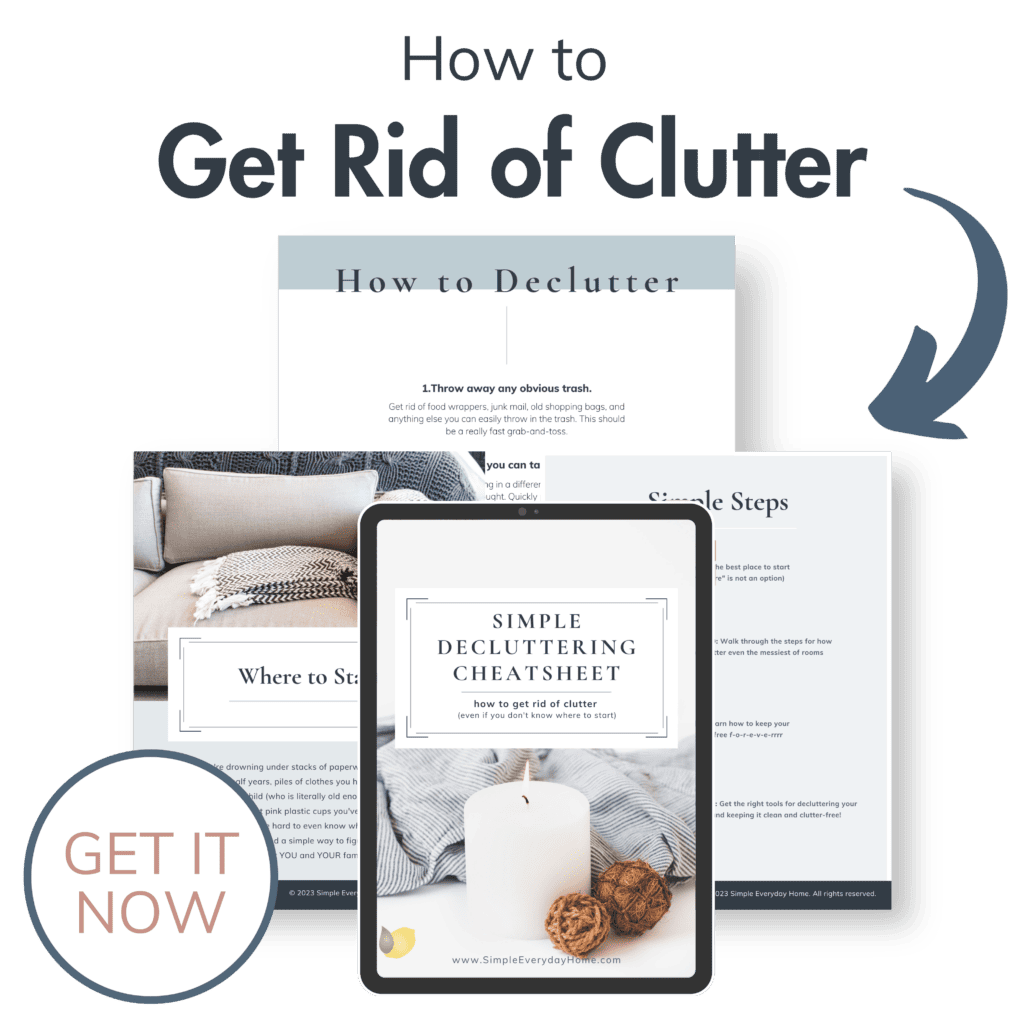 Get your FREE Simple Decluttering Cheatsheet!
Start feeling at peace in your own home! Pick the best spot to start decluttering AND discover step-by-step how to tackle the mess in any room in your house. PLUS get my best tips right in your inbox…and it's 100% FREEEEE!
Your email is safe with us. We wouldn't dream of sharing it with anyone else!
"I am new to your emails and blog and I wanted to tell you how much I love them already!" – Darcie
Let Me Give You the Grand Tour…
Read the Blog
Jump down the rabbit hole to find simple decluttering projects (broken down into easy-to-do tasks, of course), cleaning tips for tackling the dirt and messes, and basic routines for keeping up with your normal (aka. hectic + chaotic) life.
Learn about Coaching
Get one-on-one coaching with personalized tips, realistic advice, and tons of encouragement for turning your house into the uncluttered home you didn't even know was possible. No more wishing. Finally have the home you want!
Visit our Shop
From printable lists to easy-to-follow courses, these tools will help you manage your home, get rid of clutter, and keep up with the craziness of everyday life. Discover your very own peaceful home that's just waiting to be uncovered.