Ahhh…the master bedroom. This should be a room for relaxing, recharging, and maybe reconnecting with someone you love.
Unfortunately, since this room has a door (which is probably a good thing, right?), it also tends to be a dumping ground…a clutter hiding place…a warehouse for all those Target bags you swear you'll deal with "later."
It just seems like the natural place to stash all the things you don't want sitting out in the kitchen and living room. And it's sooooo very easy to stack the bags and piles along the wall or on the other side of the bed and then close the door behind you.
Boom! It almost feels like an accomplishment to get the junk put somewhere out of sight.
Until it's time for bed, that is.
Then, it's like trying to go to sleep in a jungle. You have to wade past the mess and tell that guilty little voice roaring inside your head that you'll get it all cleaned up…eventually.
And romance? There's nothing very romantic about dressers piled with random clutter, clothes thrown over the furniture, and obstacle-course-like piles all over the floor. Am I right?
Picture Yourself in Your Clutter-Free Master Bedroom
I'm going to go out on a limb here and guess that when you first imagined your lovely master bedroom, you probably didn't picture it piled high with clutter. I bet when you picked out your comforter or bought that comfy chair in the corner, you pictured yourself snuggling under a blanket and reading a good book (while eating chocolate, I hope).
Most likely you never intended your room to be decorated with outgrown kid clothes and oversized items you haven't found a better place to hide.
So, how about doing a little fantasizing. (Oh, not THAT kind of fantasizing! The clutter-free room kind.)
Take a minute and think about what you imagined your room would look like AND how you imagined you'd feel when you walked through the door each night.
Hopefully, you're using words like calm, pretty, relaxing, romantic, peaceful…
And now that you remember what your master bedroom should look and feel like, let's get it back to being the place it's supposed be!
How to Create a Clutter-Free Master Bedroom
No matter how messy your master bedroom might be right now, by working on cleaning up small areas for a few minutes each day, you'll have a haven you can truly enjoy!
Here are the steps to follow…
1. Make the bed.
Think about if for a minute. In most bedrooms, the bed takes up more than half the square footage. If you make the bed, your room will automatically be half-way clean!
2. Throw away obvious trash.
Don't worry about sorting and digging to find all the trash in the room right now. Nope! Just grab a bag and throw away any obvious trash, such as used tissues, old receipts, and empty shopping bags.
3. Put any dirty clothes into the laundry.
Again, this step isn't about sorting through your clothes or trying on things to see what fits. It's all about picking up the dirty socks and gathering last week's work clothes from the chair in the corner.
4. Put away clean clothes.
In case you haven't noticed, when clean laundry is piled up in baskets and on furniture, it's clutter. It just is. Save yourself the stress and get all that lovely clean laundry put away.
5. Sort all items on the bedside tables (including decor).
Remove everything from on the top of your bedside tables and put each item where it belongs. Only return things to the tables if you really, truly want them there because they're pretty or useful.
6. Sort all items on the tops of dressers or other furniture (including decor).
Again, remove everything from the tops of the dressers and other furniture and put away each item where it belongs. Only keep out those things that are necessary or add beauty.
7. Sort and straighten items on any other shelves or flat surfaces.
As you're continuing to clean up the furniture in your room, please be sure to not leave out things that make you feel yucky or guilty (like that gift from someone who makes you feel like dirt or the stack of unread books that condemns you every night).
8. Working in small sections, deal with any clutter or items on the floor.
Work your way around the room one square foot at a time, putting things away where they belong. Look beside furniture, around the edges of the room, and anywhere else where there's clutter, stacks, or piles.
9. Detail clean to get rid of dust and dirt.
Once the clutter is gone, take some time to dust all the furniture and decor. Vacuum the floor. Wash the sheets and remake the bed.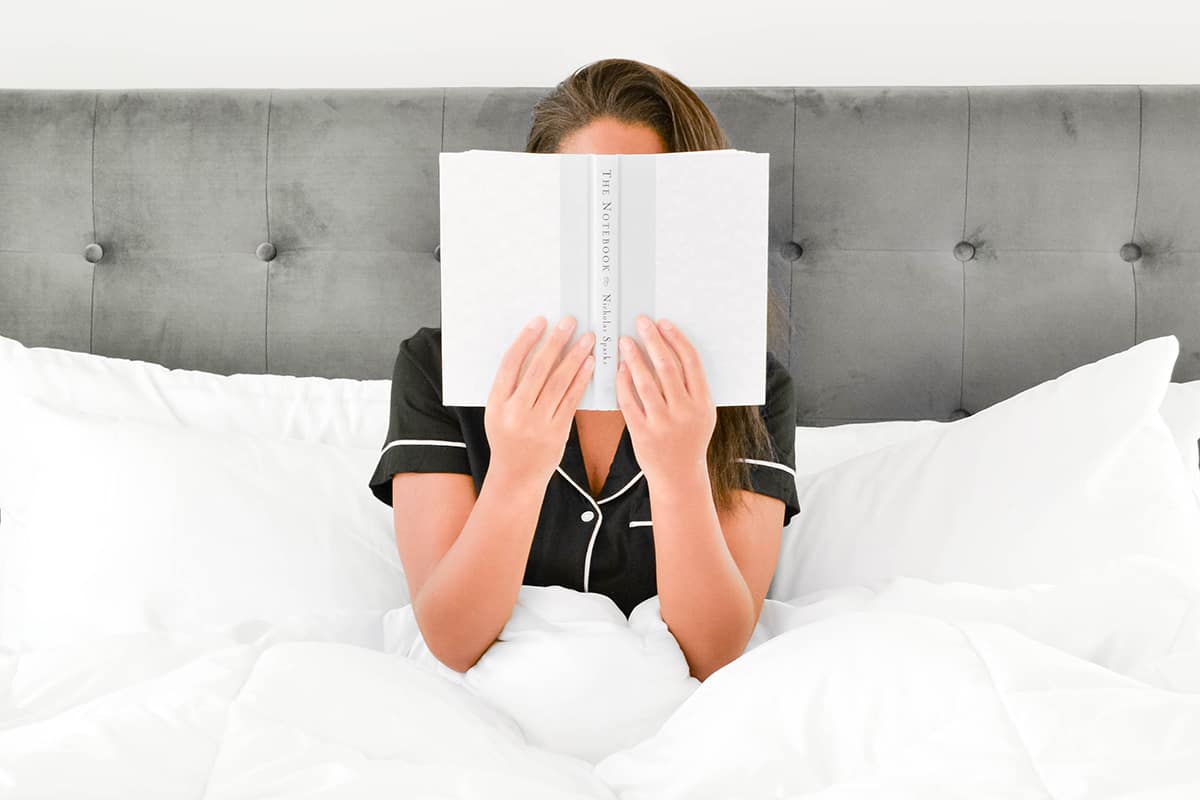 How to Keep Your Master Bedroom Clutter-Free
Take a look at your beautifully clean room and soak up the peacefulness. Make a pact with yourself to never let your room become a disaster area ever again. Never ever.
Here's how to keep your clutter-free master bedroom lovely every day…
1. Make the bed every single day (it only takes a minute or less).
2. Don't leave clothes on the furniture or floor. Again, putting away that day's clothes only takes a few seconds.
3. Never leave items on bedside tables, dressers, or other furniture unless that's where they belong.
4. Never leave anything on the floor unless that's where it actually should be.
5. Create simple storage for common trouble spots, such as a place for emptying pockets or baskets for books and personal items.
6. Do not keep or display anything in your room that is not pretty or necessary.
7. Quickly tidy up your bedroom at least once a day.
8. Once a week, dust the furniture and sweep or vacuum the floor.
Remember that Less is More
Don't forget that the less you have sitting out in your room, the more peaceful your room will feel. The more you have in your room – whether clutter or decor – the more you need to keep clean and organized.
By simplifying the things you have on display, you're creating more breathing room for yourself.
And now, think back again to that picture you had in your head when you first decorated your room. Then take a look around and soak up the beauty!
Now, you can retreat to your master bedroom to relax, recharge, or reconnect with your sweetie…and maybe even escape with some chocolate if you're lucky!