Following a morning checklist every single day will help you know exactly what to do for a peaceful morning, a clean home, and a productive day!
Keeping a house clean, the kids fed, the pets alive, and your sanity intact is no easy job. As a matter of fact, sometimes it may feel like you're literally drowning under the weight of it all. And the further you sink, the harder it gets.
If you're like me and easily find yourself struggling to keep your head above water, then you need a Morning Checklist that will help you succeed and not weigh you down even more.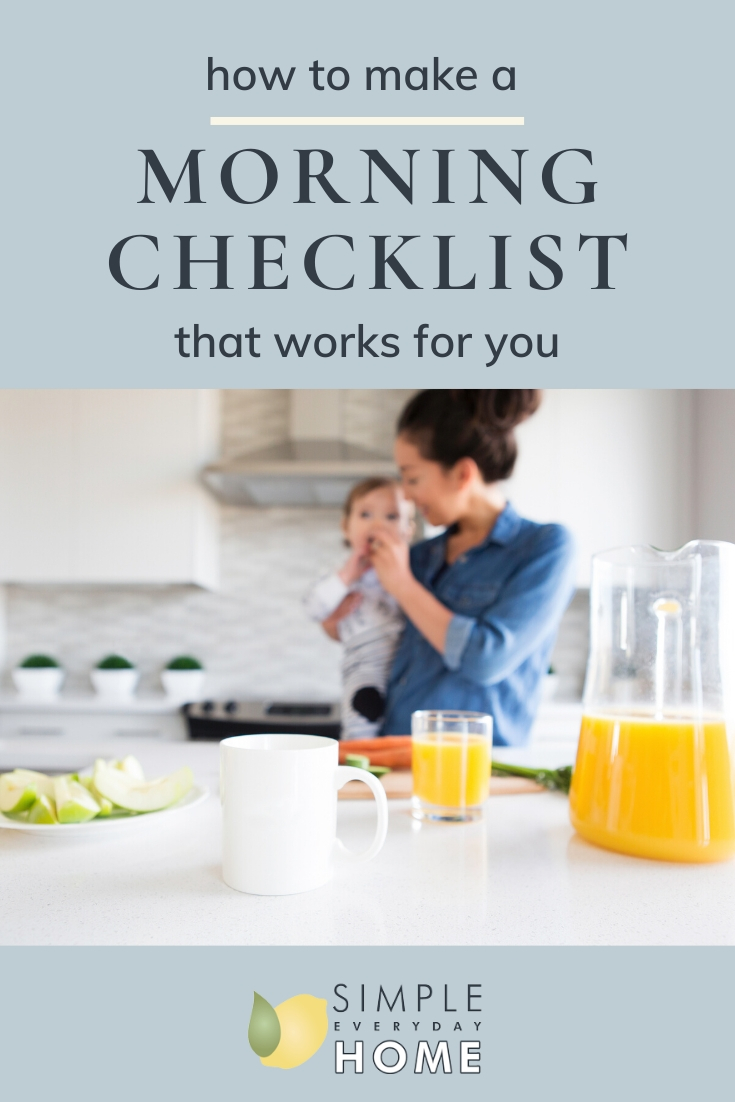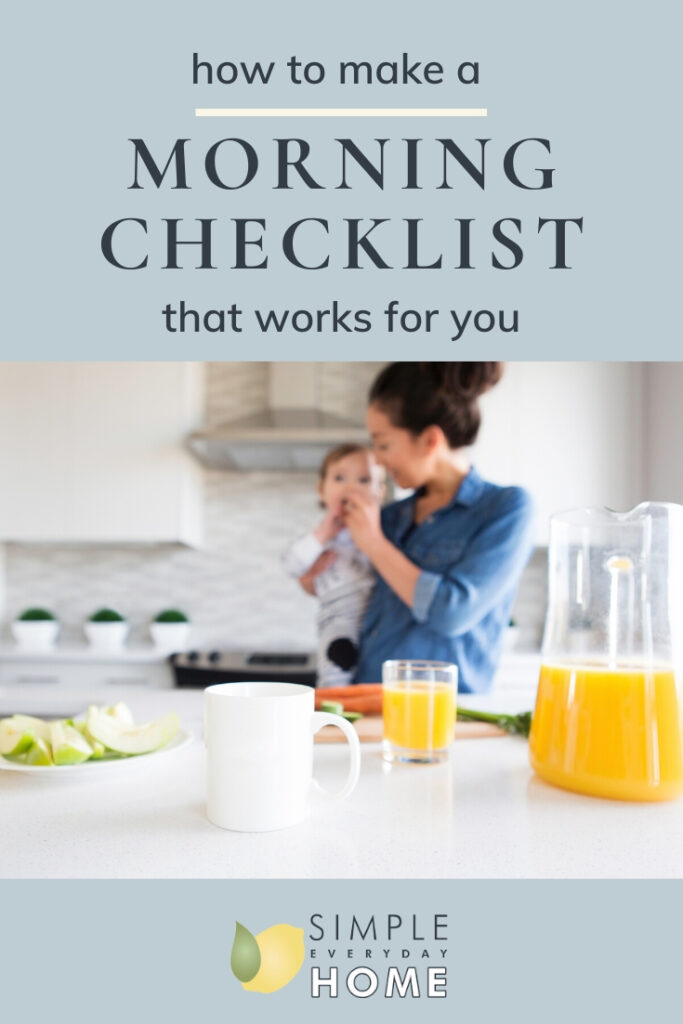 Following a morning routine is the best thing I've found for keeping my home running and in some kind of order, regardless of how hectic and not-together the rest of life may be. It might take the entire day to get my morning checklist finished, but the day feels like a success even if that's the only thing I accomplish.
How to Make a Morning Checklist:
Now, I am NOT going to tell you to write down "just three things" to do every day. Most people recommend that as a starting point for making a morning routine, but more than three tasks are absolutely essential to my mornings, and maybe it's the same for you.
Instead, you'll think about the things that you actually need or want to do in the morning to keep your family functioning and your home under control. And after some practicing and tweaking, you'll have a morning checklist that works for you!
1. Write down what you must do every morning.
Imagine for a minute that your alarm didn't go off and you only had time to do the absolute essentials. Those "essentials" are what you need to write down first. They're the things you must do, no matter what.
For me, the essentials are packing lunches, taking my kid to school, and getting myself showered and put together.
2. Write down anything you feel is necessary to your sense of peace.
Ask yourself if there is any task you do everyday and feel undone if you can't get to it, even if life goes on if it doesn't get done. These are things that are important, even if they aren't exactly essential.
An important, although non-essential, on my list is making the bed. I have a hard time doing anything else if my bed isn't made. (Because I'm weird.)


3. Write down anything you'd really like to get done in the morning, even if it's not essential or necessary to your sense of peace.
It can be really helpful to get a jumpstart on household tasks or work in some healthy habits you're trying to implement in your life. Even though these things don't just "have to" get done, you'll feel a lot better if you can take actin on them early in the day.
I try to do things like clean up the dishes, start a load of laundry, and wipe down the bathrooms every morning. These small tasks only take a few minutes to do, but they provide a whole lot of benefit to my home and family.
4. Look through the things you've listed and write the tasks in the order you'd like to do them.
Take a couple minutes to think through a typical morning. Look at your list of various tasks you need or want to do, and write them in the order you'd like to complete them each day. Think logically (and realistically) about the best way to get things done.
5. Go through a morning and see if there are any tasks that need cut from ( or added to) your list.
As you follow your list for the next few days, be on the lookout for those essential or important tasks that tend to fall through the cracks, and don't be afraid to cut out anything that isn't absolutely necessary to do each morning.
If you're struggling to get everything done, then strip your morning checklist down to only the essentials that you listed in the first step. Then start adding in the important items you wrote down in the second step. Once you're getting through the morning okay with those few things, start adding in some of the tasks you'd like to get done in at the start of each day, such as cleaning the bathrooms or starting a load of laundry.
Here's Your New Morning Checklist!
After you get your list just the way you want it, write or type it out and do it every single morning. I truly believe that making (and following) a morning routine is one of the best things you can do to bring a chaotic home to order.
You can add more things to your list once you begin to feel comfortable see what works for you. But add slowly, and only after you feel confident that you can keep up the daily pace.