When you're feeling tired everyday, it's almost impossible to clean and declutter your home. Try out these tips for finding the energy to get through the day and get things done.
Some seasons of life are just plain exhausting. (Amen!?)
Whether it's because of kids, work, health, hormones, or plain old ordinary life, sometimes we're just left feeling tired everyday, and it can be hard to break out of it and get things done.
When I go through seasons like this, decluttering a closet or cleaning the bathrooms can feel like a monumental feat. As a matter of fact, even simple tasks like folding the laundry or putting away groceries are enough to make me want to go cry in a corner somewhere.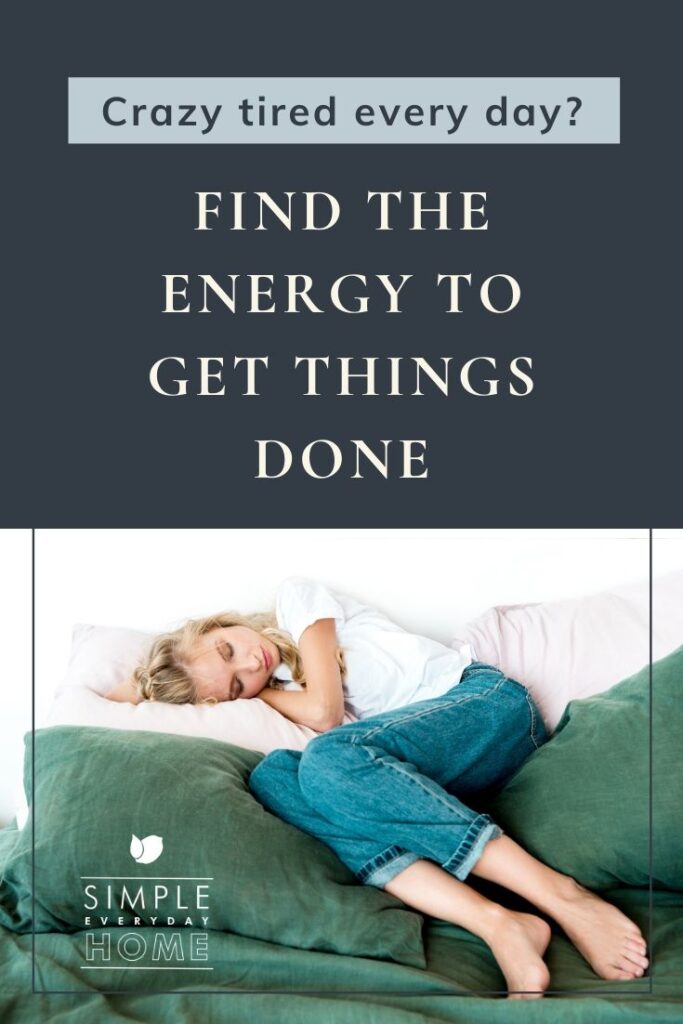 But since there's no crying in homemaking (who am i kidding – I cry all the time!), I don't have the luxury of giving in to a breakdown every time I feel exhausted to the point of tears. There's work that needs done, and I can't sit around waiting for some magical energy to land on me. My world isn't going to slow down just because I do.
One obvious solution to feeling so tired everyday would be to get more sleep (well, duh!). But sometimes that's just not an easy option. Maybe your husband is working crazy hours, the baby isn't sleeping through the night, you're working two jobs to make ends meet, or you're trying like crazy to finish some home projects before you put your house on the market.
Whatever the cause, sometimes there just isn't an easy solution to the tiredness and lack of energy. Instead, you have to find a way to push through and do the things that need done.
Because let's face it: Not doing the laundry and ignoring the dirty dishes isn't going to make you feel any better. But figuring out how to get things done, even when you're feeling so tired everyday, will help you feel a lot better in the long run.


Feeling Tired Everyday? How to Get Things Done Anyway
1. Drink a glass of water.
I honestly think that dehydration must be one of the leading causes of feeling tired. I'm no scientist, but I've seen plenty of evidence of this in my own life. That's why I have "drink water" on my Morning Routine list every day.
Just like an athlete would never even try to play an afternoon of basketball or run a couple miles without hydrating, we shouldn't expect that our bodies can carry baskets of laundry or bend and stretch to sort through a room full of clutter without taking in some fluids. I actually bought this set of glass bottles to help me keep track and get the water I need.
2. Brew some tea or grab a drink that makes you feel human.
First of all, drinking some coffee, tea (I like this kind), juice, or whatever you like can make you feel a little bit of happiness. Sometimes you just need something that makes you feel special and like you've given yourself the gift of self-care.
And if it takes a few minutes for your yummy treat to brew, you can use the "reward" as motivation to toss in a load of laundry or unload the dishwasher while you wait. It's amazing what you can accomplish when you know there's some coffee waiting at the finish line.
3. Eat an energy snack of some protein or healthy carbs.
When you feel like you can't move a muscle, try to eat a little something healthy. Maybe throw together a quick salad with some cheese and a boiled egg, grab a handful of nuts, or munch on a piece of fruit.
You wouldn't ask your kids or husband to run on empty, so why should you expect that from yourself? Filling up on junk food (oh, Mint Oreos, how I love you) or thinking you're too busy to eat some real food won't do you any favors. Eat better to feel better.
4. Put on your sneakers.
So, this might sound a little strange, but wearing your sneakers while working around the house has a profound affect on how you feel. I even bought this pair of shoes just special for wearing in the house, and my entire outlook changes whenever I put them on.
When you have your tennis shoes on, you automatically feel like being more active. It's as though they put you into "work mode." And as a huge added benefit, they help keep your feet and legs from being sore at the end of the day (hallelujah!).
5. Just do something.
It defies logic, but for some odd reason, working at a task gives you energy. If you can just pick yourself up out of the chair and try to accomplish something – anything – the adrenaline starts pumping out energy you didn't think you had.
I like to start with some easy tasks first for quick success. I give priority to tasks that make me feel a sense of peace, like making my bed. And I force myself to attack the necessities, such as putting away groceries or washing the dishes.
The secret is, I give myself permission to quit after one or two small chores are done. It's much easier to motivate myself into action if I know I don't have to conquer the world before I can stop working. But usually, once I start moving, I'm surprisingly energized to do a more than I'd planned. In the end, I always feel so much better knowing that I've been productive.
You've Got This!
Different seasons of life will come with various challenges, and sometimes exhaustion hits hard and leaves you feeling tired everyday, with no easy solution in sight. But thankfully, there are things you can do to care for yourself so you have the energy you need to take care of your home and family.
So, what are you waiting for? Grab a healthy snack and something to drink, lace up those shoes, and get to work. You'll be so glad you did!
How do YOU fight exhaustion and push through a sluggish day?