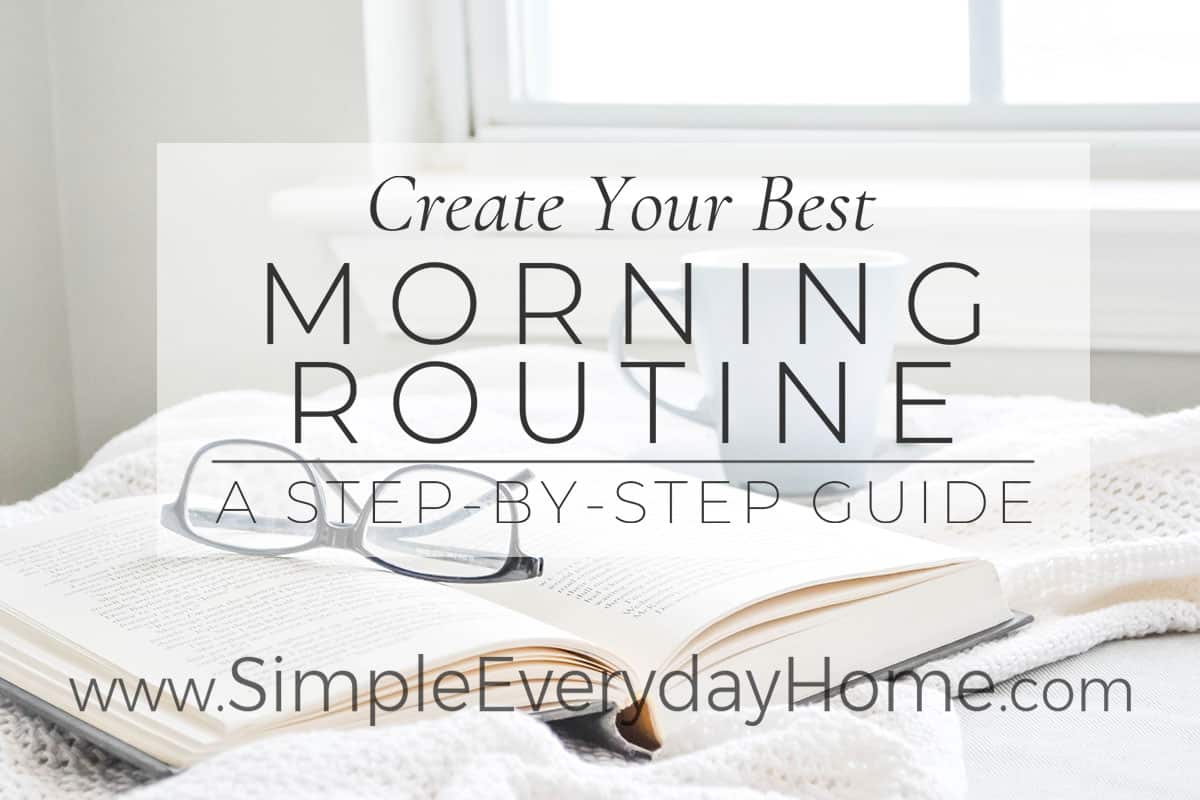 If I've said it once, I've said it a thousand times: Creating and following a Morning Routine is one of the most important things you can do for your home (and your sanity).
I guess that makes this a thousand and one times.
I really do believe that having an effective Morning Routine is so incredibly helpful that it just might be the game changer you've been searching for. I know it has been for me!
As a matter of fact, when I'm NOT doing my Morning Routine on a daily basis, it shows in a big way. And believe me – it's not pretty.
My family runs out of clean socks, my bathrooms look icky, my kitchen becomes a chaotic mess, and my plants start to die. (Well, my plants would probably die anyway, but it happens much faster when I'm not following my Morning Routine.)
Why YOU Need a Morning Routine
A Morning Routine is simply a list of tasks or actions that you do every morning. It could have basics like "take a shower" or "pack lunches," and it might have some extra things like "start the laundry" or "water plants." Your perfect Morning Routine will contain whatever YOU want and need, and it will be as unique as you are!
Following a Morning Routine isn't about having a set of rules to follow or a list of impossible tasks to complete in your already-busy morning. Not at all.
It's about not having to reinvent the wheel every morning, since you've already figured out what works (and what doesn't).
It's about being able to look at a list and know exactly what needs done, instead of having to strain your brain every single day (and then living with that nagging feeling that you're forgetting something).
It's about prioritizing life's necessities so nothing important falls through the cracks…again.
It's about having a tool that makes you look and feel like you've got your stuff together, even if the rest of life seems to be spinning out of control.
It's your cheatsheet…your magic wand…your new BFF.
Yes, I really do think that creating a Morning Routine that works for you and your family will make a HUGE difference in your home.
How to Survive a Busy Morning (Without Going Crazy)
If you're like most people, your morning time already feels hectic and filled to the brim. You may even be thinking that it would be impossible to set up any sort of routine or add any extra tasks when you're already stretched so thin.
But the thing is, you already have a morning routine…you just don't know it!
Maybe your routine starts by hitting your snooze button three times, racing through a shower, throwing the kids into the car with half a bagel in each hand, and racing to work while you mentally flip through all the things you probably forgot at home.
Or, maybe your routine starts with a toddler yelling your name, a not-so-relaxing cup of coffee, a sink full of last night's dishes, and a pile of guilt as you search through the laundry pile for a pair of clean-enough socks for your husband to wear to work.
And even if your morning time isn't quite so harried, it still probably slips away much faster than you realize, and you're left feeling like you spent too much time doing who-knows-what and not enough time doing the things that would make you feel like you accomplished something – anything – in your day.
I get it. Whether you stay home most days or head out the door to work, have young kids or are retired, wake up at the crack of dawn or sleep until your alarm forces you out of bed, the morning rush is universal and the struggle is real.
But instead of throwing in the towel before you even get started, let me give you this word of advice: Don't be afraid to start small – really small.
Begin with the basic necessities for your morning – the things you're probably doing anyway, even without a list. Once you've determined the basics, you can add in some new ideas, just a few at a time, until you're getting the most out of your morning time.
A Morning Routine doesn't have to be overwhelming. As a matter of fact, it's freeing once you figure out a routine that works for YOU!
Maybe you want to start your day with some self-care items like reading your Bible, exercising, drinking a bottle of water, or eating a healthy breakfast.
You might have family responsibilities you need to make time for like getting the kids ready for school, packing lunches, taking care of the pets, or preparing meals and snacks for the day.
You could even add in some thing that will help you stay on top of your home tasks and chores, like making your bed, starting laundry, wiping the bathrooms, or tidying up the kitchen.
Just keep in mind that it might take a little time to figure out what belongs in your Morning Routine and what doesn't, so be patient. This is a process, not a race. With some effort, perseverance, and a few tweaks along the way, you'll have a routine you feel really good about!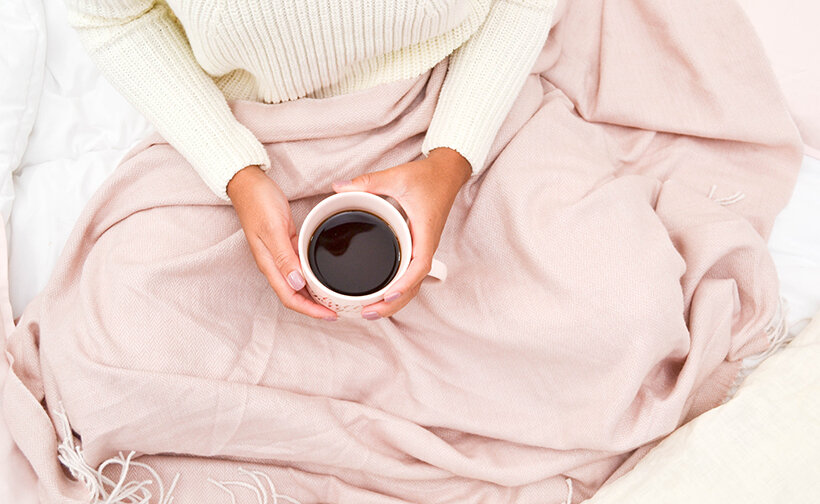 How to Make a Morning Routine
I'll walk you step-by-step through making your very own personalized Morning Routine. There's even a helpful workbook you can download HERE with all the worksheets you need for jotting down your ideas, planning your time, and figuring out what works for YOU…so you can create YOUR best Morning Routine!
1. Write down everything you MUST DO every day – only the necessities!
These are the things that need done every single day, even when you don't have time to do anything else. It can help to imagine if your alarm didn't go off and you only had fifteen minutes to get out the door (some of us might not have to "imagine" too hard). What are the things you have to do – and probably already do – every day?
Do you need to wake the kids? Pack lunches? Feed the dog?
2. Make a second list of anything you WANT TO DO every morning, even though not doing it won't keep your family from being able to go to work or school.
These are things that are pretty important to you, even though life will still function if they don't get done. They're things that might not be true necessities, however they're pretty important to you and your sense of peace.
Do you feel like all of life is a mess if your bed isn't made? Is daily Bible a top priority? Do you need to get in some exercise before you do anything else?
3. Make a third list with things you would LIKE TO DO every morning, even if they aren't necessary to either your family's ability to function or to your personal sense of peace.
These are the kinds of things that are really helpful if they can be done every morning, but life won't fall apart if you skip a day or do them at a different time.
Do you want to begin the day by tidying up the kitchen? Wiping down the bathroom? Starting a load of laundry?
4. Next, note how many minutes you expect each item on your lists to take.
Quickly jot down how long you expect each item to take to complete. Be generous. if you think a task will take five minutes, then plan for seven or ten. It's better to overestimate, rather than underestimate. You'll be using these times to figure out if you have enough minutes in your morning to fit in everything you'd like to accomplish.
5. Make a timesheet that starts at your wake up time and ends with the time you'd like to leave the house or start your day.
The minutes between your wake up time and the time you start the rest of your day are where you'll start filling in the items from your lists. If you don't have enough time to do everything you'd hoped, then you'll either need to bump some things to a different time of day or adjust your wake up time (ouch!).
And if your kids are your "alarm clock," I'd encourage you to try to wake at least half an hour before they beg you out of bed. Consider those few quiet moments a gift you give yourself. You'll thank me later.
6. Use your MUST DO list, your WANT TO DO list, and your LIKE TO DO list to fill in your timesheet.
Start by writing in anything that is time sensitive, such as waking the kids for school. Next, fill in the other items from your MUST DO list, so you're sure none of the necessities fall through the cracks. After that, move on to your WANT TO DO list, being careful to consider the best order to do each task.
Finally, fill in any gaps with your LIKE TO DO list. If you don't have time to do everything, you either need to remove some items from your list, or you need to add more time to your morning.
7. Rewrite your list, if needed, and try it out!
Be sure you have a nice copy of your new Morning Routine, with everything written in the proper order. Hang your list where you can see it each day. Then try it out…tweak it…and try it again.
It might take a bit of time to figure out the most efficient order to complete your tasks, or to discover if you've been a bit too ambitious. Don't be afraid to keep adjusting it until you figure out what works best for YOU!
And remember, you can always go back and add in more tasks (or take out a few) as time goes on. Nothing is set in stone.
Make Tomorrow Morning Your Very Own Fresh Start
Now is the time to make a difference in your day and your home. Take a few minutes to fill out the Guide to Creating Your Best Morning Routine and find out just what you can accomplish and how much more peace you can enjoy every single day.
Give yourself a fresh start tomorrow morning – and every morning. Stop wishing you could stay on top of the laundry or get to work on time. Stop wondering where the time went and wishing your home wasn't such a mess.
Take control of your day and your home from the very start by creating a Morning Routine that works for YOU!