Following a carefully designed housekeeping task list each week will help keep your house clean and your family's life organized, without important necessities falling through the cracks.
I have an aunt who is a housekeeping expert. And when I say expert, I actually mean ninja. She does not have a speck of dust anywhere in her house, not even under the furniture in the spare bedroom.
Because she physically moves the furniture and vacuums under it. Every single week. No joke.
See? Ninja. She's an eighty-something-housekeeping-ninja-warrior.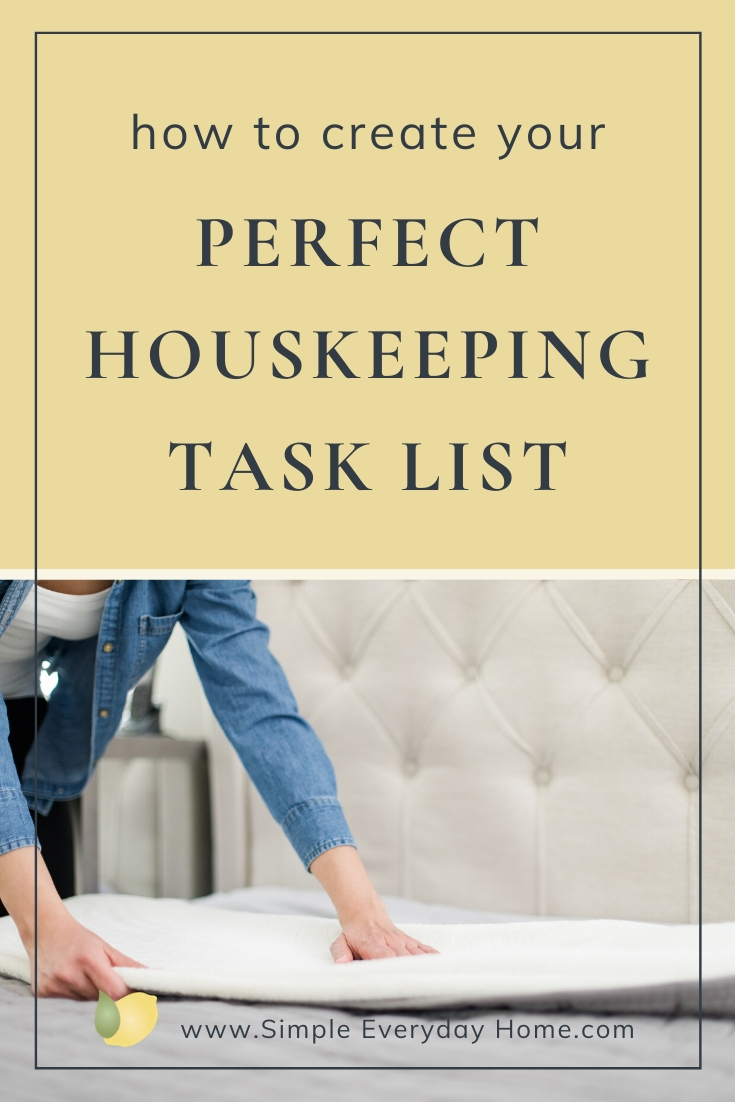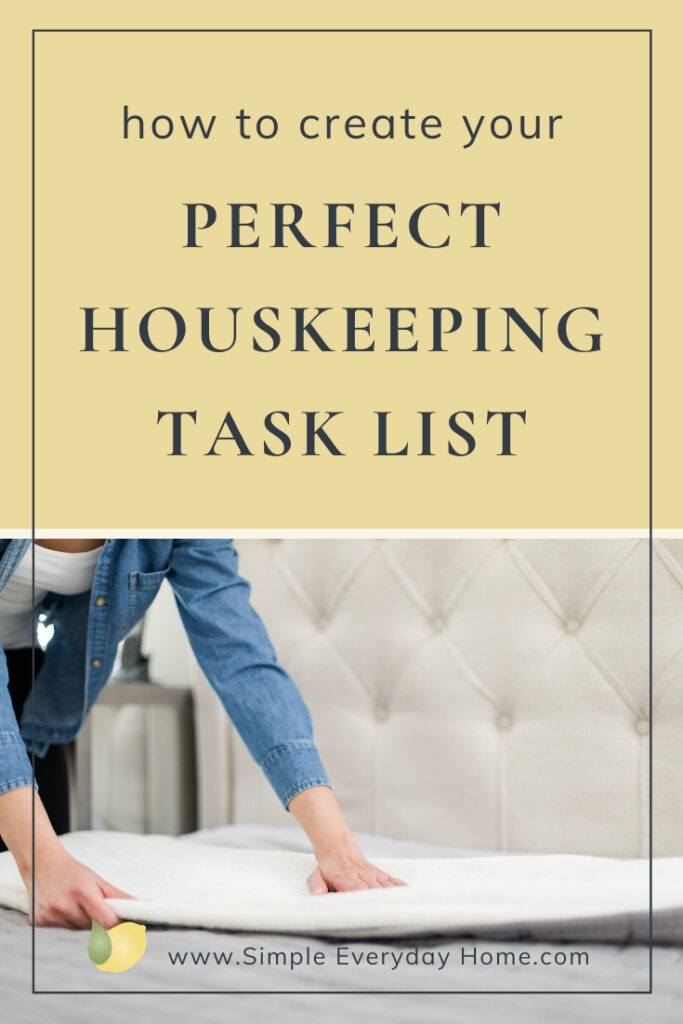 I am not like my aunt.
She enjoys obsessively cleaning her house and keeping every single inch of it in perfect condition. I, on the other hand, do not enjoy cleaning any inch of my house. I never have, and I probably never will.
My silverware drawer will never be completely free of crumbs. My tile floors will never be without a little bit of dirt and paw prints. And I will never vacuum underneath the furniture every week…or maybe ever.
It's just not in the cards for me. Not gonna happen.
But my real problem is that I like having a clean house just as much as my aunt does, even though I don't have the natural skill or desire to make it happen.


The fact is, when the house is messy and the dirt starts to show, I get overwhelmed by it all and stop feeling the peace that I really, truly long for. Then, once I'm overwhelmed and behind, the clutter just piles up, and I feel more and more frustrated. It's a vicious cycle.
It is impossible for me to do what my aunt does, but I also can't let myself give in to my natural tendencies to ignore the grunge until I can't take it anymore. That's no way to live!
To protect me from falling into a homemaking hole, I use some basic lists that keep me moving in the right direction. The two main lists that keep my home and life looking like I have the cleaning and organizing skills that my aunt possesses in her little finger are my Morning Routine and my Weekly Housekeeping Task List.
Both of these lists are printed on my Simple Everyday To-Do Lists that you can get right HERE. These routines help me look much better than I really am. Seriously.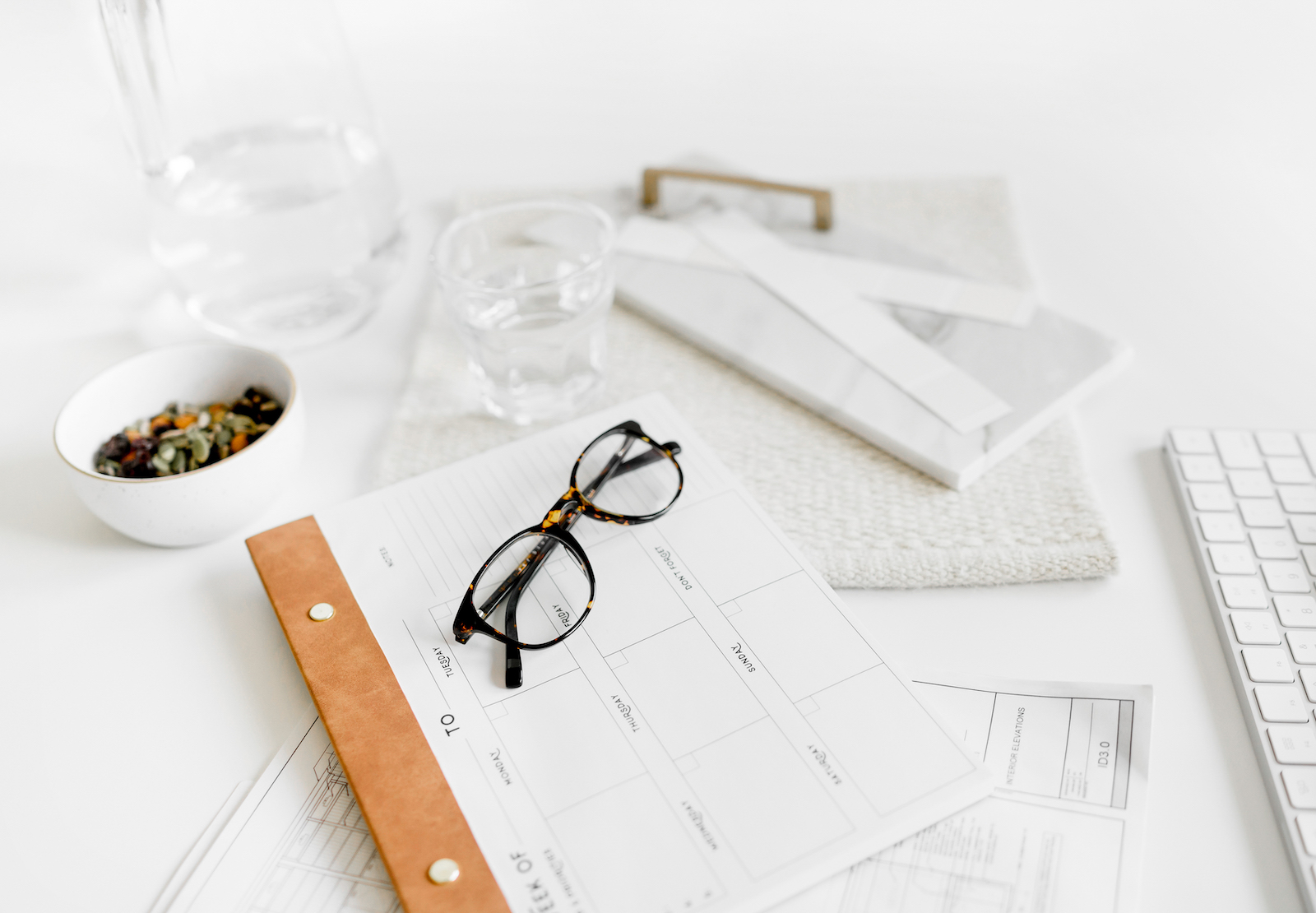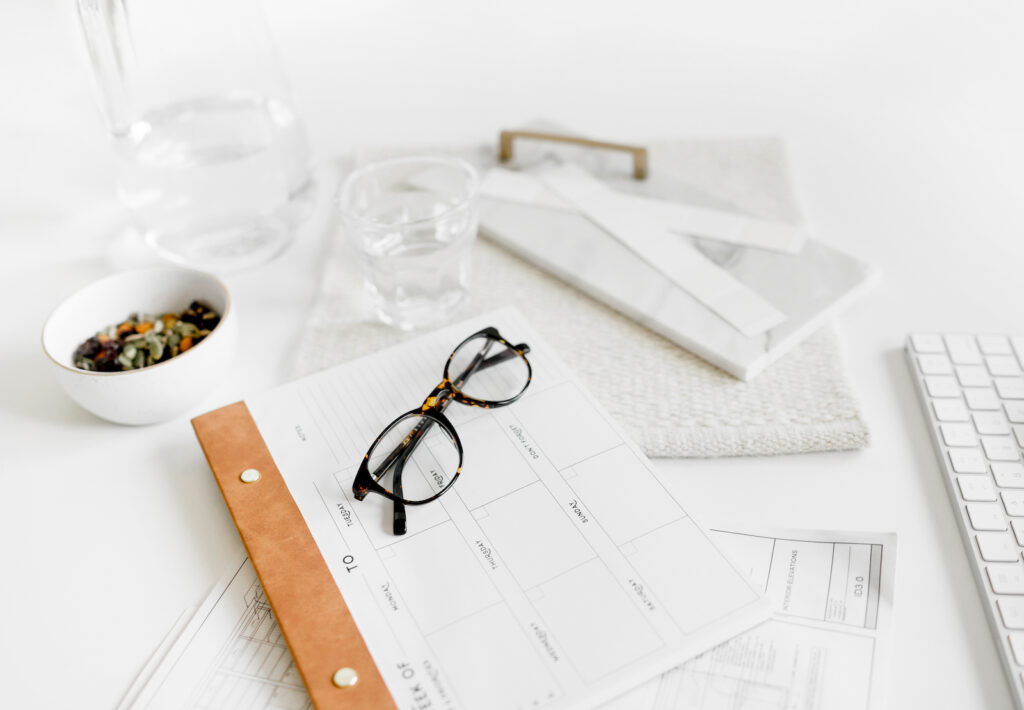 Elements of an Effective Housekeeping Task List
Cleaning Tasks
Include the cleaning tasks you want done every week. Even if you don't have the time to complete every item each week, seeing it written on the list will remind you to tackle the missed chores next time.
Your list might include things like vacuuming, dusting, cleaning the bathrooms, and spray-cleaning the fronts of your kitchen appliances. While some people see a dirty floor and simply get out the vacuum, if you tend to procrastinate the basics until you're embarrassed to open your front door, then having them on your list will give you the kick you need to keep on top of the dirt and clutter.
Dreaded Chores
Everybody has certain chores they absolutely hate to do. For me, it's mopping…and cleaning the bathrooms…and organizing my purse…and, well, lots of things. Be sure to write down even the chores you dread the most. Having them stare back at you from the list week after week might be the incentive you need to use a timer and simply get the job done.
Easy-to-Forget Necessities
A Weekly Housekeeping Task List can contain much more than cleaning tasks. This is the perfect list for adding items like "balance the checkbook" or "trash out on Monday." It's also a good spot for reminding yourself to make next week's menu, perform treatments on the pets, and look at your calendar so nothing falls through the cracks.
Regular Errands
It's easy to forget things like picking up the dry-cleaning and dropping off the library books. Having these errands on your list will keep your husband in clean shirts and your library card from accruing ridiculous fines (I speak from experience on this one!).
Sample Weekly Housekeeping Task List
Some things you might want to include:
Calendar planning
Menu planning
Grocery list + Shopping
Clip + File coupons
Finances + Paperwork
Vacuum
Mop
Dust
Bathrooms
Appliance fronts
Trash + Recycling
Clean purse
Library returns
Additional types of tasks to pencil in:
Clean dog's ears
Change litter box
Fill pill boxes
The possibilities are endless and will be unique to you and your family. But, please, don't keep trudging along, trying to carry all those regular responsibilities in your head. Get them written down and then just set your mind on "repeat" each week. I promise that you (and your sanity) won't regret it!