Taking care of a home can be an overwhelming job (especially if you don't have a lot of help), but there really are only two basic housekeeping tasks that you need to focus on.
Running a household is a big job, and don't let anyone tell you otherwise. And much of time, the overwhelming responsibility of it all falls squarely on your shoulders.
Whether you're a stay at home mom, you work outside the home, or you run your own business, keeping up with the daily demands of everyday life is tough…and never-ending.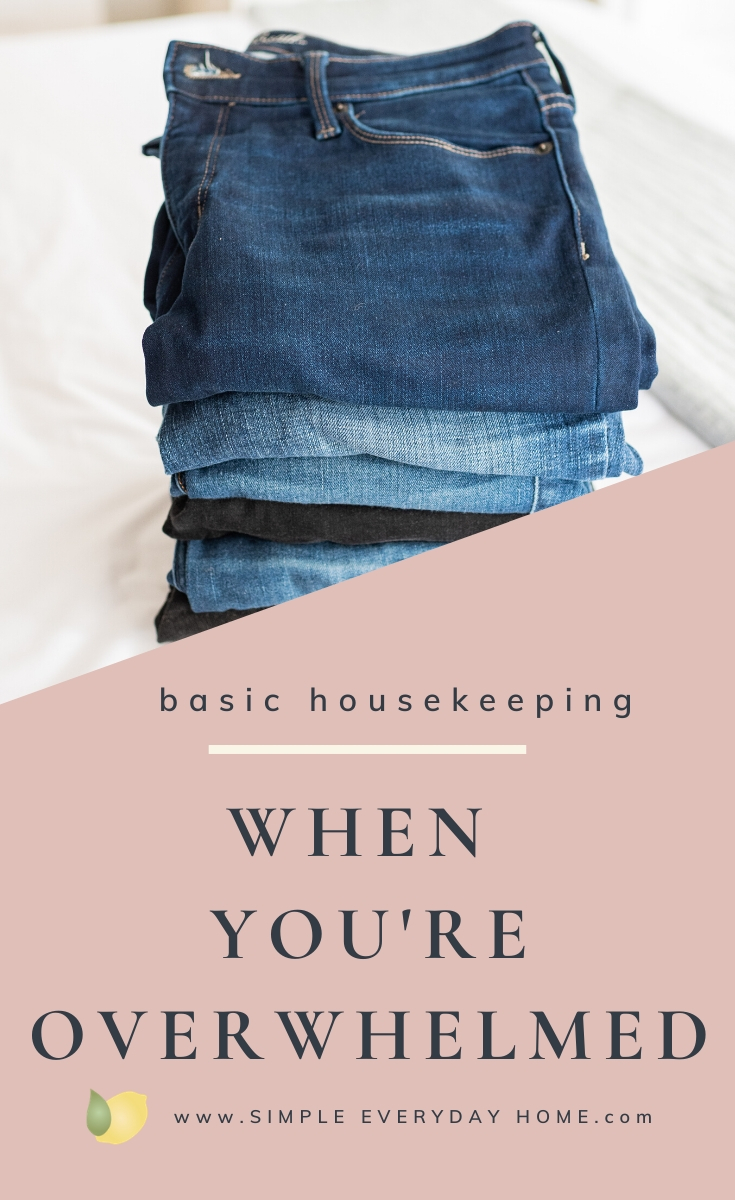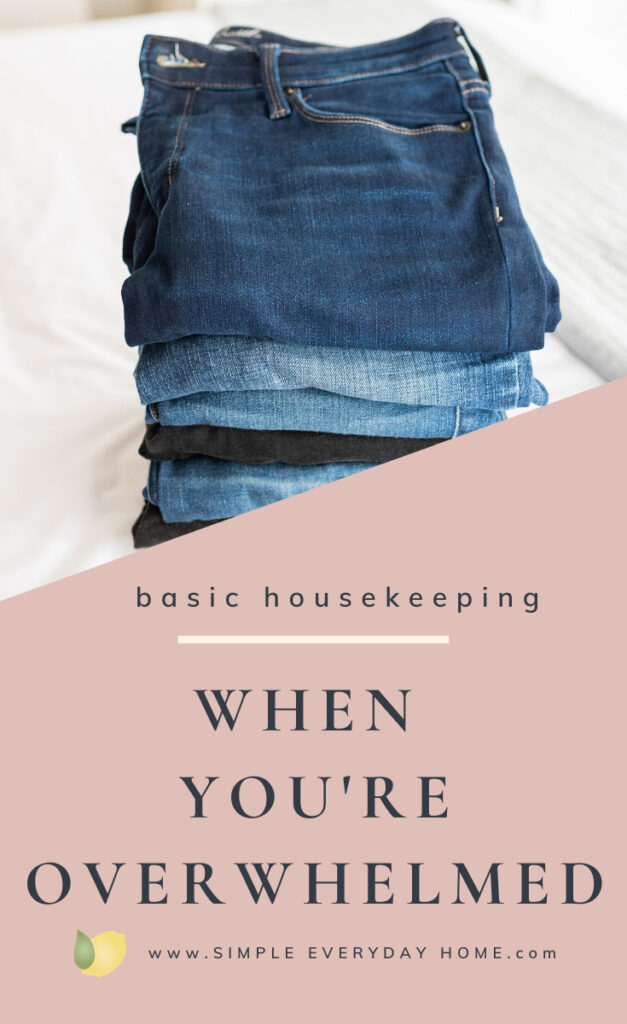 There are about eight million things calling out for your attention at all times. That's just a fact. But it's also a fact that most of those things won't really matter at the end of the day.
Despite how much the magazine articles want to tell you how you can "have it all," sometimes you just can't. Sometimes you have to decide what you're going to concentrate on and then eliminate the things that don't make your "must-do" list.
Eliminate and Concentrate
During certain seasons of life (which, honestly, may last a few years – just keeping it real), you might not be able to make gourmet food from scratch every night, hand sew all your kids' clothing, and have every inch of your home sparkling clean and perfectly organized. Real life is sometimes just a bit too real for that.
When it comes right down to it, there really are only two basic housekeeping essentials that you need to focus on: food and clothes.
If the troops have food to eat and clothes to wear, you'll all survive until you can deal with everything else. If you're feeling overwhelmed and struggling to keep-up, give the bulk of your time and attention to these two basic needs.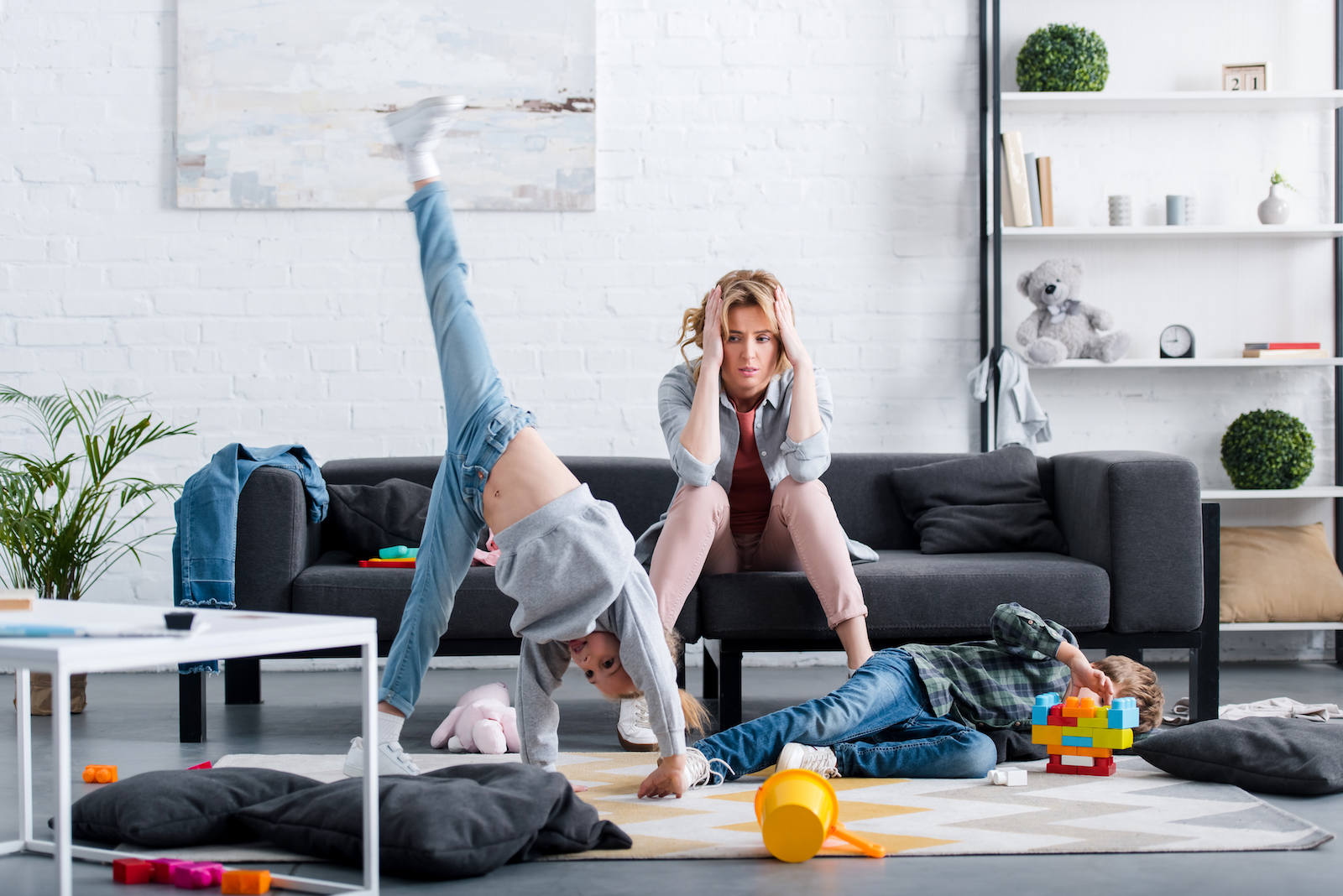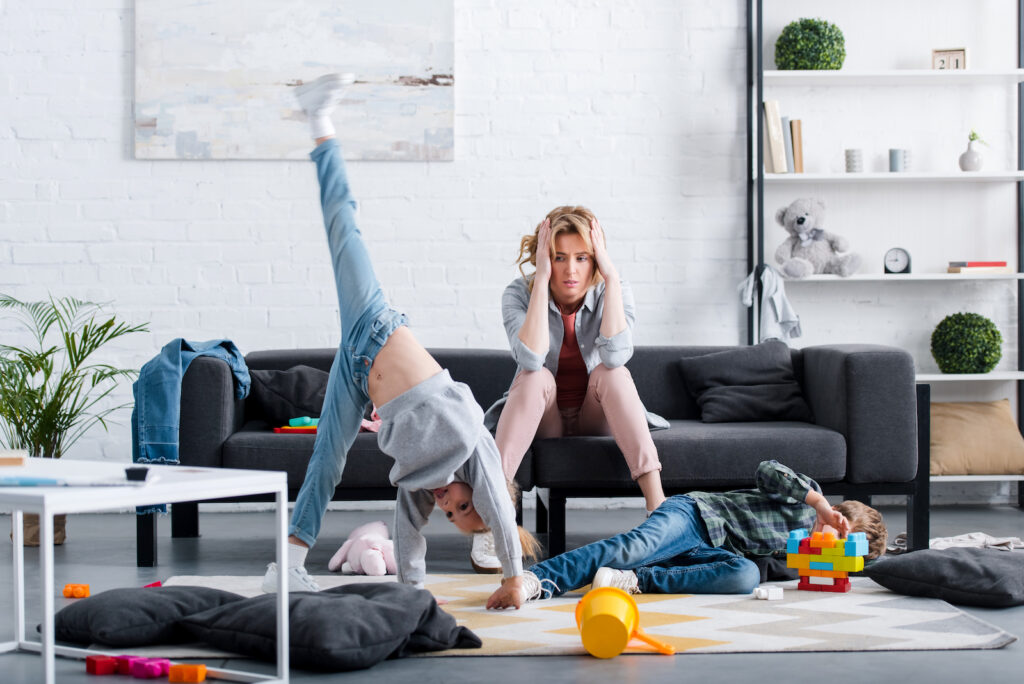 Basic Housekeeping Focus #1: Food
If your family has food to eat – and clean dishes to eat it on – they won't care a whole lot about the dust on the end tables or the dirt on the dining room floor.
To start with, write a simple meal plan that's easy manage. Don't worry about fancy dinners and new recipes. Give yourself a break until you feel like you have other areas of life under control. You also might want to make extras of your favorite meals so you can serve leftovers for dinner on a different night. You could even stick some of those leftovers into the freezer to be used in a couple of weeks.
Another important part of feeding your family is having clean dishes for them to eat off of. Fill the sink with soapy water before you sit down to eat dinner so the pans can soak while you're eating and will clean up faster after your meal.


Start a routine of turning on the dishwasher after dinner and unloading it first thing in the morning (maybe while your coffee is brewing) so it's ready for all the dirty dishes that accumulate during the day. Work to keep the dishes washed daily so they don't pile up and become a big 'ol crusty mess.
Basic Housekeeping Focus #2: Clothes
I highly recommend following the one-load-a-day method for keeping up with the laundry. Use a light-colored basket and a dark-colored basket to sort the clothes as they're taken off. Each day, grab one of the baskets (either light or dark, whichever is full) and toss the laundry in the washer first thing in the morning so you have time to switch it to the dryer and still get it folded and put away before the end of the day.
One of my very favorite laundry hacks is to fold the laundry straight from the dryer. When you're only folding that one load, it takes just a few short minutes. Then you can either put it away in the closets and drawers, or teach your kids how to put away their own laundry before they go to bed.
Also, be sure that everyone has lots of socks, underwear, and staple clothing items (jeans, basic shirts, work shirts, etc.) so that you don't necessarily have to do laundry every single day just for the family to be decent enough to leave the house!
If doing a load of laundry every day is just too much, then consider doing all the laundry one day a week. If you take a day to just relax at home, you could sort all the laundry the night before and keep the machines running until it's done. Just be sure you have enough of those staple clothing items to make it through the entire week.
Guard Your Heart
As hard as it is, remember that taking care of your family is a blessing. You have a unique opportunity to care for your loved ones in a way that no one else can. Choose thankfulness and try your best to refuse to complain.
The laundry is piled up by children who are healthy enough to get dirty. The messy plates were full of food that so many people simply don't have enough of. The blessings may seem hidden, but they're there if you look for them.
Refuse to let your mind gripe about those people (you know, the messy ones you live with) who leave stuff all over to be cleaned up. Pray for your heart to have love and not bitterness.
Oh, and be sure to smile every day! When you feel annoyed at your husband for not helping or your kiddos for leaving their junk everywhere, walk into the room and give them a kiss, a smile, and an "I love you". (I seriously do this, so I know it works.)
Whew! Taking care of a home is hard work, but it is valuable beyond measure. You're right where you are for a very special purpose, so take some time to enjoy that (messy) family of yours!