How to Set Up a Coupon Notebook: The Easiest Way to Organize Coupons
A coupon notebook is the easiest way to store and use coupons to save money on groceries. With this method you'll save both time and money every single week!
I enjoy clipping coupons. I like to save money on food, and I like knowing that I'm contributing in some small way to my family's finances. Yep, that's nice, but my enjoyment of cutting out coupons goes deeper than that.
Go ahead and call me crazy (believe me, I am!), but I find all that snipping, sorting, organizing, and filing to be oddly relaxing.
One of my favorite ways to spend a Sunday afternoon is with a cup of tea (this kind is my current favorite!), a pair of scissors, and the weekly coupon flyers. Nothing to think about, or clean, or do…..just cut.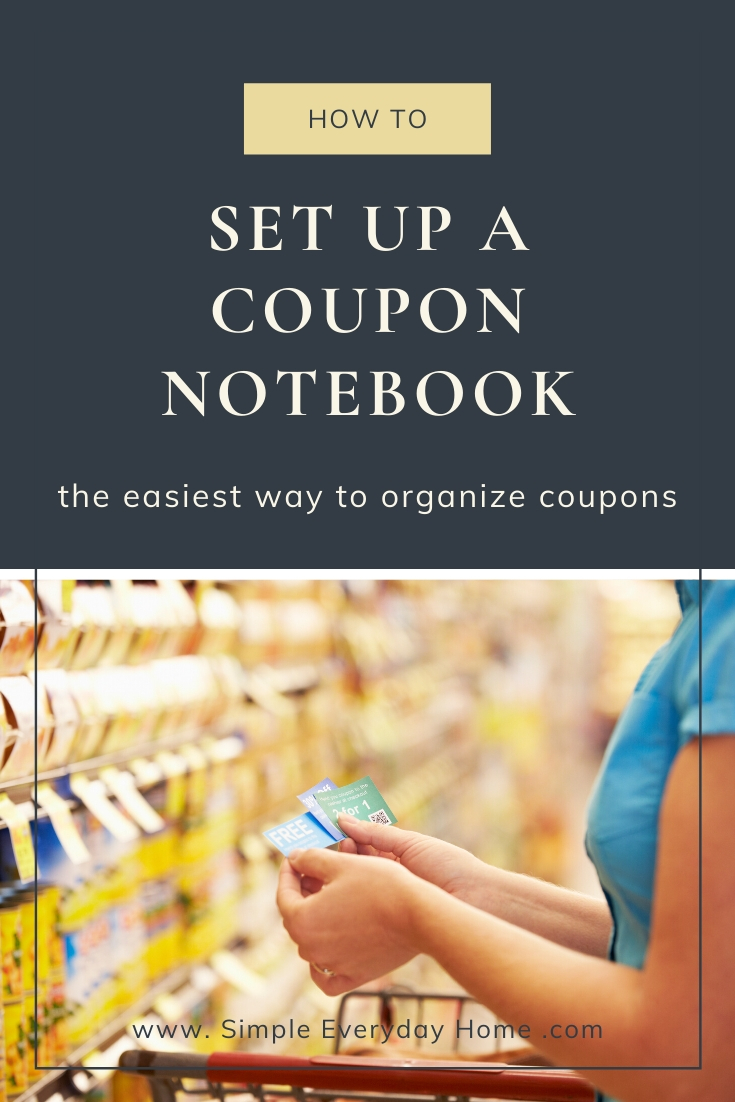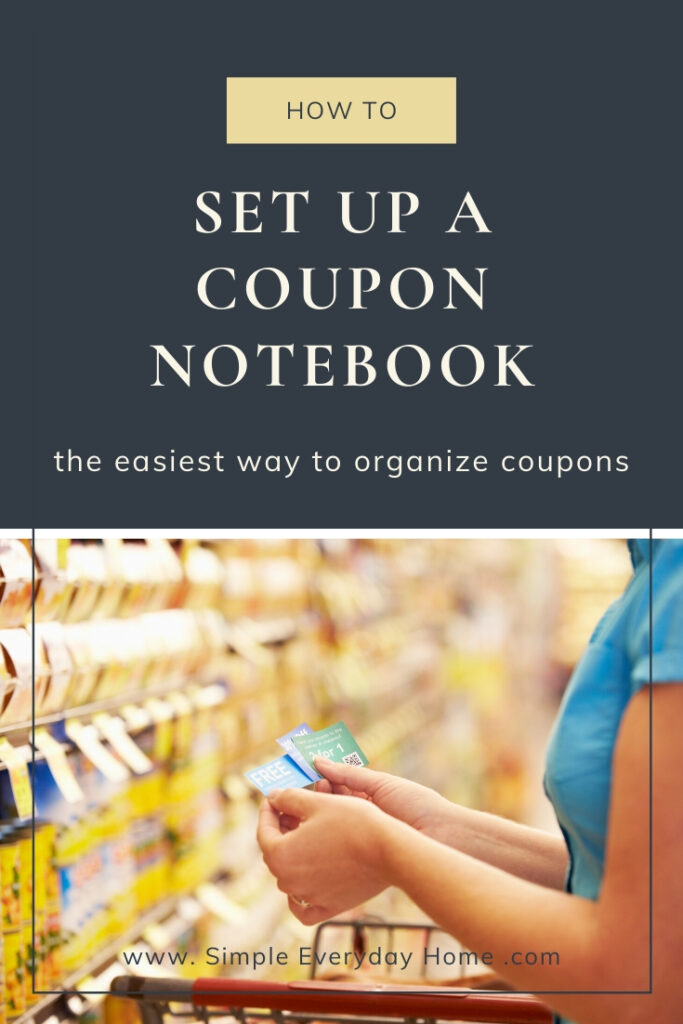 But I didn't always have a wacky love for this money-saving pastime. With aching back and bleary eyes I cut out every single coupon I might possibly use, and many I never would. Then, I filed every little square of paper.
A couple months later, I spent hours sifting through the very coupons I had spent so much time clipping and filing, looking for the countless outdated ones to toss into the recycle bin.
After I tracked the time I was spending on this madness, I realized my coupon system wasn't working. As a matter of fact, it was crazier than I was.
Next, I tried not cutting out any coupons at all, choosing instead to leave the flyers whole until there was a specific coupon I needed. That didn't work either. It was frustrating having to look up all the coupons I needed each time I made a grocery list, and it was very annoying to be at the store without a coupon for the yogurt I forgot to put on my list.
Finally, after much thinking and hair-pulling, I began using a hybrid system. It reduced the time I was spending on this weekly task and led to my extreme love of non-extreme couponing.
Get your FREE Simple Decluttering Cheatsheet!
Start feeling at peace in your own home! Learn how to pick the best spot to start decluttering AND step-by-step how to tackle the mess in any room in your house. PLUS get my best tips right in your inbox…and it's 100% FREEEEE!
Your email is safe with us. We wouldn't dream of sharing it with anyone else!
"You should see my house right now. Thank you so much for everything!!" – Carly
Using a Coupon Notebook: An Easy Coupon Clipping and Filing System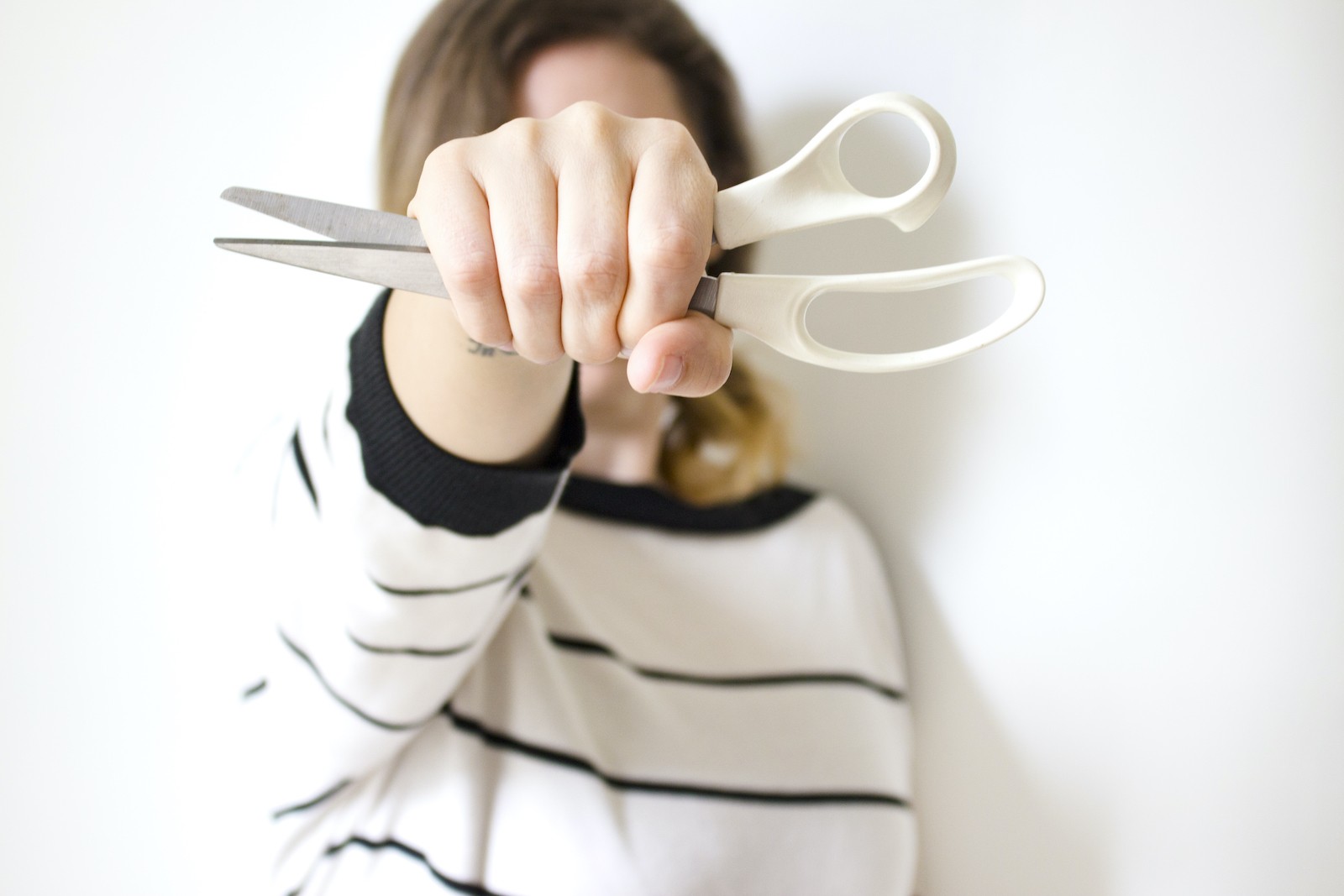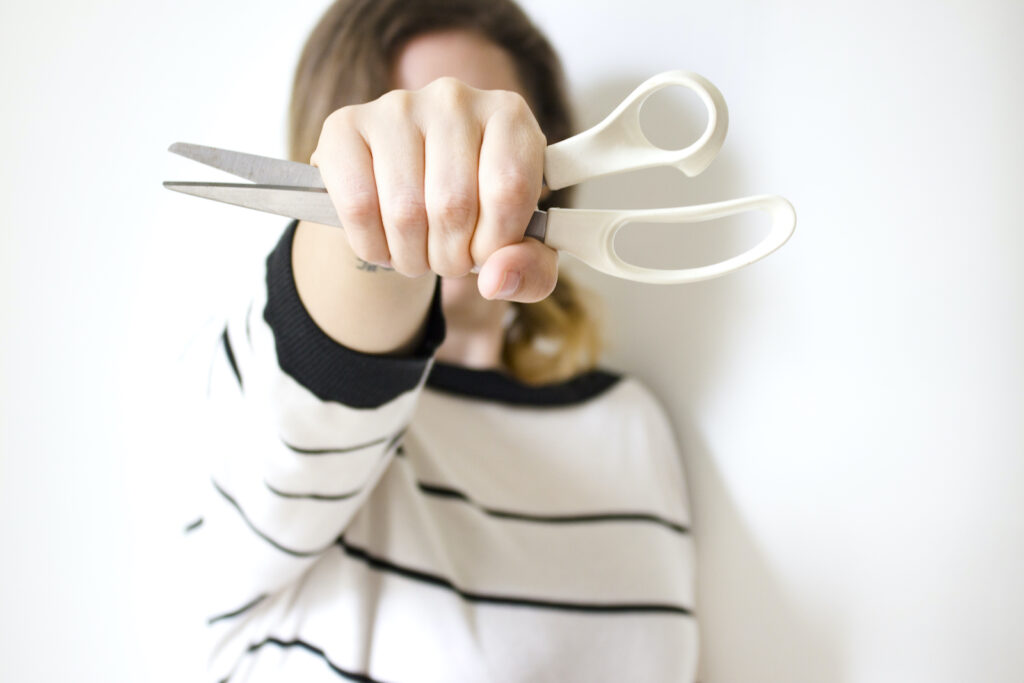 First, I print or cut out only the coupons that meet certain criteria:
I want to print and save the coupon before it disappears (which happens with printable coupons).
I usually buy the item even without coupons or a sale (salad dressing, yogurt, pasta, etc.).
I may need it without warning and without wanting to search for a coupon (children's cold medicine, batteries, etc.).
The item regularly goes on sale for an unbeatable price when combined with a coupon (toothpaste, hair products, etc.).
It is a rare or high-value coupon that's too good to pass up.
There's a strong possibility I'll actually use it.
Then, I save the coupon flyers in their own separate:
After clipping the coupons I want to save, I neatly close the cover and write the date on the front of the flyer (you can find the date on the "spine"). I have a big three-ring binder with clear page protectors inside, and each week's coupon packs go into a page protector.
About once a month, I turn to the front of the binder, quickly glance through the first few weeks of coupons and toss the packets that are outdated.
To cut down on the bulkiness of this notebook, I also throw out any extra pages I come across as I'm cutting out the coupons I want to keep. I really don't need to keep the fifteen different advertisements for ordering check-by-mail or the offer of a doll that looks like a real baby.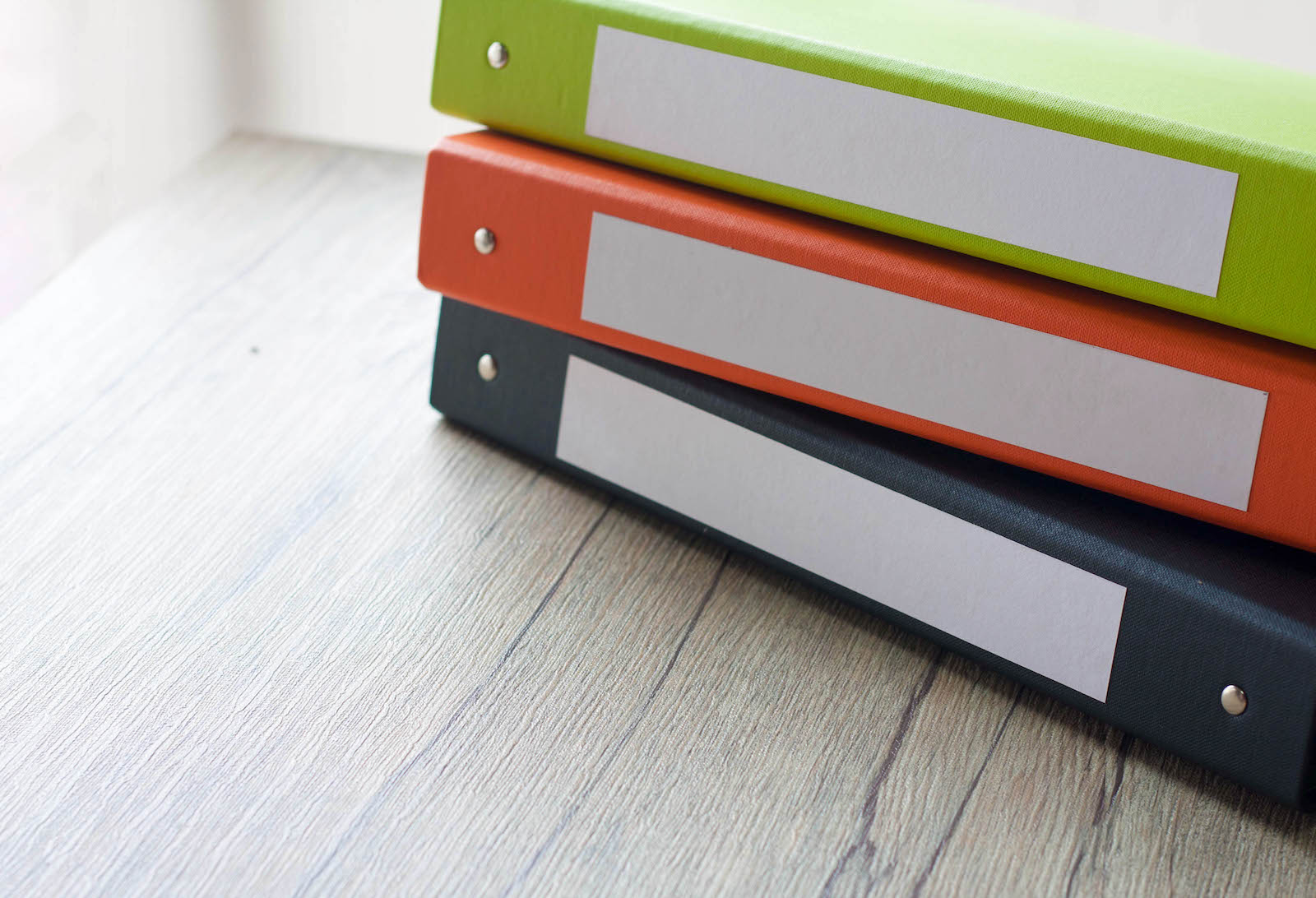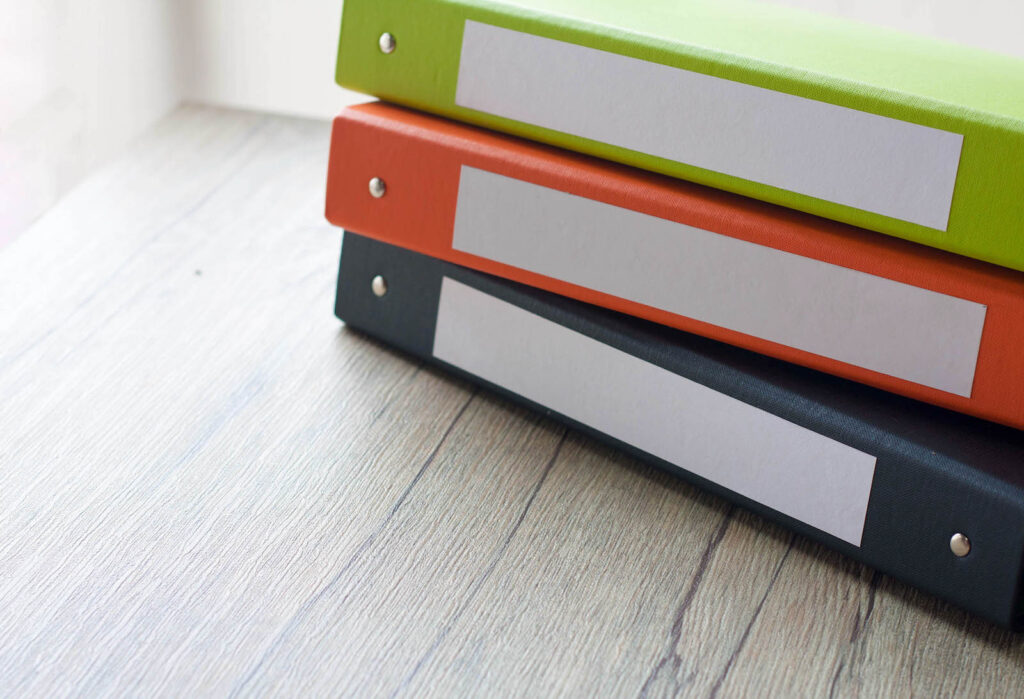 Finally, the clipped coupons are filed in my coupon notebook:
To set up a coupon notebook you'll need…
—3-ring binder–mine is just like this one and is about two inches thick. And it's being held together with duct tape. Seriously.
—Dividers–I use five of them that are the plastic type with pockets. Any kind will do, but I really like the pockets.
—Baseball card holders— My pages each hold eight cards, but that size is a little harder to find than these 9-pocket pages. Either will work just fine. I use thirteen pages.
—Pencil pouch–The kind that goes in a notebook. Not a necessity, but it comes in handy.
–Index cards, scissors, pen.
First things first: Put your name in the front of your notebook. I used an address label and added my phone number. This will save you a couple of tears when you forget it in the front of the shopping cart. Not that I've ever done that (Ahem!).
Next, put the pencil holder in the front, followed by the dividers, with two or three baseball card pages behind each divider.
Then cut the index cards into narrow strips that will fit down in the pockets of the baseball card pages. Label the index card strips with each type of coupon (see below for how mine are labeled), and slip them into the pockets.
In case you're wondering, this is how my dividers and pages are set up…
~First divider label: Beverages/Dairy/Fruit & Veg/Meat
Page one: (1) Milk, Cream, Creamer; (2) Tea, Coffee, Hot Cocoa; (3) Juice, Juice Drinks; (4) Water, Soda, Other; (5) Sports Drinks; (6) Yogurt; (7) Butter; (8) Sour Cream.
Page two: (1) Kraft Cheese; (2) Other Shredded or Block; (3) Cream Cheese, Ricotta, Processed; (4) Canned Tomatoes; (5) Veggies; (6) Fruit; (7) Dried Fruit, Nuts; (8) Pickles.
Page three: (1) Fresh Poultry; (2) Frozen, Canned Chicken; (3) Lunchmeat; (4) Smoked Sausage, Processed; (5) Fresh Sausage; (6) Ham, Bacon, Pork, Beef; (7) Fish; (8) Eggs.
~Second divider label: Dressings/Prepared/Grains
Page one: (1) Kraft Salad Dressings; (2) Salad Dressings, Dips; (3) Mayo, Mustard, Ketchup; (4) Sauces; (5) Mexican; (6) Peanut Butter, Jelly; (7) Frozen Pizza; (8) Frozen Snacks, Meals.
Page two: (1) Bread, loaf; (2) Other Breads, Bagels, Buns; (3) Frozen, Refrigerated Bread; (4) Pancakes, Waffles, Syrup; (5) Pasta Sauce; (6) Pasta, Rice; (7) Canned Soup; (8) Broth.
~Third divider label: Snacks/Cereal/Baking
Page one: (1) Crackers; (2) Chips, Snacks; (3) Granola Bars; (4) Cereal Bars; (5) Hot Cereal, Pastries; (6) Big G Cereal; (7) Kellogg's Cereal; (8) Other Cereal.
Page two: (1) Candy; (2) Ice Cream; (3) Frozen, Packaged Desserts; (4) Baking Mixes; (5) Sugar; (6) Flour; (7) Baking Goods; (8) Oil.
~Fourth divider label: Health/Beauty
Page one: (1) L'Oreal, Garnier (hair products); (2) Finesse, Herbal Essence; (3) Hair Color; (4) Hair Products (other); (5) Revlon Make-up; (6) L'Oreal Make-up; (7) Cover Girl, Almay, Other; (8) Lotion, Skin Care.
Page two: (1) Deodorant; (2) Shaving; (3) Toothpaste; (4) Toothbrushes, Floss, etc.; (5) Hand Sanitizer; (6) Chapstick, Cough Drops; (7) Bar Soap, Bodywash; (8) Hand Soap.
Page three: (1) Tylenol; (2) Ibuprofen, Aspirin; (3) Children's Medicine; (4) Stomach Medicine; (5) Cold, Allergy Medicine; (6) Misc. Medicine; (7) Vitamins, Natural Medicine; (8) Contact Solution.
~Fifth divider label: Household/Miscellaneous
Page one: (1) Plastic Wrap; (2) Foil; (3) Baggies, Containers; (4) Kitchen Papers, Cooking Bags; (5) Paper Plates, Napkins; (6) Trash Bags; (7) Toilet Paper, Tissues; (8) Paper Towels.
Page two: (1) Laundry Soap; (2) Fabric Softener, Other; (3) Dishwasher; (4) Dish Soap; (5) Magic Erasers, Sponges; (6) Cleaning Supplies; (7) Window Cleaner; (8) Dusting, Floors.
Page three: (1) Lysol Products; (2) Clorox Products; (4) Candles, Lighters; (4) Air Freshener; (5) Batteries; (6) Miscellaneous; (7) Feminine Pads; (8) Tampons.
I assign a different grocery or drug store to each plastic divider and use the pockets to hold that week's coupons for each particular store. My grocery list (when I don't use my phone) and menu plan go in the pocket inside the front cover of the binder so I can see them easily while shopping.
When I'm at the store, I set up my coupon notebook in the front of the cart (easier since I no longer use the seat for my kiddos). After I place an item in my buggy, I mark it off my list and put the coupon into the pencil pouch so it's ready for me at the check-out.
Clipping and filing coupons doesn't have to be a full-time job. As a matter of fact, it shouldn't be! With this simple coupon notebook method, you can save time and money while having all the coupons you need right at your fingertips.
Get your FREE Simple Decluttering Cheatsheet!
Start feeling at peace in your own home! Learn how to pick the best spot to start decluttering AND step-by-step how to tackle the mess in any room in your house. PLUS get my best tips right in your inbox…and it's 100% FREEEEE!
Your email is safe with us. We wouldn't dream of sharing it with anyone else!
"I keep every email you send out. You are so spot on with your advice." – MaryLou