Easy and Delicious Baked Rigatoni Recipe
This Baked Rigatoni Recipe is so cheesy and delicious that it will quickly become a family favorite. Plus, it's so easy to make that you'll want to add it to your menu again and again!
This is one of those recipes that's almost too simple to share, but is too much of a favorite not to. It's simple, but oh, so good.
And, really, who doesn't love a recipe that involves pasta topped with gooey cheese?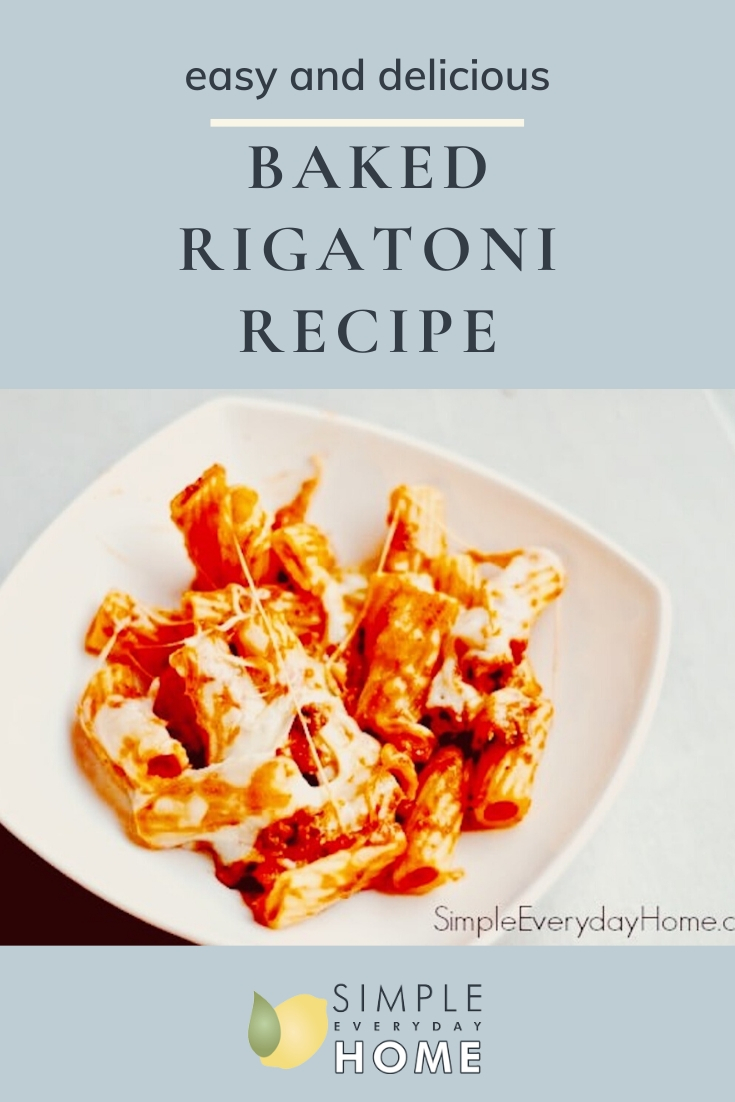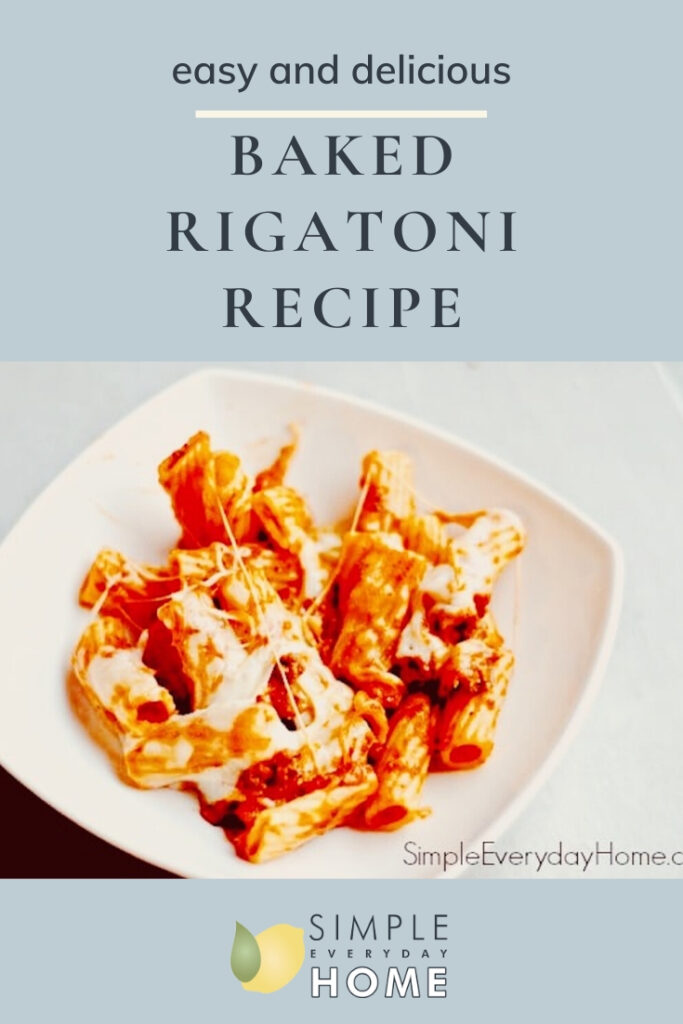 My boys really love this Baked Rigatoni Recipe. Love. It. When I told my son I was making it, he said, "That's my very favorite thing. Ever."
Of course, his other favorite foods are grapefruit and Brussels sprouts. He's funny like that. You can decide how much to trust his opinion.
Get your FREE Simple Decluttering Cheatsheet!
Start feeling at peace in your own home! Learn how to pick the best spot to start decluttering AND step-by-step how to tackle the mess in any room in your house. PLUS get my best tips right in your inbox…and it's 100% FREEEEE!
Your email is safe with us. We wouldn't dream of sharing it with anyone else!
"You should see my house right now. Thank you so much for everything!!" – Carly
Pasta, bottled sauce, mozzarella cheese, and half a pound of ground beef. I almost always have these items on hand, so it's a no-brainer to add this to the menu plan every few weeks. And since it can be made ahead of time and easily reheated, it'll show up a lot during busy seasons. So, basically, always.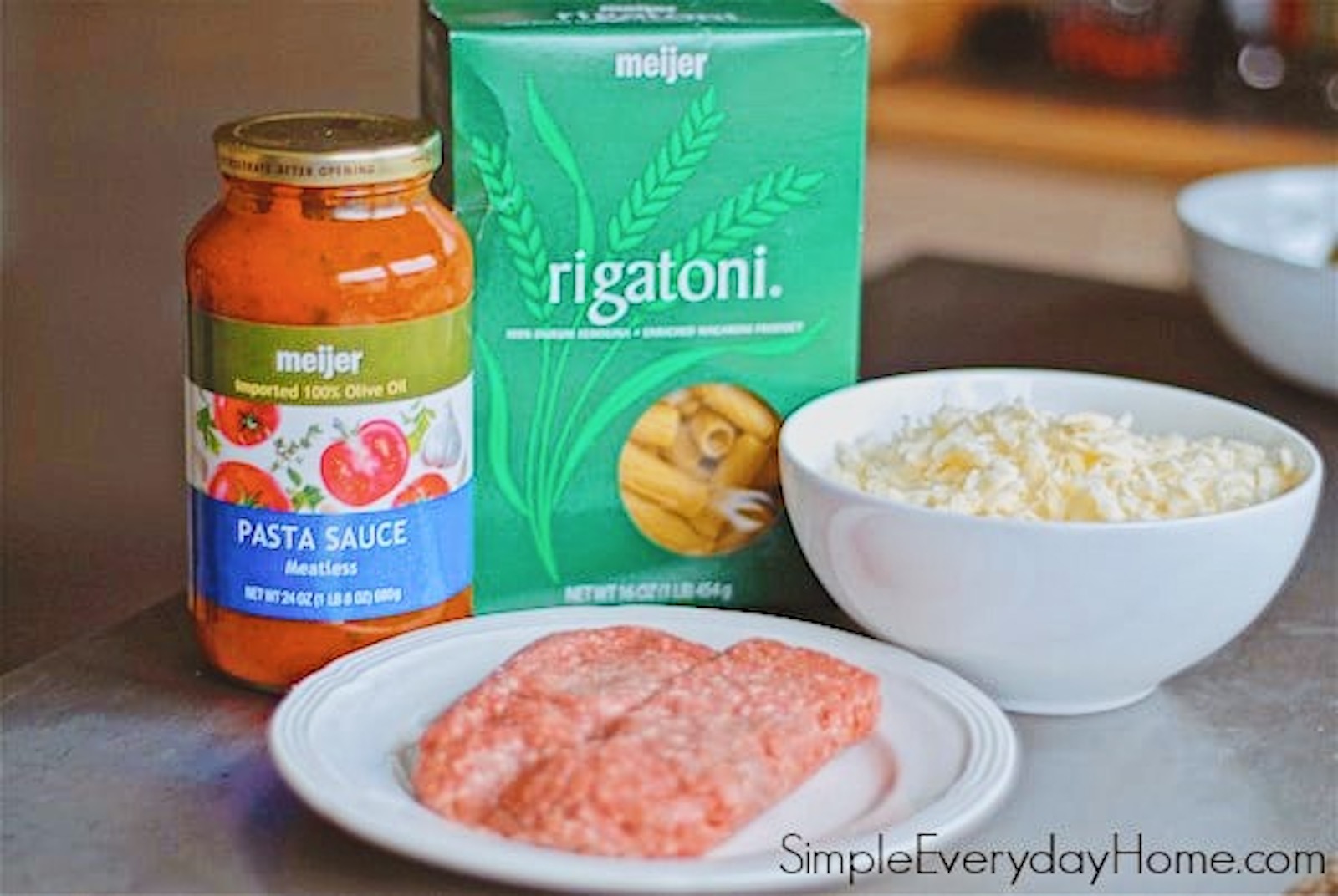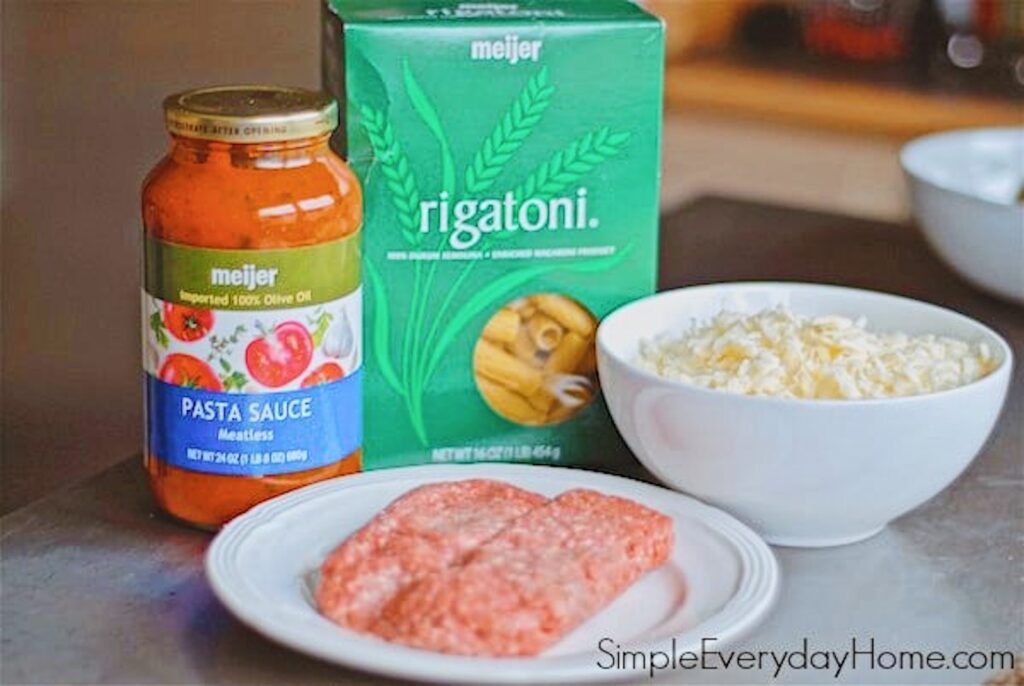 Step-by-Step Guide to Making Baked Rigatoni
Start by putting a large pot of water on the stove to boil and turning on the oven to 350 degrees.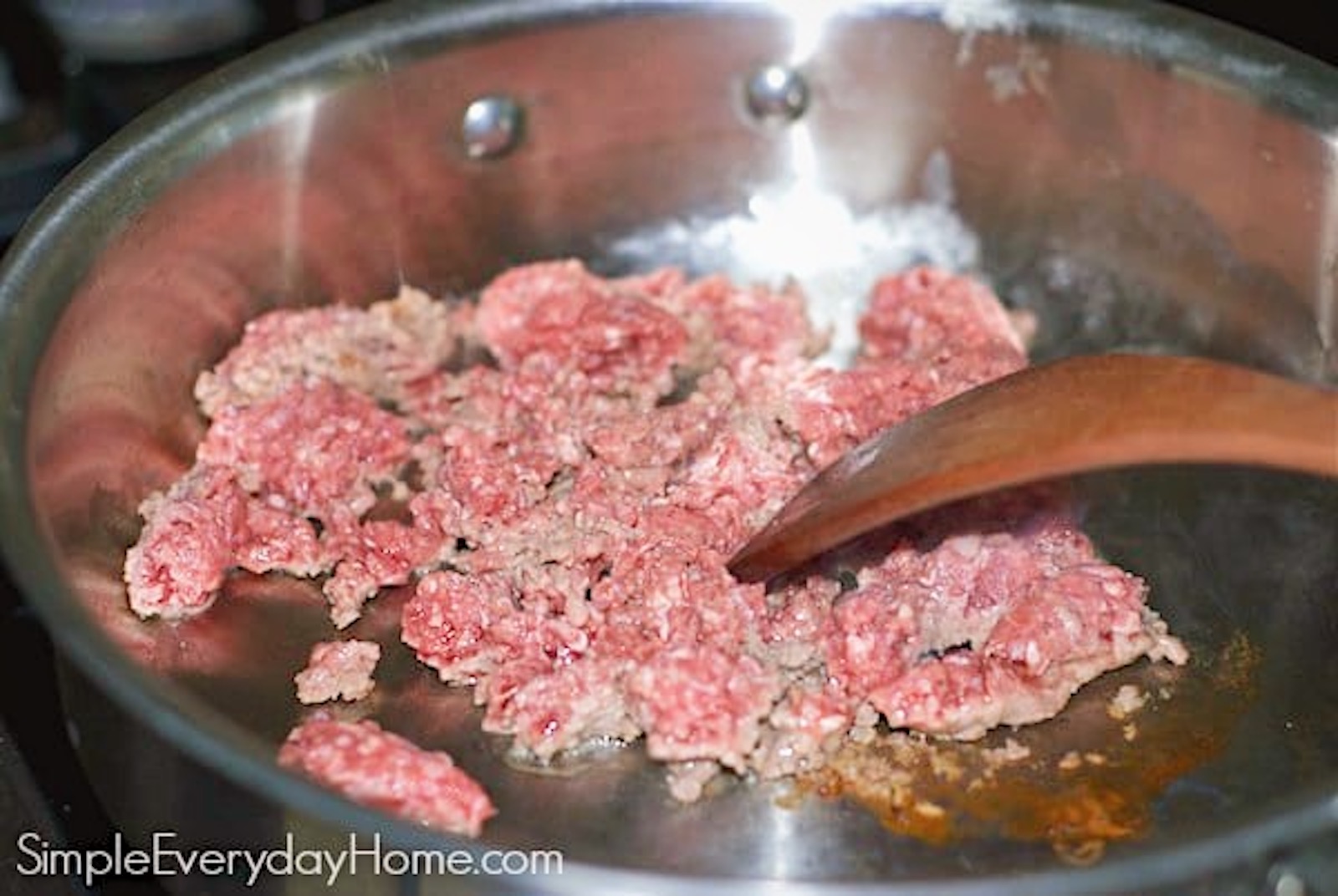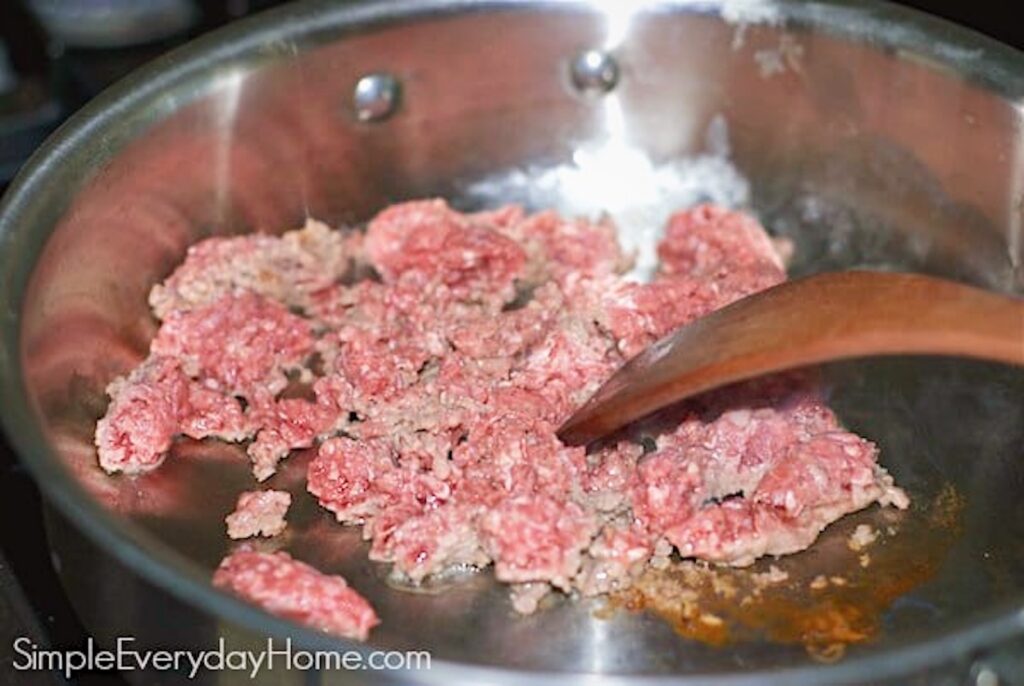 While waiting for the water to heat (which always takes forever, right?), add the meat to a large skillet and begin to brown it over medium heat. Break it into small pieces and give it a little sprinkling of salt and pepper as it's cooking.
The pasta water may have started to boil by now. Or not. Depends on how much it likes to torture you with waiting (I'm not very patient, in case you didn't notice). Add a couple tablespoons of salt and the pasta and cook according to the package directions. Mine took about ten minutes.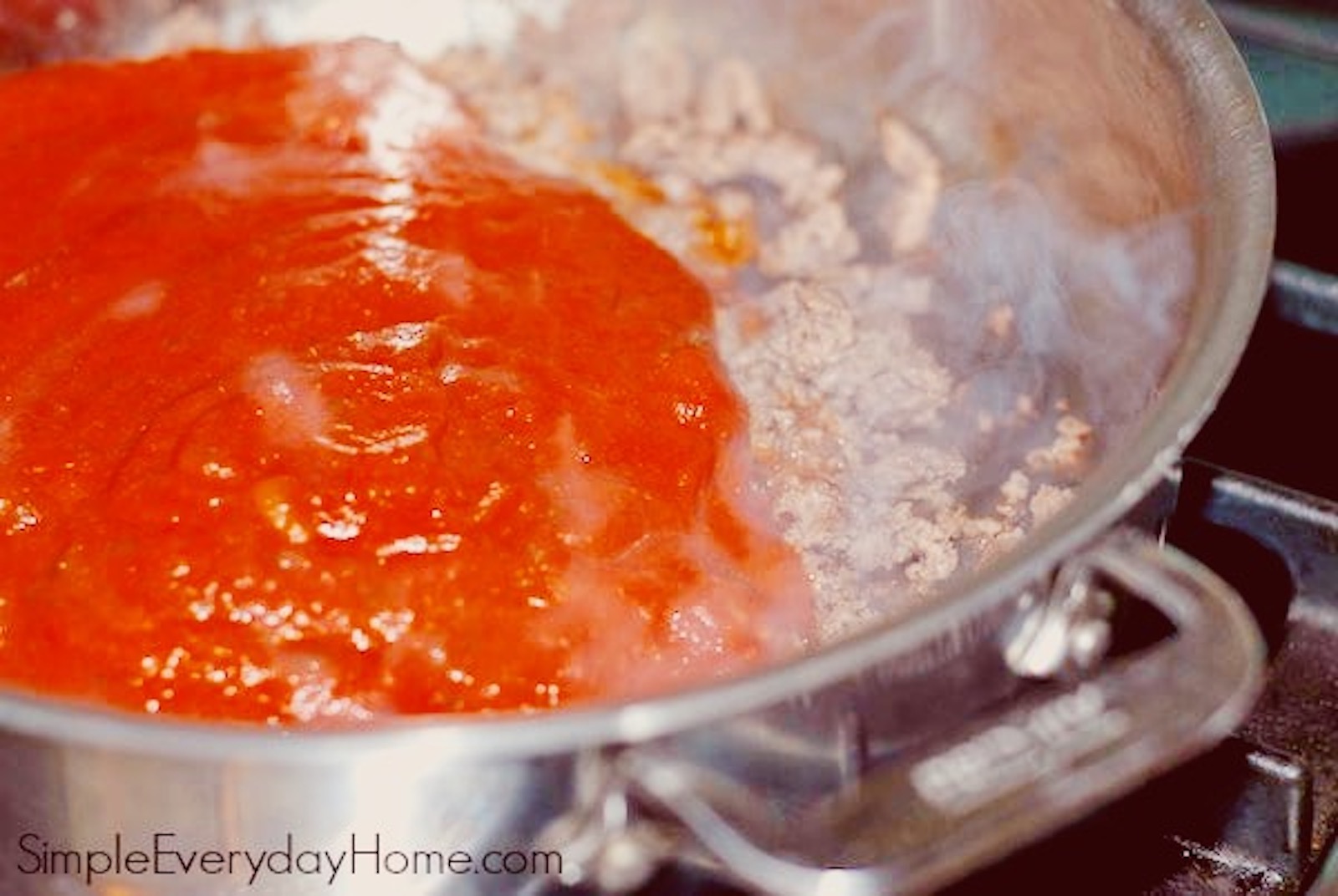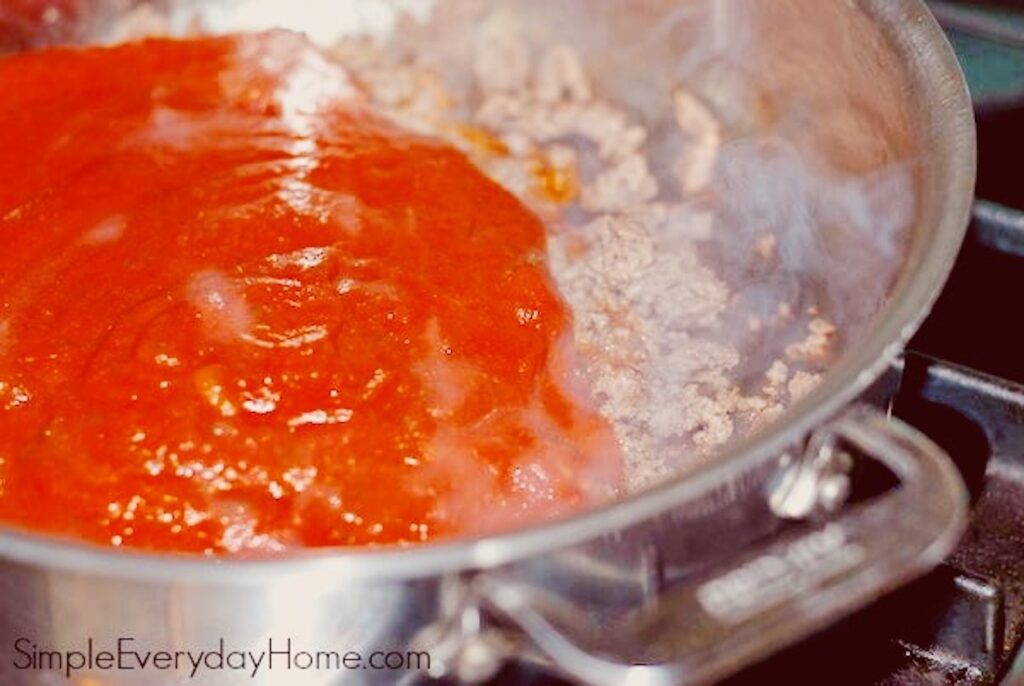 Now, back to the meat. Once it's all nice and browned, dump in the jar of sauce. Add a little water to the almost-empty sauce jar, give it a shake, and pour it into the pan, too.
If there is a lot of fat in the pan, you can use a spoon to drain it off, but any cheap sauce tastes pretty good with some meat and a little bit of the grease. Just a fact.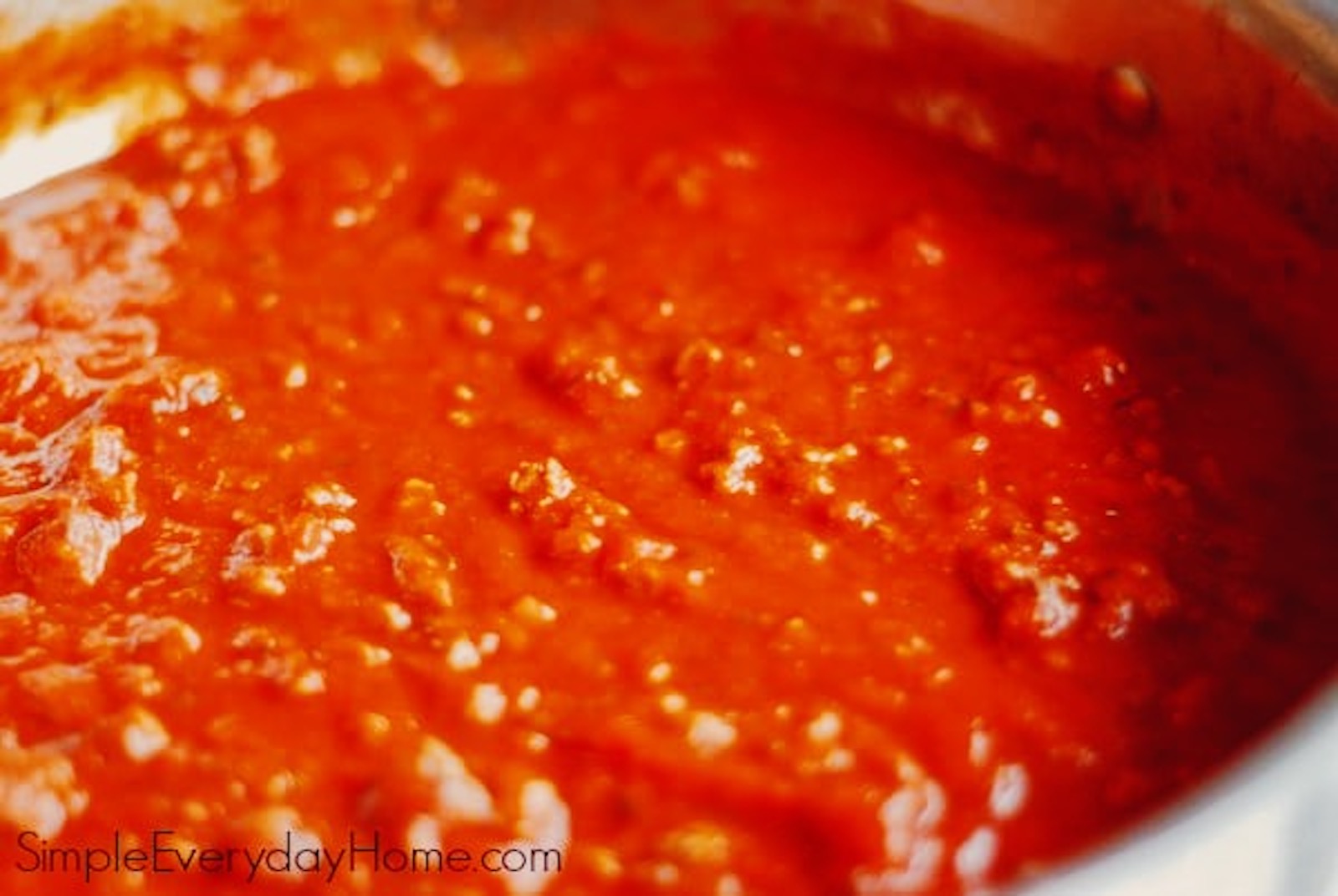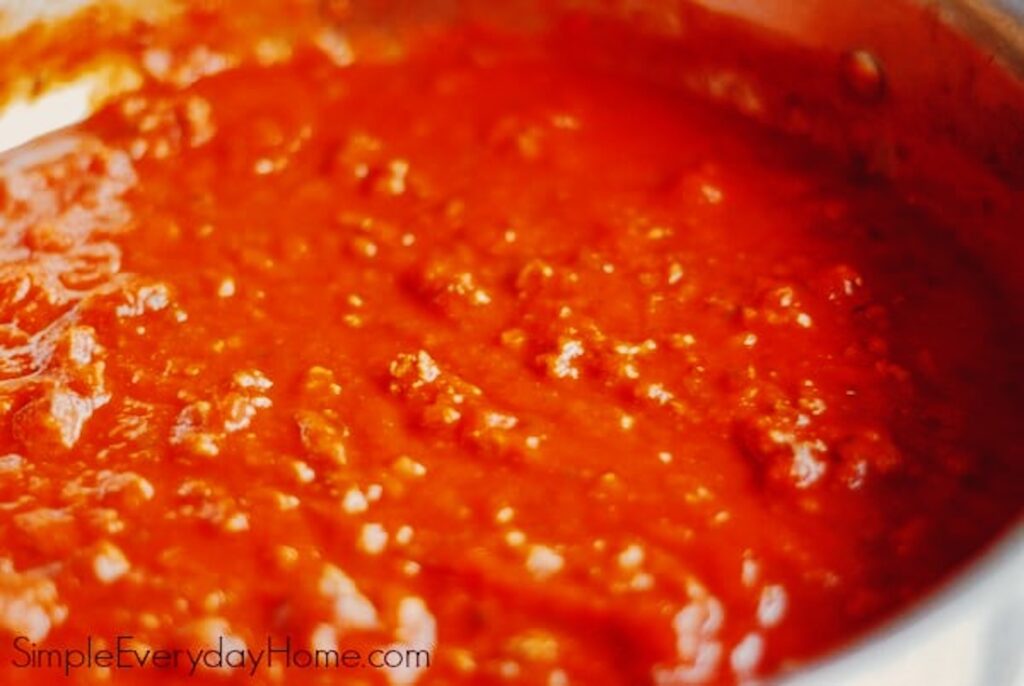 Let the sauce simmer and thicken while the rigatoni is cooking. I find that the key to delicious not-quite-homemade meat sauce is salt. Sprinkle…taste…sprinkle some more…taste…on and on.
Once the pasta is cooked al dente (should be just firmer than you would serve right now), drain into a colander.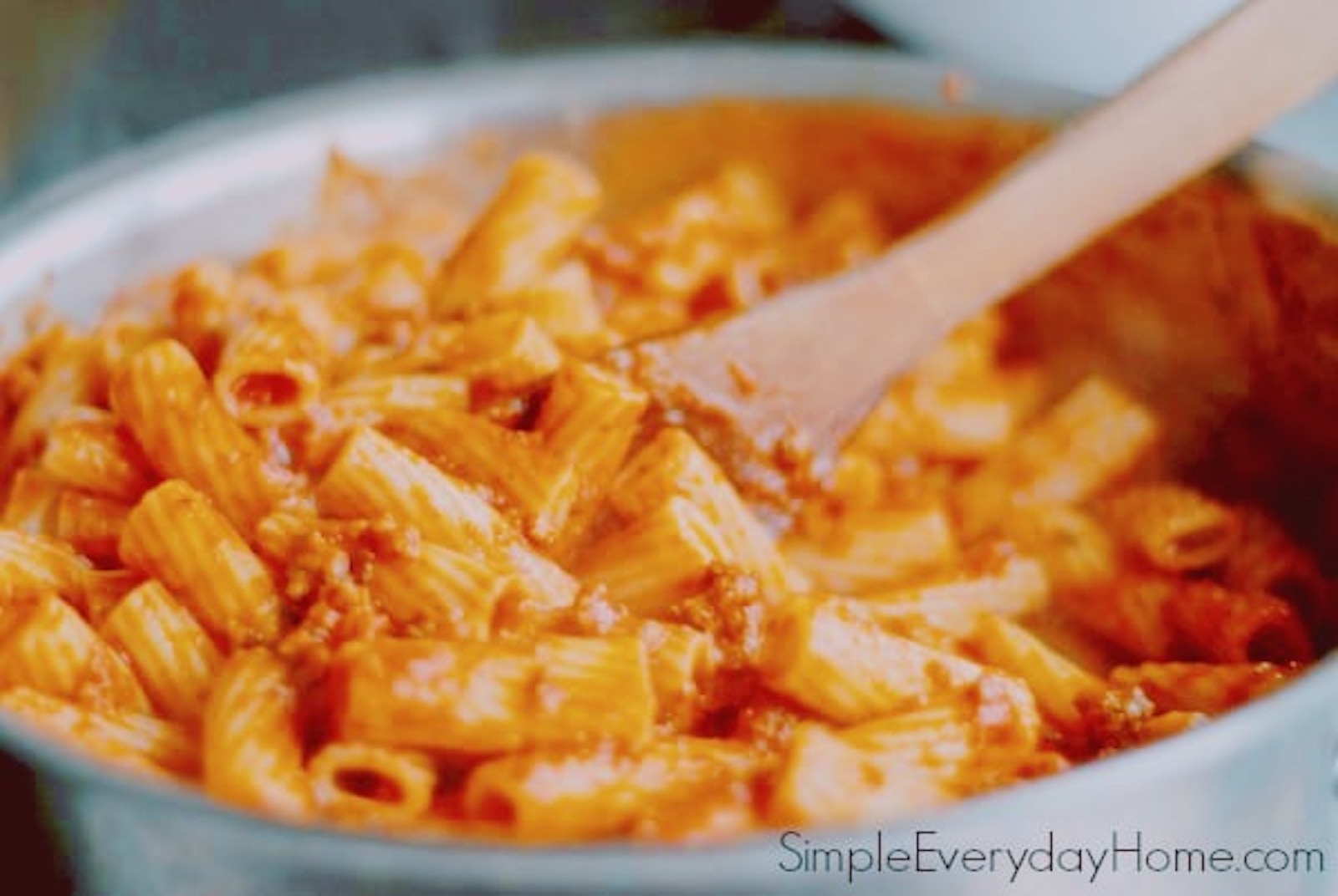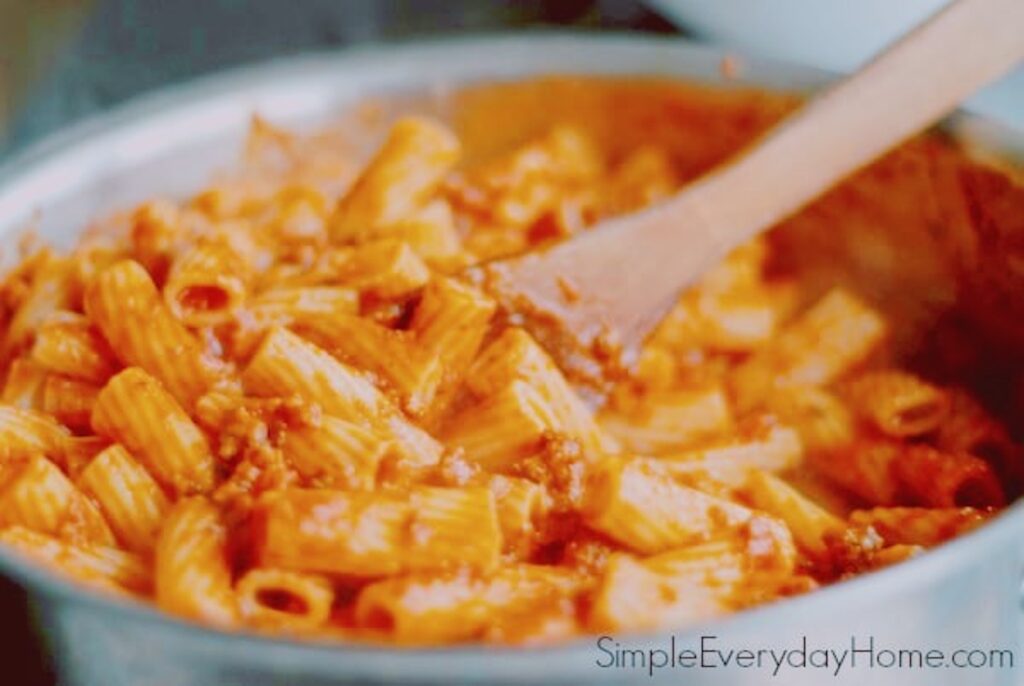 By now, the sauce should be all thick and yummy, so dump the pasta right on top of it. If your skillet isn't big enough to hold it all, then you could also throw the pasta and sauce into the large pot you used for cooking the noodles. Give it a stir.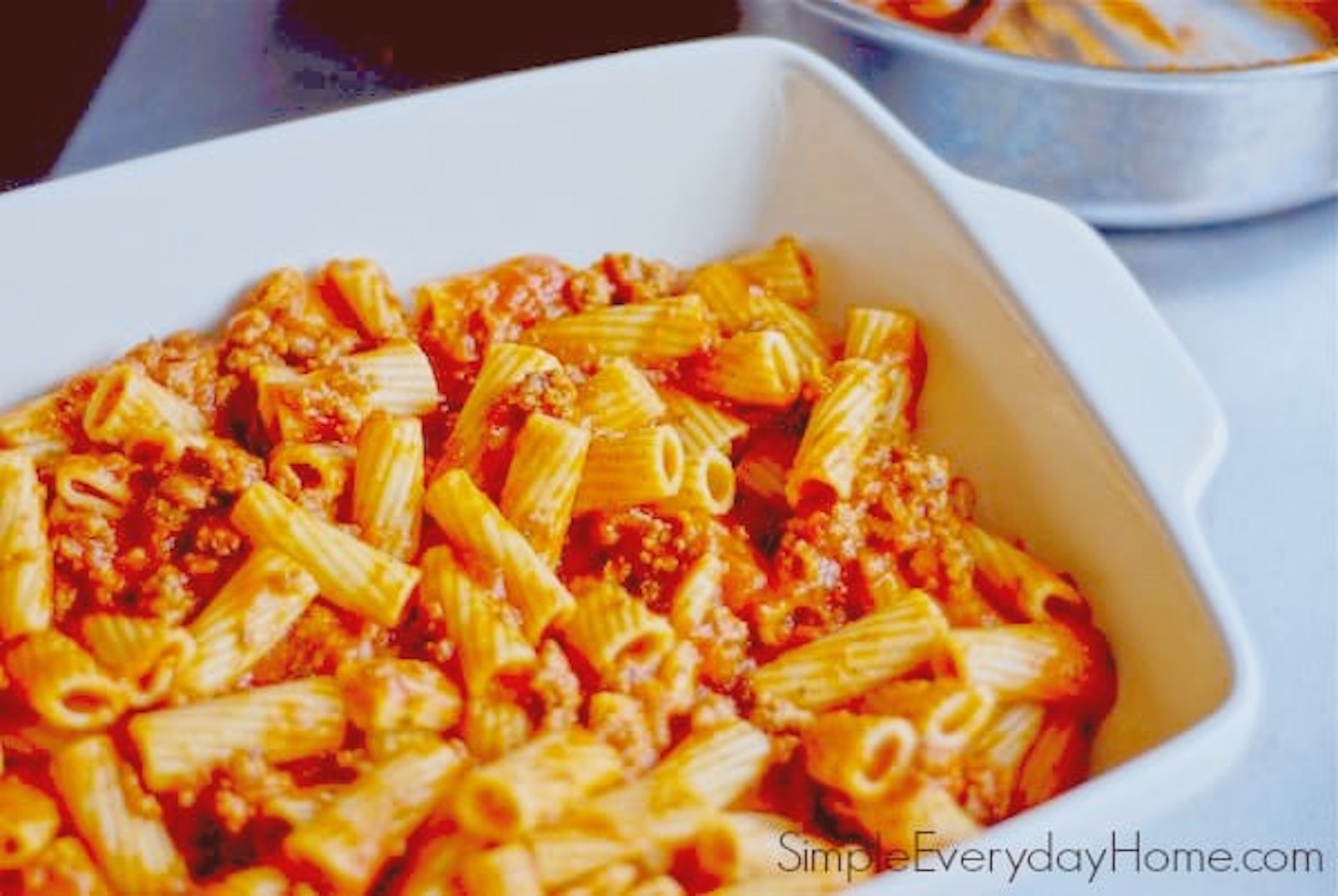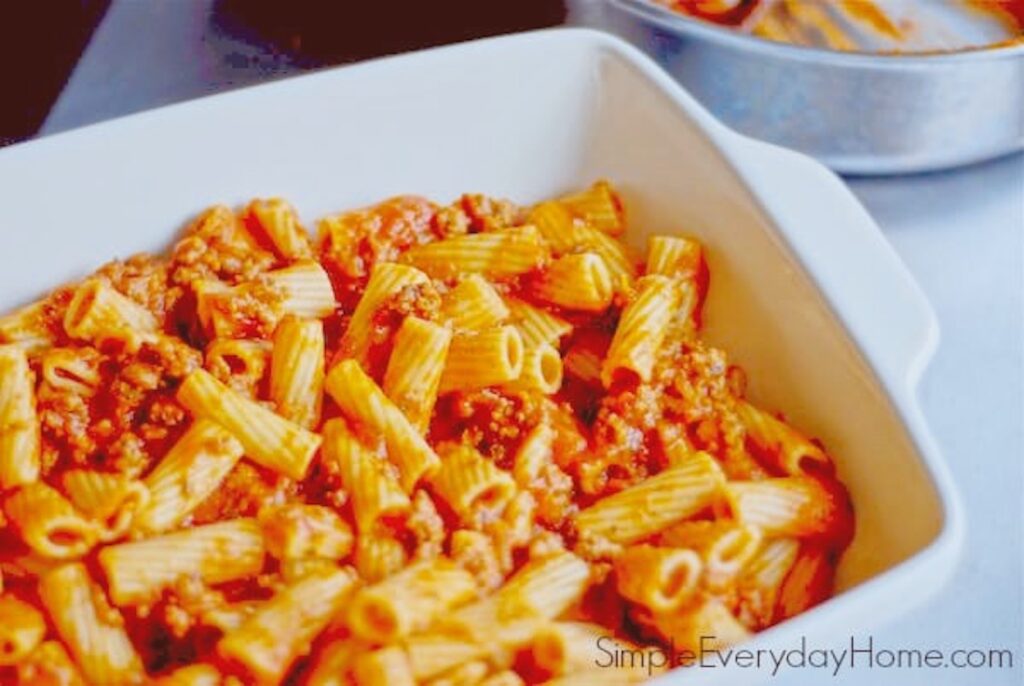 Pour or spoon it into a baking or casserole dish. You can use almost any size. Just remember that more surface area means more room for cheesy goodness. I usually use a basic 9 x 13 pan like this one.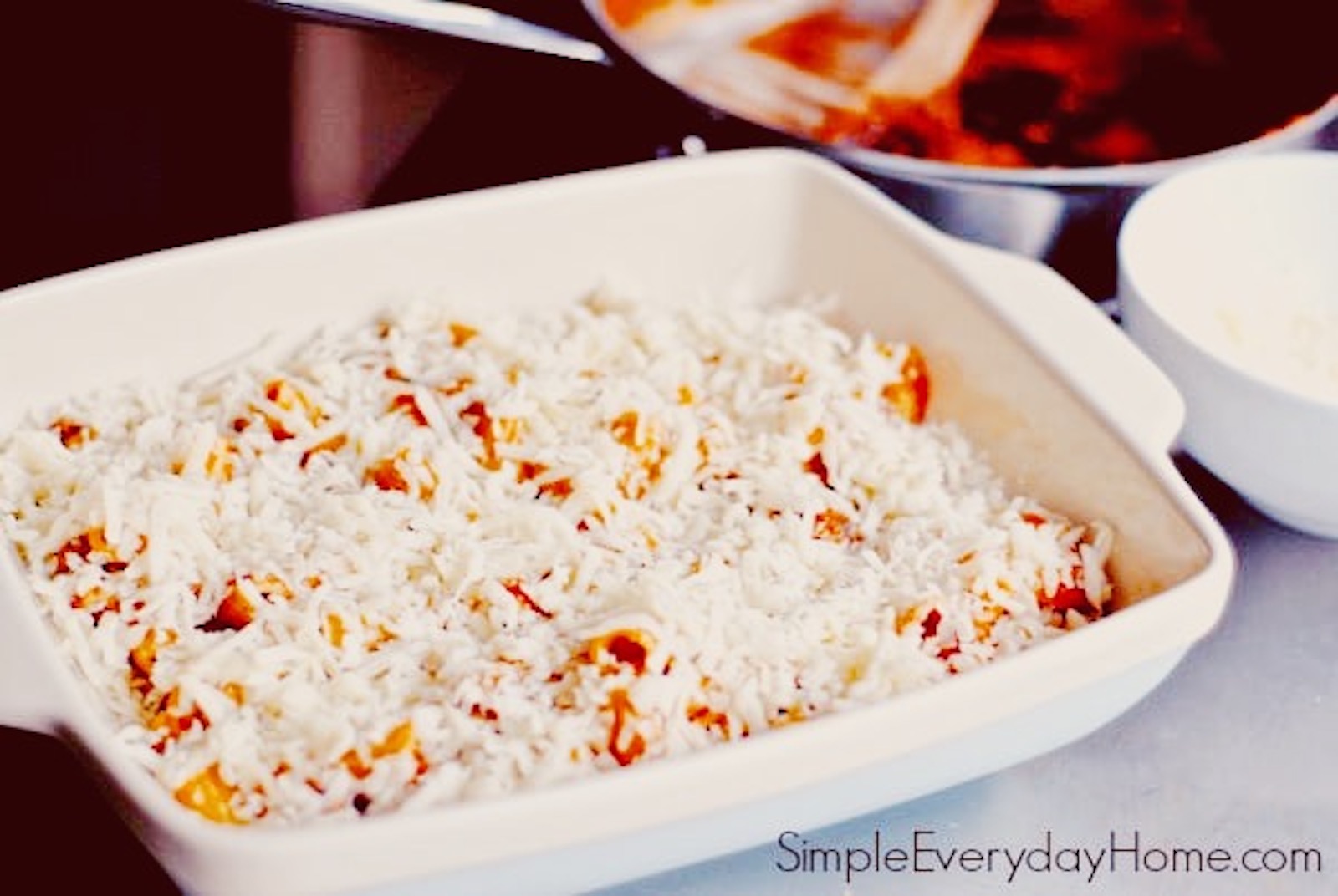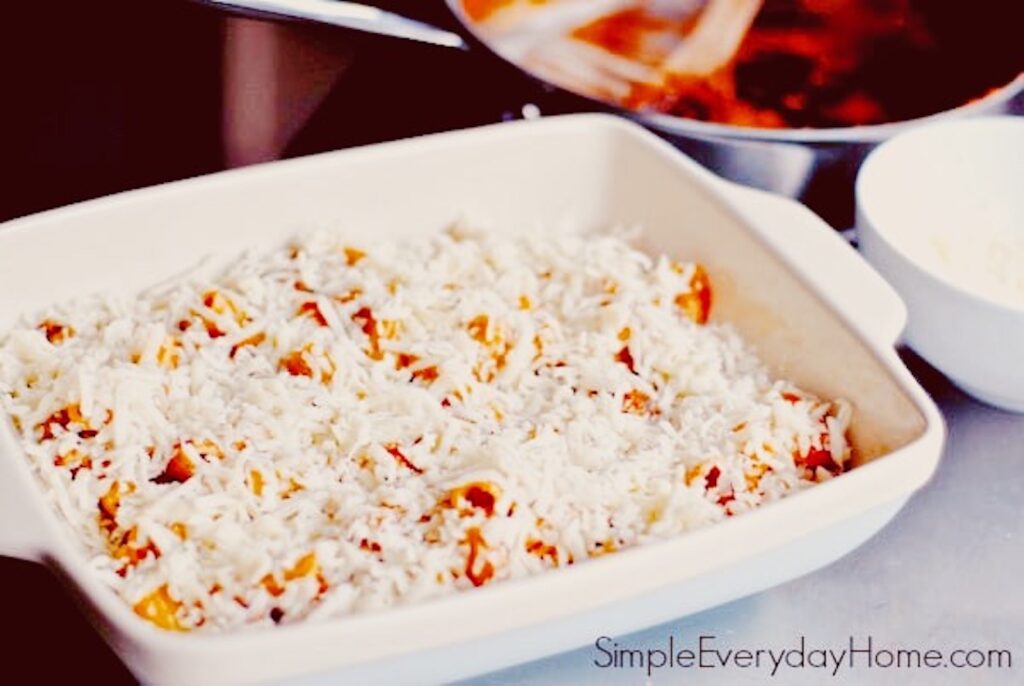 Sprinkle with (lots of) cheese. Bake for about twenty to twenty-five minutes, or until the cheese is melted.
If the dish was made ahead of time and has been chilling in the fridge, it will take several minutes longer. Just be sure it's hot inside and all melty on top.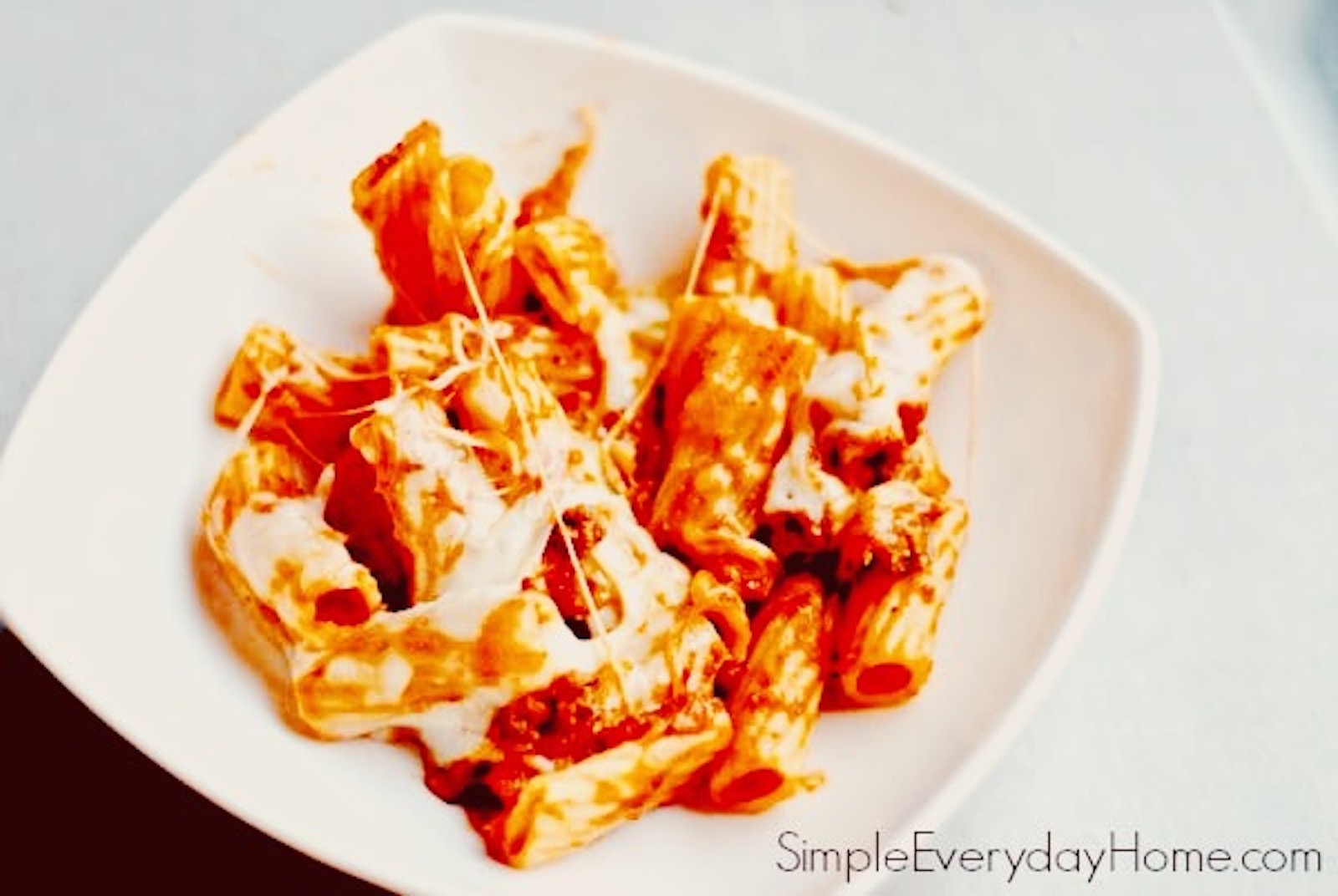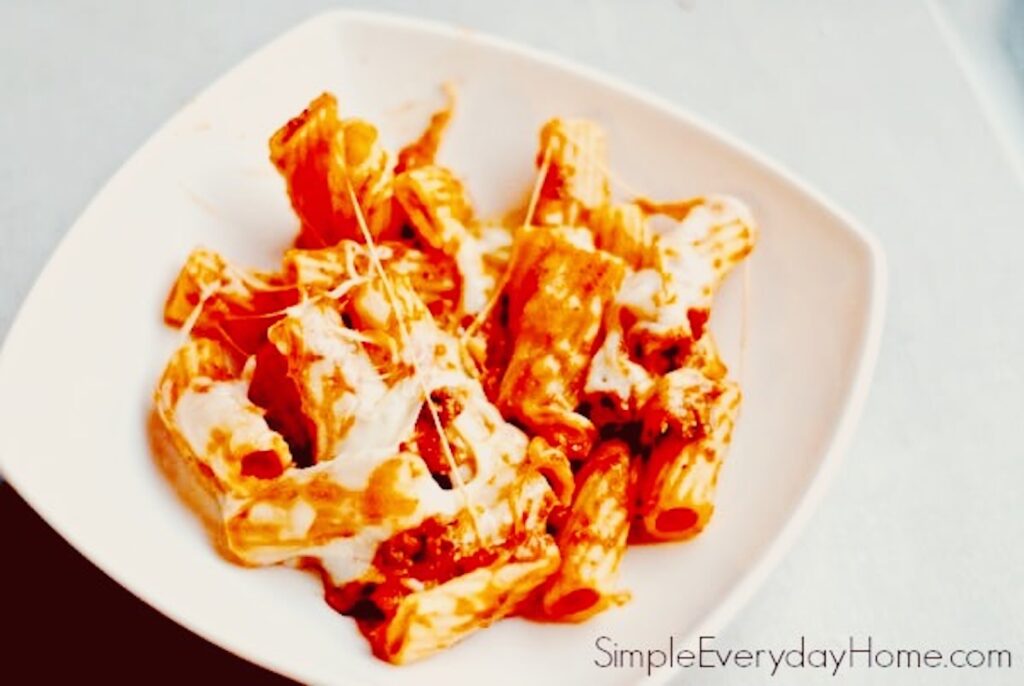 Scoop and eat. Oh, and if you REALLY want to have the meal of your life, add some homemade food processor French bread. Seriously, could there be anything better? Enjoy!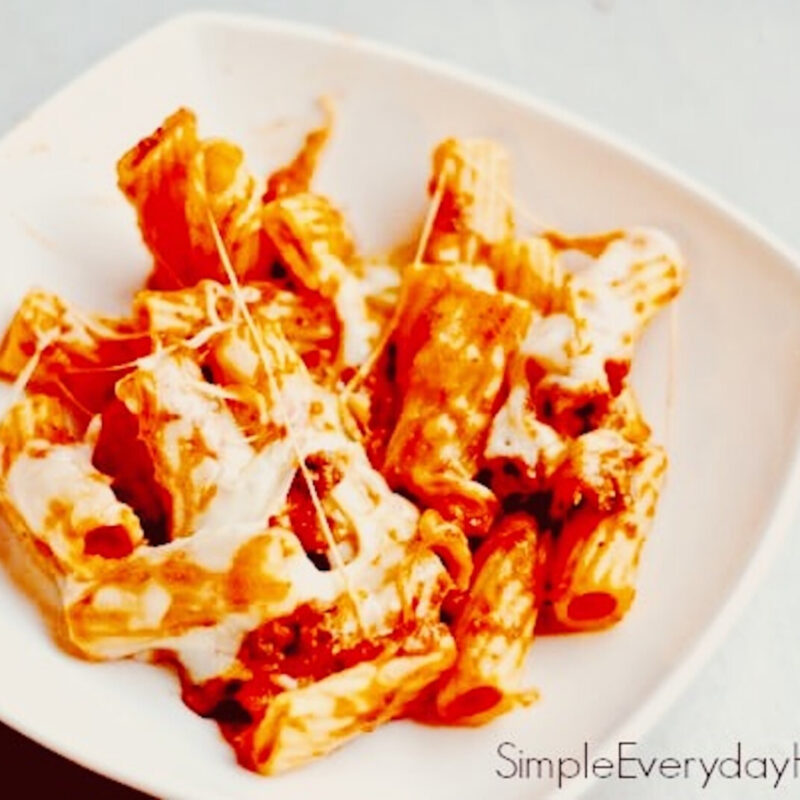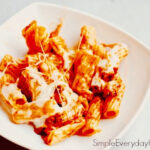 Print Recipe
Baked Rigatoni
This Baked Rigatoni Recipe is so cheesy and delicious that it will quickly become a family favorite. Plus, it's so easy to make that you'll want to add it to your menu again and again!
Ingredients
1

pound

Rigatoni or other shaped pasta, uncooked

1

jar

spaghetti sauce

½

pound

ground beef

8

oz

mozzarella cheese
Instructions
Boil salted water in a large pot, and cook pasta till al dente, according to package directions.

Meanwhile, brown ground beef in a large skillet over medium heat. Add salt and pepper, to taste.

Once beef is no longer pink, pour sauce into pan. Simmer over low heat until slightly thickened. Add additional salt, to taste.

Combine cooked and drained pasta with the sauce. Pour or spoon into a large baking dish and top with cheese.

Bake, uncovered, for 20-30 minutes until heated through and the cheese is melted.