Easiest Homemade Chicken Stock
Homemade chicken stock is easy to make, and it packs a flavor punch that just can't be found in a carton or can. This recipe saves money and tastes great!
I absolutely love homemade chicken stock. Love. As a matter of fact, the smell of chicken stock brewing on the stove just might be one of my favorite scents.
Well, right after bacon…and this food processor French bread…and chocolate chip cookies.
Hey, it's certainly in my top five.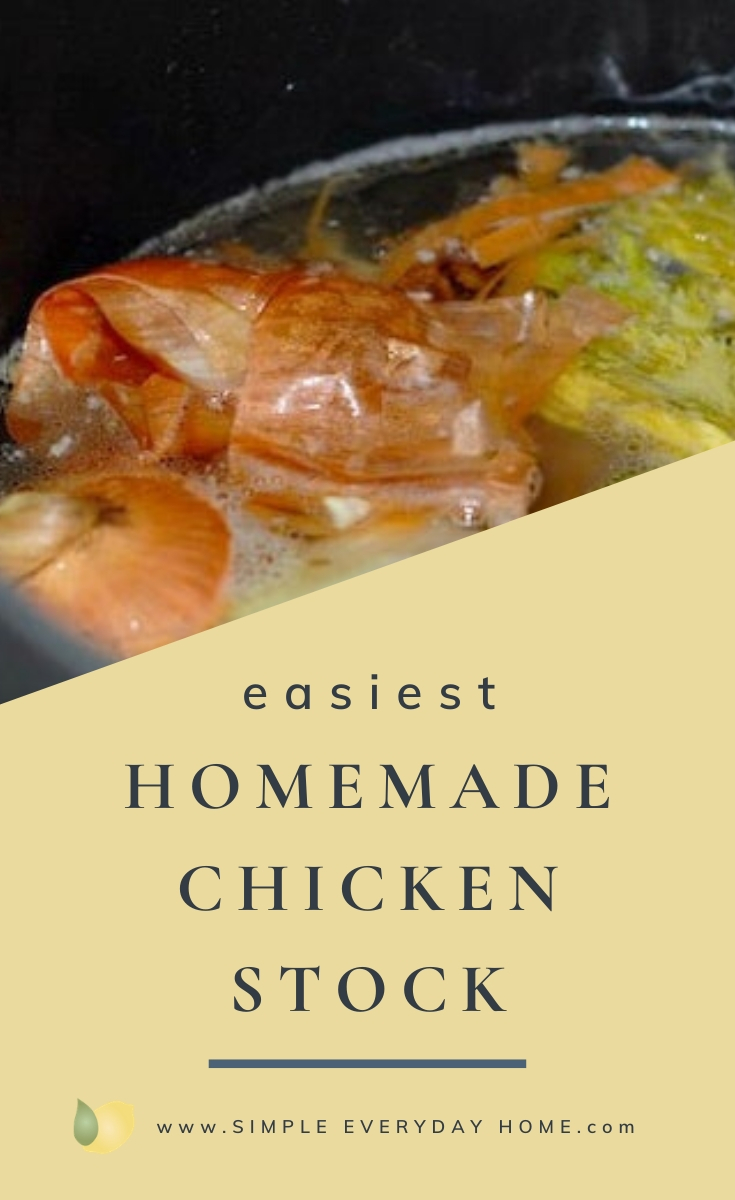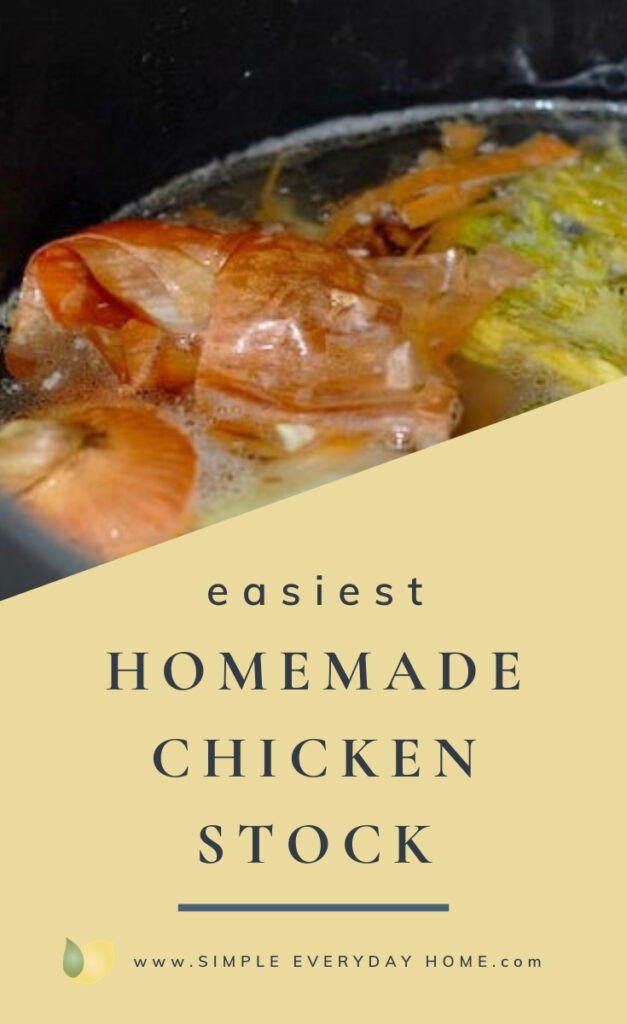 I use a lot of chicken stock because I like to add a soup to my menu plan each week, and chicken stock is often the base. I use commercial stock or broth if I don't have time (or energy) to make my own, but I much prefer using homemade. It tastes so much better, and it's practically free since I make it from items that would otherwise be thrown away.
Every time I have leftover chicken bones from a rotisserie chicken or cut from chicken breasts, I toss them in a zipper bag in the freezer. It doesn't matter if they're raw or already cooked.
Get your FREE Simple Decluttering Cheatsheet!
Start feeling at peace in your own home! Learn how to pick the best spot to start decluttering AND step-by-step how to tackle the mess in any room in your house. PLUS get my best tips right in your inbox…and it's 100% FREEEEE!
Your email is safe with us. We wouldn't dream of sharing it with anyone else!
"I keep every email you send out. You are so spot on with your advice." – MaryLou
I also save the skins, peels, and ends from carrots, celery, and onions. I wash them well and save them in the fridge, or even toss them into the freezer if I'm not using them right away.
Step-by-Step Guide to Making Homemade Chicken Stock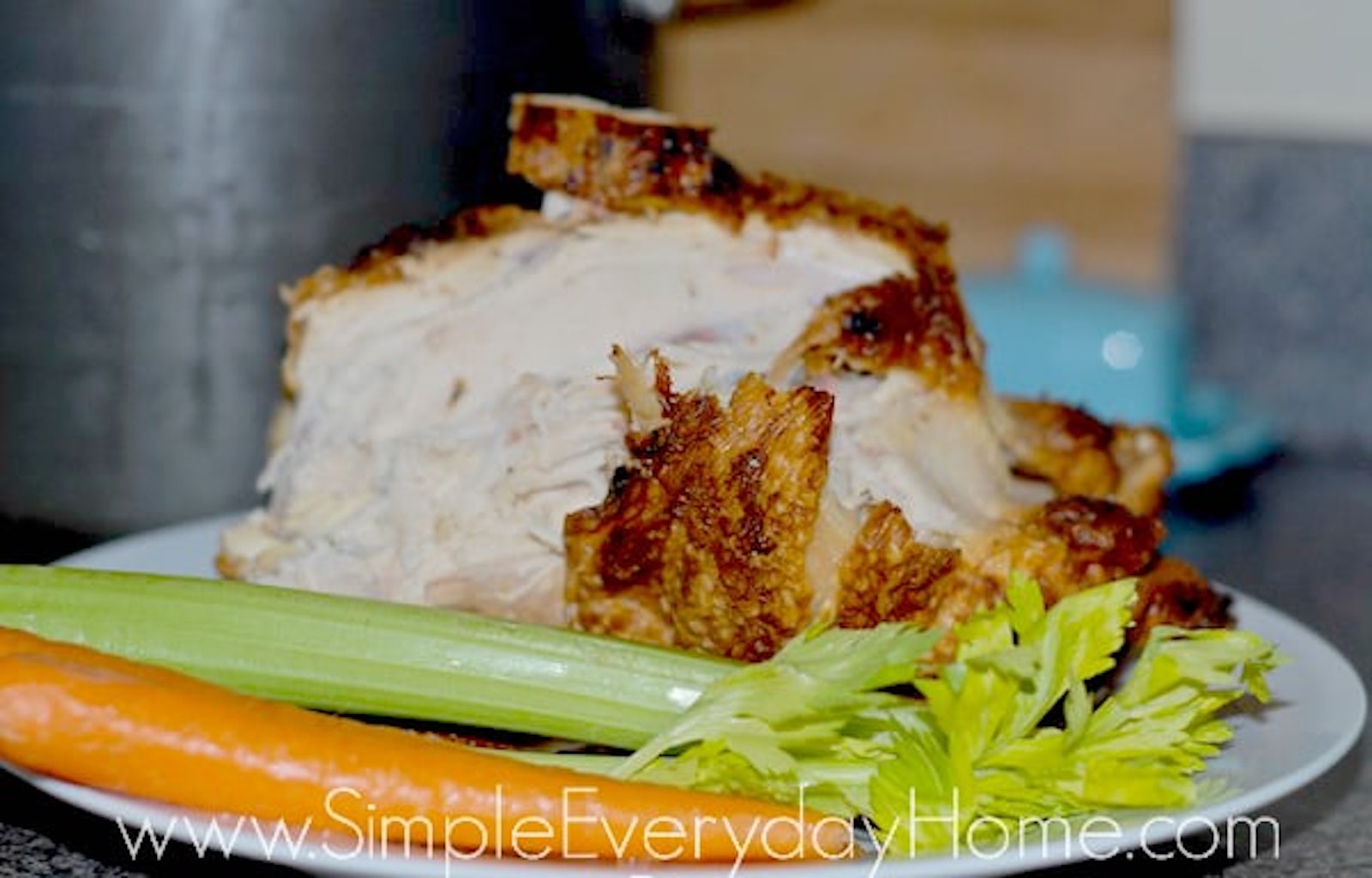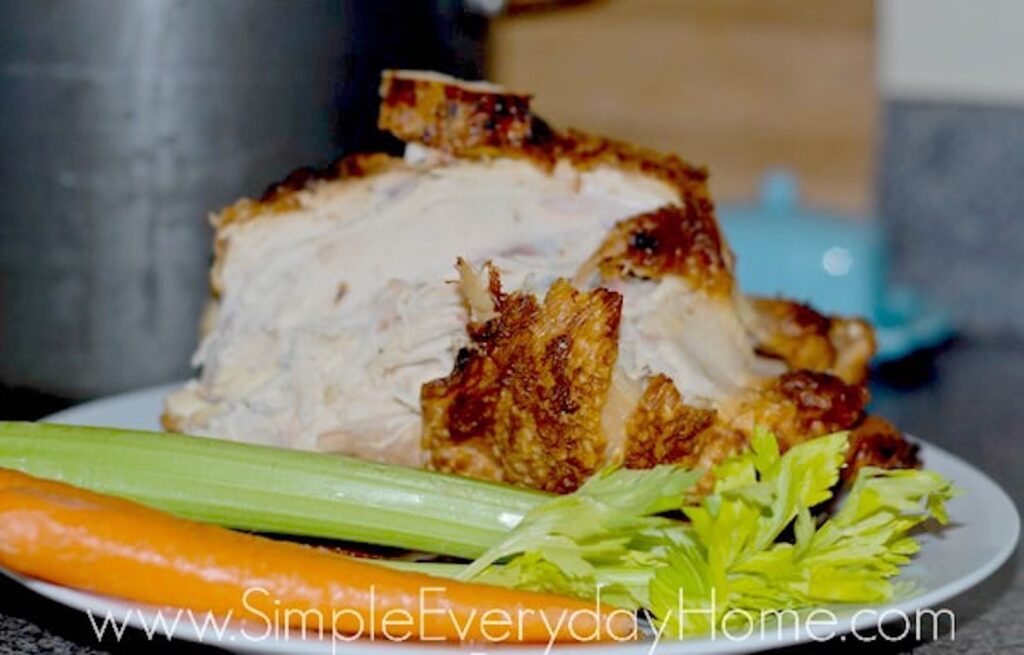 Today's stock is being made from a leftover rotisserie chicken because I'm cleaning out of my fridge, and it's gotta go. I'll start by picking the meat off the bones. It isn't needed for the stock, and it will be yummy stirred into the soup.
The skin goes into the trash can. It will only add fat to the stock, and, honestly, I could use a little less fat in my hips diet.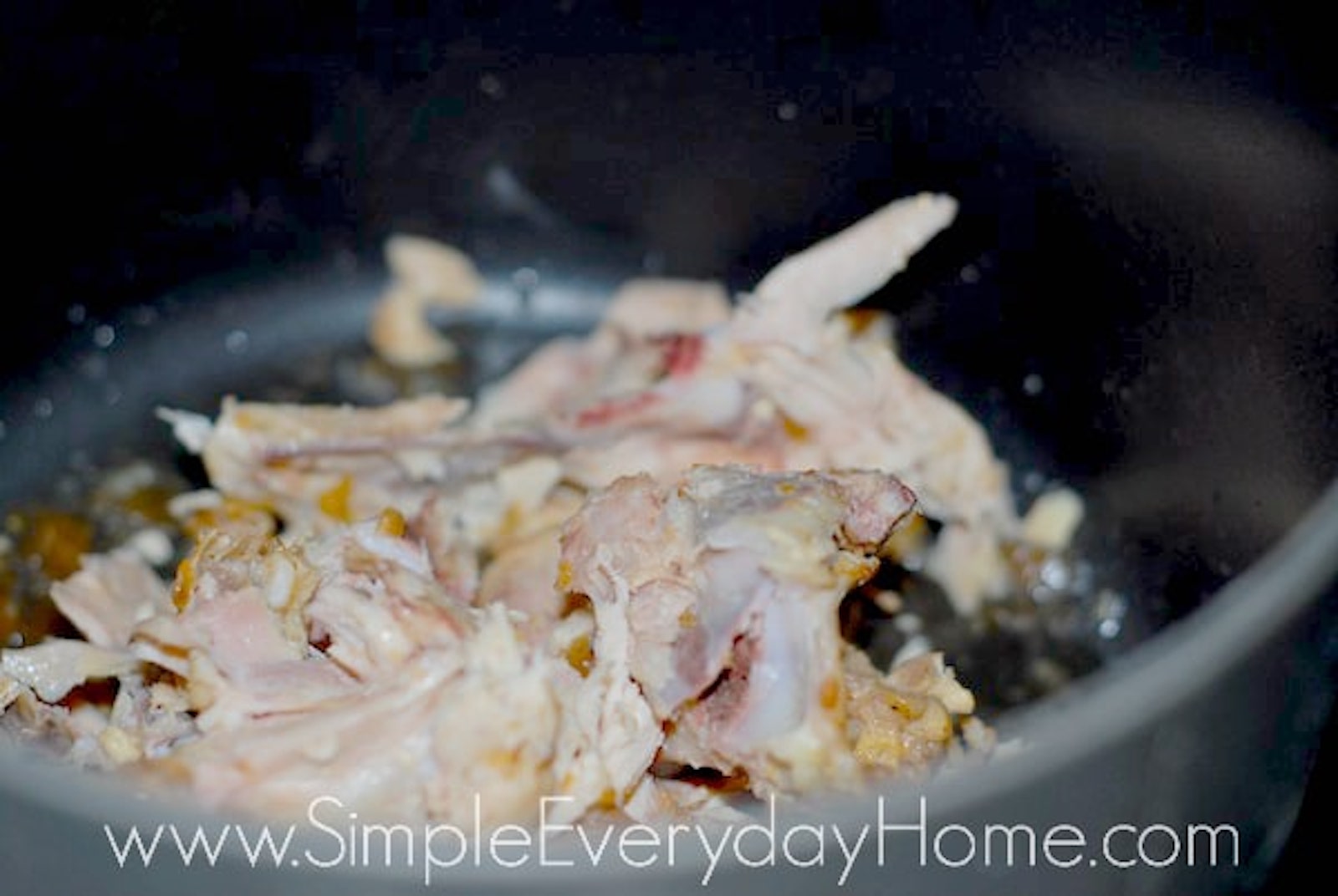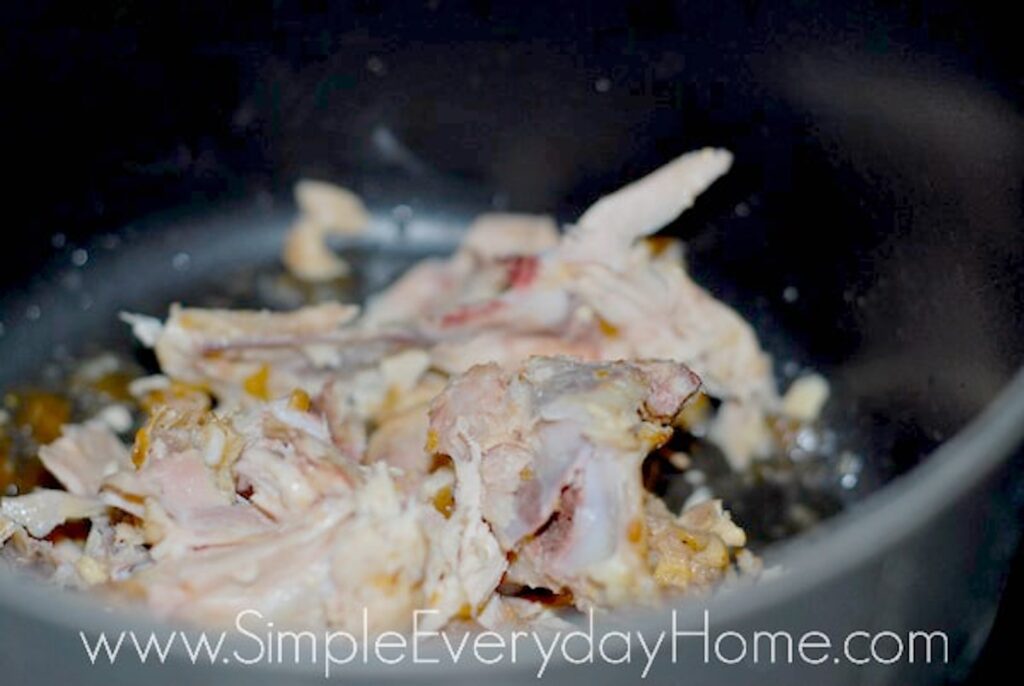 These bones and all of gelled juices from the bottom of the chicken tray (kinda gross, right?) get dumped into a stock pot or a large dutch oven (this is the one I have, and I love it!).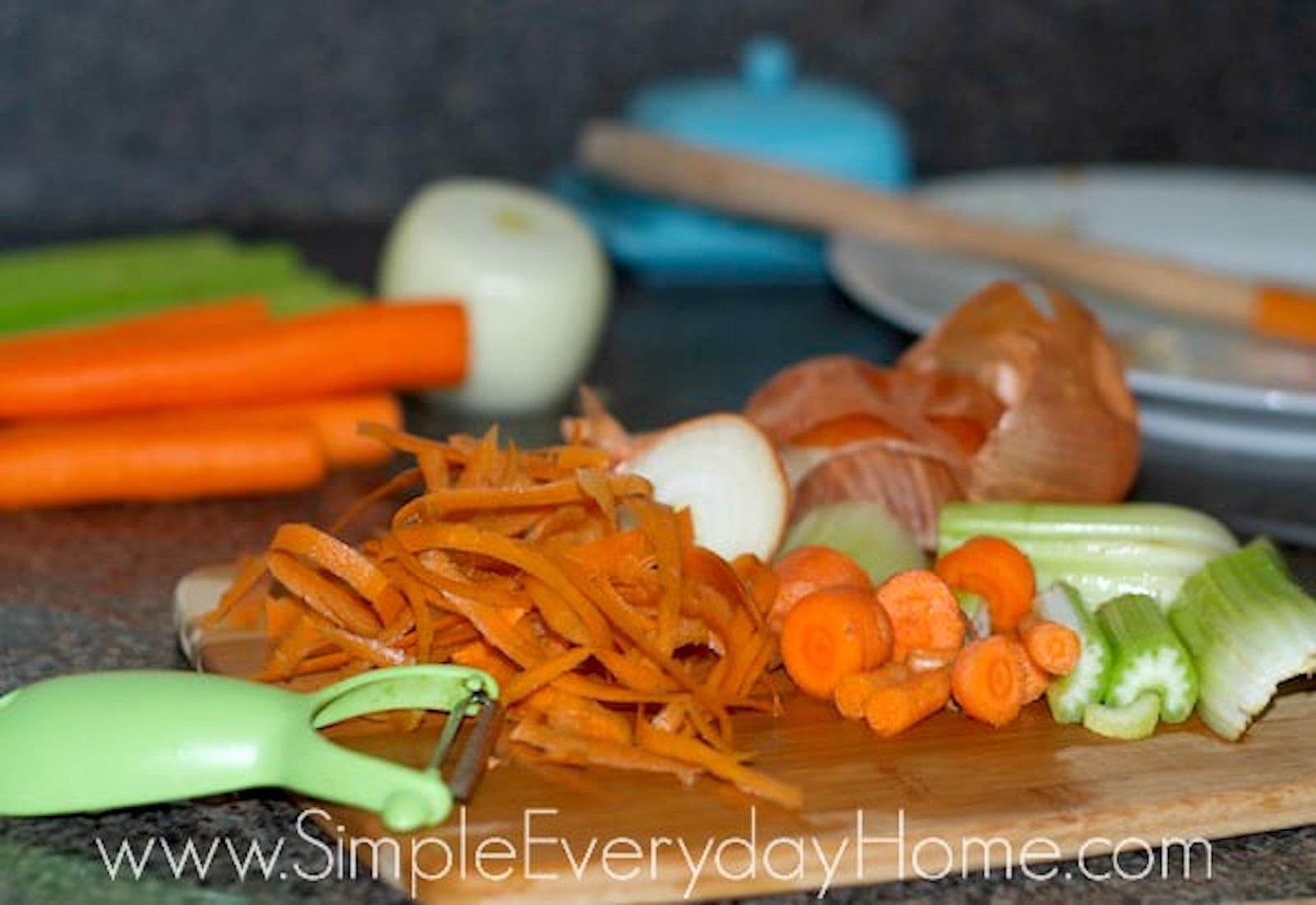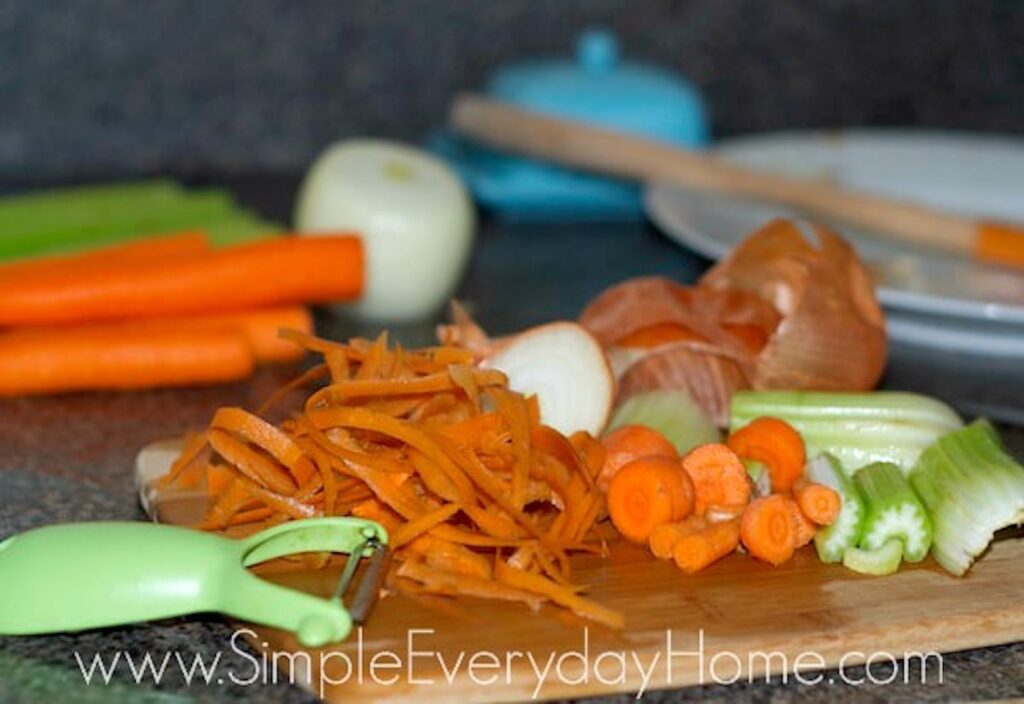 Since I'm making soup for dinner, I went ahead and peeled the veggies for it so I could use the trimmings to flavor the stock. I don't usually use an onion in the stock because my husband isn't a big onion fan, but just the peels don't seem to make it too oniony. (Is that a word?)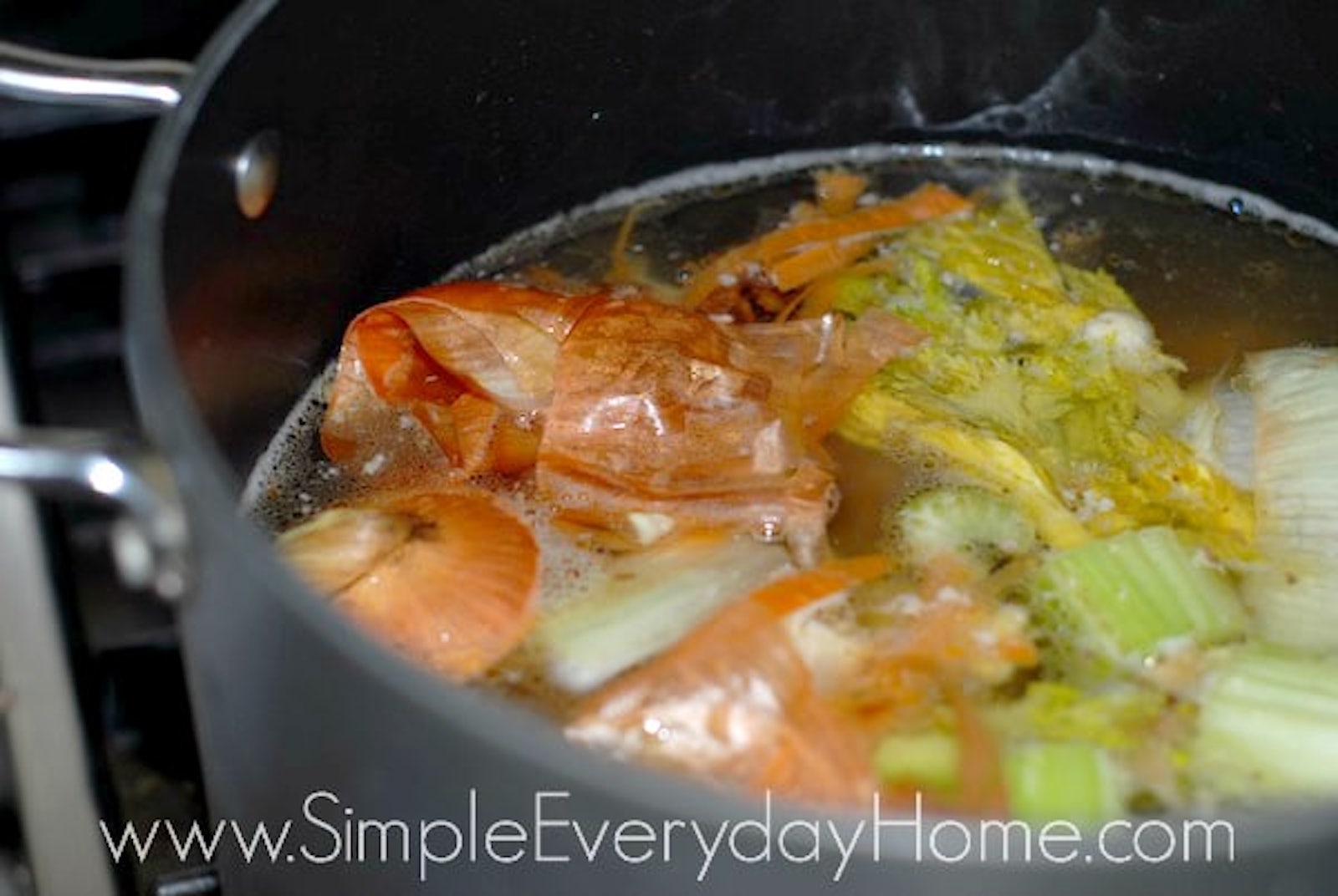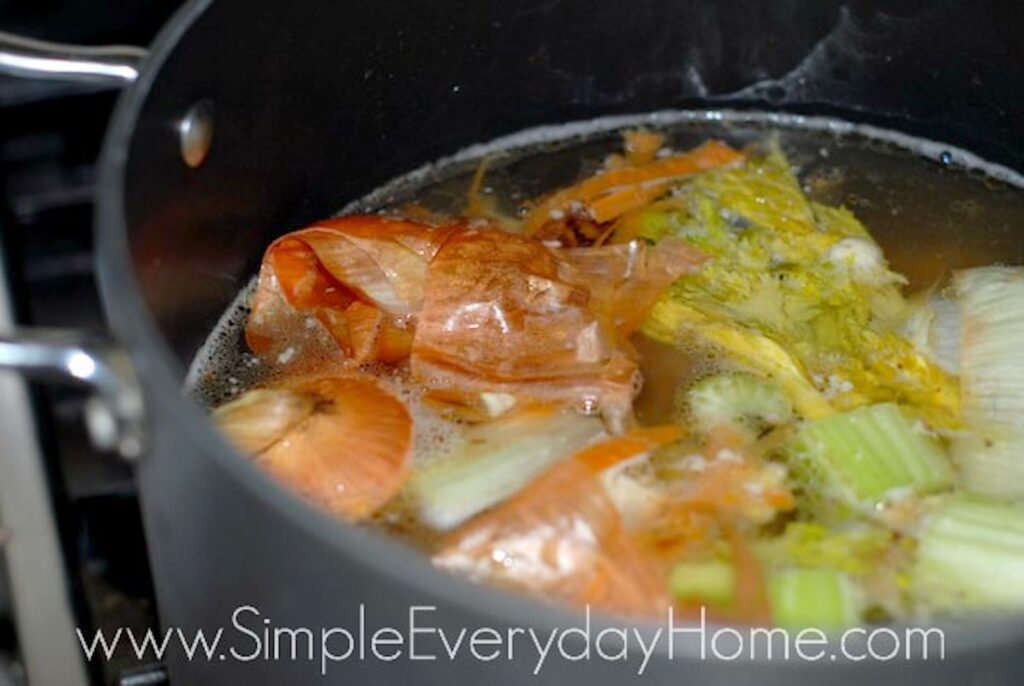 Next, pour in about twelve cups of water. You should be able to use more water with pretty good results, but I usually stick with about twelve. Measuring isn't really necessary so long as everything is covered, but I always measure. Because I'm weird.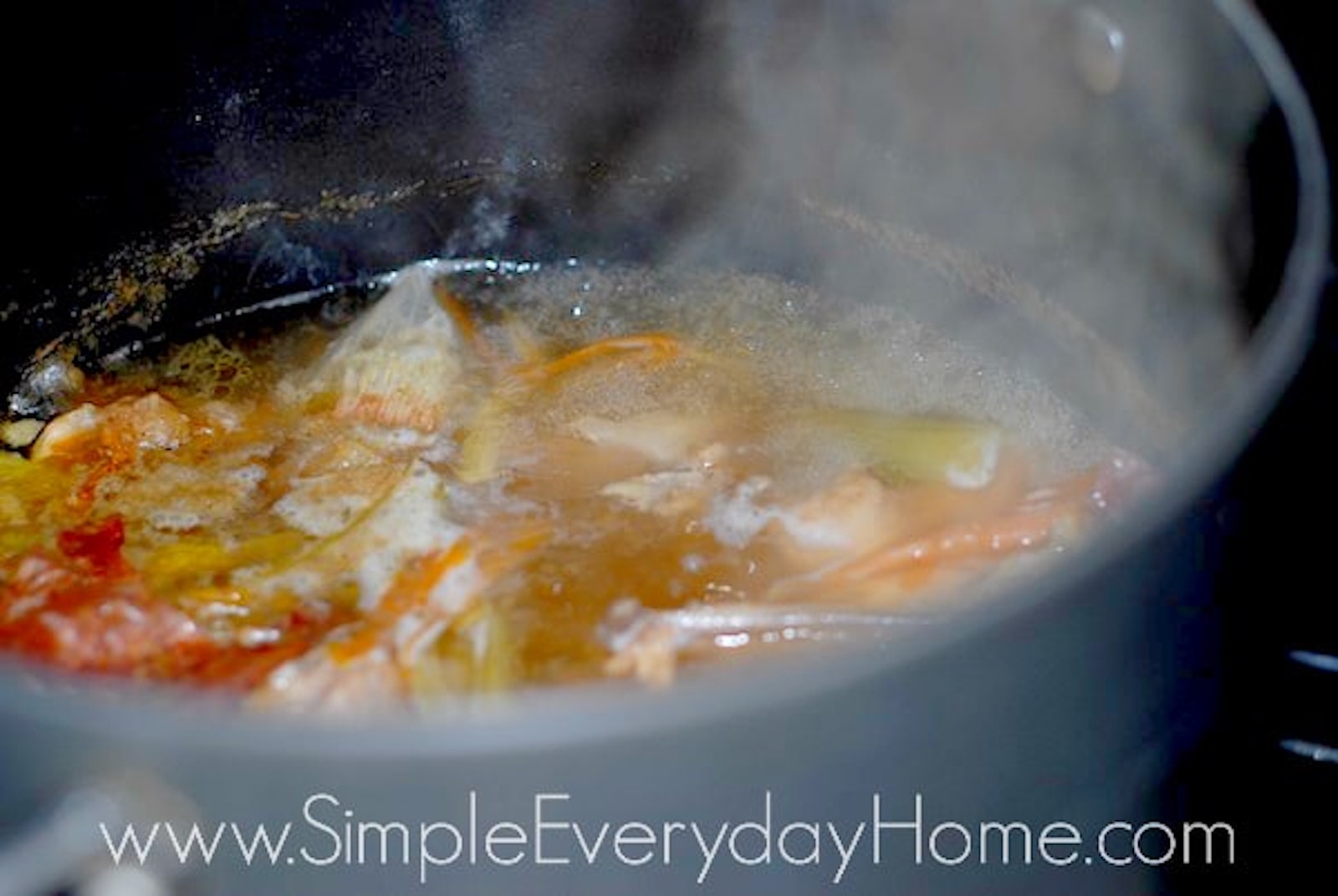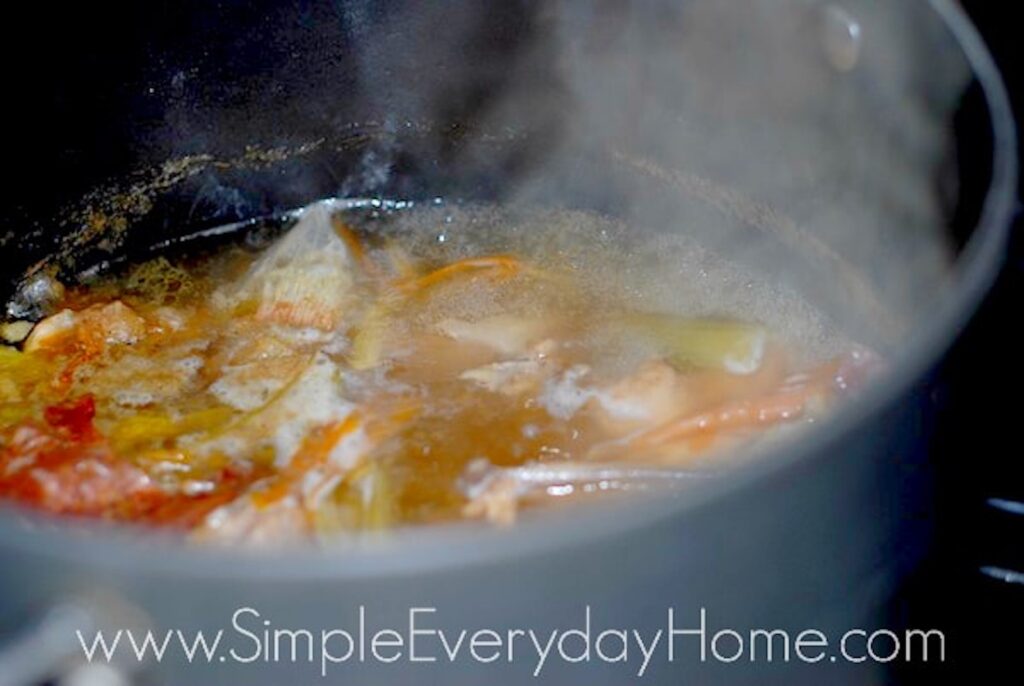 Bring it all to a nice rolling boil, then turn it down to a simmer (just barely boiling), and let it fill the house with chickeny (ah…another new word) goodness for the next few hours.
An hour and a half will get the job done, but closer to three hours makes the stock really rich and divine. Yep, divine.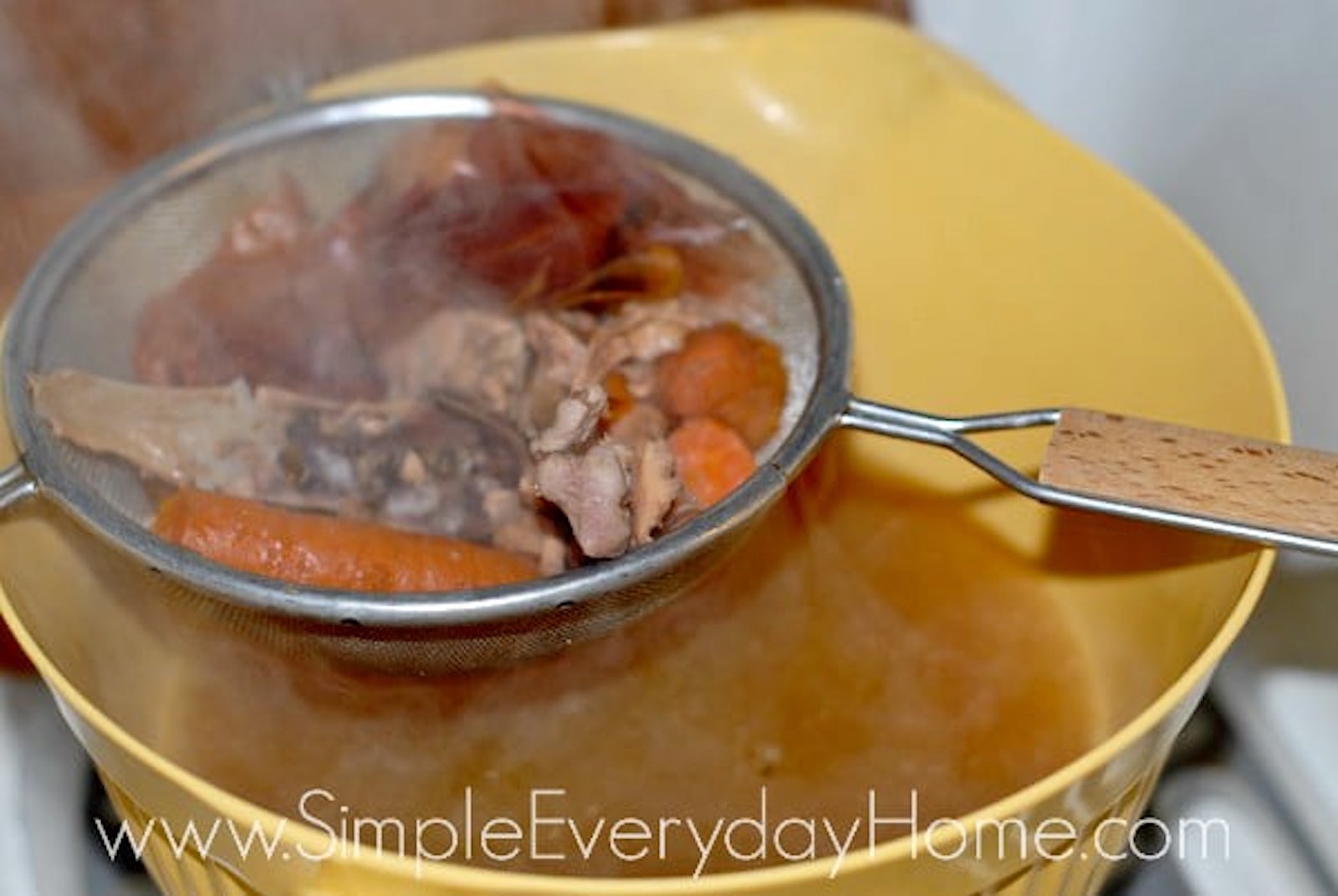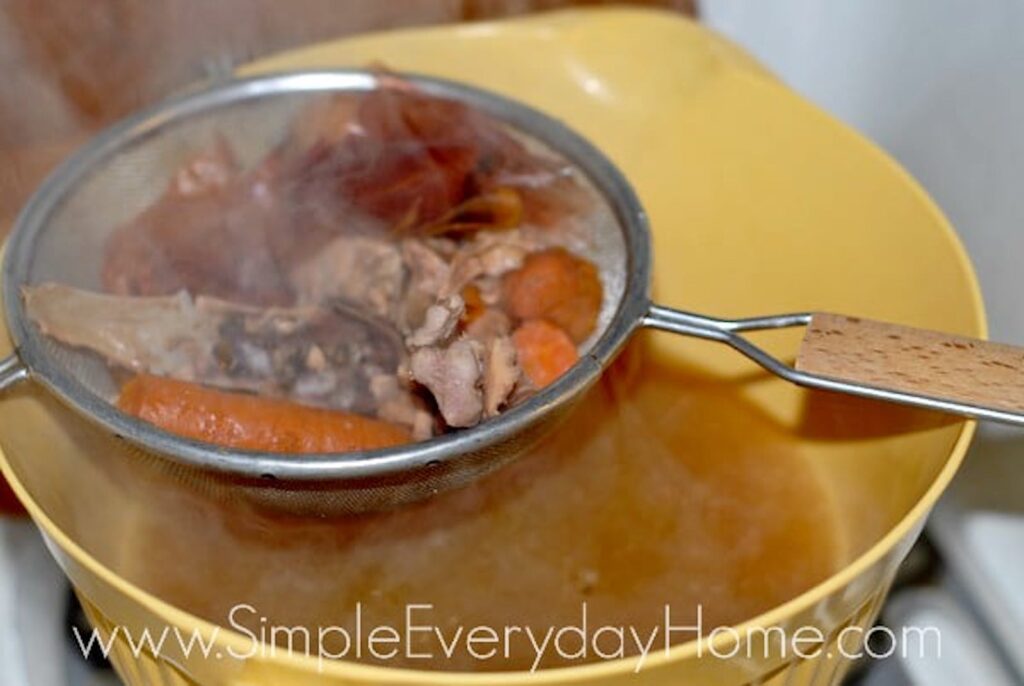 When you're ready to strain it, set a large bowl in the sink (saves time cleaning up what inevitably spills on the counter) and ladle or pour the stock through a sieve, pressing the juices out of the solid junk with a wooden spoon before discarding.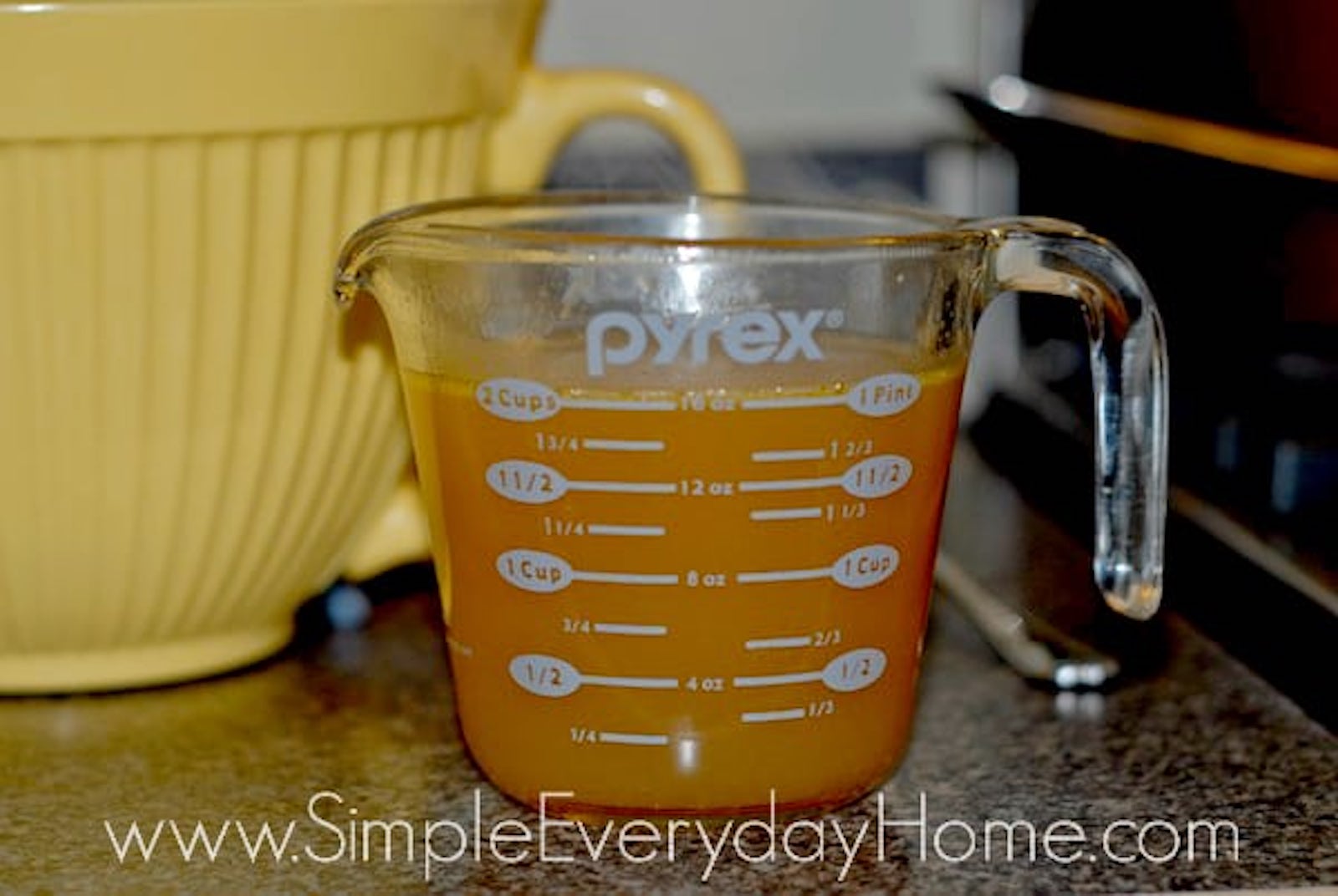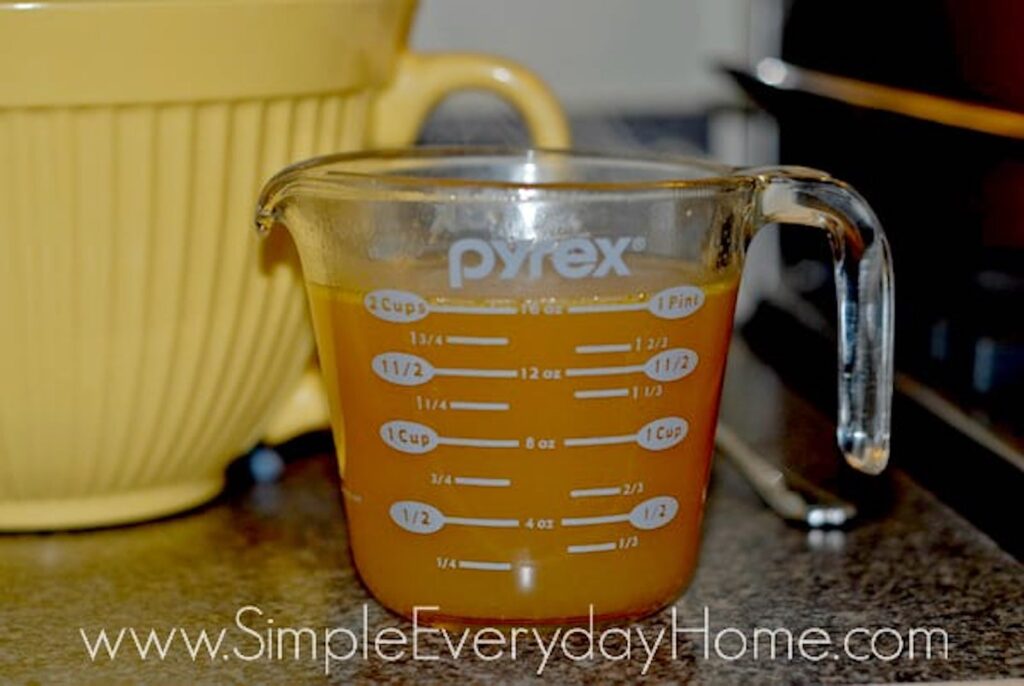 The stock will reduce down more and more as it cooks. I usually end up with about six to eight cups when it's done. I've found that this stock is so flavorful and yummy that I can easily add a little water to the finished product if the amount has reduced too much.
I generally choose to not add salt to the stock and instead add it to whatever soup or other recipe I'm using it in (like my recipe for the best Navy Bean Soup or Simple Vegetable Soup). That allows for more control of the final recipe.
This homemade chicken stock will knock your socks off. You won't believe that something so FREE can make your next pot of soup taste so very good!
Here's the handy printable recipe: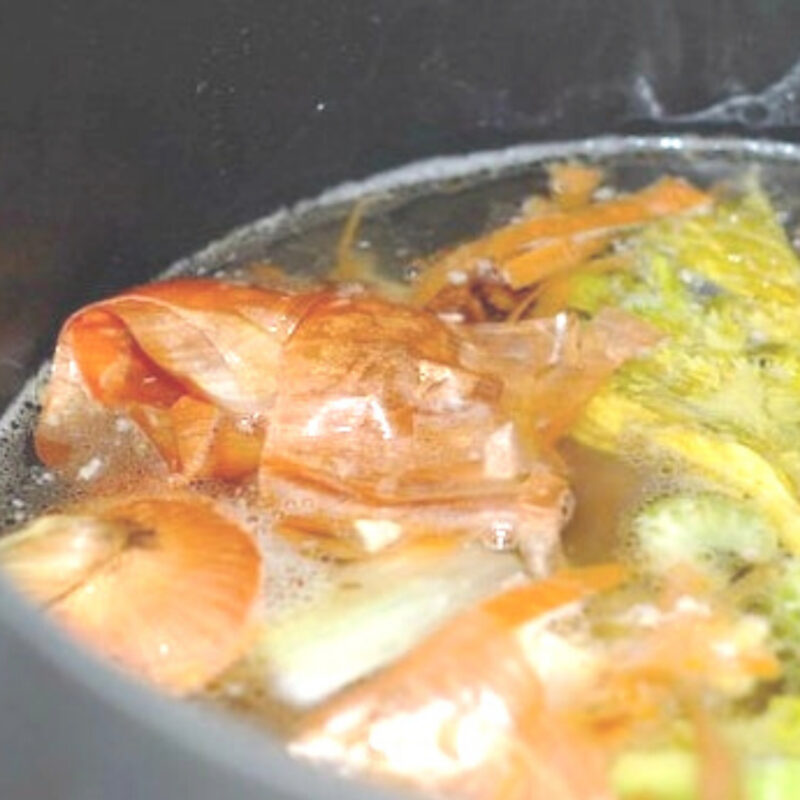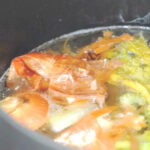 Print Recipe
Homemade Chicken Stock
Homemade chicken stock is easy to make, and it packs a flavor punch that just can't be found in a carton or can. This recipe saves money and tastes GREAT!
Ingredients
Chicken bones (cooked or raw) OR raw chicken parts

Carrots, celery, onion OR vegetable trimmings

Water
Instructions
Put bones (or chicken parts) and vegetables (or trimmings) into a large stock pot. Cover with water, at least twelve cups.

Bring to a boil. Reduce heat and simmer for 1 1/2 to 3 hours.

Allow to cool enough to handle. Place a mesh strainer over a large bowl and pour or ladle the finished stock into the strainer. Press on solids to extract juices before discarding.

Use immediately or allow to cool completely before refrigerating or freezing.