These Dutch Oven Green Beans are so easy to make and so very delicious that they'll quickly become a family favorite for every holiday meal and summer barbecue!
This green bean recipe is the bomb.
No, it's the bomb diggity. For real.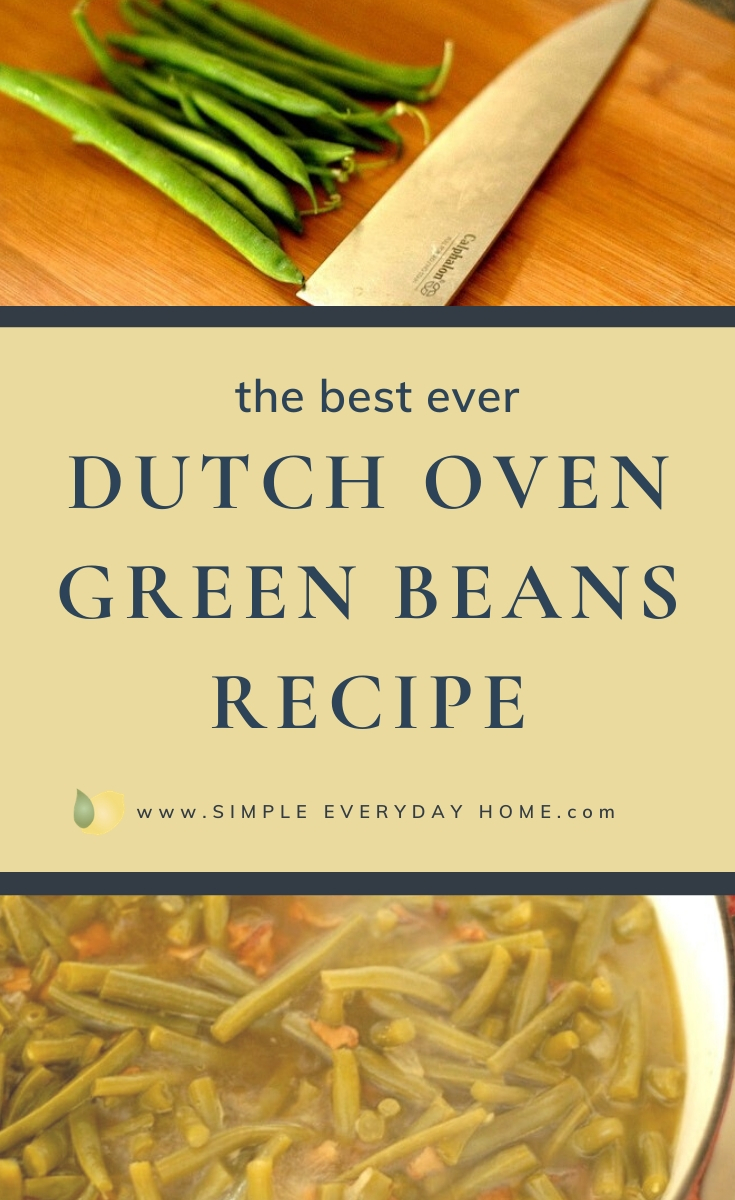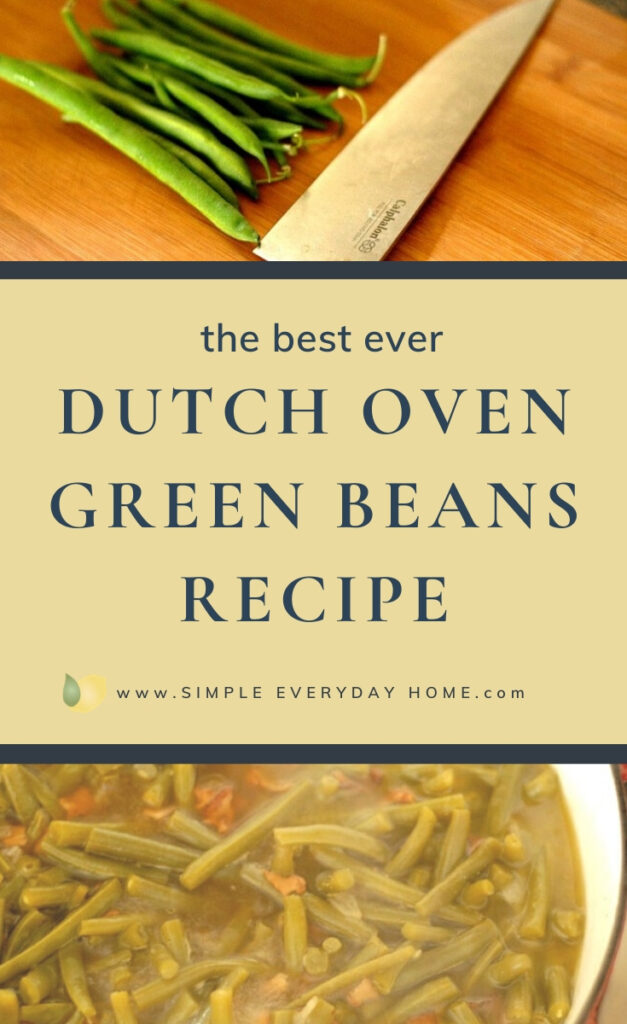 As proof that this Dutch Oven Green Beans recipe is so very good, my youngest son told me they "taste just like" our local barbecue joint's beans. If you've ever eaten City Barbecue's green beans, you might tear up a bit at my sweet kiddo's compliment. I'll cherish his words for years to come. Or at least for the next few days.
In all seriousness, these beans really are quite tasty and very simple to make. I make them for all our holiday meals. My boys actually argue over their share. Of green beans. Enough said?


Step-by-Step Guide to Dutch Oven Green Beans
I use the basic skinny green beans I find in the grocery store's produce department. As a rule of thumb, I buy one large handful for each person I'm serving, although I sometimes throw in a couple extra handfuls to avoid a sibling riot, but that's just how things are at my house.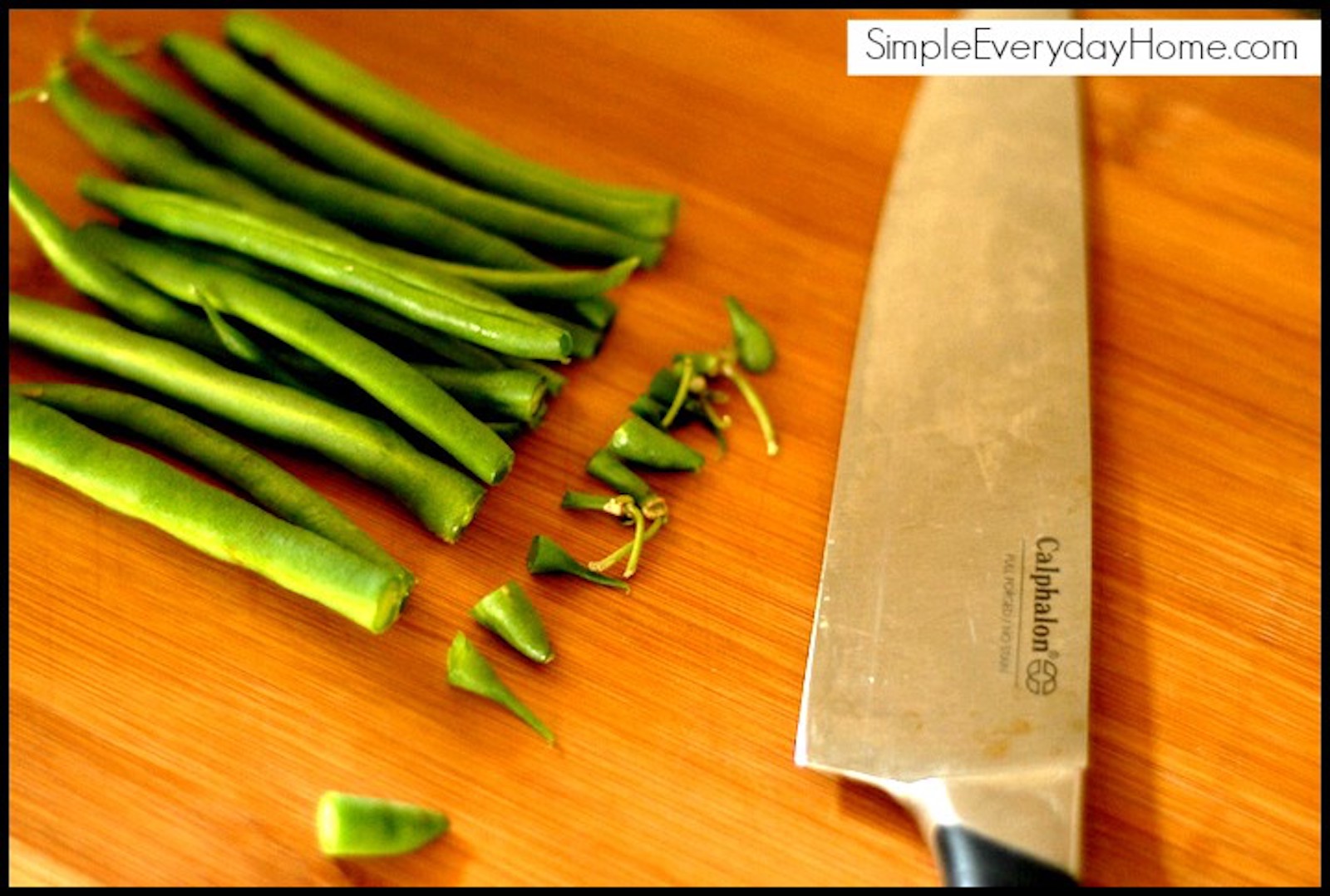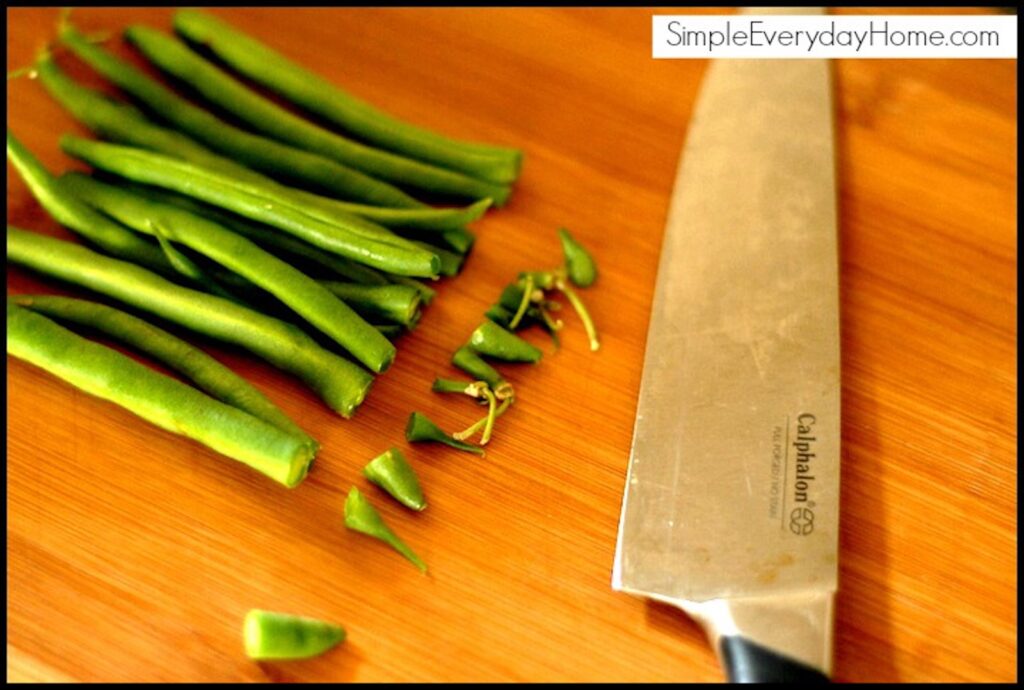 Start by trimming the ends off the beans and cutting them in half. You can do this with a paring knife like Grandma used to, or you can line up a few of them on a cutting board and use a large knife to cut off the ends.
Turn them around and do the same thing to the other side.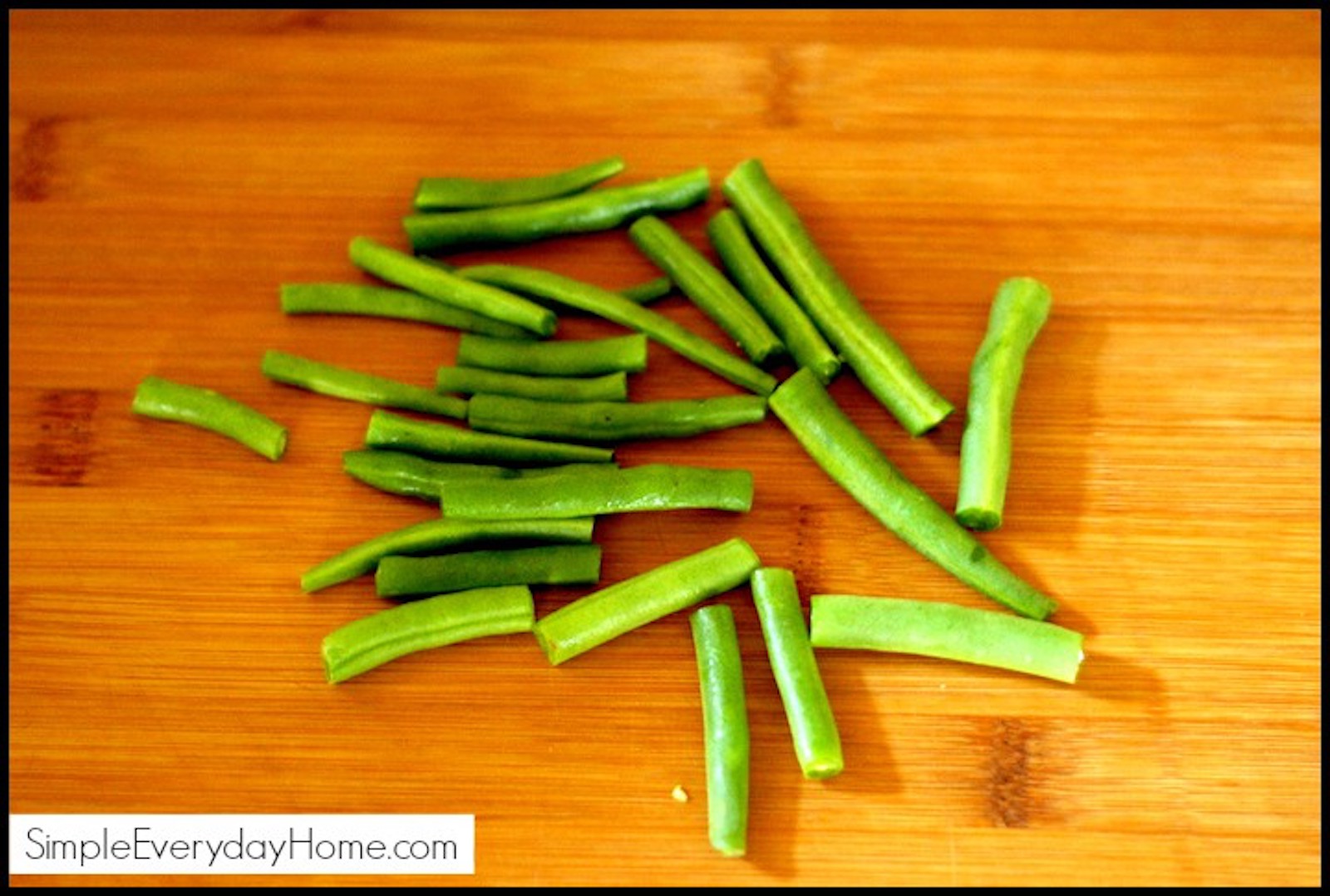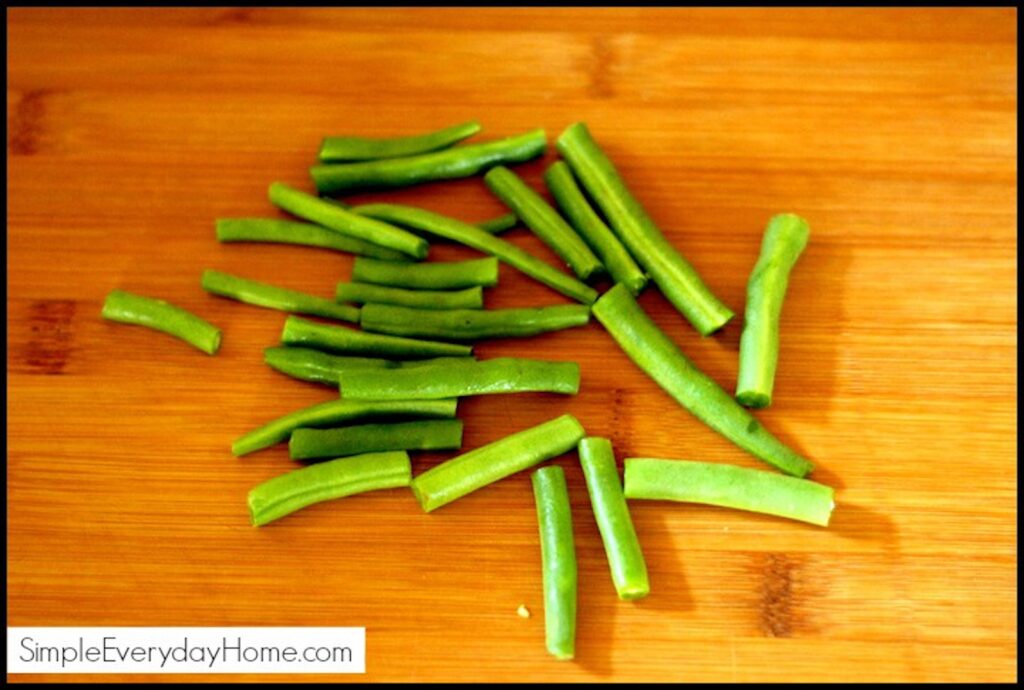 Then cut them into bite-size pieces.
I toss them into a colander as I trim so they're ready to wash. Keep in mind that trimming the beans usually takes much longer than expected, so you might want to either start early or clean them the day before.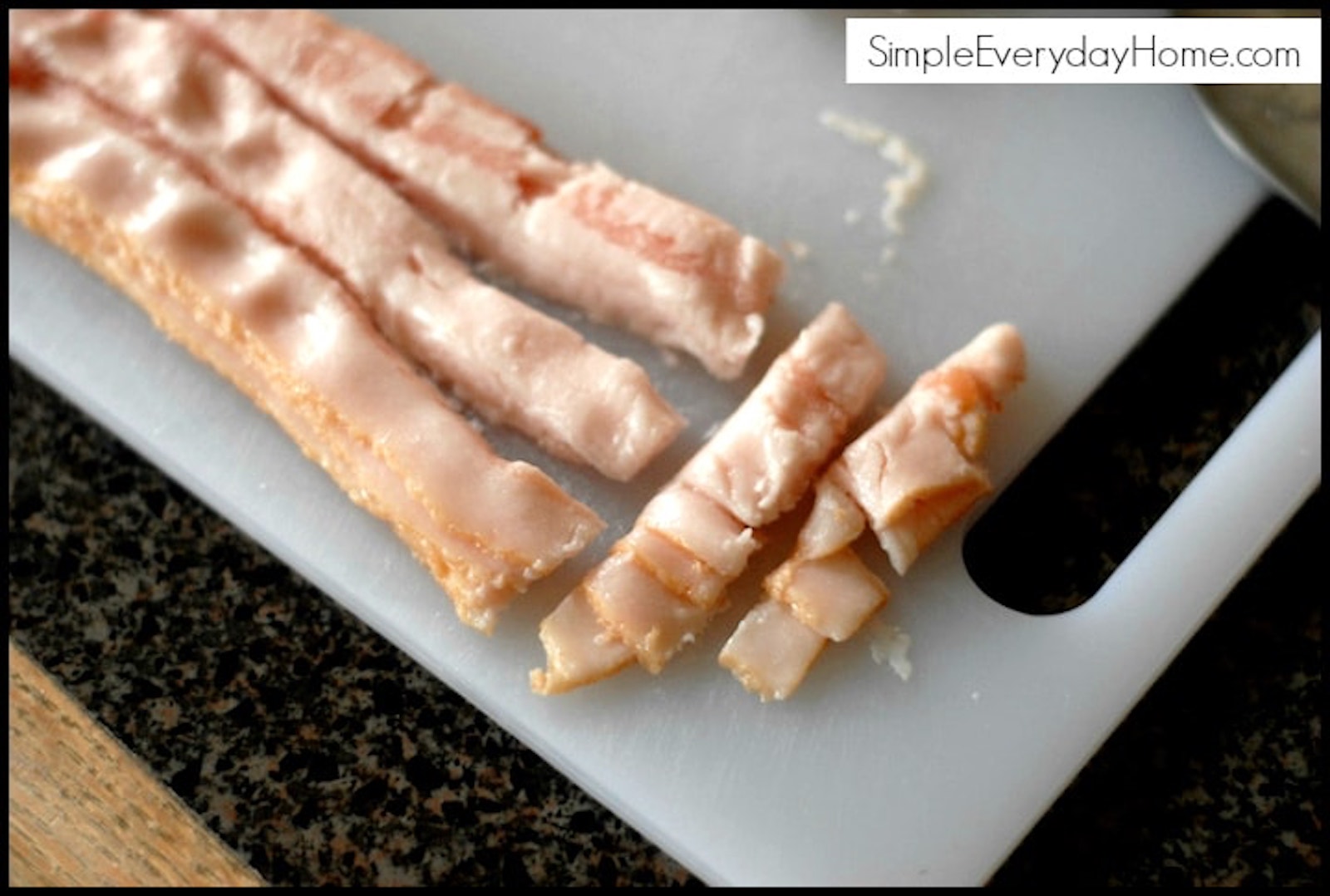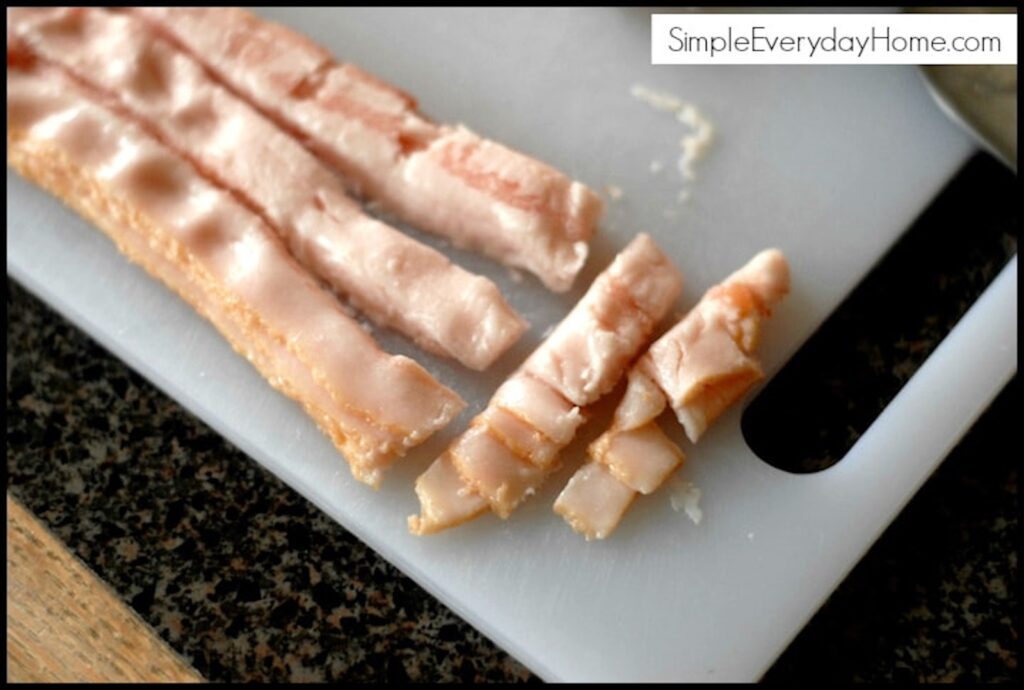 Next, chop a medium onion – don't mince it, just a nice medium dice – and cut half a package of bacon into small pieces.
This is easiest if you stack a few slices, cut them a couple times length-wise, and then start slicing into half inch pieces. (UPDATE: I now use my kitchen scissors for this job. Soooo much easier!)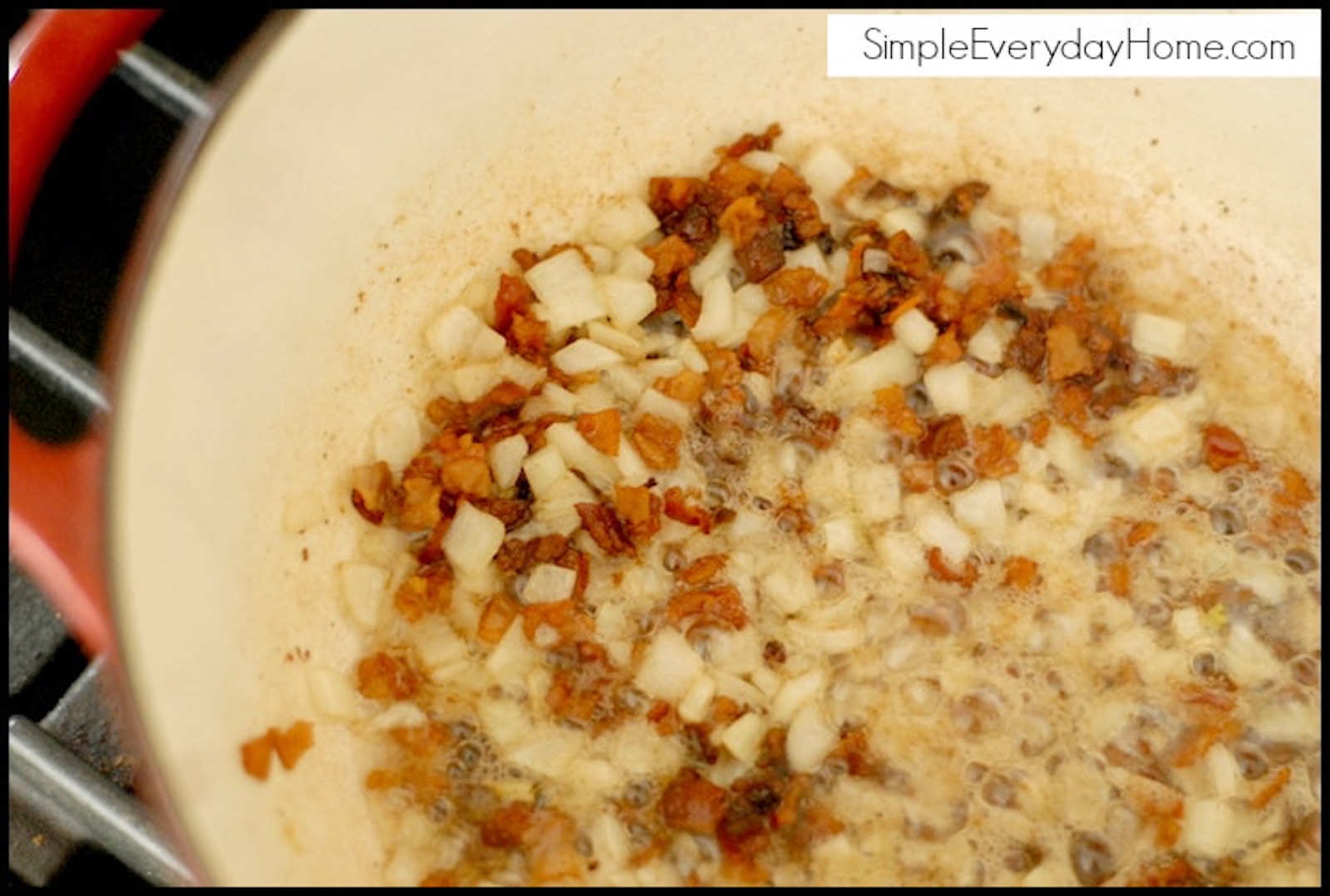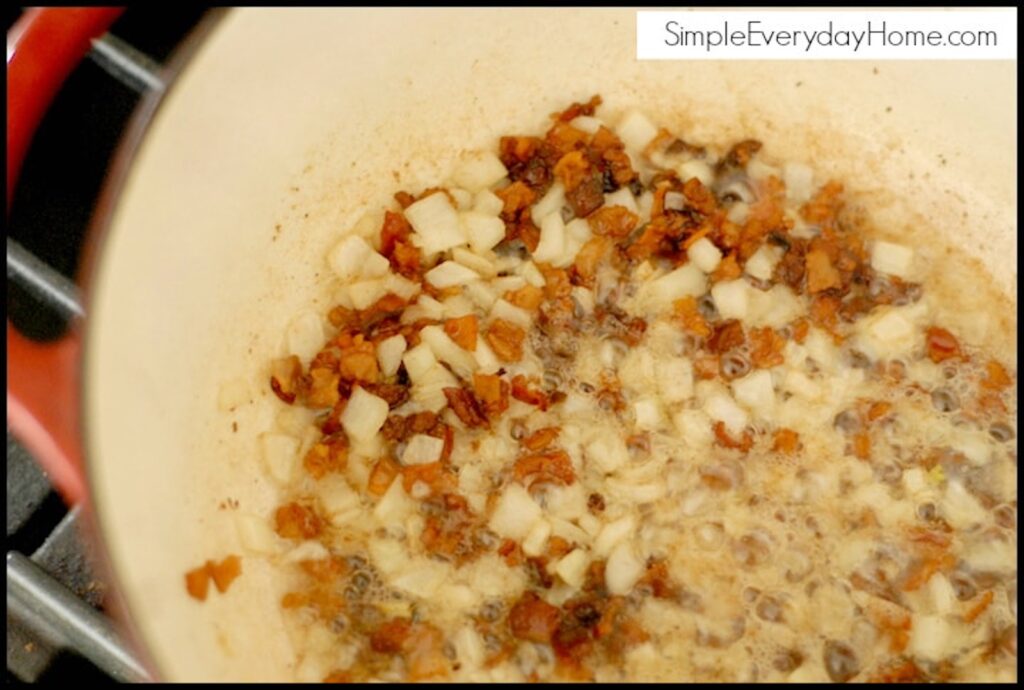 Once the prep work is done, heat a large Dutch oven (mine is just like this one and I love it!) over medium-low heat and add the bacon. Cook until it's just starting to turn a little brown (unless you get busy unloading the dishwasher and talking to children and forget until it's dark brown and almost burnt – ahem).
Once the bacon is just starting to brown, add the onion and cook, stirring often, until the onion looks like it's beginning to soften. Keep in mind that both bacon and onions can go from almost-done to way-too-done very, very quickly. So, keep a close eye on them.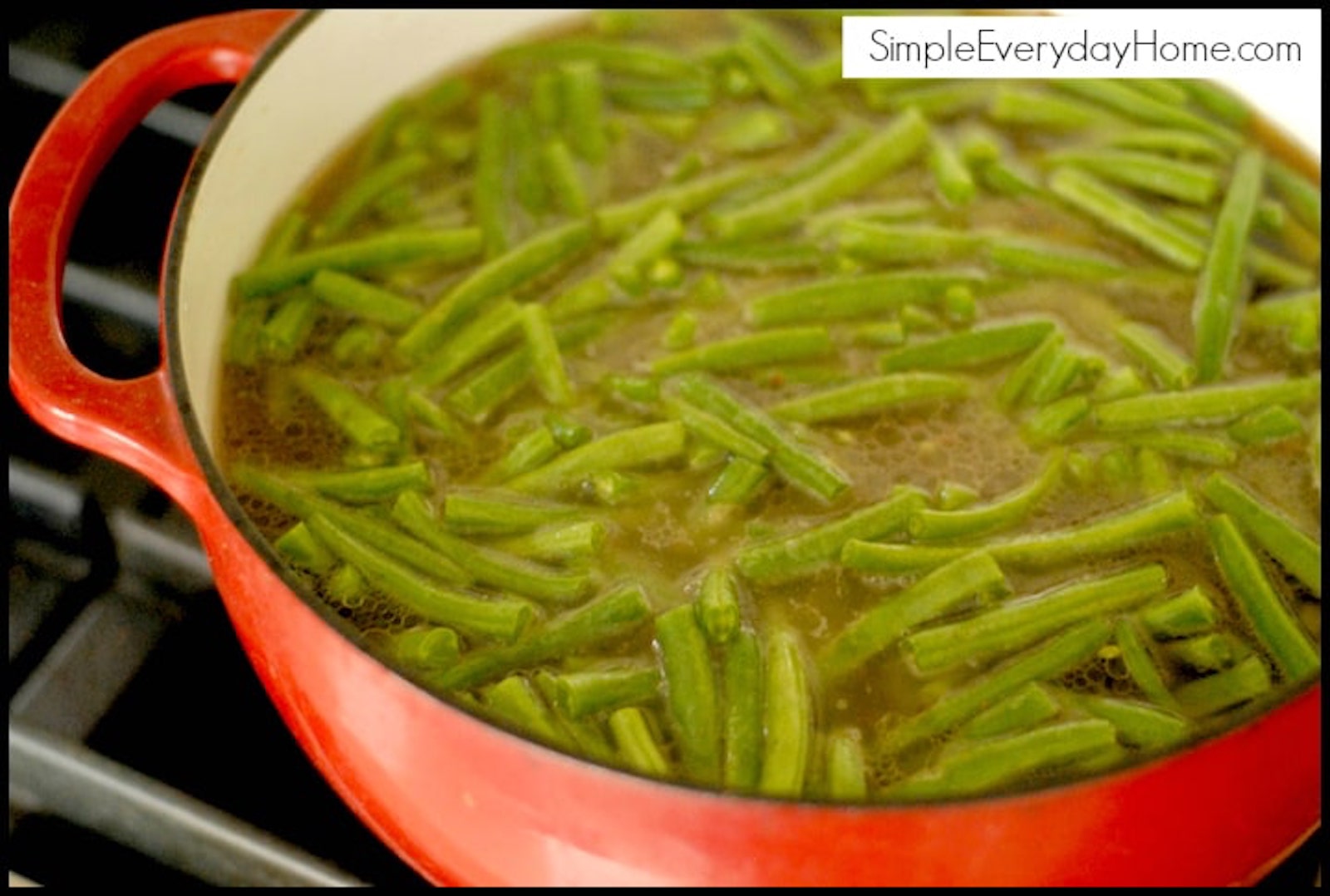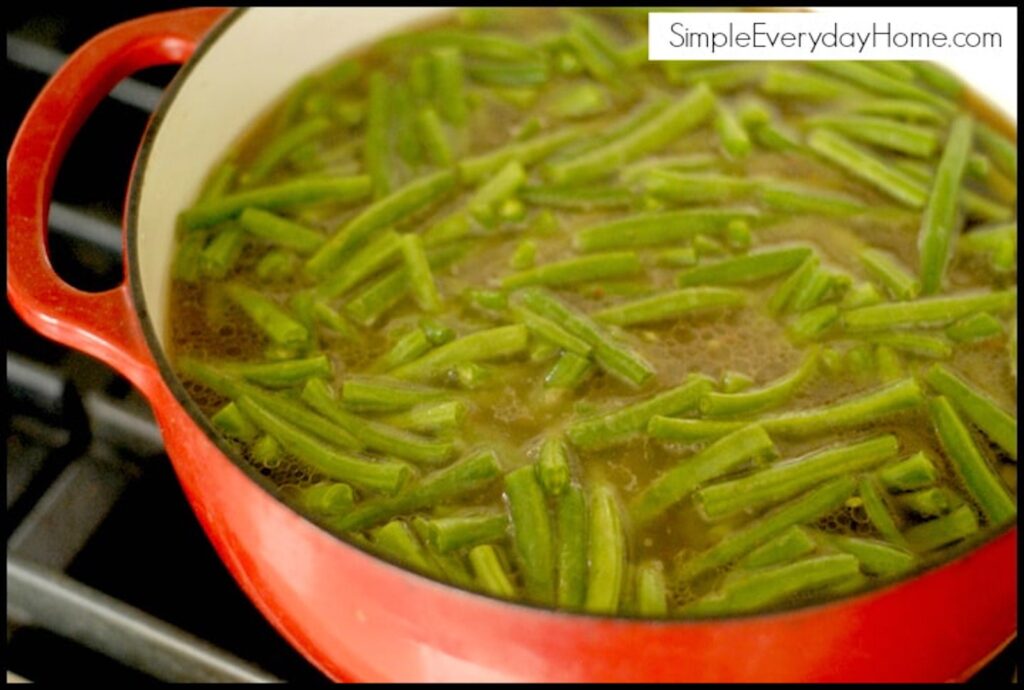 Once the onions are starting to soften, dump in the green beans and pour enough chicken broth into the Dutch oven to almost cover the beans. Use one or two cartons, depending on how many beans you're cooking. If you don't have enough broth, just use water to finish the job.
Add salt and pepper and bring the pot to a boil. Then turn the heat to low and cover.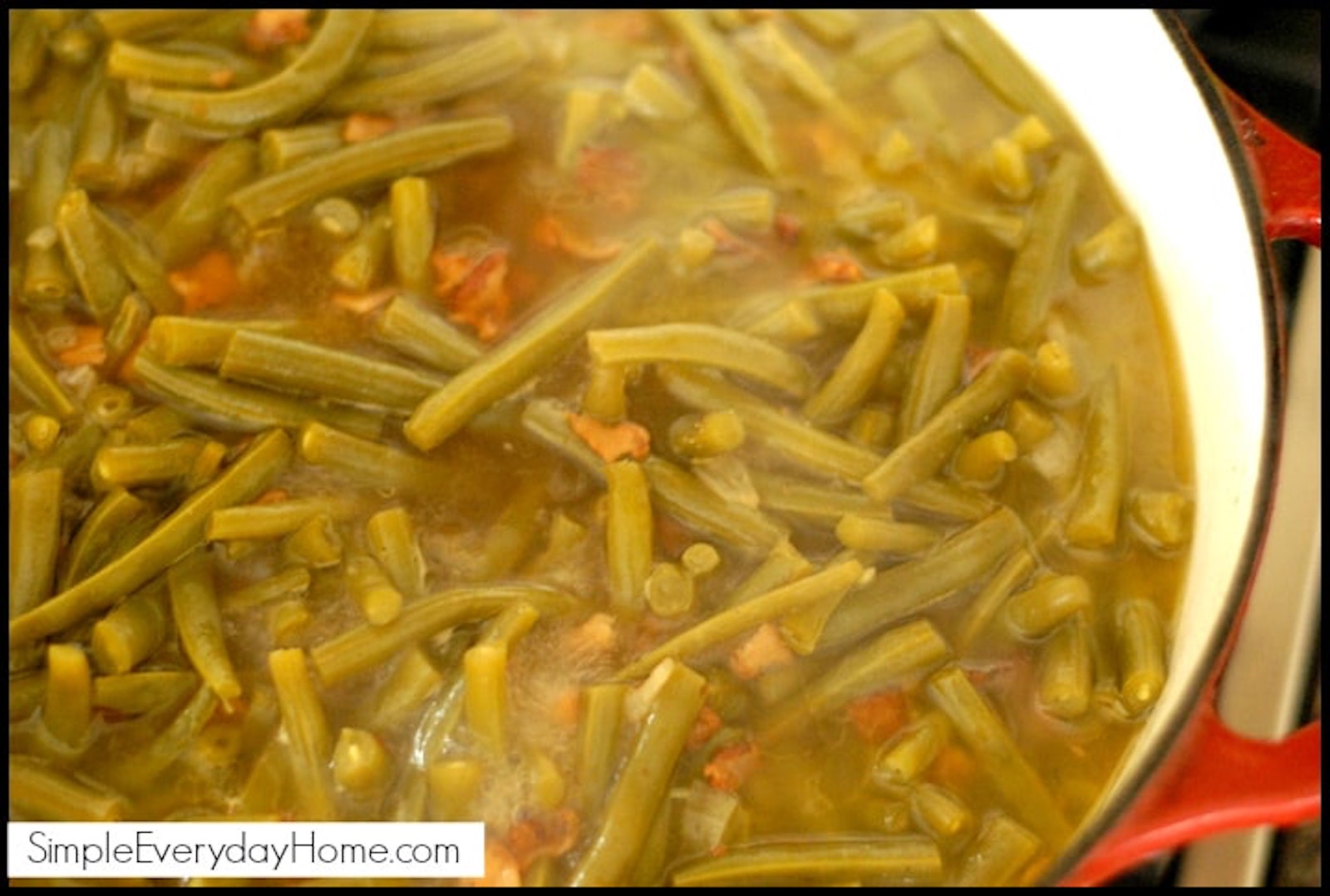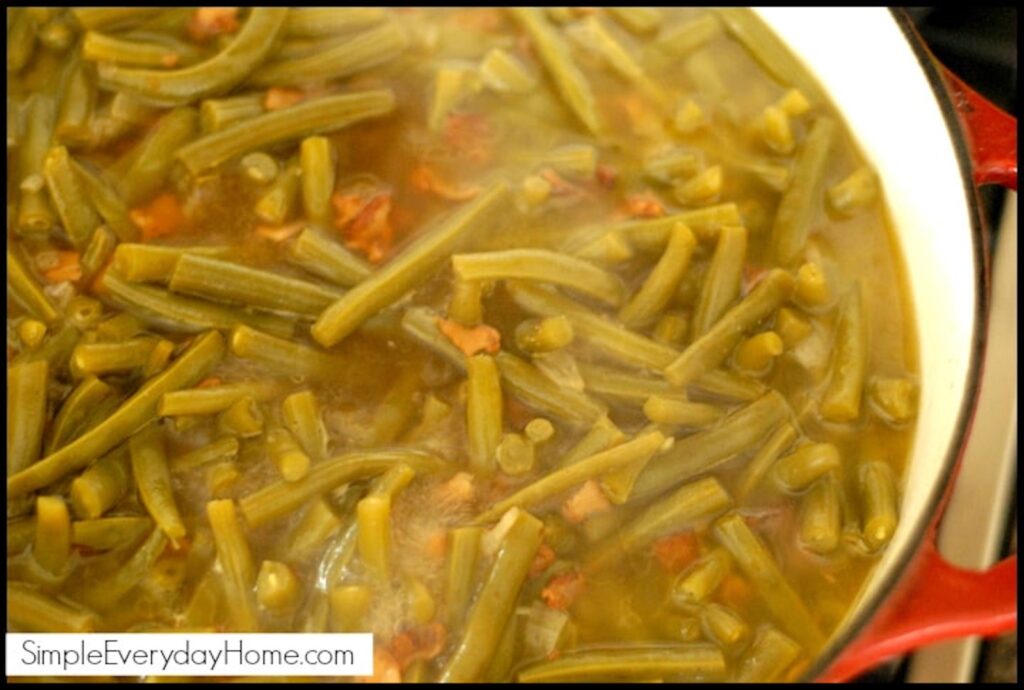 Continue cooking and stirring for about four or five hours, until the beans are very tender and flavorful. They'll be tender much, much earlier than they'll be flavorful.
Really good slow-cooked beans are an ugly shade of army green. The uglier the color, the yummier the taste. A picture just can't do them justice.
These Dutch Oven Green Beans are part of nearly every holiday dinner I cook. They're also a favorite with BBQ Beef, chicken, or a yummy Glazed Ham. They're pretty much a favorite with any meal!
Here's the printable recipe: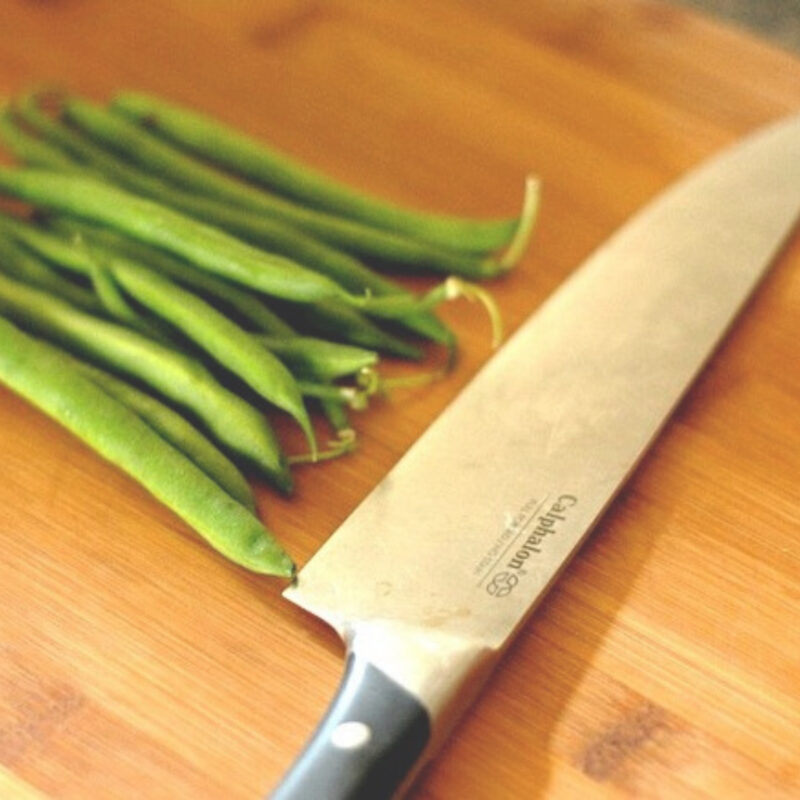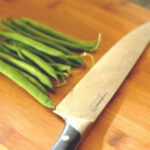 Print Recipe
Best Ever Dutch Oven Green Beans
These Dutch oven green beans are so easy to make and so very delicious that they'll quickly become a family favorite for every holiday meal and summer barbecue!
Ingredients
Fresh green beans (one large handful per person)


½

pkg

bacon, cut into 1/2-inch pieces

1

medium onion, chopped

2

32oz. cartons chicken broth or stock

1

tsp

salt, plus additional to taste

½

tsp

pepper, plus additional to taste
Instructions
Trim green beans. Cut in half and wash.

Heat large pot or dutch oven over medium-low heat. Add bacon and cook until just beginning to brown. Add chopped onion and cook, stirring often, until bacon is browned and onion is slightly softened. Add green beans and the chicken broth to cover. If needed, add water until beans are just covered. Add 1 tsp. salt and 1/2 tsp. pepper. Bring to a boil. Reduce heat to low and cook, covered, stirring occasionally.

Continue to cook until very tender, about four to five hours. Adjust seasoning to taste.