Simple Vegetable Soup: Delicious, Healthy, and Quick to Make
This Simple Vegetable Soup comes together very quickly, and it's packed full of flavor and nutrition. It's an easy and delicious weekday meal!
My husband is on a kick to get healthy, and I think he really means it. Seriously, we have a full-size bike in our bedroom hooked to some kind of contraption that makes it an indoor exercise bike. And not a single item of clothing has been draped over the handlebars. For real.
He's been riding his new bike every day, and it's actually quite inspiring for this exercise-hating girl. Well, when I say "exercise-hating," that's not really what I mean. I probably should say "exercise-loathing" or "exercise-phobic" or "I-hate-exercising-even-more-than-cleaning-the-bathrooms." Or something like that.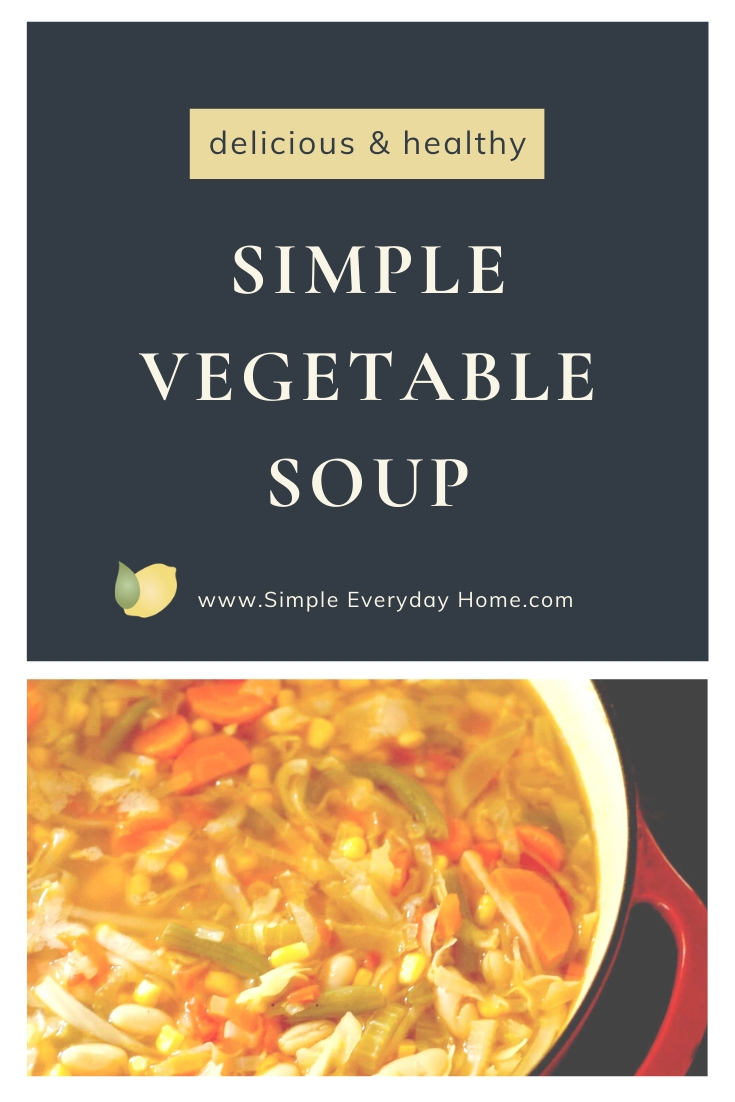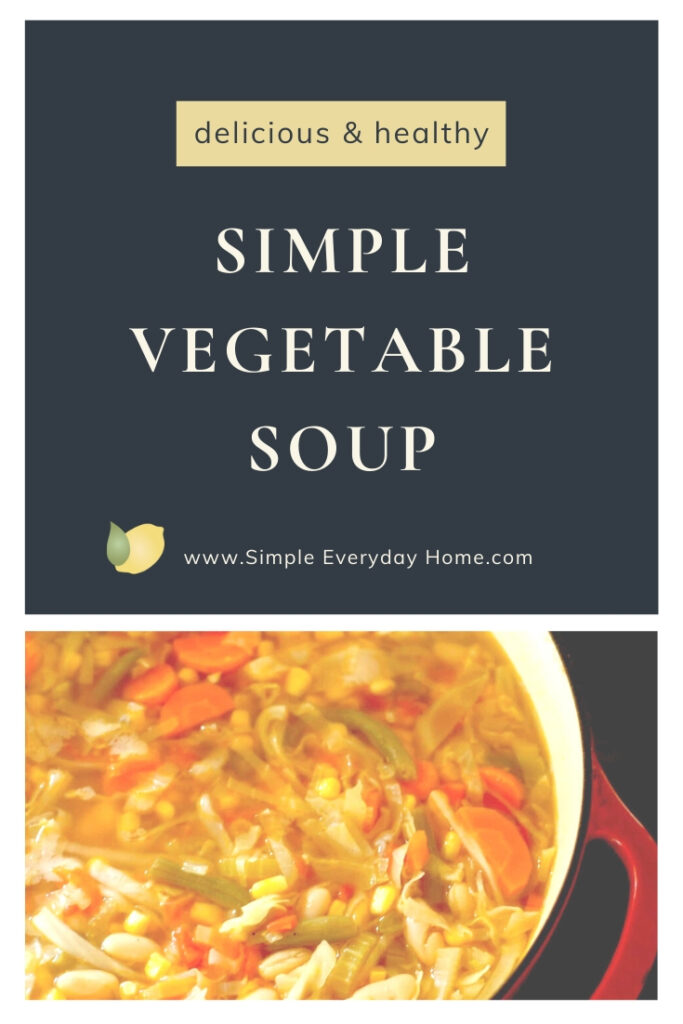 Still, I've exercised a few minutes over the past couple of days, and I plan to force myself to break a sweat a little bit every day. I figure I'd better try to keep up or he's going to be all buff and studly, while I turn a little more "fluffy" every day. Not good!
One of my roles in trying to get us healthy (since exercise motivation clearly is not in my skill set!) is to fix healthy food. This Simple Vegetable Soup recipe is one of the healthiest meals I know of. Plus, it's so very tasty that I could eat it for breakfast. And sometimes I do (because I'm weird like that).
My hubby and I call this recipe "Cabbage Soup," but I changed the name to "Simple Vegetable Soup" so I wouldn't scare anyone away. But if the cabbage does scare you, you can leave it out or substitute it with something like spinach or kale (both of which scare the living daylights out of me, but don't let that stop you).
Get your FREE Simple Decluttering Cheatsheet!
Start feeling at peace in your own home! Learn how to pick the best spot to start decluttering AND step-by-step how to tackle the mess in any room in your house. PLUS get my best tips right in your inbox…and it's 100% FREEEEE!
Your email is safe with us. We wouldn't dream of sharing it with anyone else!
"I keep every email you send out. You are so spot on with your advice." – MaryLou
And really, this is a very adaptable recipe. Use can use homemade chicken stock, a carton of vegetable broth, or whatever kind of stock or broth you happen to have. Toss in whatever vegetables are about to breathe their last in crisper. Use more or less garlic. Use cannellini beans, pinto beans, or no beans at all.
You can even sprinkle a little bacon over the top of your bowl (so good this way!), or you can cook some small pasta shapes in a separate pot and add to each bowl before ladling the soup overtop. Don't be afraid to experiment and figure out what your family loves.
Step-by-Step Guide to Making Simple Vegetable Soup
I like to make this soup (and my Best Navy Bean Soup, Homemade Chicken Stock, Dutch Oven Green Beans – pretty much anything and everything possible) in my dutch oven.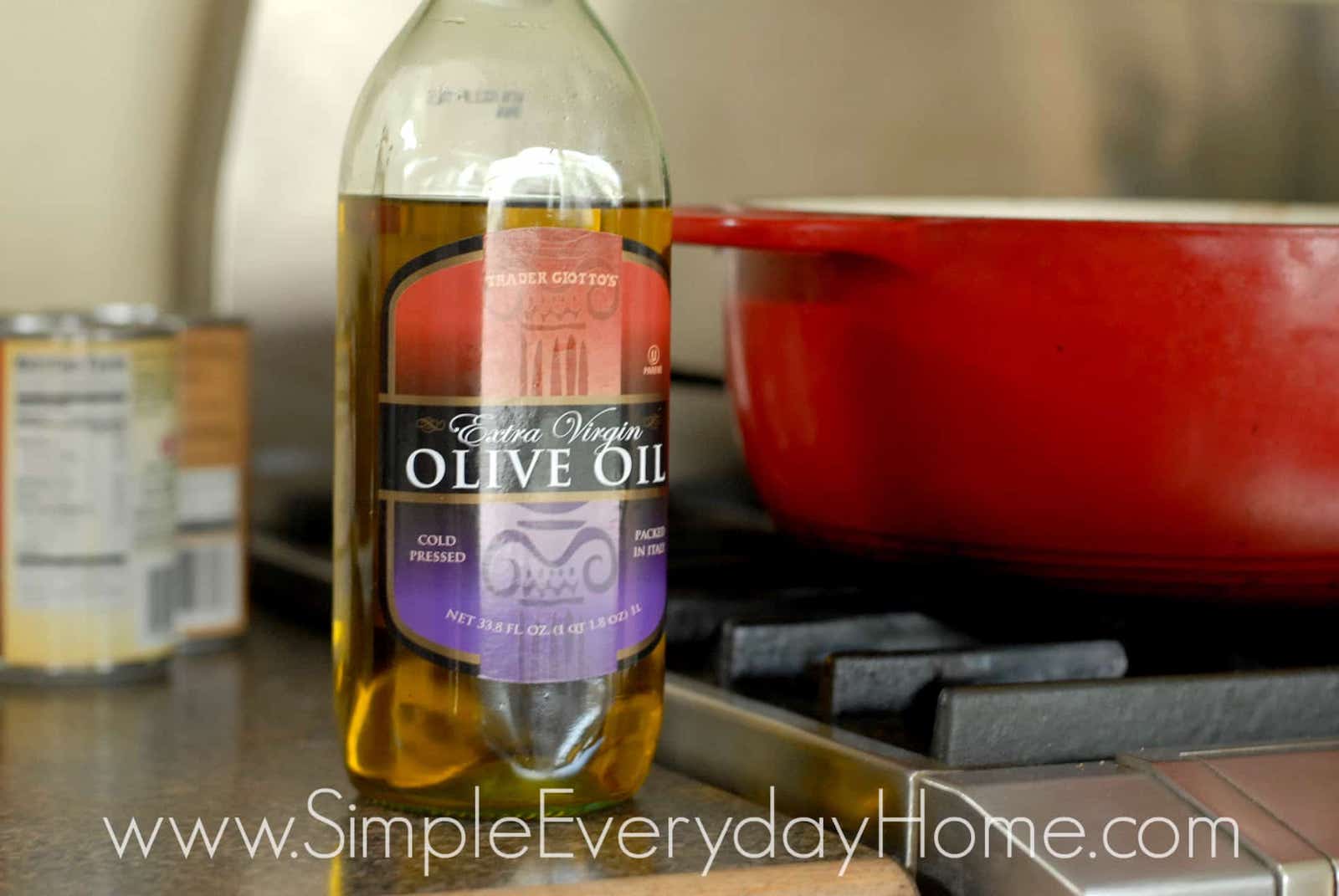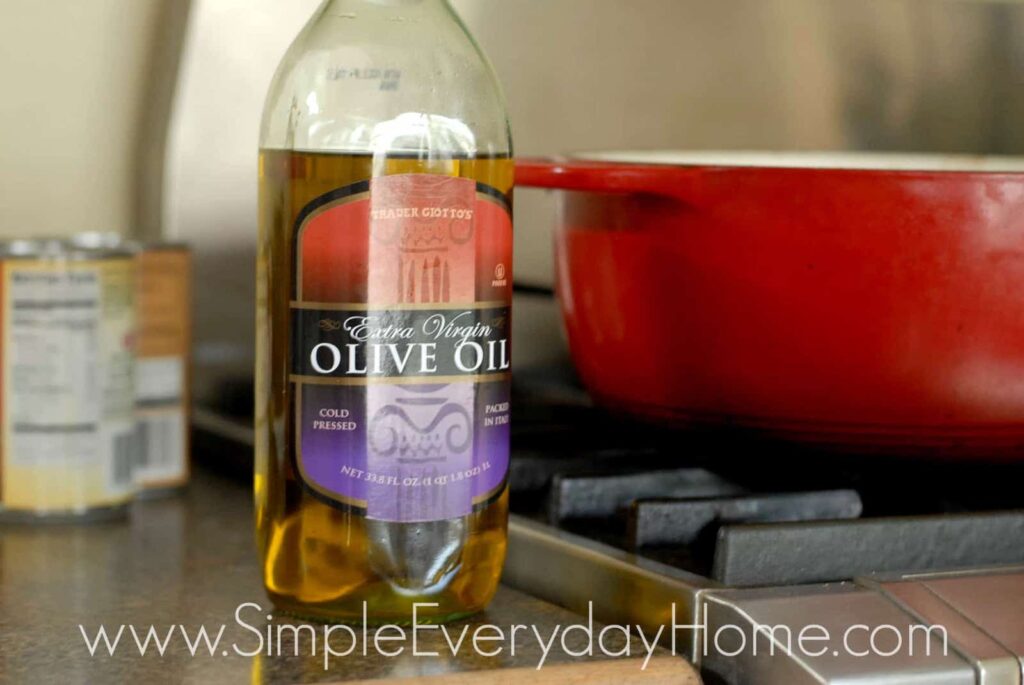 Start by heating a couple tablespoons of olive oil over medium heat. You can measure if you want, or you can just pour in a couple puddles of oil. If you count to two or three for each pour, you'll get about a tablespoon each time without having to mess up your measuring spoons.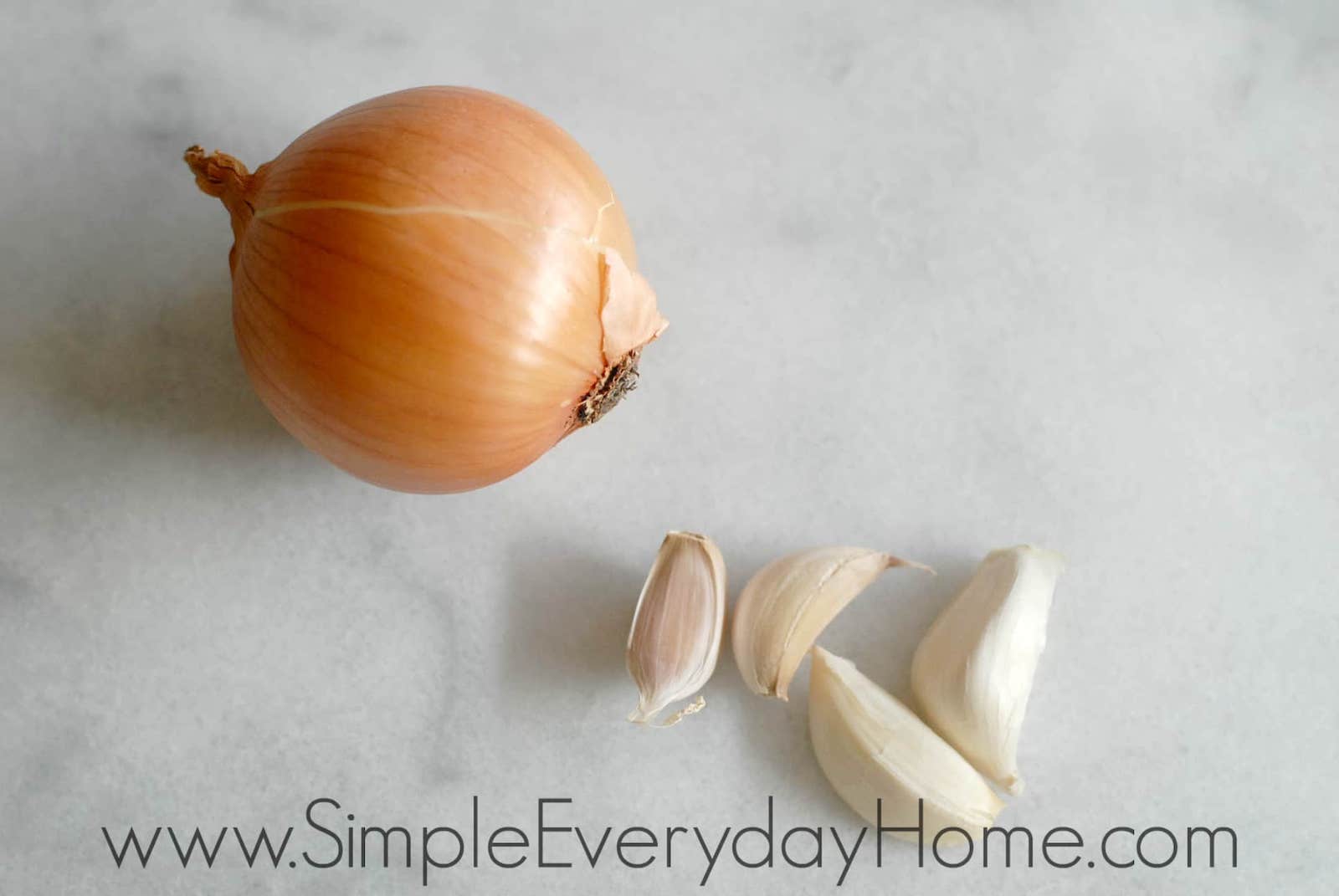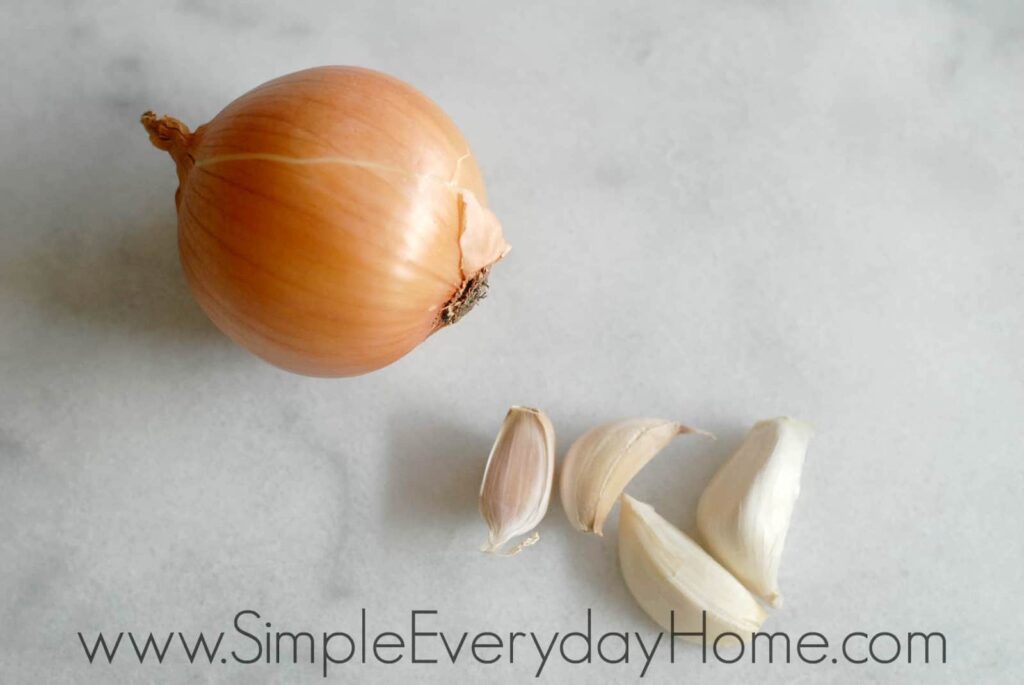 When the oil is hot (you'll know because it will swirl around the bottom of the pot easily when the pot is tipped a little), add a chopped onion and cook until it's beginning to soften.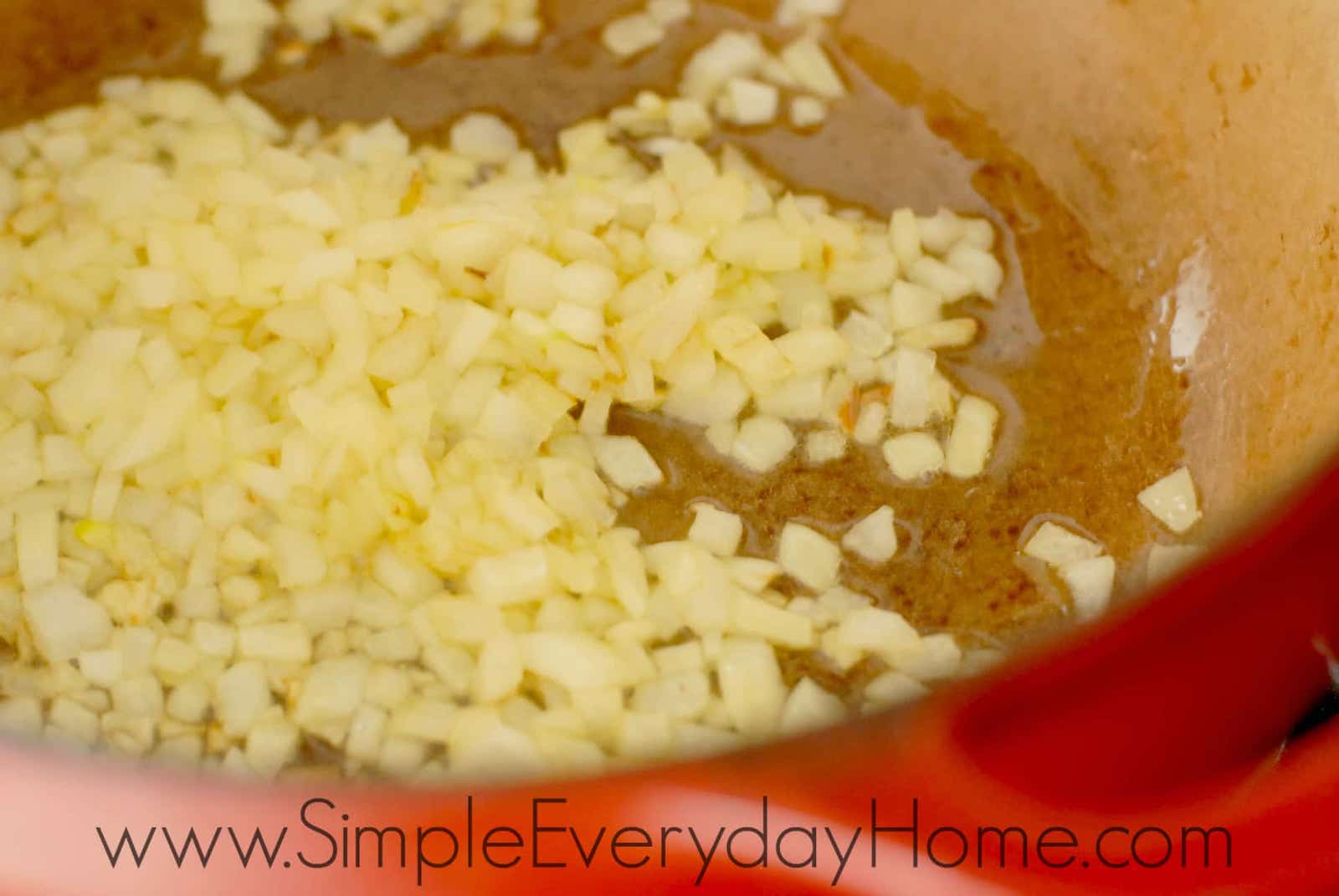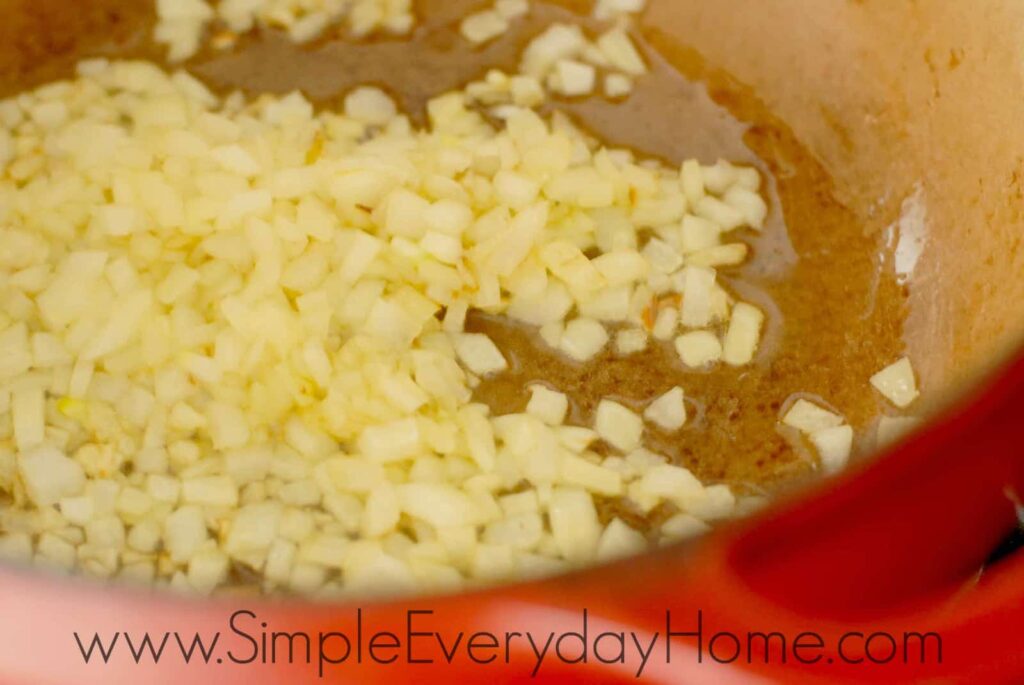 After the onion is softened and golden (but not browned!), add the garlic and cook for about 30-seconds or until it smells fragrant. You can add a little more or a little less garlic, depending on what your family likes. And who you're hoping to kiss tonight.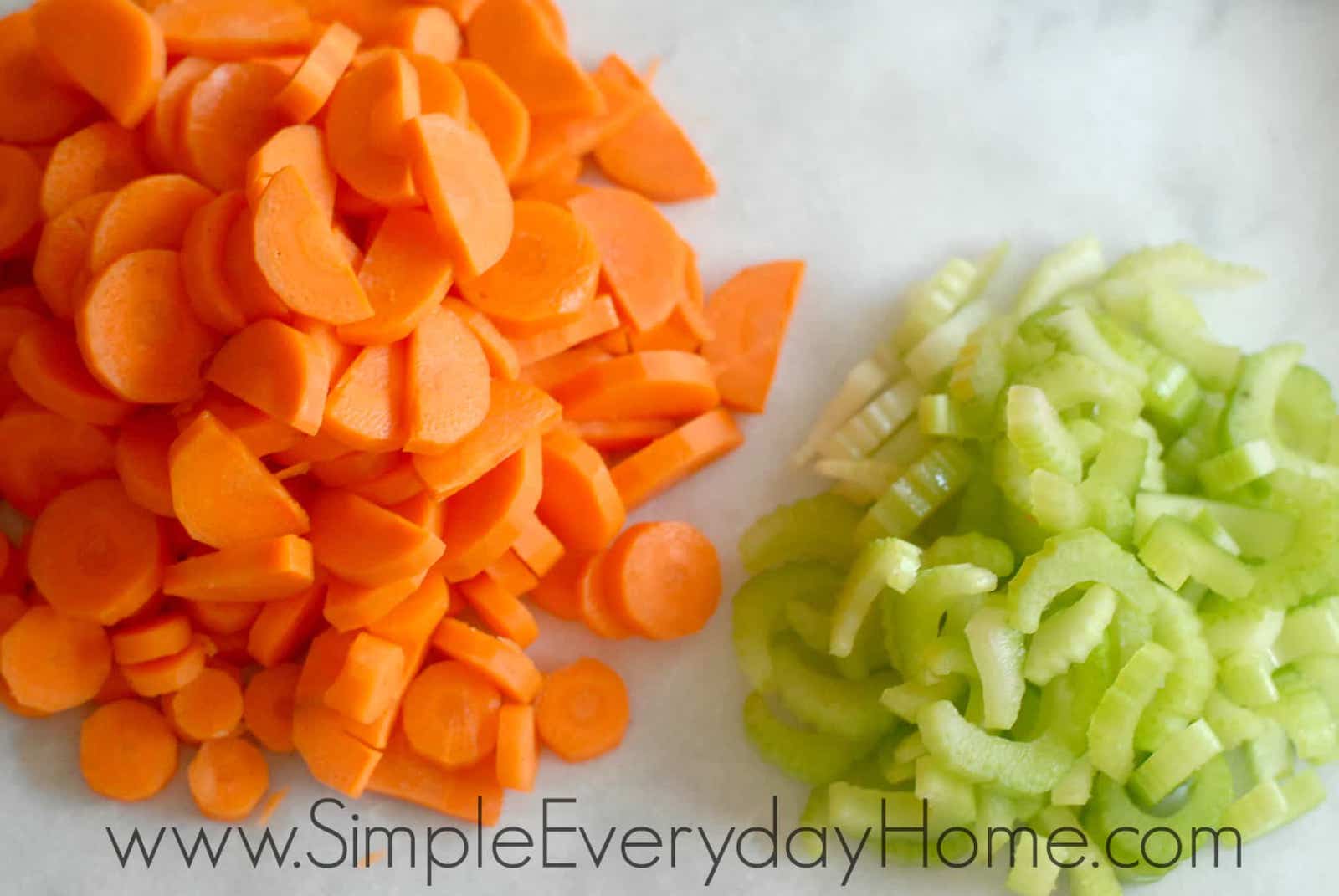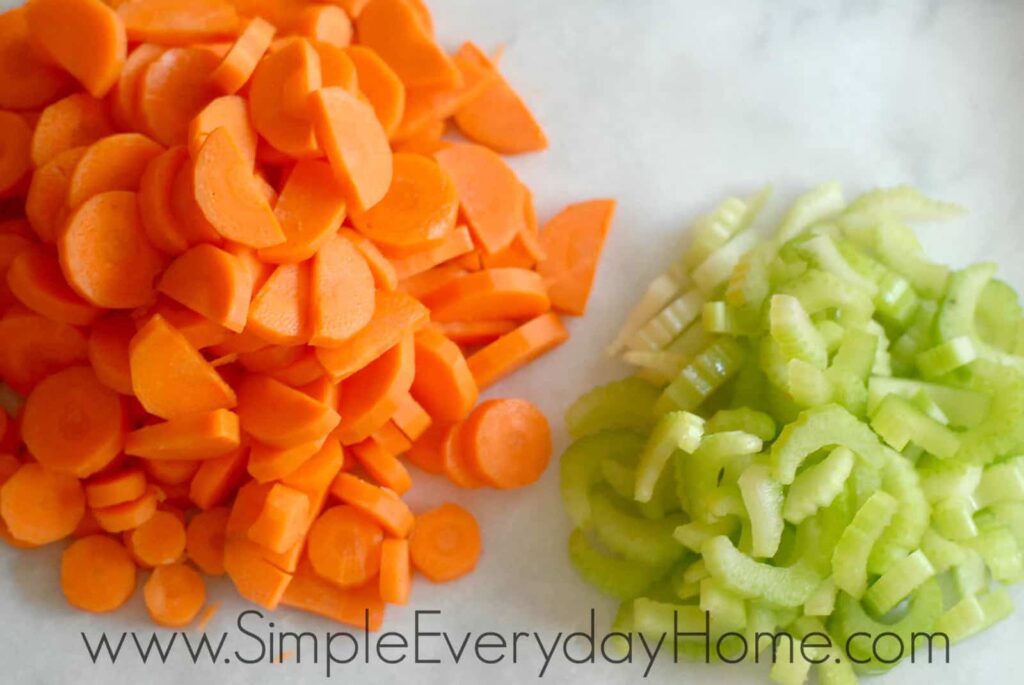 As soon as the garlic starts smelling like garlic should smell (you know what I mean, right?), add the sliced carrots and celery. As much as possible, try to cut the veggies about the same thickness so they'll cook at the same rate. Cook the carrots and celery for about 5 minutes, stirring them often so they don't brown.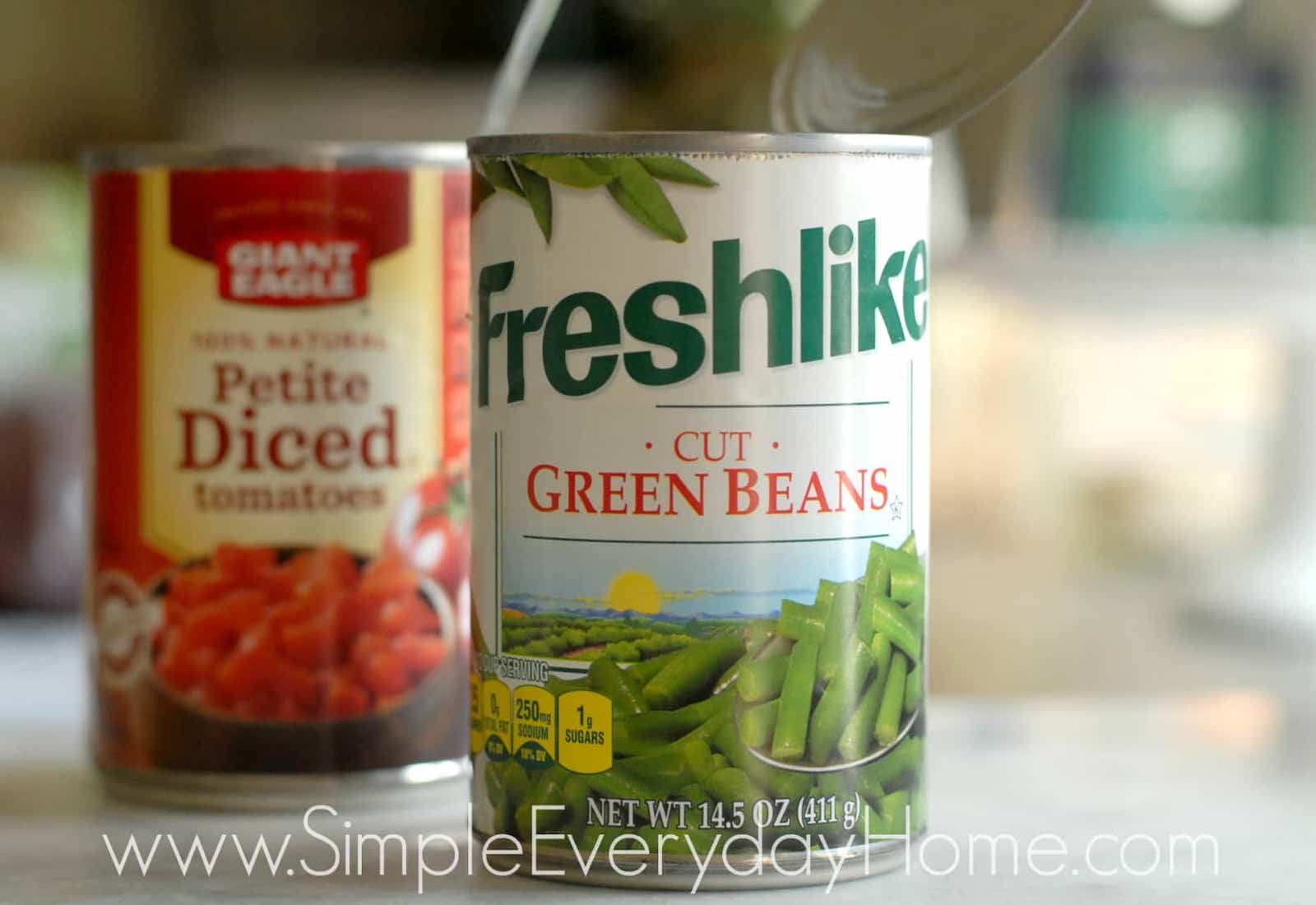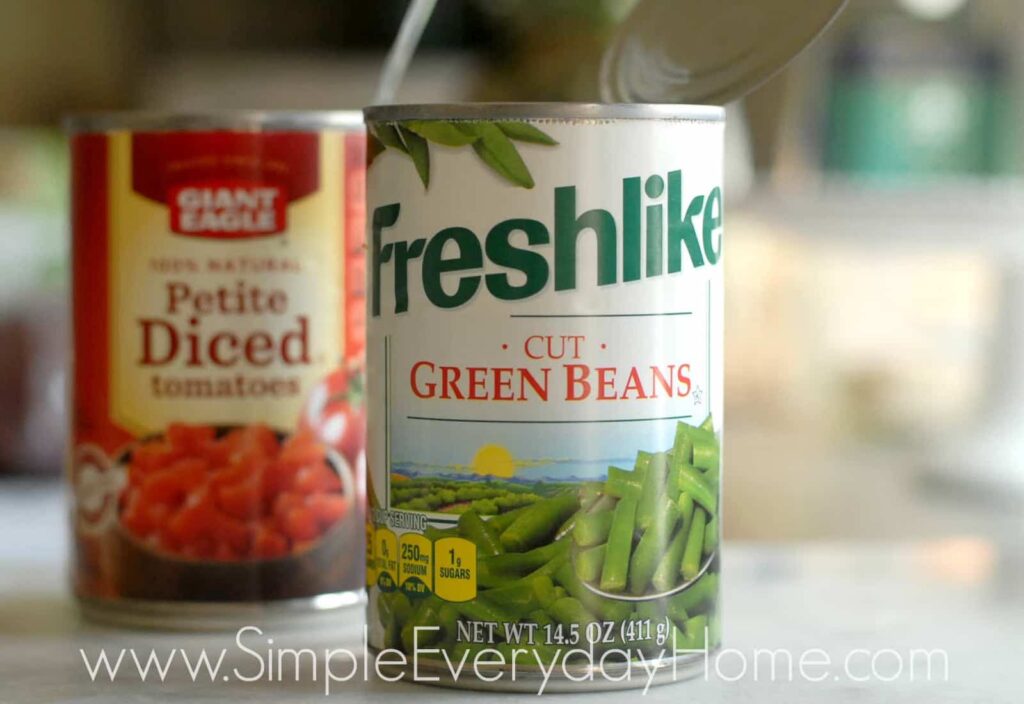 Once the carrots and celery are brightly colored, add in the tomatoes and half a can of drained green beans. Of course, you could use fresh green beans, but that just seems like too much trouble to me. But you do whatever floats your boat.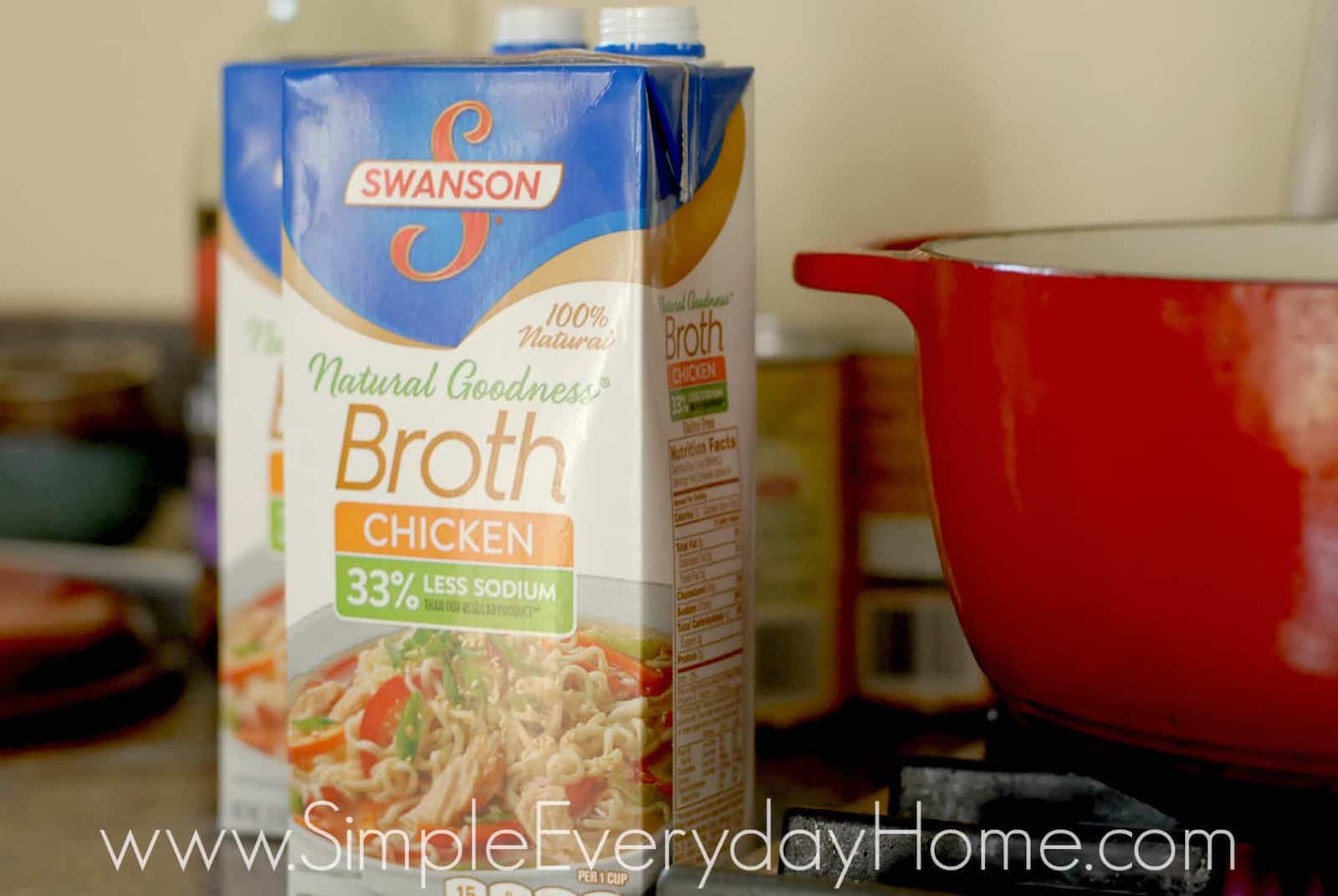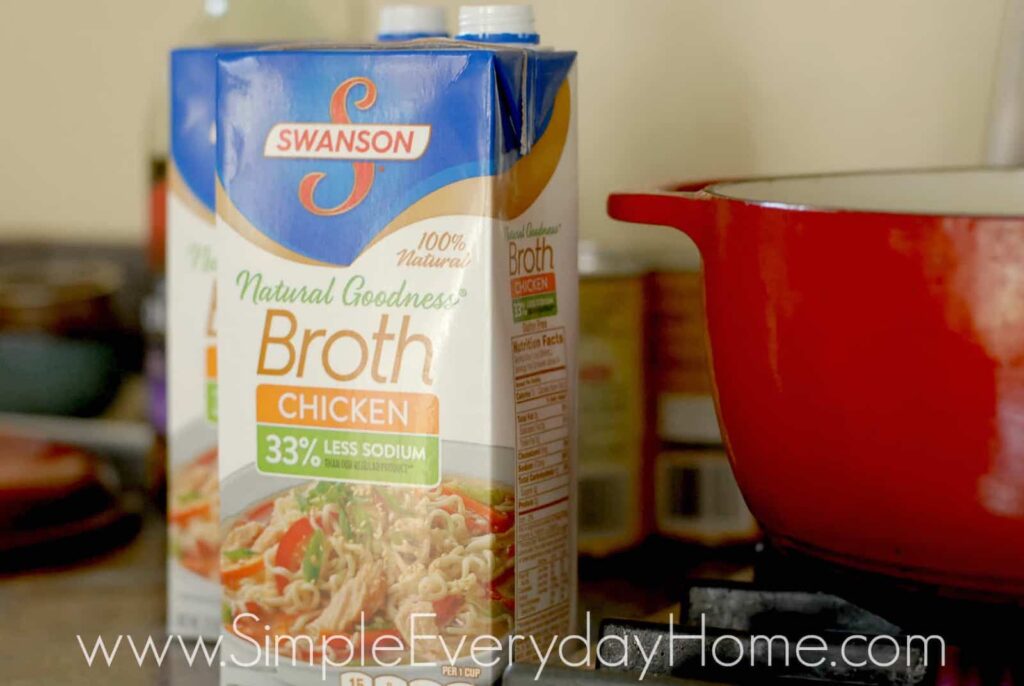 Next, pour in both cartons of broth. I probably like this soup better with veggie broth, but it's good either way. Or, you could use Homemade Chicken Stock, which would be wonderful!
Turn up the heat and bring it to a boil. Then, turn the stove back down to low, add a lid, and let it simmer for about 30 minutes or so.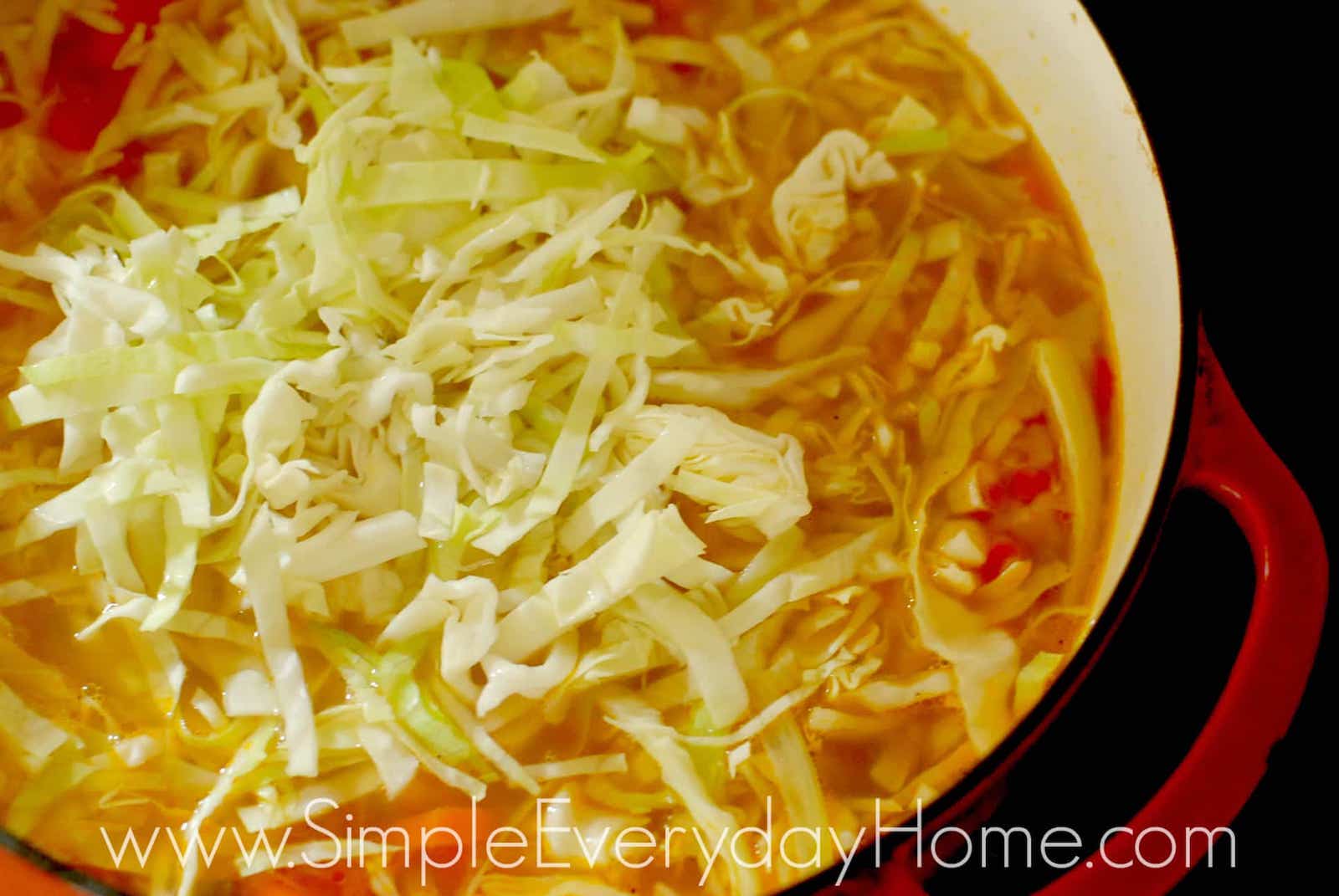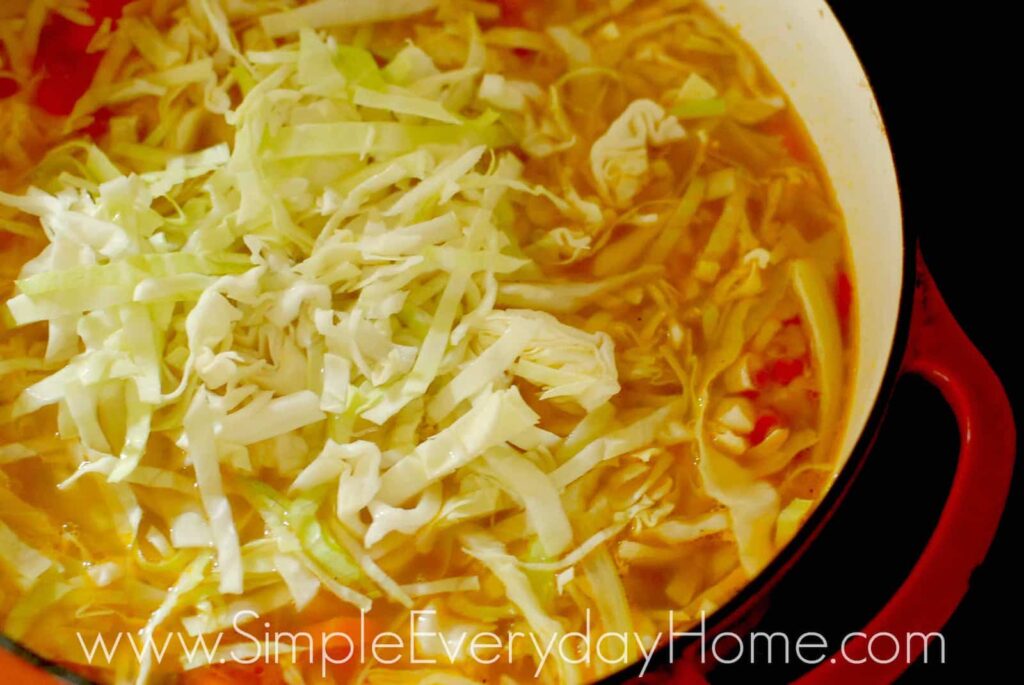 When the carrots and celery are almost tender, stir in the cabbage. I like to slice the cabbage very thin and then cut the slices once through the middle so they're in smaller pieces that will be easier to eat with a spoon. And don't worry if it looks like there's too much cabbage. It shrinks down into the soup as it cooks.
Add the salt and pepper now, too, and then put the lid back on and cook it for about 10 minutes more.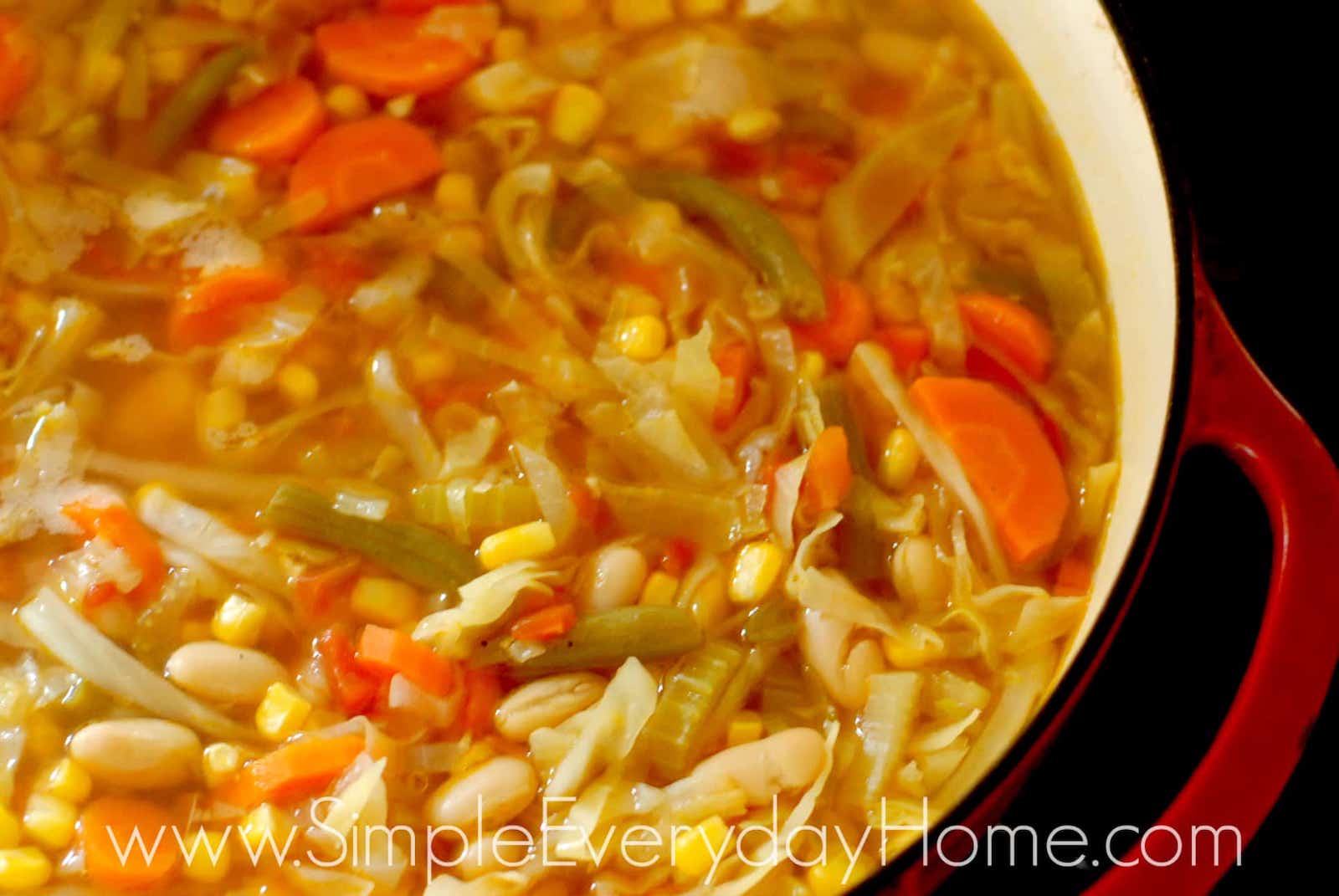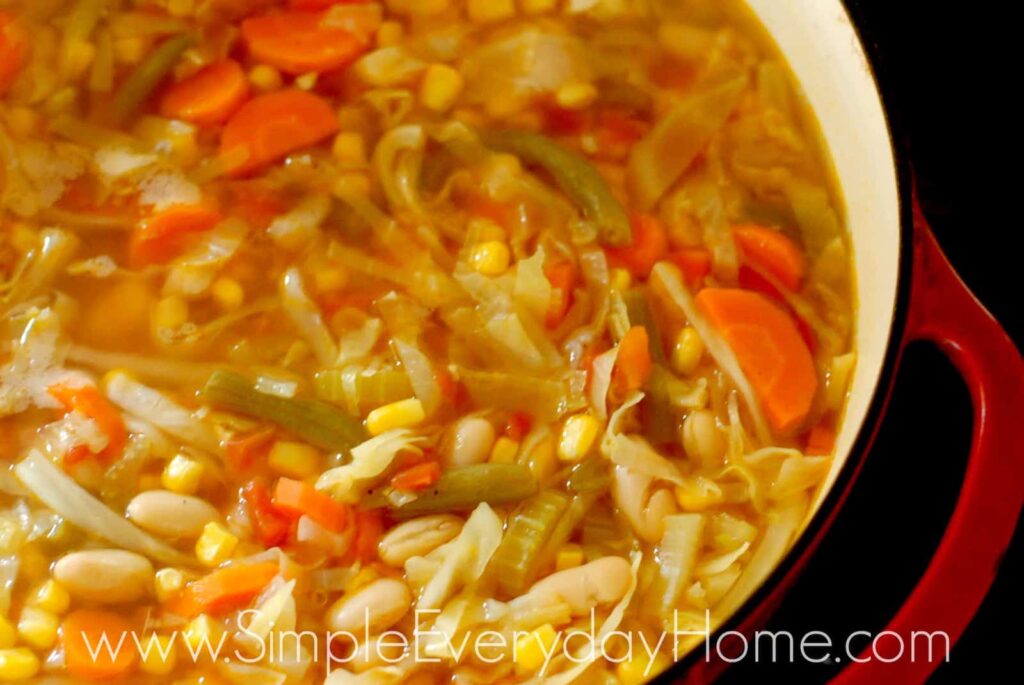 When the cabbage is tender, stir in the corn and white beans. They'll heat up in no time at all. Literally. As soon as you're done stirring them in, the soup's ready to eat.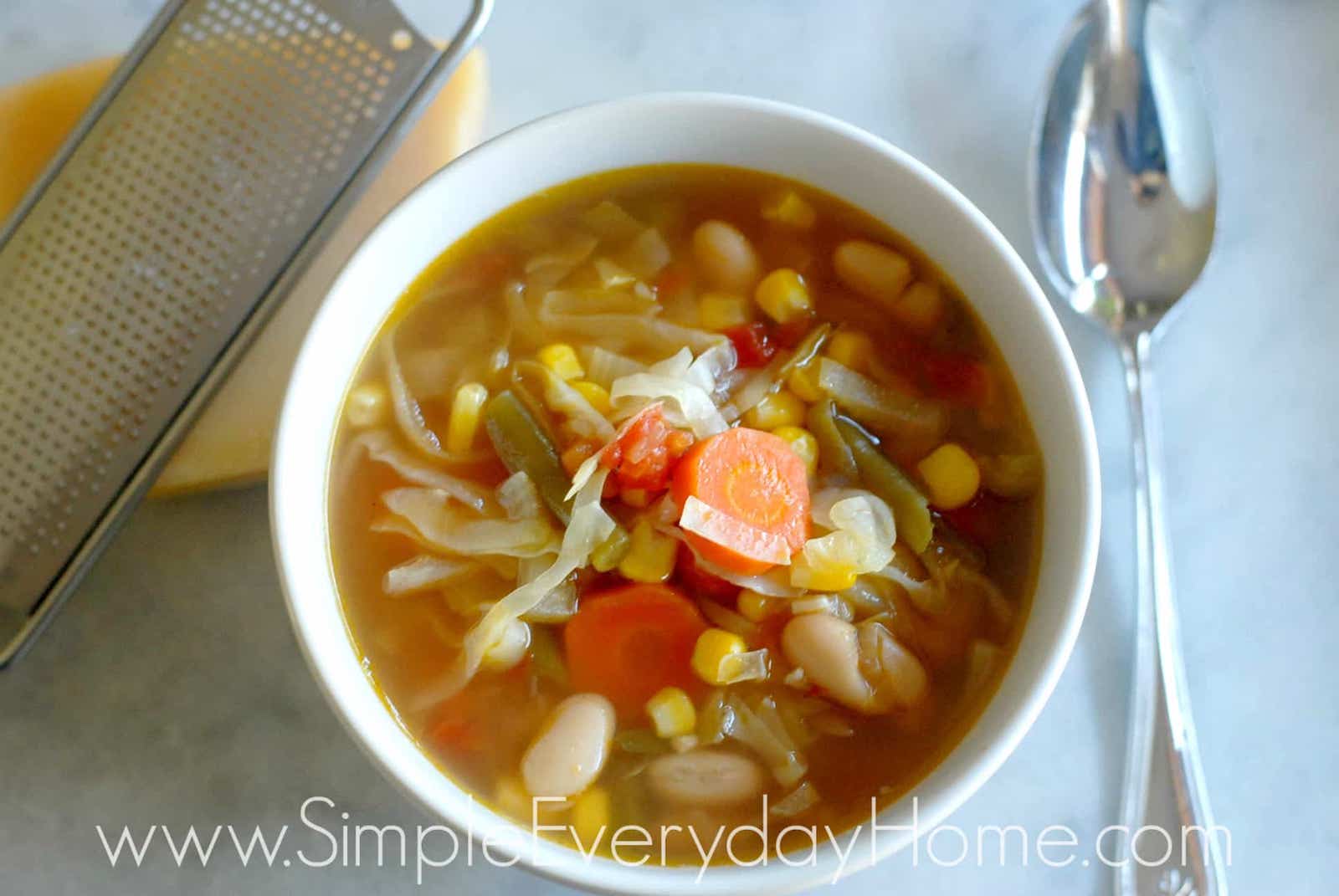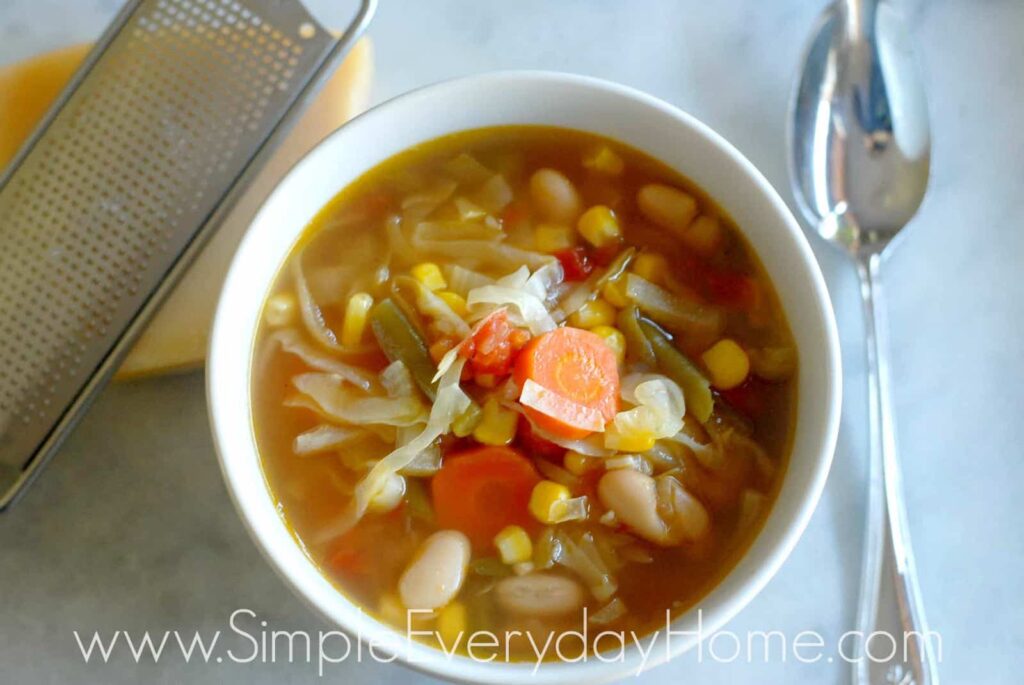 We like this soup with grated parmesan cheese on top and some crusty food processor French bread. Oh, my! This Simple Vegetable Soup is so good!
Here's the printable recipe: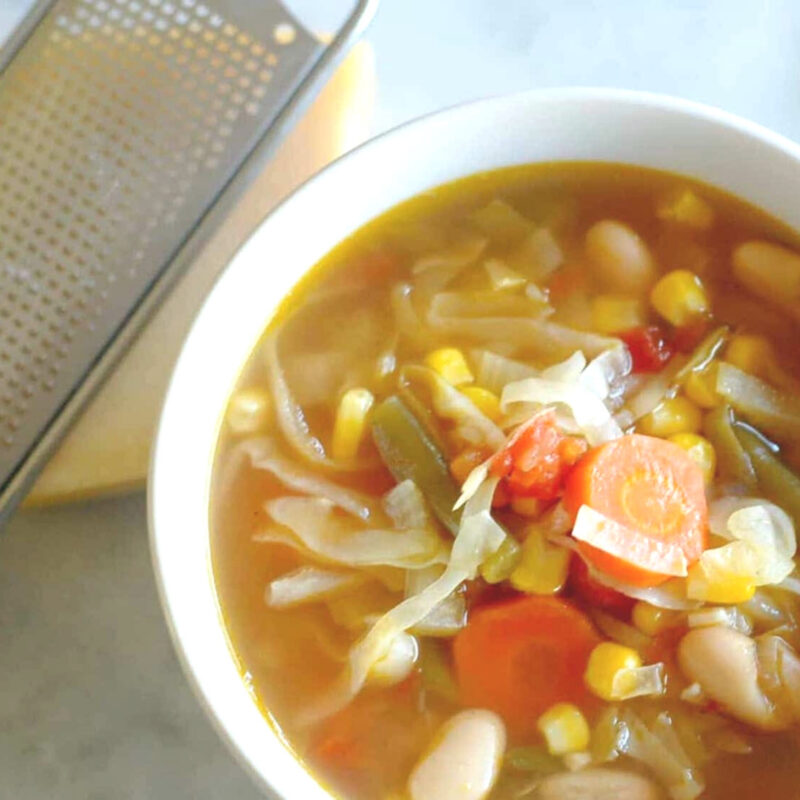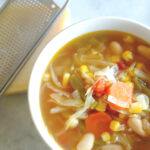 Print Recipe
Simple Vegetable Soup
This Simple Vegetable Soup comes together very quickly, and it's packed full of flavor and nutrition. It's an easy and delicious weekday meal!
Ingredients
2

tbsp

olive oil

1

onion, diced

3-5

garlic cloves, minced

5

carrots, sliced

2

celery stalks, sliced

1

14.5 oz. can petite diced tomatoes, with their juice

½

can

green beans (approx. 1/2 cup), drained

2

32-oz cartons chicken or vegetable broth, or 8 cups homemade

½

head of cabbage (approx. 4-6 cups), sliced thin

2

tsp

salt

½

tsp

black pepper

1

can

cannelloni beans, drained and rinsed (optional)

½

bag

frozen corn
Instructions
Heat oil over medium heat in a stock pot or dutch oven. Add onion and cook until beginning to soften, but not brown.

Add garlic and cook for about 30 seconds, or until fragrant. Add carrots and celery and cook for about 5 minutes, until bright, stirring often.

Add the tomatoes with their juices, the green beans, and the broth. Turn the stove to medium-high and bring to a boil. Once it begins to boil, reduce the heat to low, cover, and cook for 30-40 minutes, or until the carrots and celery are nearly tender.

Then, stir in the cabbage and the salt and pepper, return the lid, and continue to cook about 10 minutes more, or until the cabbage is tender. Turn off the heat and stir in the cannellini beans (if using) and the frozen corn.

If desired, serve over cooked pasta shapes or top with bacon and/or grated parmesan cheese.