The Very Best Navy Bean Soup
This really is the best Nave Bean Soup. It's so very rich and full of flavor (because of my super-secret ingredient). Your entire family will be asking for more!
My family loves Navy Bean Soup. It's sort of a joke around our house that every time I make this soup, my husband says, "I could eat this every day. Seriously, I could eat it every single day."
I have a feeling he wouldn't be so happy if I actually served it seven days a week, but it's a pretty big compliment coming from him. He works for a world-class restaurant company, so when he loves something I make (and calls it "the best Navy Bean Soup ever"), I feel pretty awesome!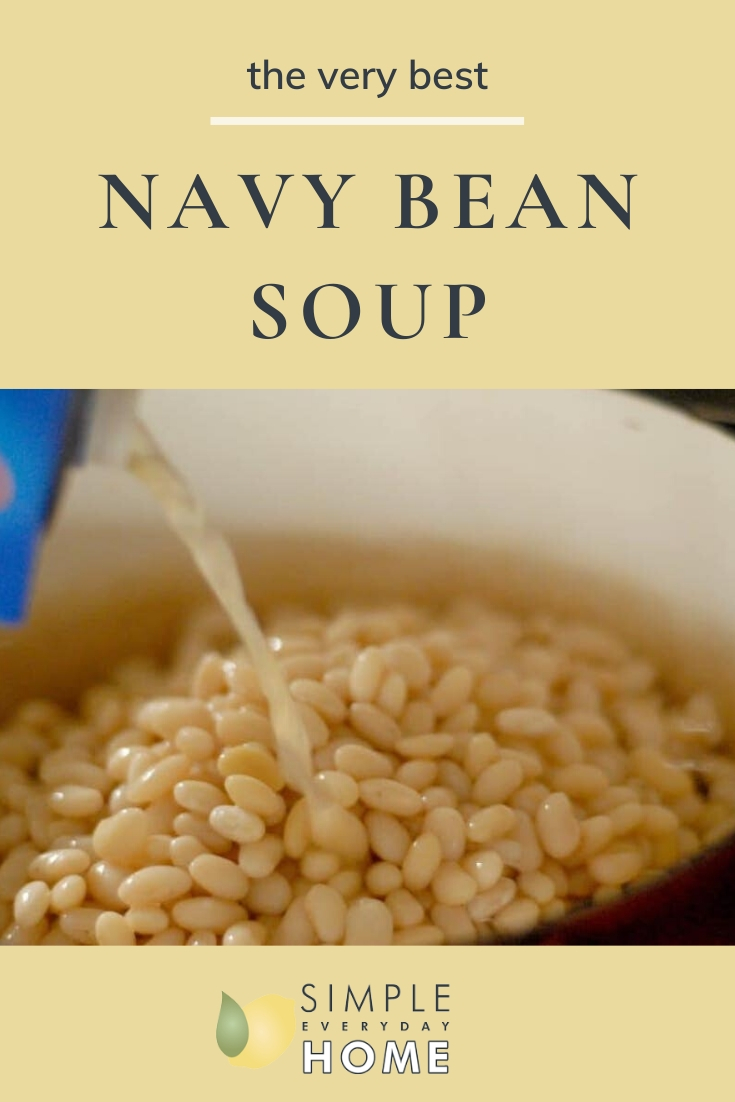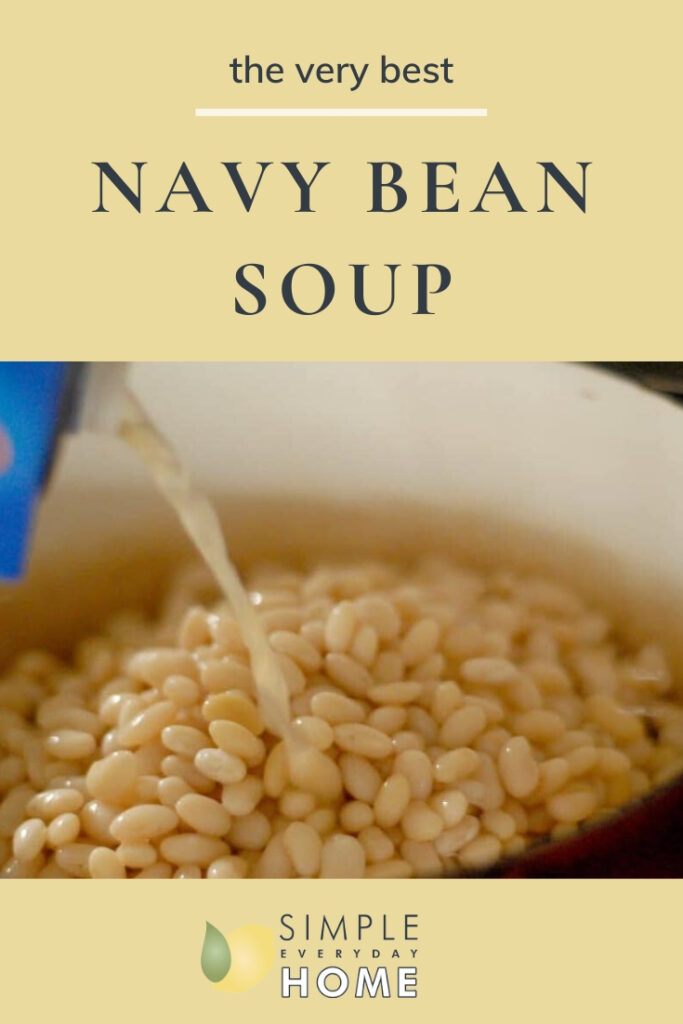 Honestly, this soup really is very tasty. The broth is rich and flavorful, and the beans are creamy and delicious. Plus, it's super cheap to make, which is always a bonus.
Step-by-Step Guide to Making the Best Navy Bean Soup
This recipe uses dried Navy beans or Great Northern beans. The Navy beans are traditional and smaller. The Great Northerns are slightly bigger and tend to be creamer. I probably like Great Northern best, but either one works well.
Now, if you've never worked with dried beans before, don't be intimidated. They're surprisingly easy to prepare using a couple different methods, depending on how much time you have.
For either method you choose, you'll want to start by rinsing and sorting the beans. Basically, just dump them into a colander and run some water over them while you search for tiny rocks (yes, I've found some before) or yucky looking beans.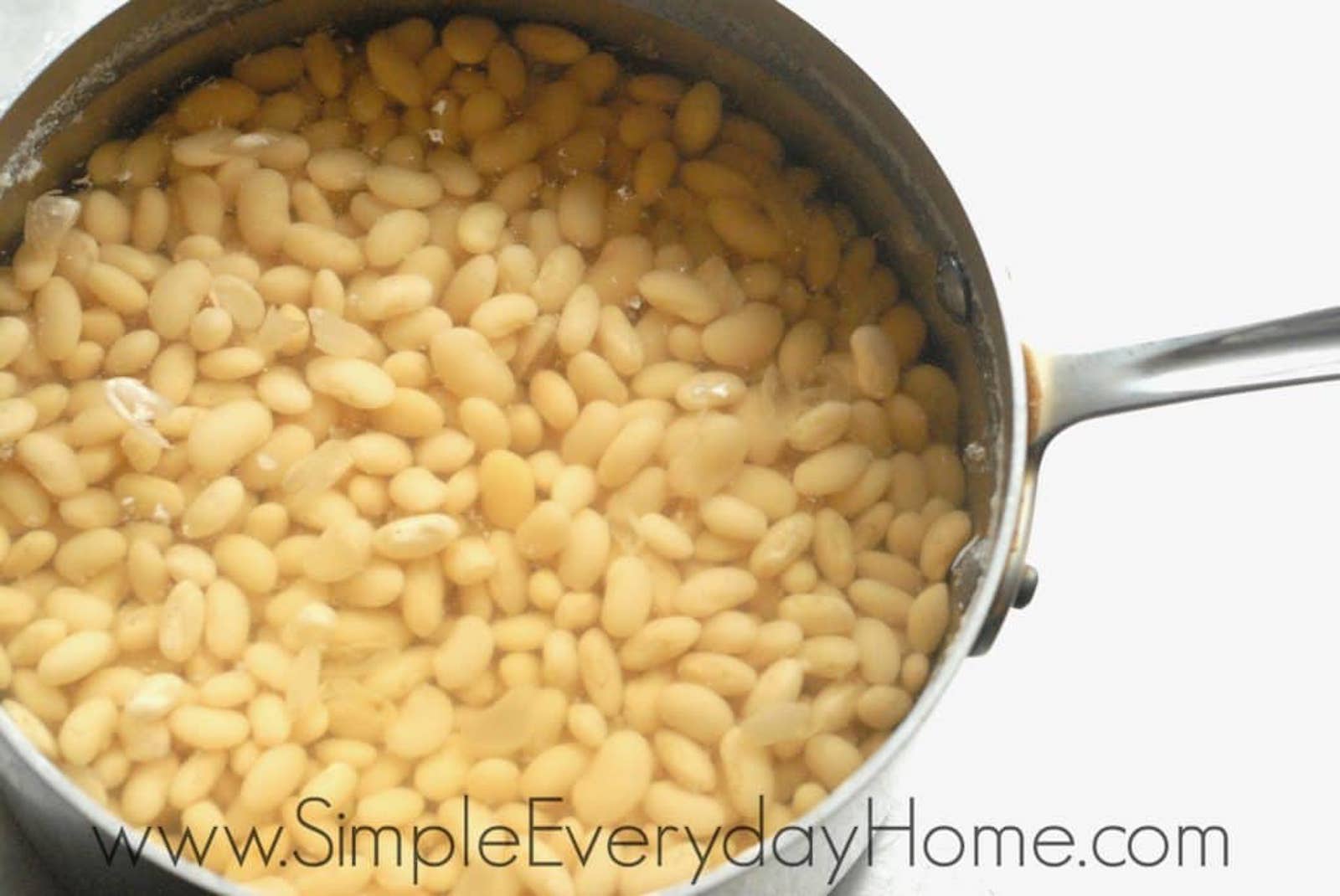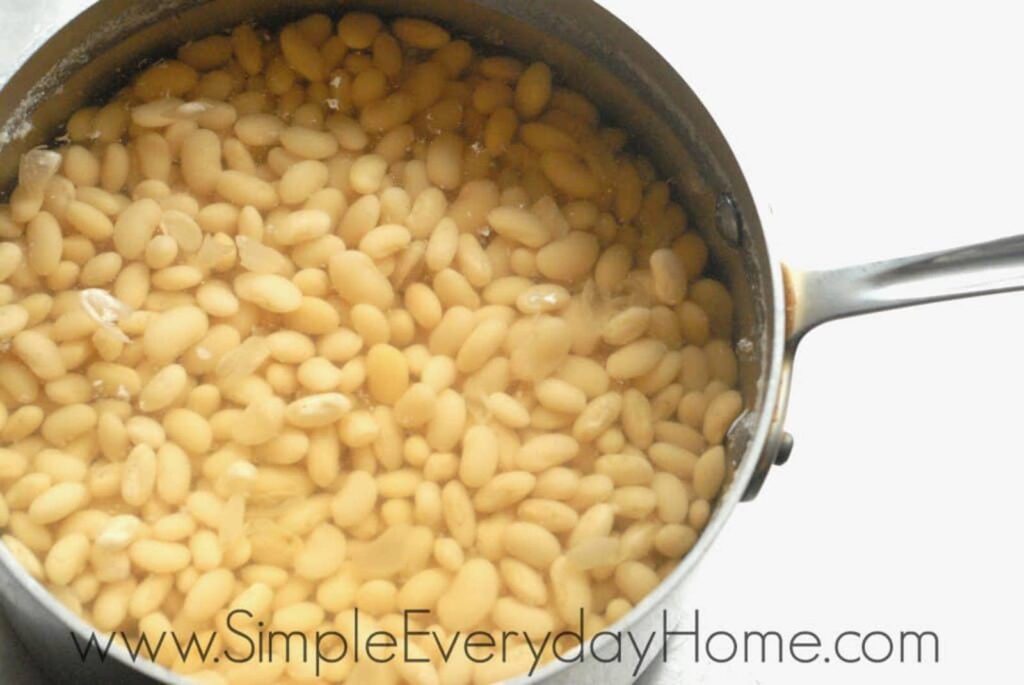 Next, dump the rinsed beans into a pot and cover with about two inches of water for soaking. Remember that the beans will swell as they soak, so be sure your pot is large enough for the amount of beans you're using.
If you think ahead (which I rarely do), you can put the beans in the pot with the water before you go to bed and let them soak overnight, or for at least eight hours.
If you're like me and suddenly remember in the middle of the afternoon that your family is going to expect dinner in just a few hours (the nerve of them!), you can use the "quick soak" method.
Get your FREE Simple Decluttering Cheatsheet!
Start feeling at peace in your own home! Learn how to pick the best spot to start decluttering AND step-by-step how to tackle the mess in any room in your house. PLUS get my best tips right in your inbox…and it's 100% FREEEEE!
Your email is safe with us. We wouldn't dream of sharing it with anyone else!
"I keep every email you send out. You are so spot on with your advice." – MaryLou
To "quick soak" the beans, after you dump them in the pot with the water, put them uncovered on the stove over hight heat. Once they come to a nice rolling boil, set your timer for two minutes. When it beeps, remove the pot from the heat, cover with a lid, and let them set for an hour.
I also usually add a small spoon of baking soda to the pot right before I put on the lid because I've heard it reduces the gassiness. I don't know if it works or not, but I figure it's worth a shot. (By the way, don't be surprised when the water fizzes up as soon as the baking soda hits it. The bubbling only lasts a few seconds.)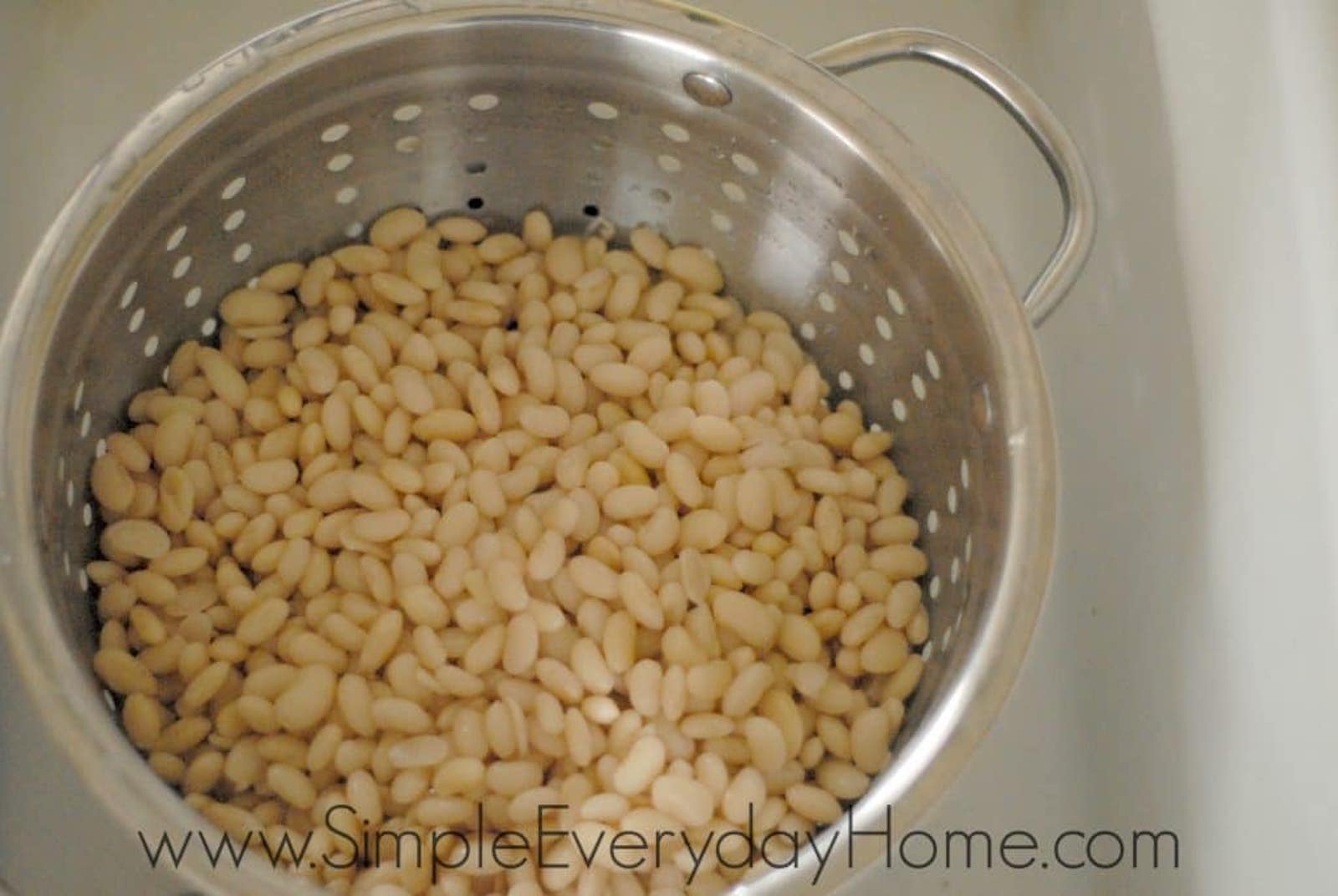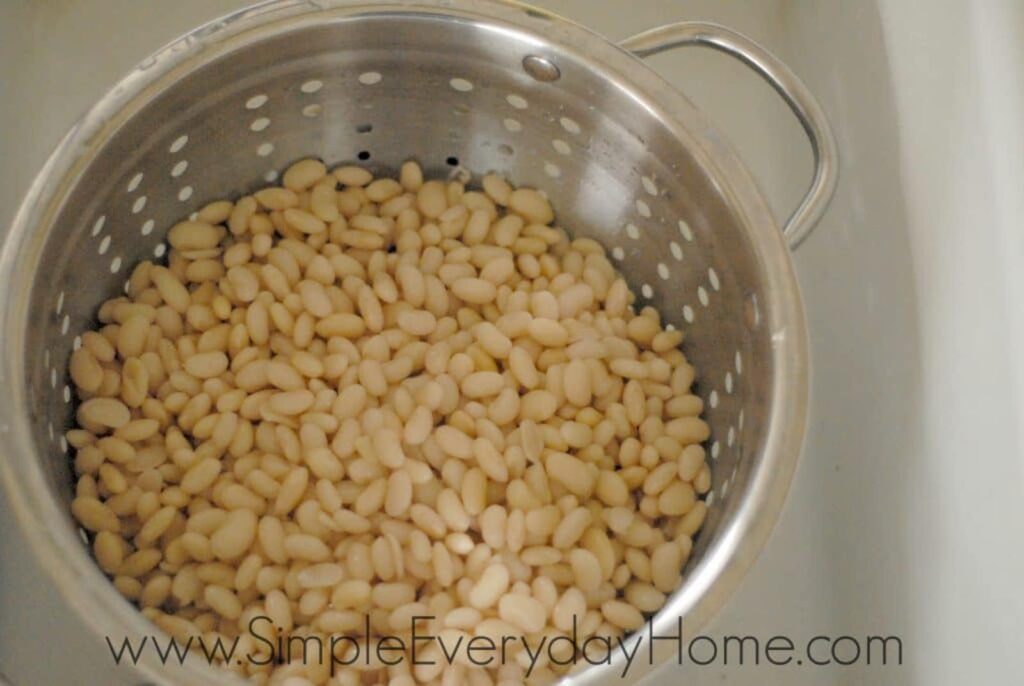 When the beans are finished soaking, dump them in a colander and give them a quick rinse with cool water.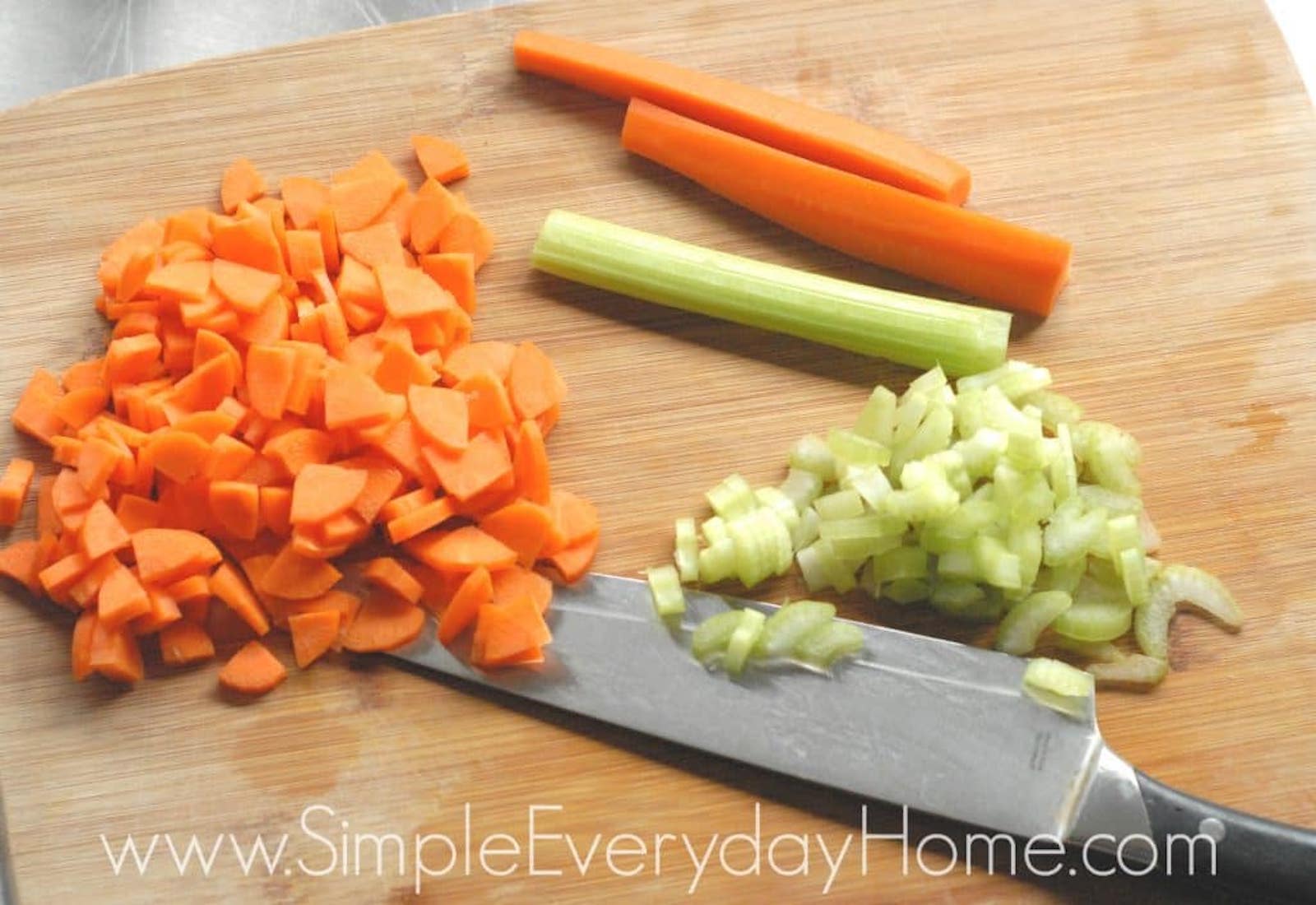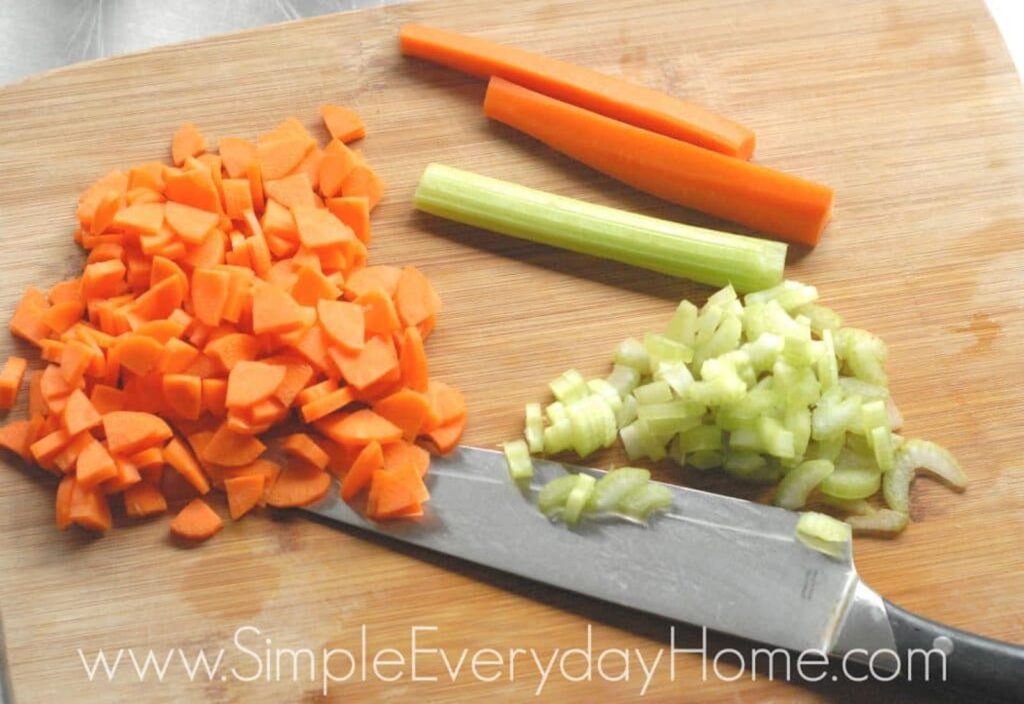 To make the soup, dice a carrot and a stalk of celery. I like to dice them pretty small, since they're almost a garnish next to the star of the show.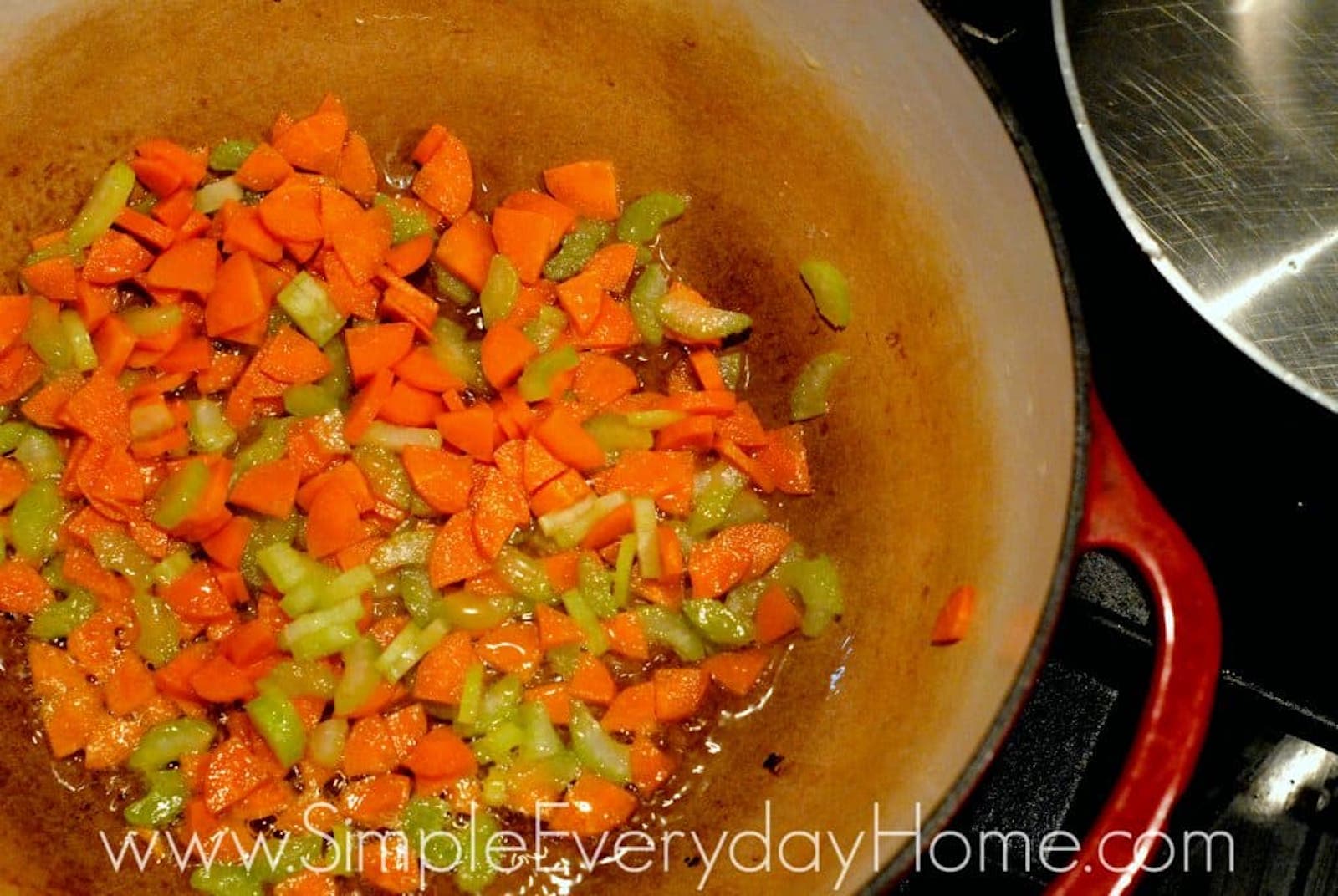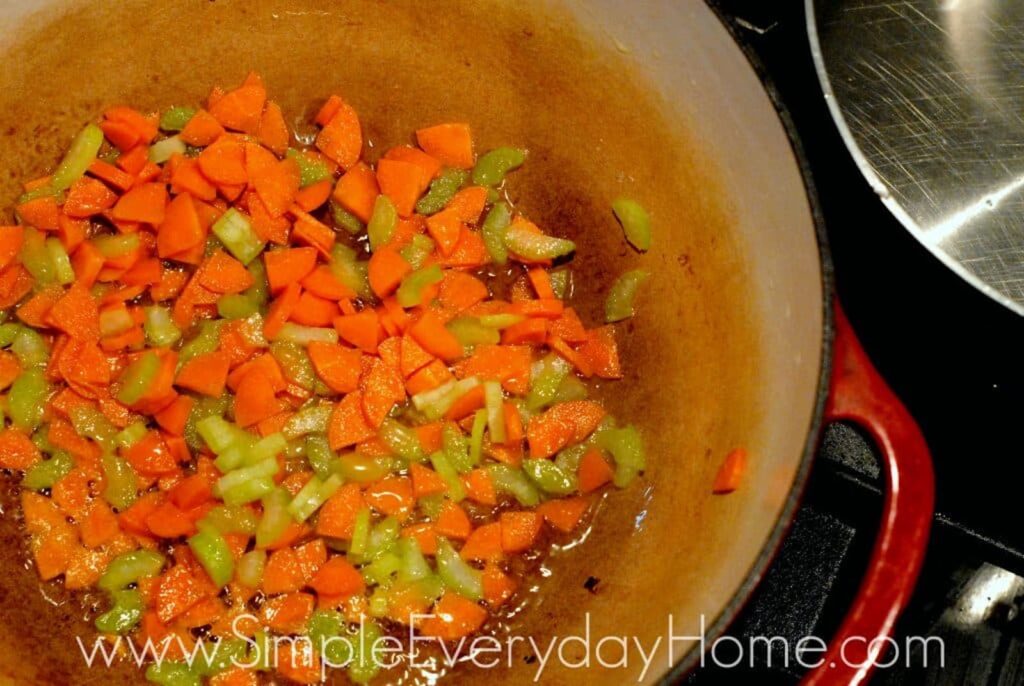 Heat a couple tablespoons of oil in the bottom of your soup pot (this is my absolute favorite pot for making soup) and cook the veggies until they're tender, but not browned.
If you're short on time when you're starting to make the soup, you can hold off on cooking and adding the veggies. I've often cooked the beans first and then softened the carrot and celery in a separate skillet before adding them to the nearly-finished soup.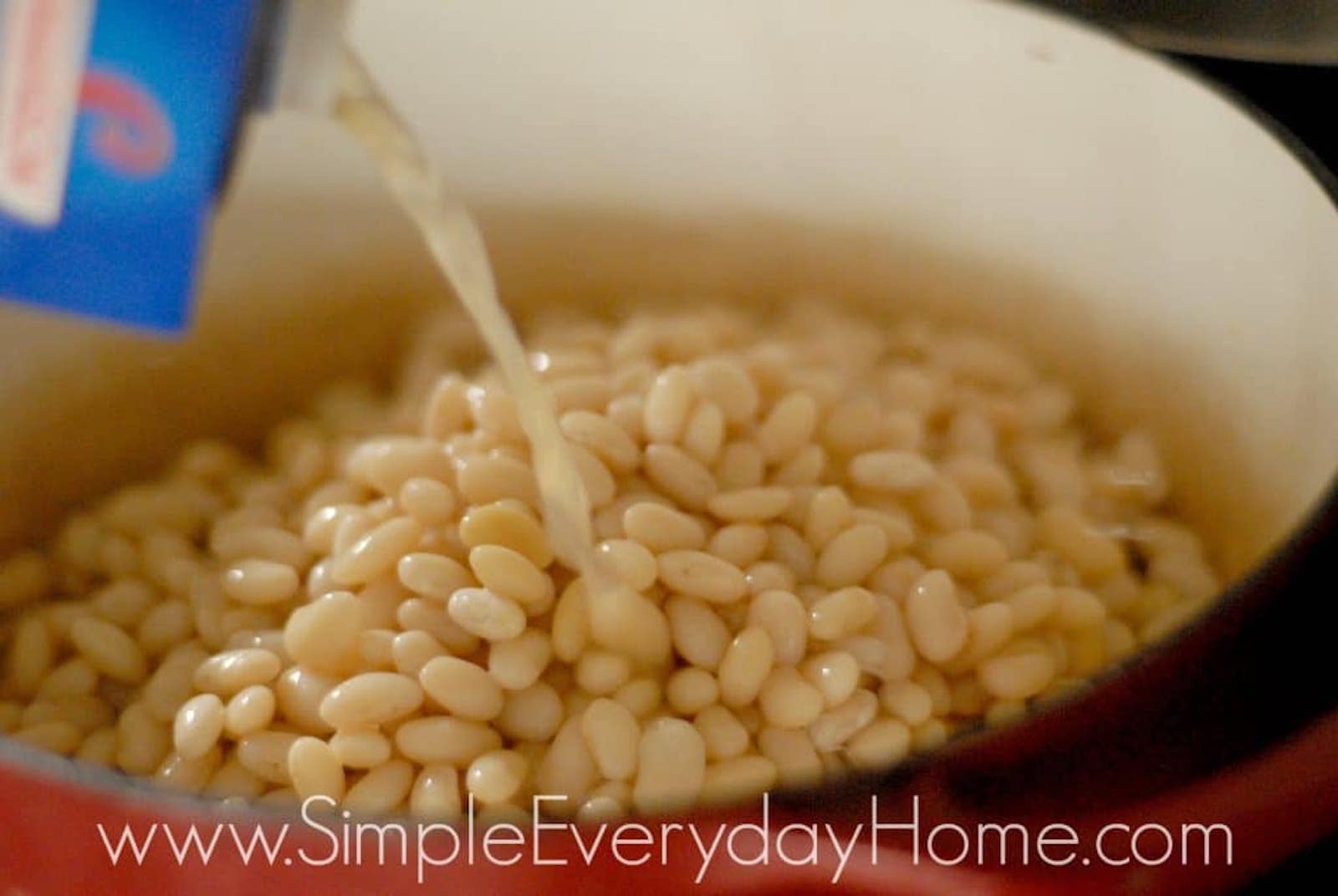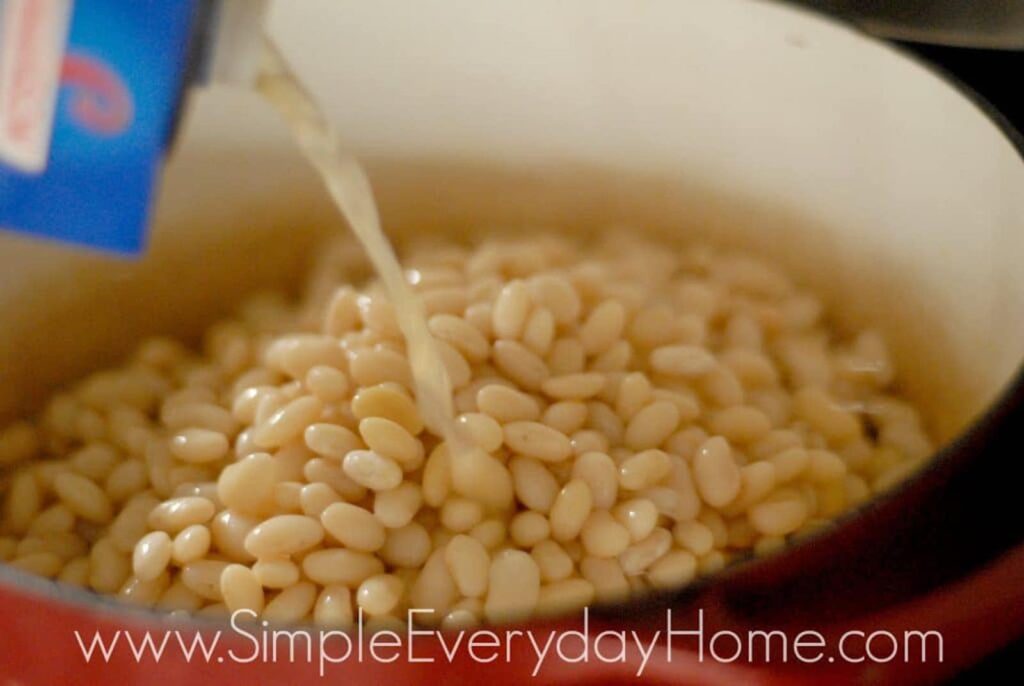 Once the veggies are tender, add the drained beans to the pot and get ready to pour in my "secret ingredient." I've found that the very best way to have a flavorful bean soup is to use packaged or homemade chicken stock.
This soup is still pretty good if you use just water and cook it with a ham bone or ham hock (or even some bacon grease, in a pinch), but the chicken stock makes it so rich and flavorful that it might make you cry. It's worth trying if you've never cried over a pot of soup before.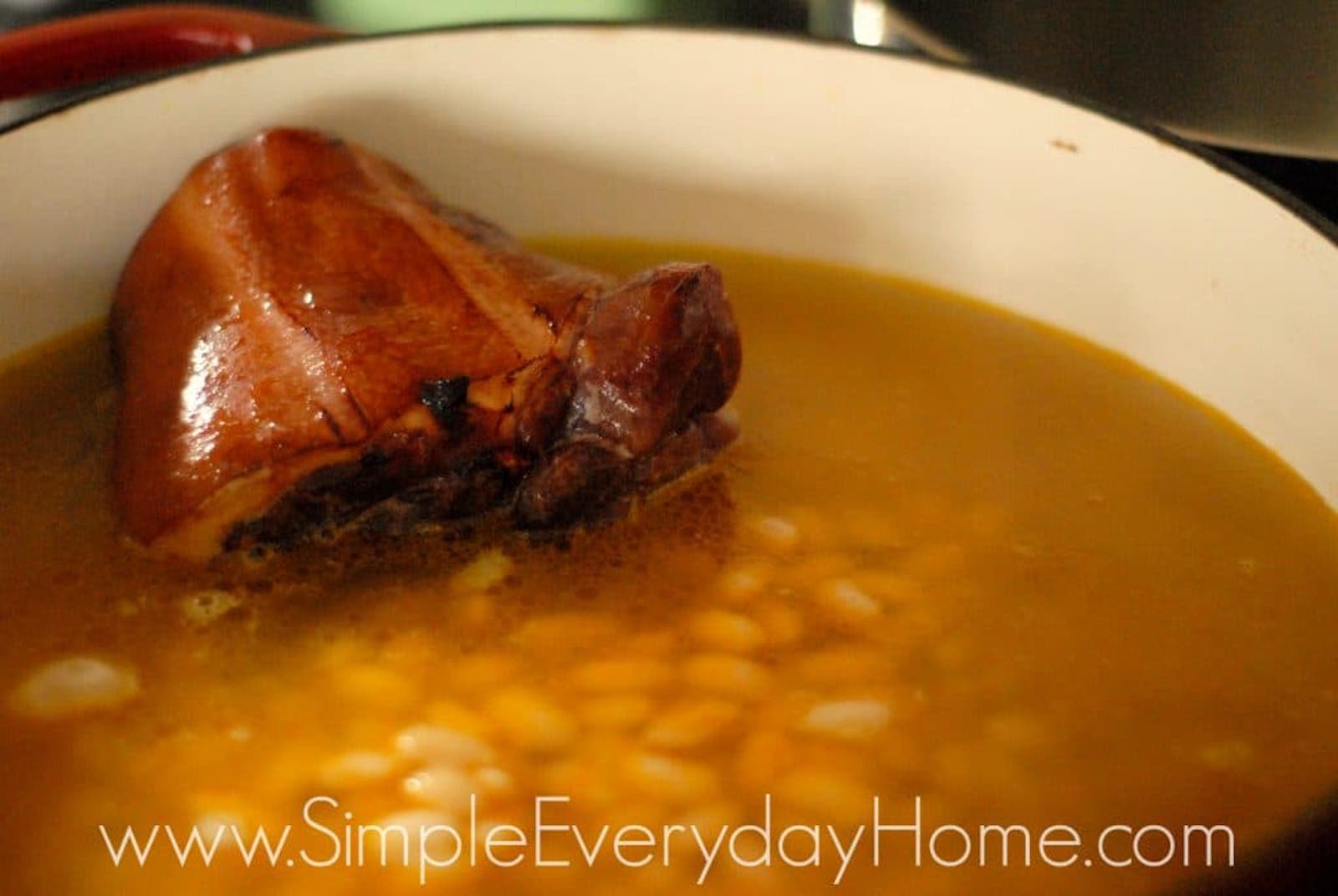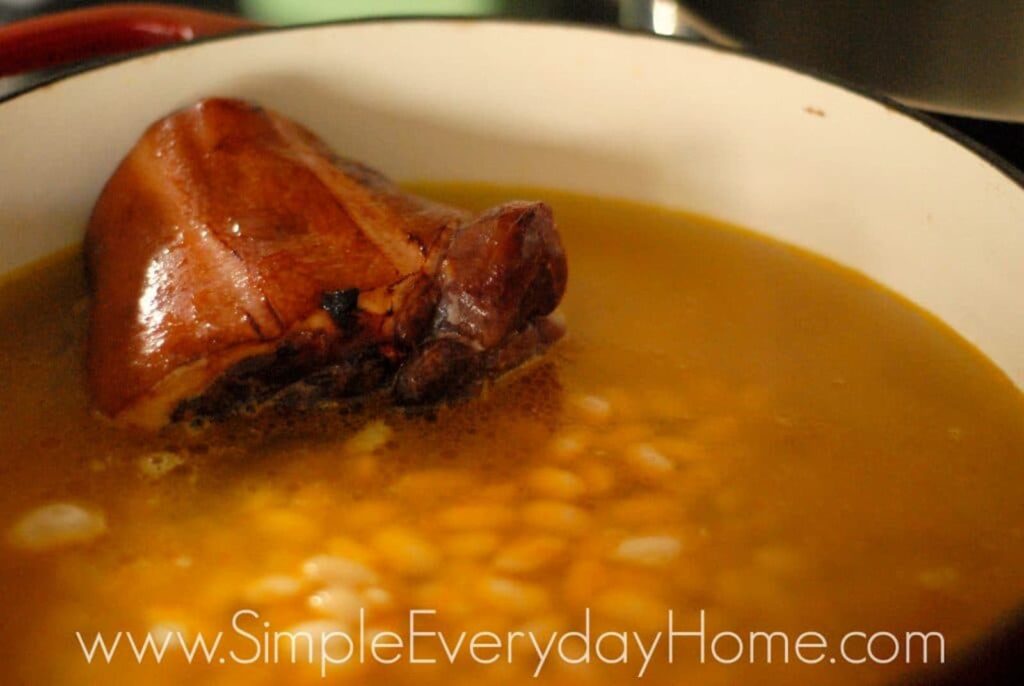 Next, nestle a ham hock or ham bone down into the broth. I always save the bone when I make my Simple Glazed Ham for a holiday dinner (freeze it if it's not being used right away). A ham hock from the meat department will also do the job, and it adds a nice smokey flavor, too.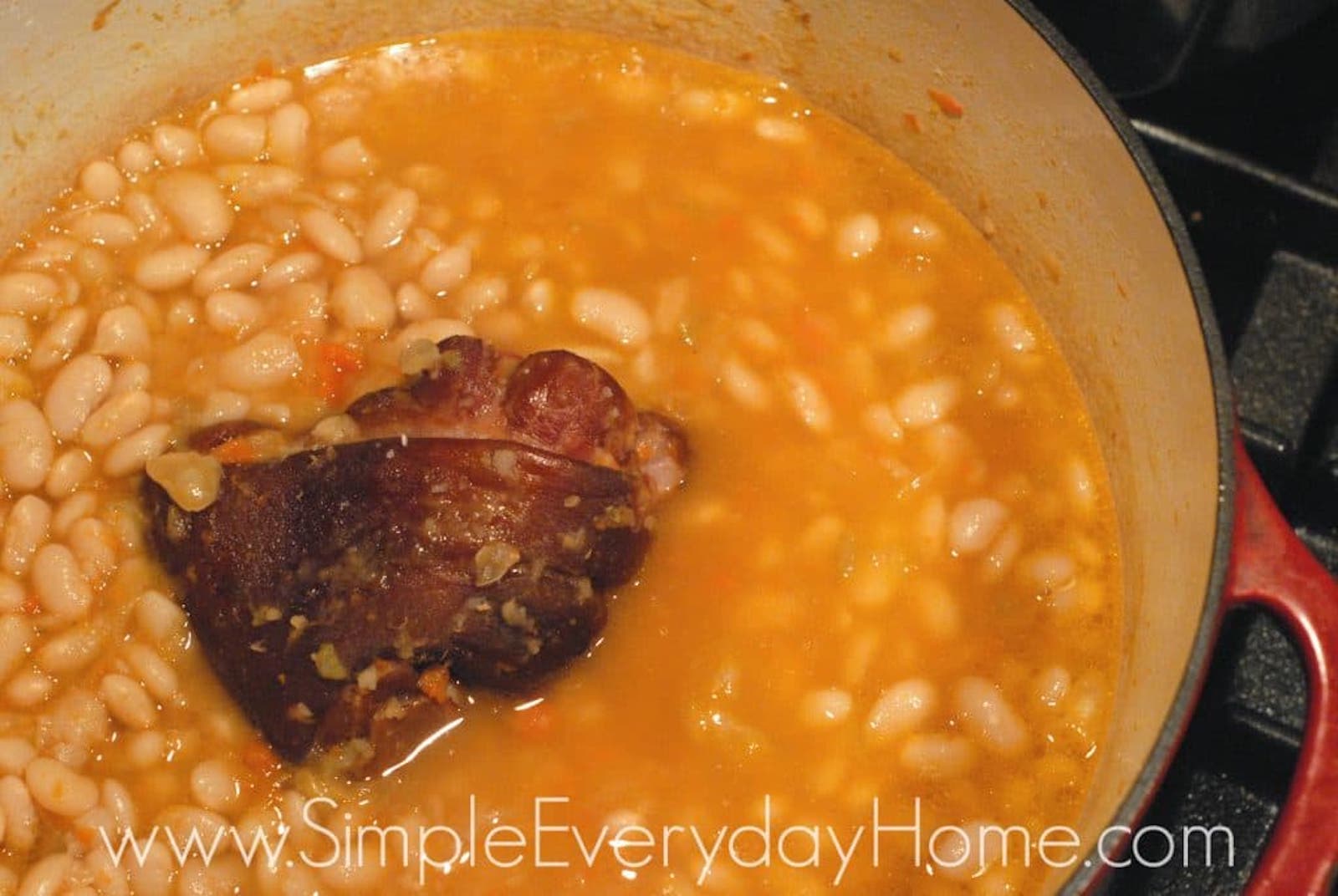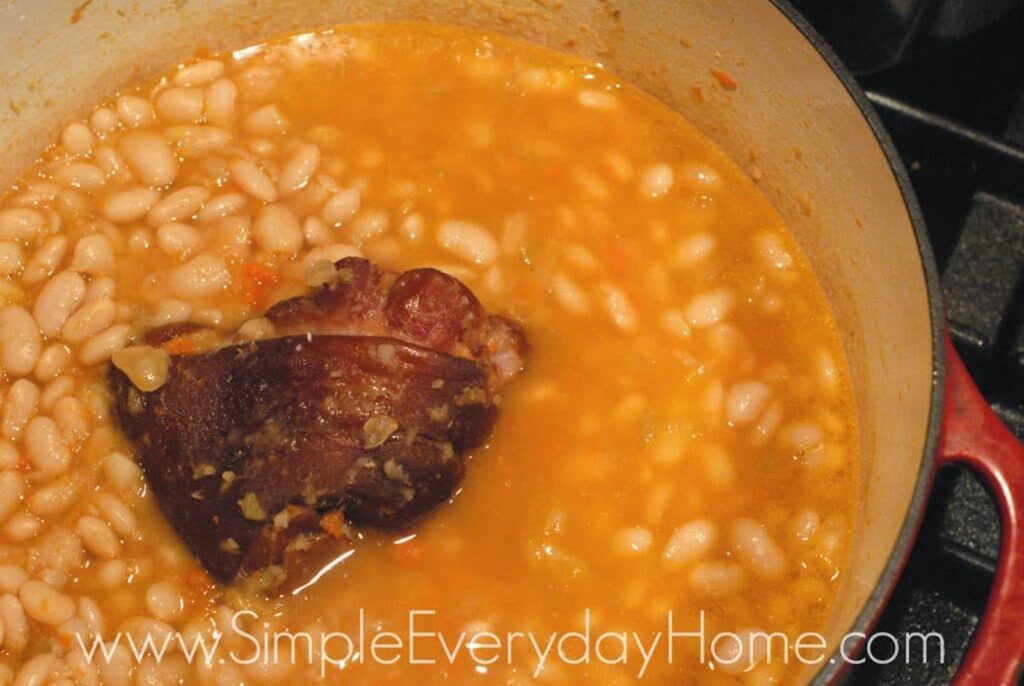 Then, turn the stove to high or medium-high and bring the pot to a boil. Once it starts boiling, turn it down and let it simmer (just barely bubbling) for the next few hours.
You can leave it uncovered, cover it, or put a lid on it just halfway so the steam escapes. I always forget what is the "right way" to do it, and I've never had a pot of soup ruin because I did (or did not) use a lid. Just follow your heart.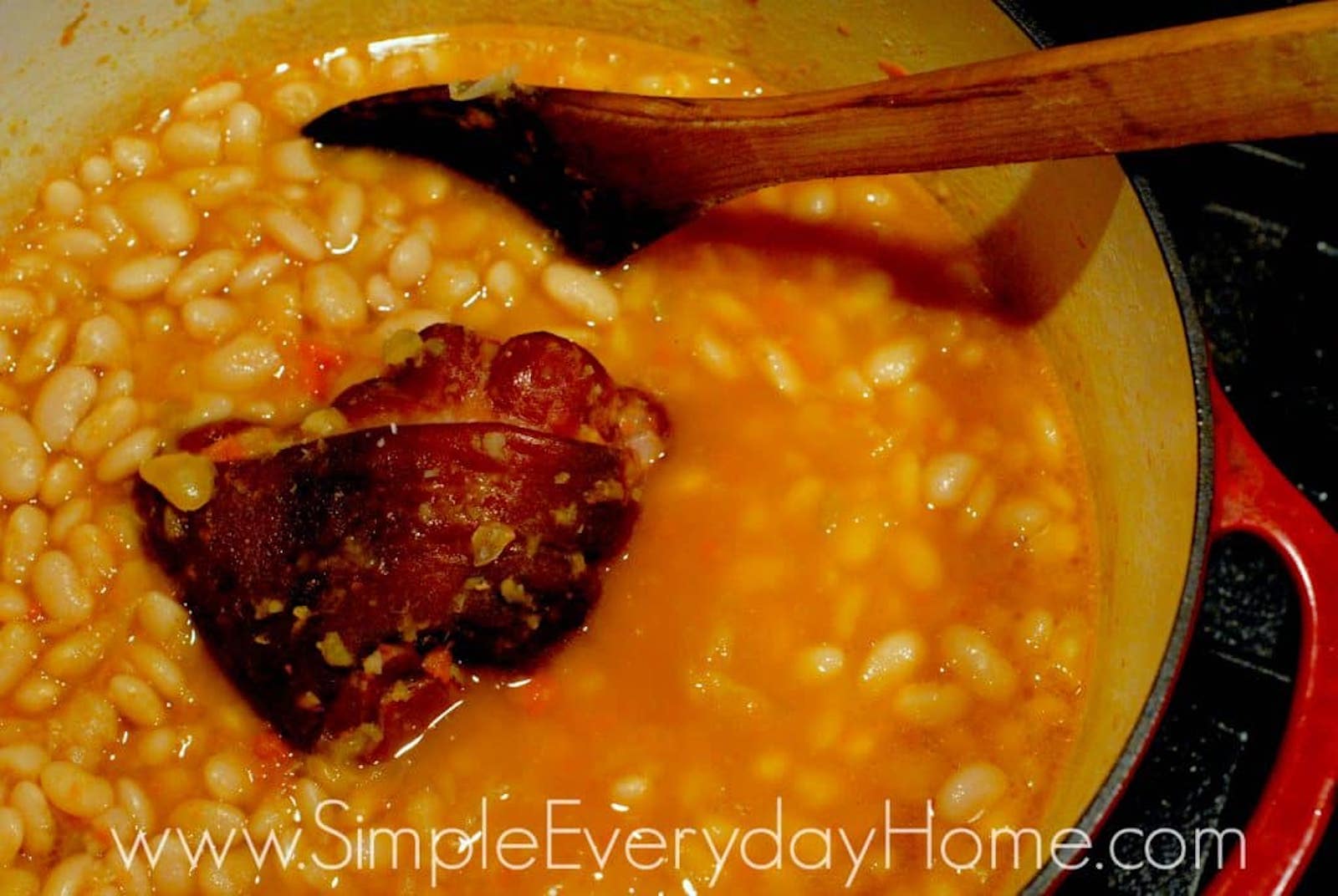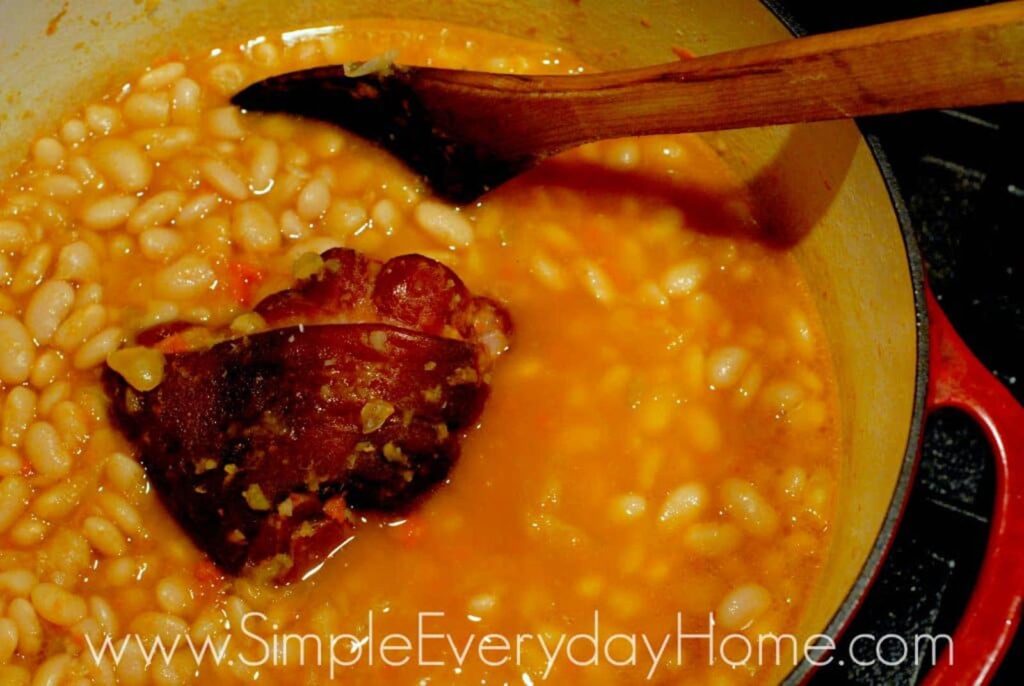 Stir the soup occasionally and start checking the beans for doneness after about an hour and a half, but expect it to take about three hours for them to fully cook. They should be very tender and creamy. Not hard and not mushy.
If they aren't done after checking them the first time, check them at half hour intervals. If you're checking them early and often, you'll know if you should turn down the burner, turn up the burner, or add a little extra liquid.
When the beans are finally cooked, remove the ham hock or bone and let it set on a plate for a few minutes until it's cool enough to handle. Pick off whatever meat you can find and stir it back into the soup.
Finally, bake some Everyday Biscuits or dinner rolls, ladle this deliciousness into bowls, and surprise your family with the news that bean soup really can taste this good!
Here's the handy dandy printable Navy Bean Soup recipe: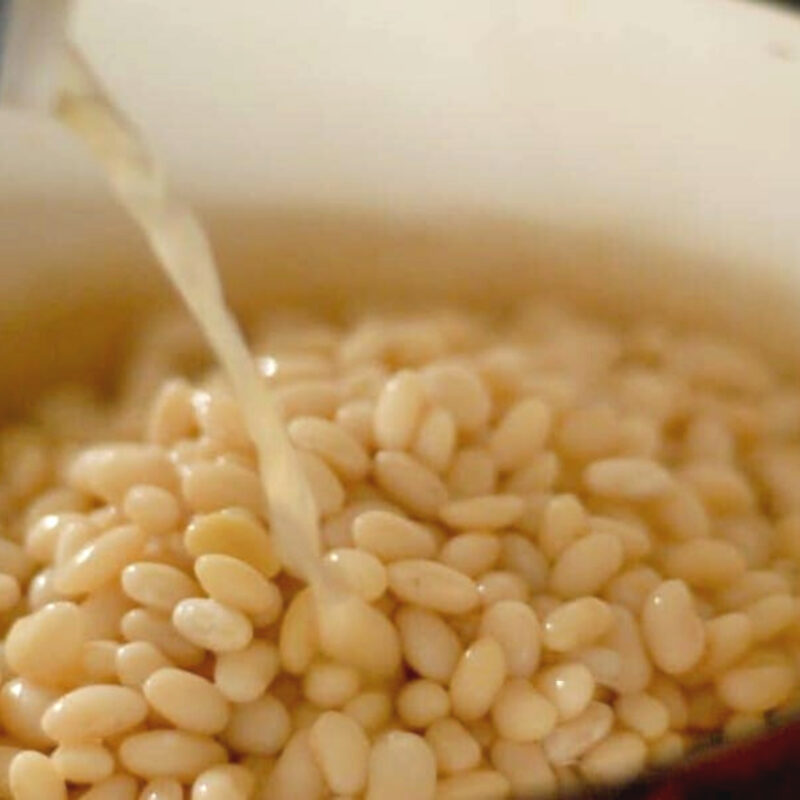 Print Recipe
The Best Navy Bean Soup
This really is the best Nave Bean Soup. It's so very rich and full of flavor. Your entire family will ask for more!
Ingredients
1

pound

Navy beans or Great Northern beans

1

ham bone or ham hock

1

carrot

1

stalk celery

2

tbsp

vegetable oil

8

cups

chicken stock
Instructions
Rinse and sort the beans, carefully looking for dirt or small rocks. Put rinsed beans in a large pan and cover with two inches of water. Let soak for at least 8 hours, or use the "quick soak" method.

To "quick soak" the beans, put the pot of beans and water on the stove over hight heat. Bring to a rolling boil. Boil for two minutes, then cover with a lid and remove from heat. Let soak for one hour. A spoon of baking soda can be added to the water before soaking (after removing from heat) to aid in breaking down the beans for easier digestion.

After the soaking is complete, drain the beans and rinse with fresh water.

For making the soup, dice the carrot and celery stalk. Heat the oil in the soup pot over low or medium-low heat. Add the carrot and celery and cook until tender, stirring often. Do not allow the vegetables to brown.

Add the drained beans to the softened vegetables in the pot and cover with the chicken stock. Place the ham bone or hock into the pot, being careful to arrange it as deep into the pot as possible. Turn up the heat to medium-hight and bring to a boil. Then, reduce the heat and simmer, stirring occasionally.

After 1 1/2 hours check the beans for doneness. The finished beans should be tender and creamy. They should not be too firm or mushy and falling apart. Keep checking the beans every half hour until they are cooked. This could take about three hours.

Once the beans are cooked, remove the ham bone or hock onto a plate to cool slightly until it can be handled. Remove any meat from the bone and stir it into the soup.

Salt and pepper to taste.