Everyday Biscuits: Quick and Easy for Any Meal
These Everyday Biscuits are so light and fluffy that the whole family will love them (and beg for more). Plus, they're quick and easy to make – perfect for breakfast, brunch, or dinner!
I love homemade biscuits. Seriously, anything made with flour and a whole lot of butter is worthy of love, don't you think?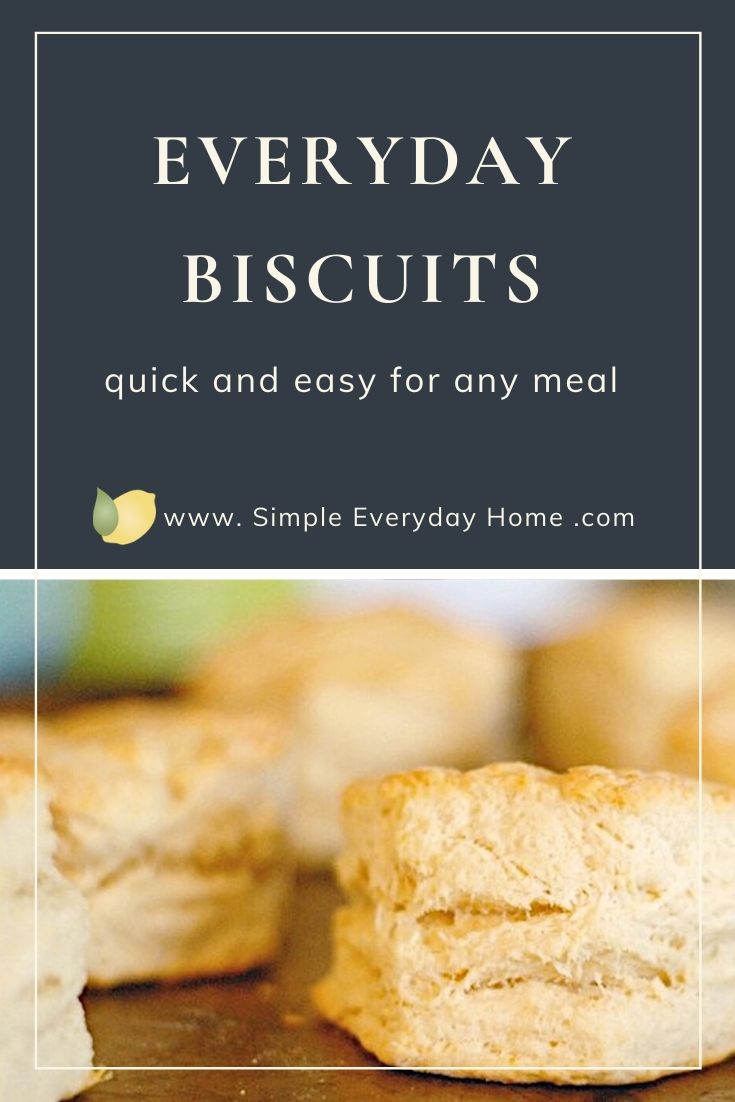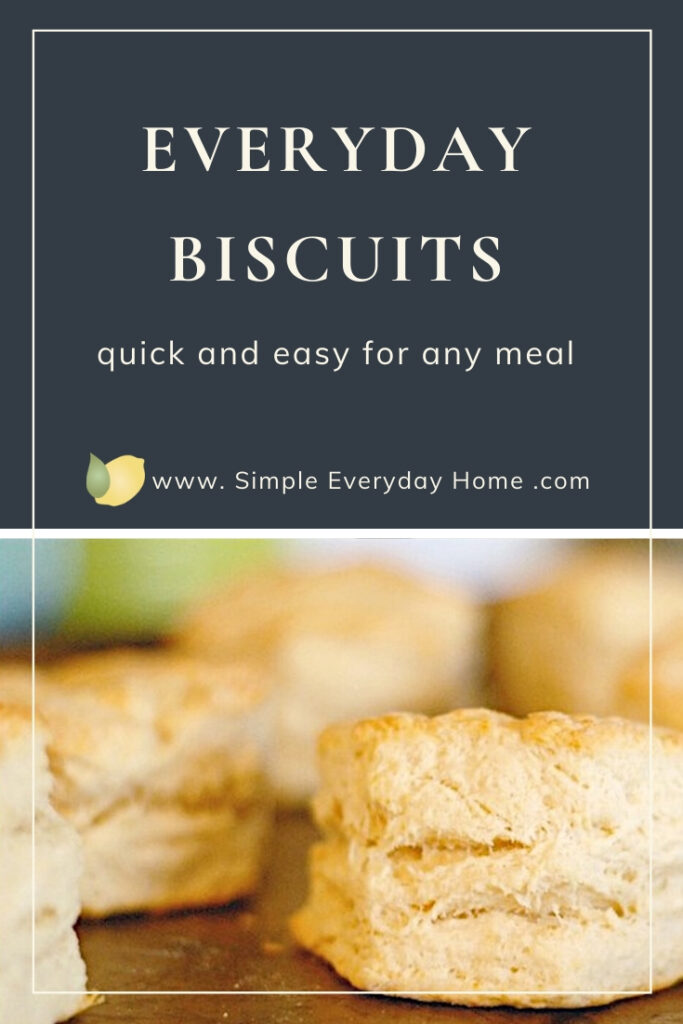 The great thing about biscuits (besides the fact that they're full of butter – yum!) is that they're quick to make and require very basic ingredients that I usually have in my kitchen.
Everyday Biscuits are perfect for throwing together at the last minute to complete a meal, and they're even easy enough for me to occasionally make for breakfast as a special treat to break up the monotony of bagels and cereal.
Get your FREE Simple Decluttering Cheatsheet!
Start feeling at peace in your own home! Learn how to pick the best spot to start decluttering AND step-by-step how to tackle the mess in any room in your house. PLUS get my best tips right in your inbox…and it's 100% FREEEEE!
Your email is safe with us. We wouldn't dream of sharing it with anyone else!
"You should see my house right now. Thank you so much for everything!!" – Carly
This particular recipe is super-easy, and with a little practice, can be mixed together and cut out before the oven finishes pre-heating.
Step-by-Step Guide to Making Everyday Biscuits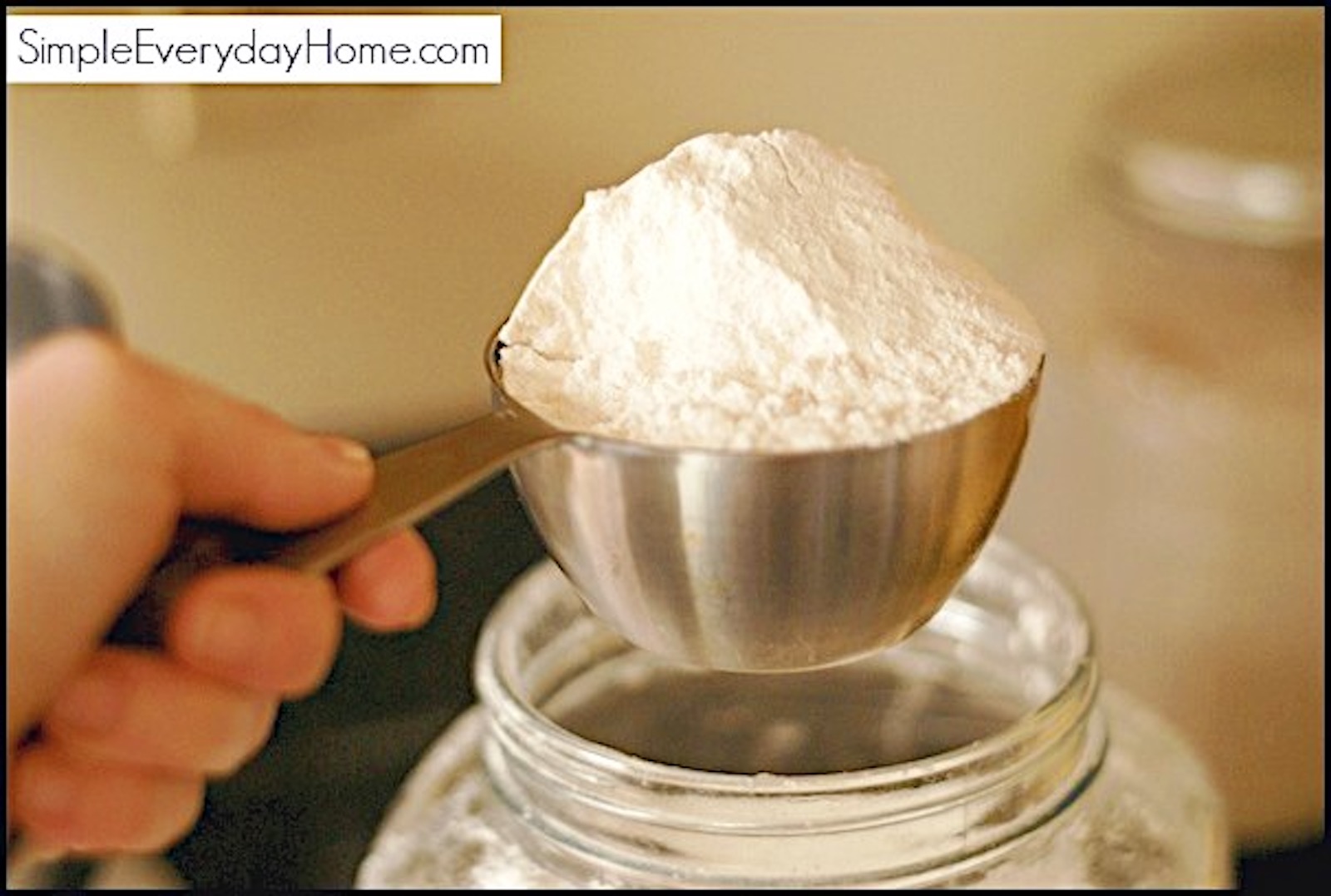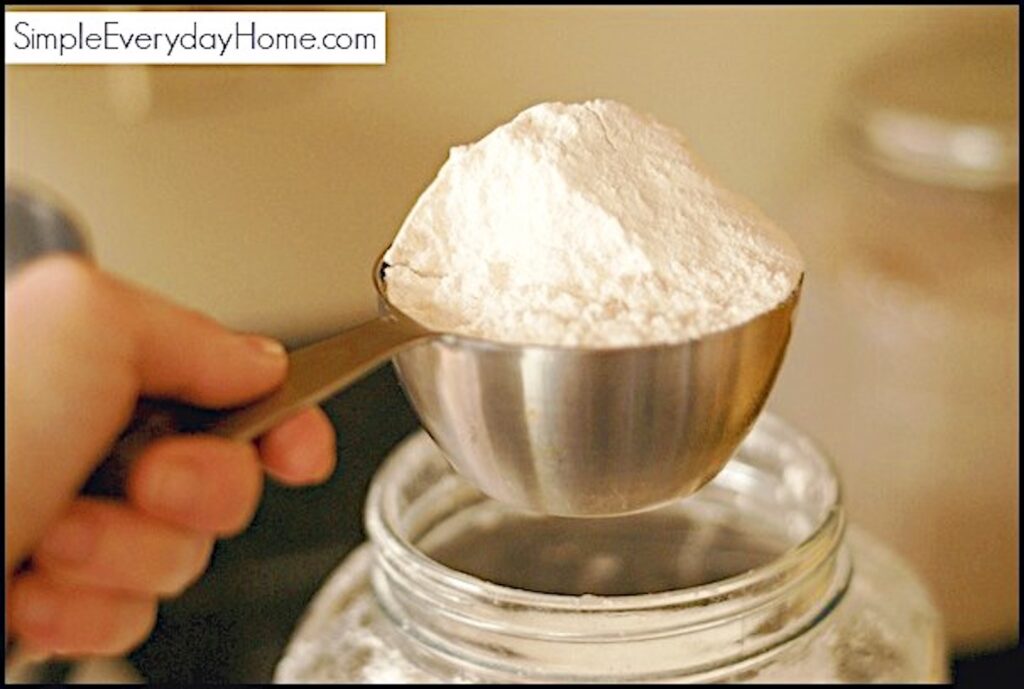 Measure the flour by scooping it with the measuring cup and then leveling it off with a knife. Or your finger.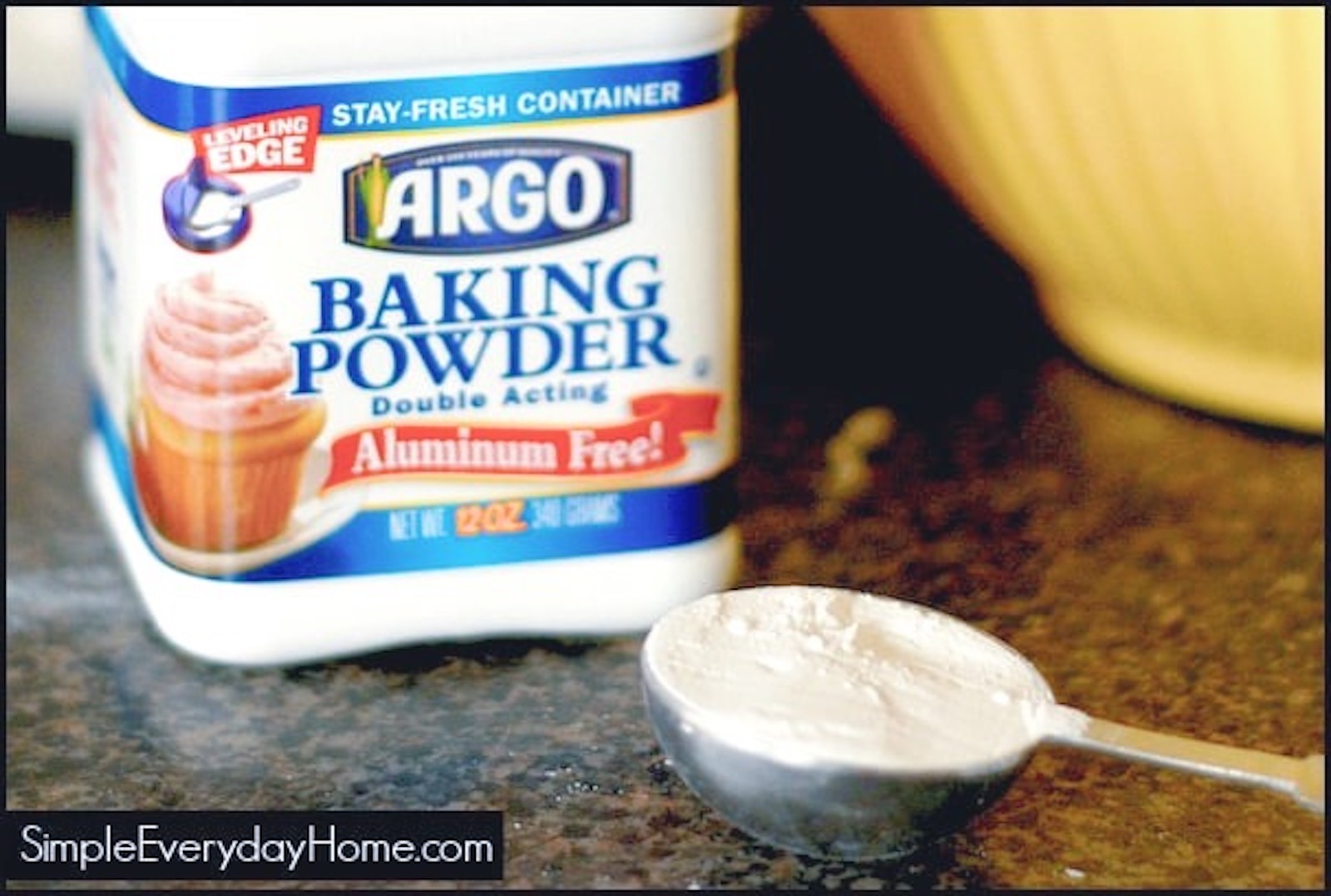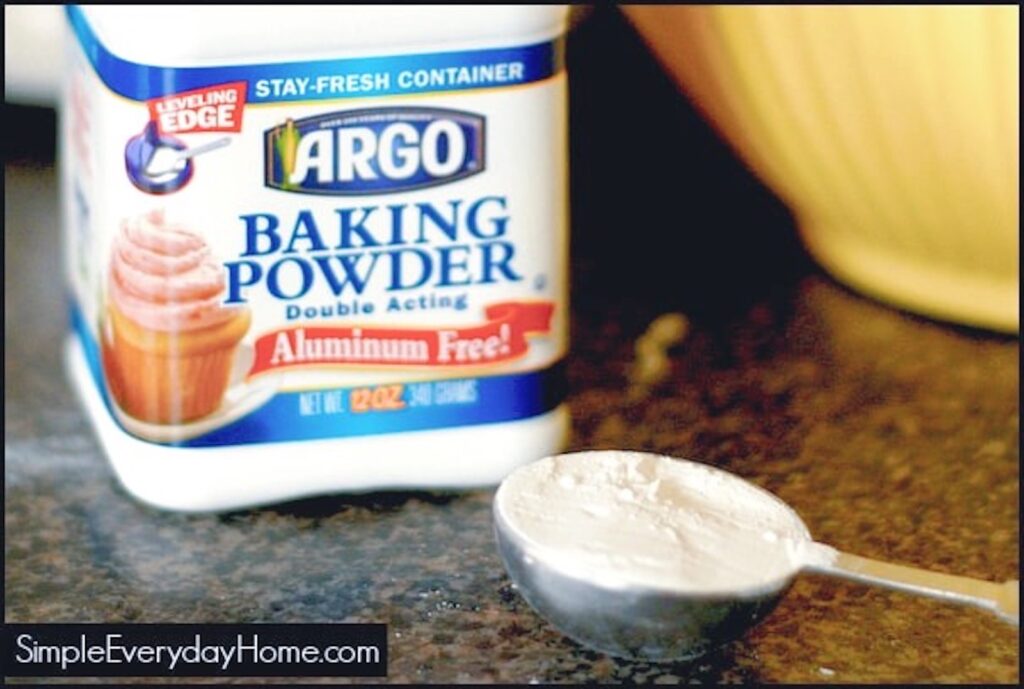 Dump the flour in a large bowl and add the baking powder and salt. Give it all a quick stir.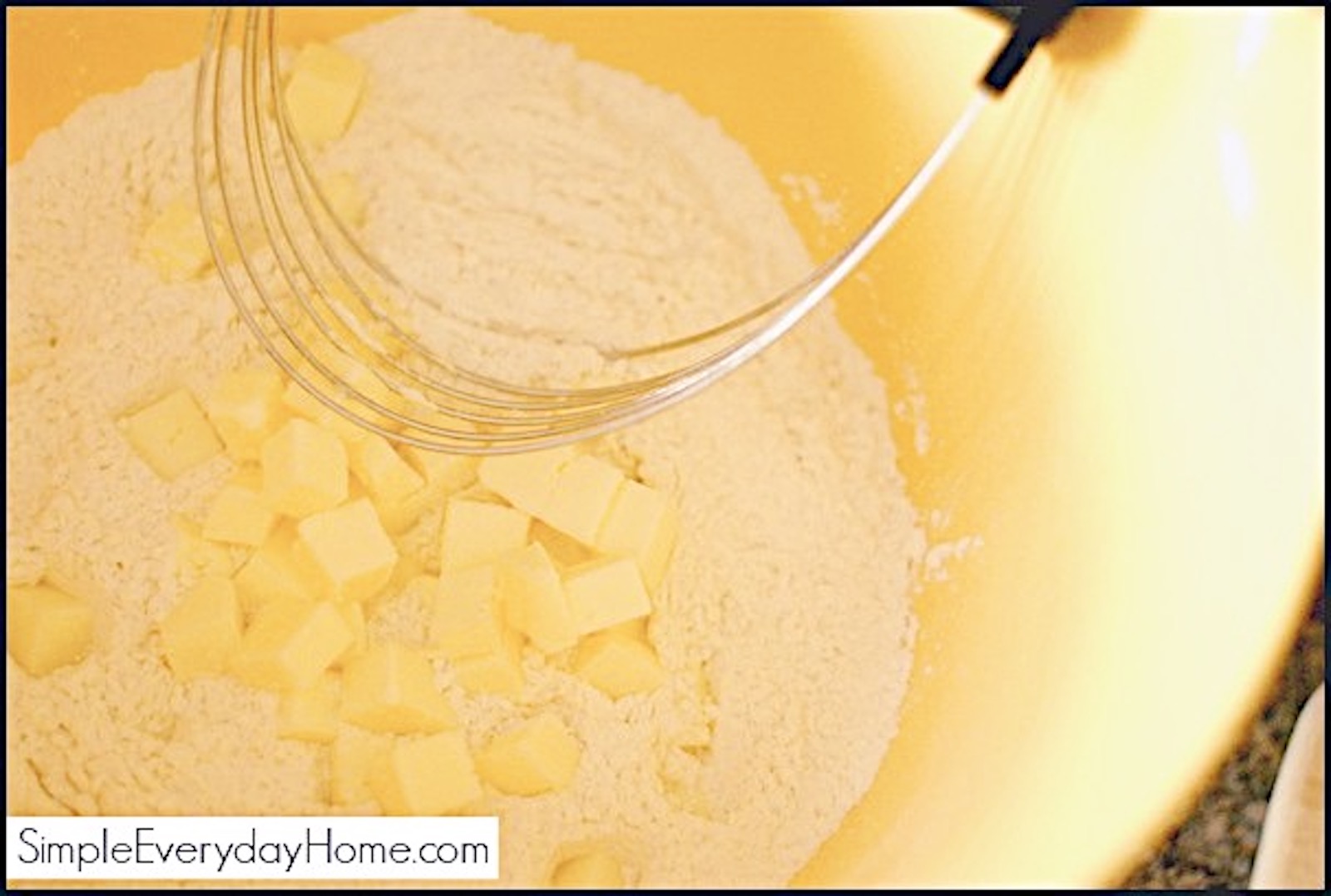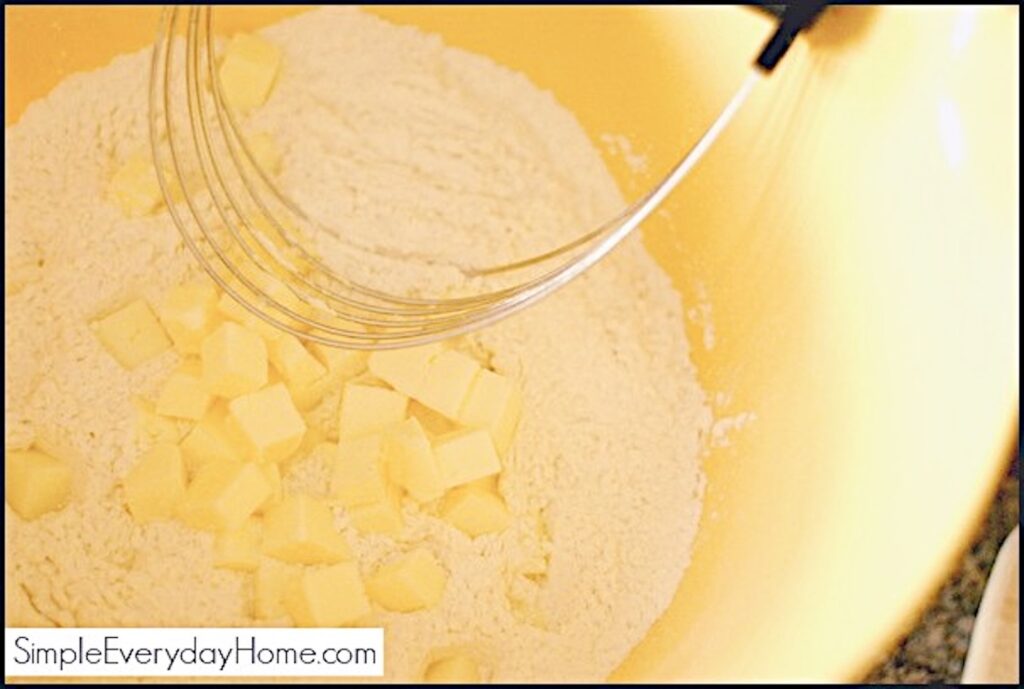 Next, chop the butter into small pieces (this is easily done with a large knife) and "cut" the butter into the flour mixture. They say you can use a fork or two knives to do this, but if you're going to make biscuits more than this once, I'd encourage you to pick up a pastry cutter like this one. (I do NOT recommend one like mine. The wires like to break over time.)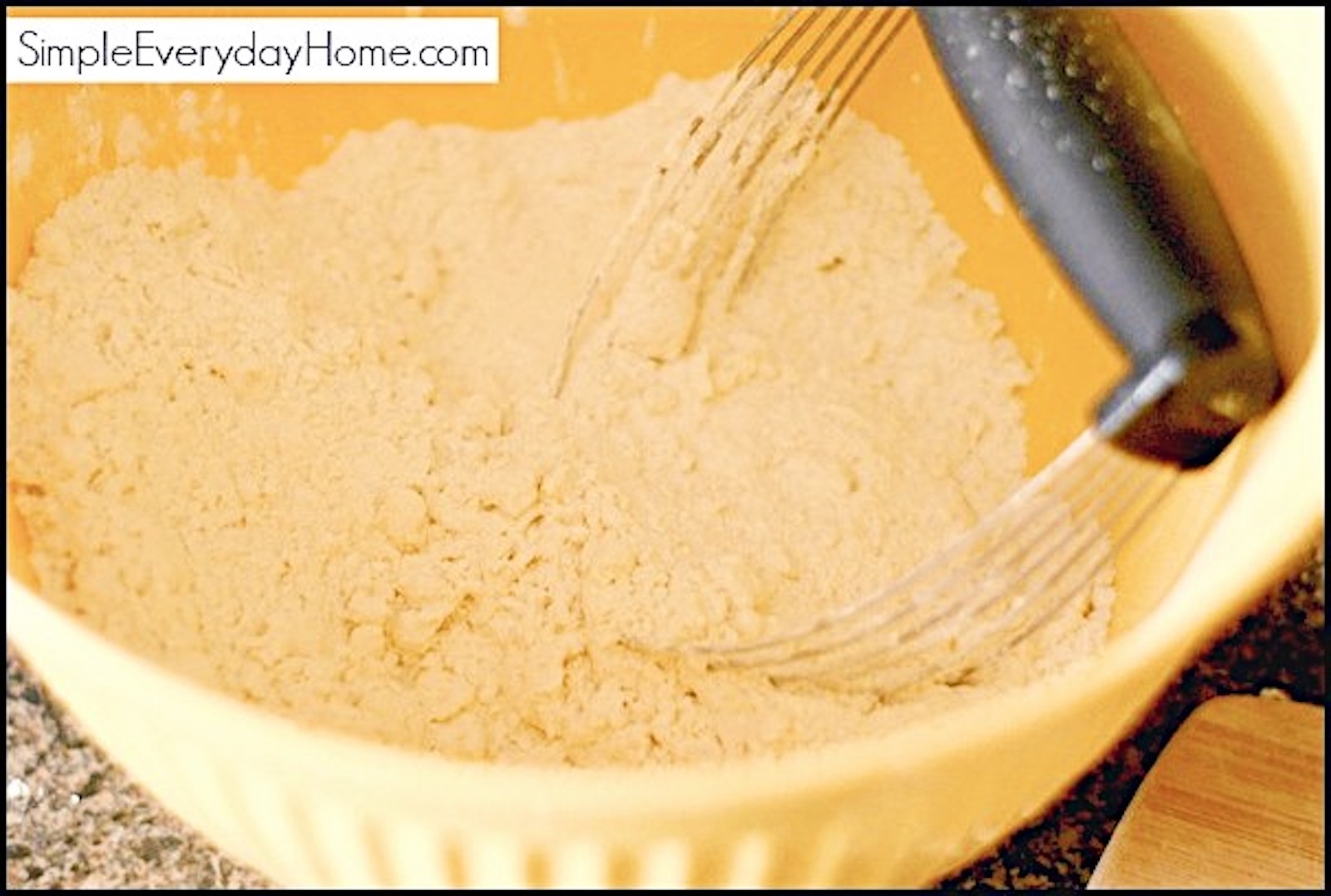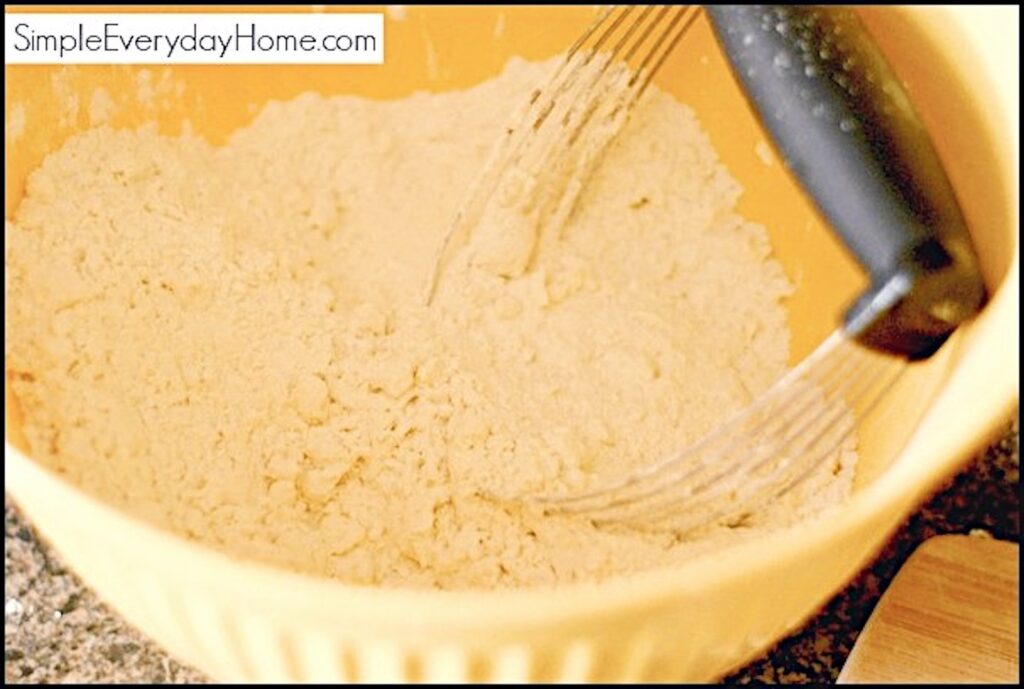 Just keep pushing the cutter into the butter and flour, knocking the butter off if it starts to build up on the blades. You're done with this step when there are no large chunks of butter left, and the mixture looks evenly crumbly.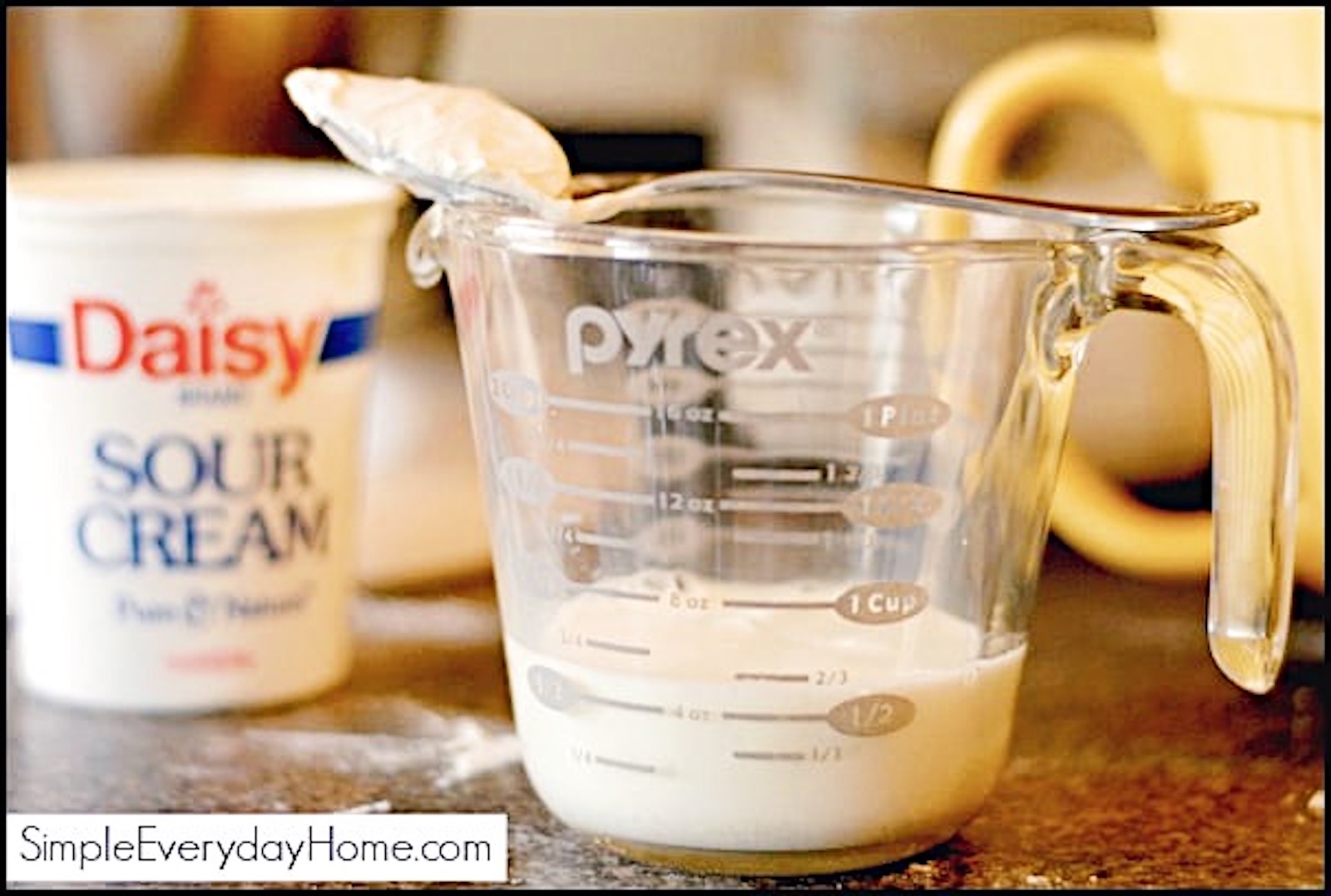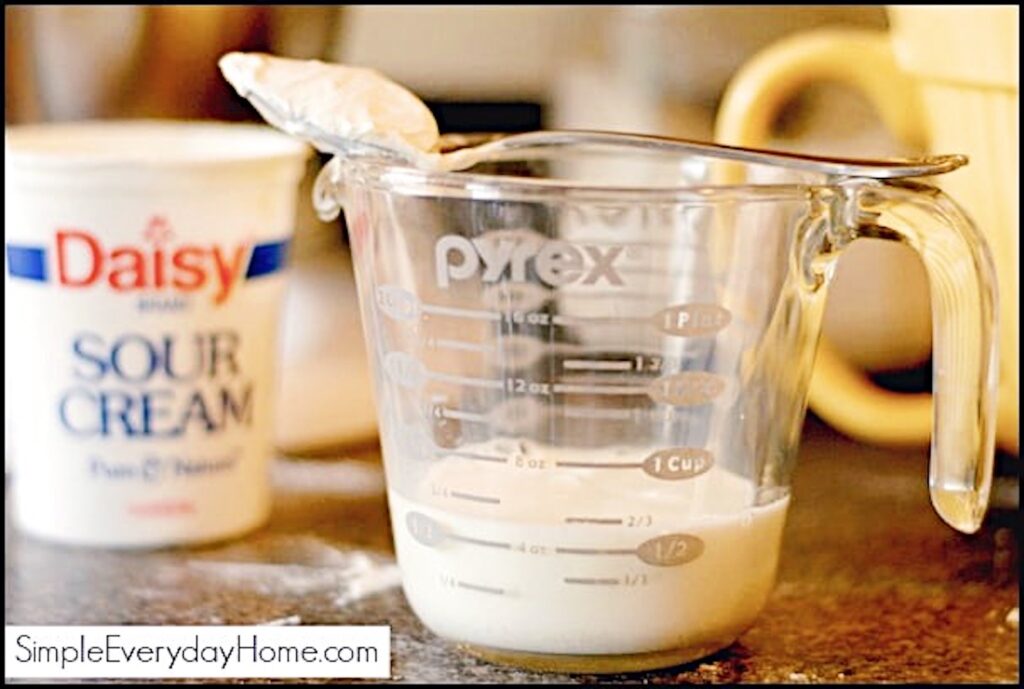 Now it's time to prepare the liquids. Measure the milk and drop in enough sour cream to make it rise to the 3/4 cup mark. Give it a little whisk with a fork, but don't worry about making it perfectly smooth. Some lumps of sour cream are no big deal.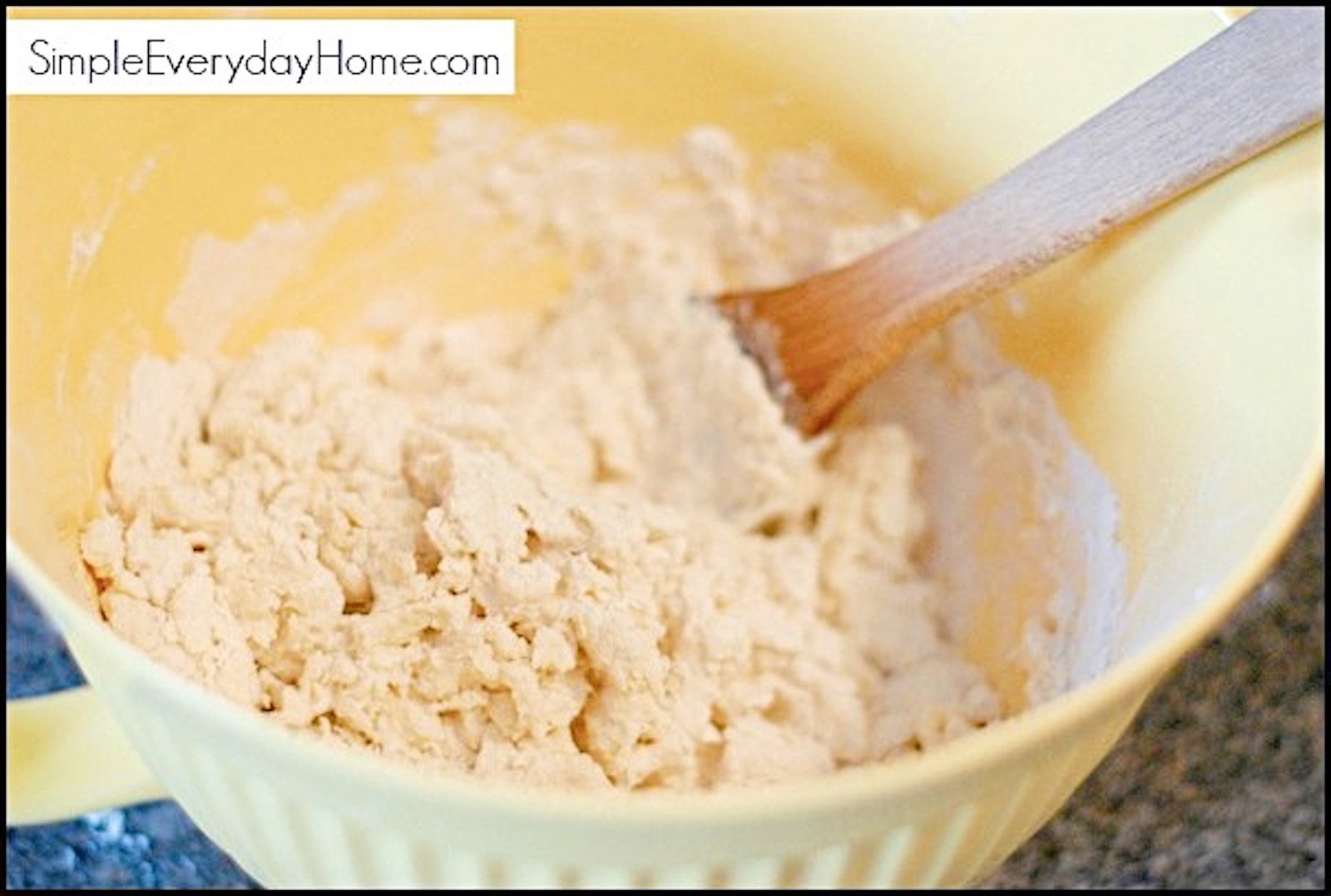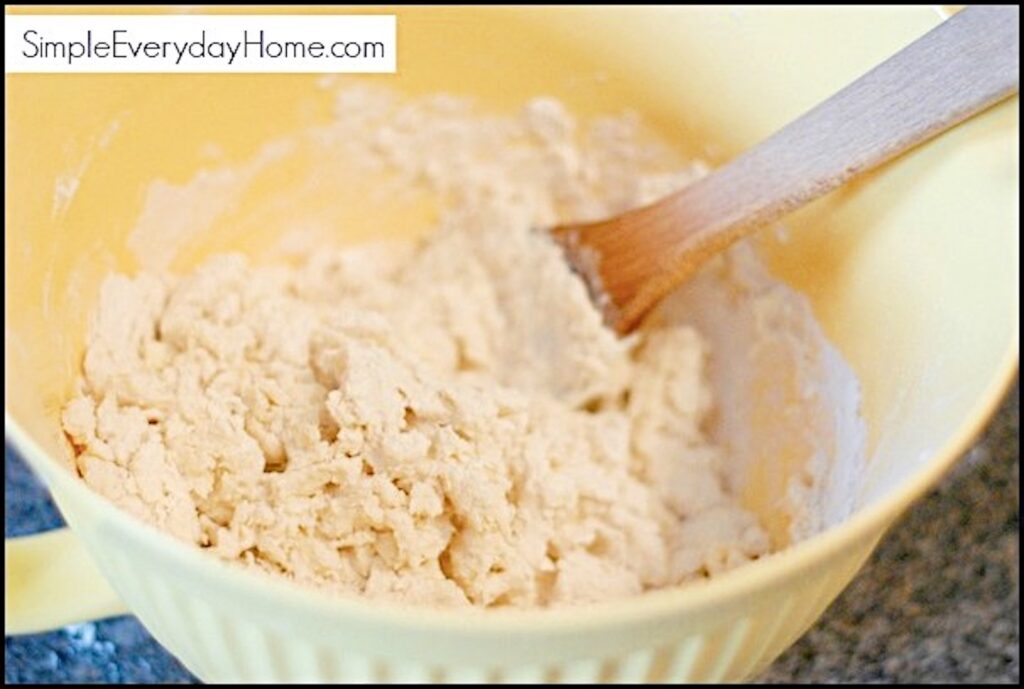 Pour the milk into the butter and flour mixture and gently mix it together using a fork, spatula, or wooden spoon. Gently, gently. No over-mixing allowed.
When it's mostly combined, you can use your hand to knead it inside the bowl a few times to incorporate the rest of the flour. Then dump it onto a lightly floured counter and knead it about six more times to completely mix it all together.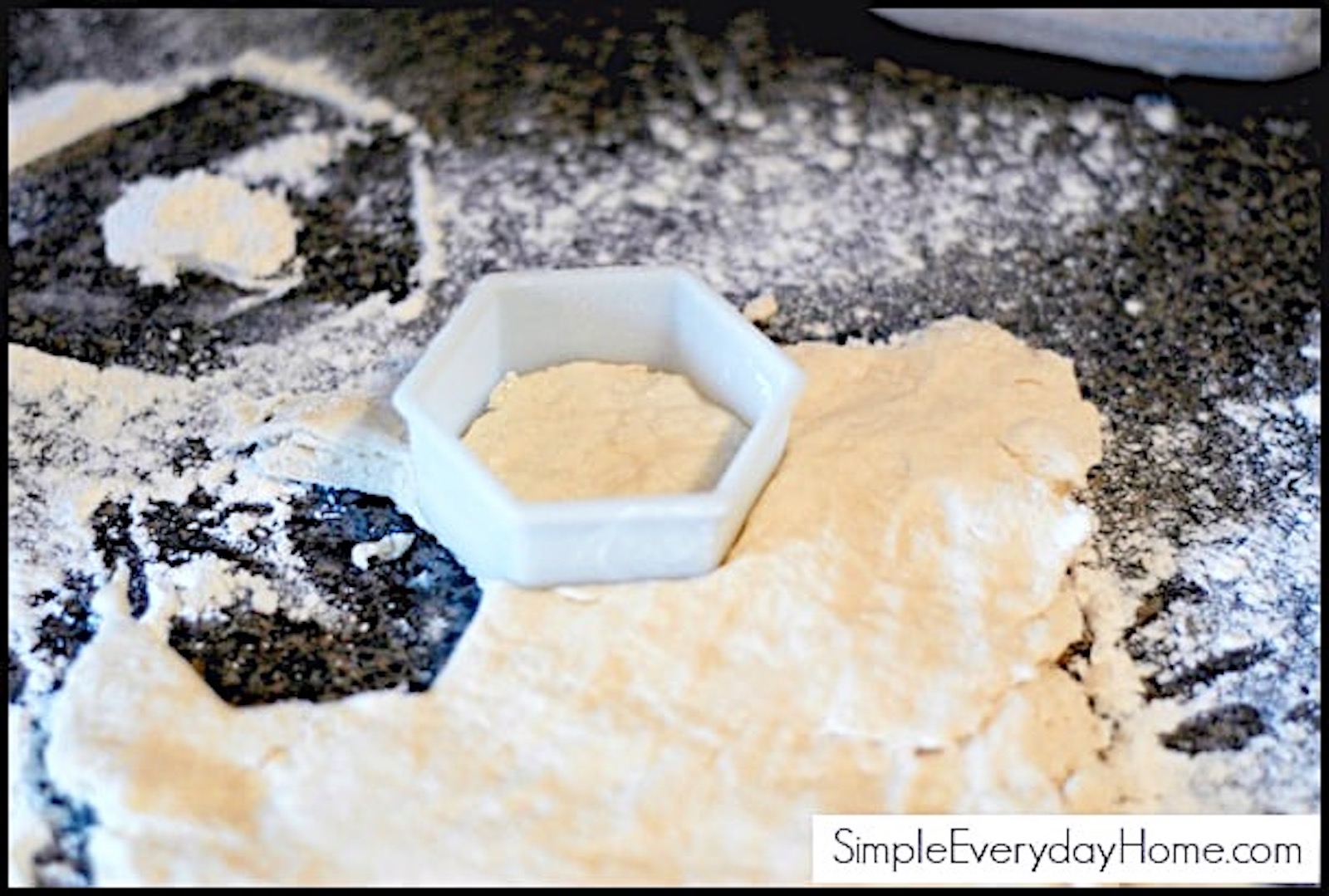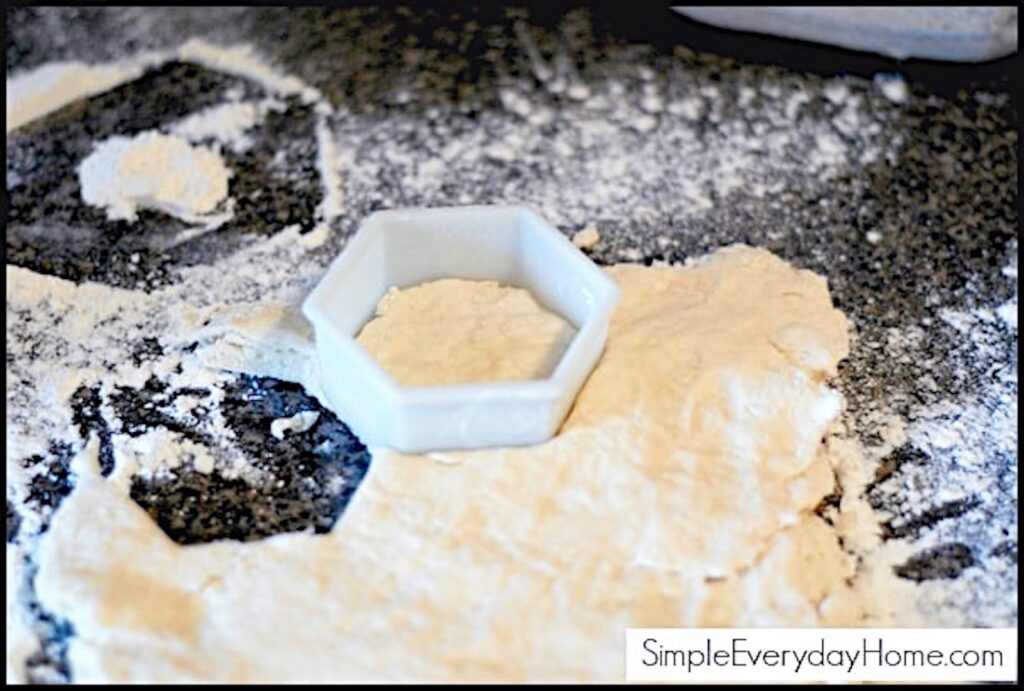 Use your hands (my first choice) or a rolling pin to flatten it into a half-inch thick disc. Cut out the biscuits with a floured biscuit cutter, cookie cutter, or drinking glass. Cut them to as closely as possible so you won't have much leftover dough. The extra dough can be pushed together and rolled out again, but those biscuits won't look as pretty.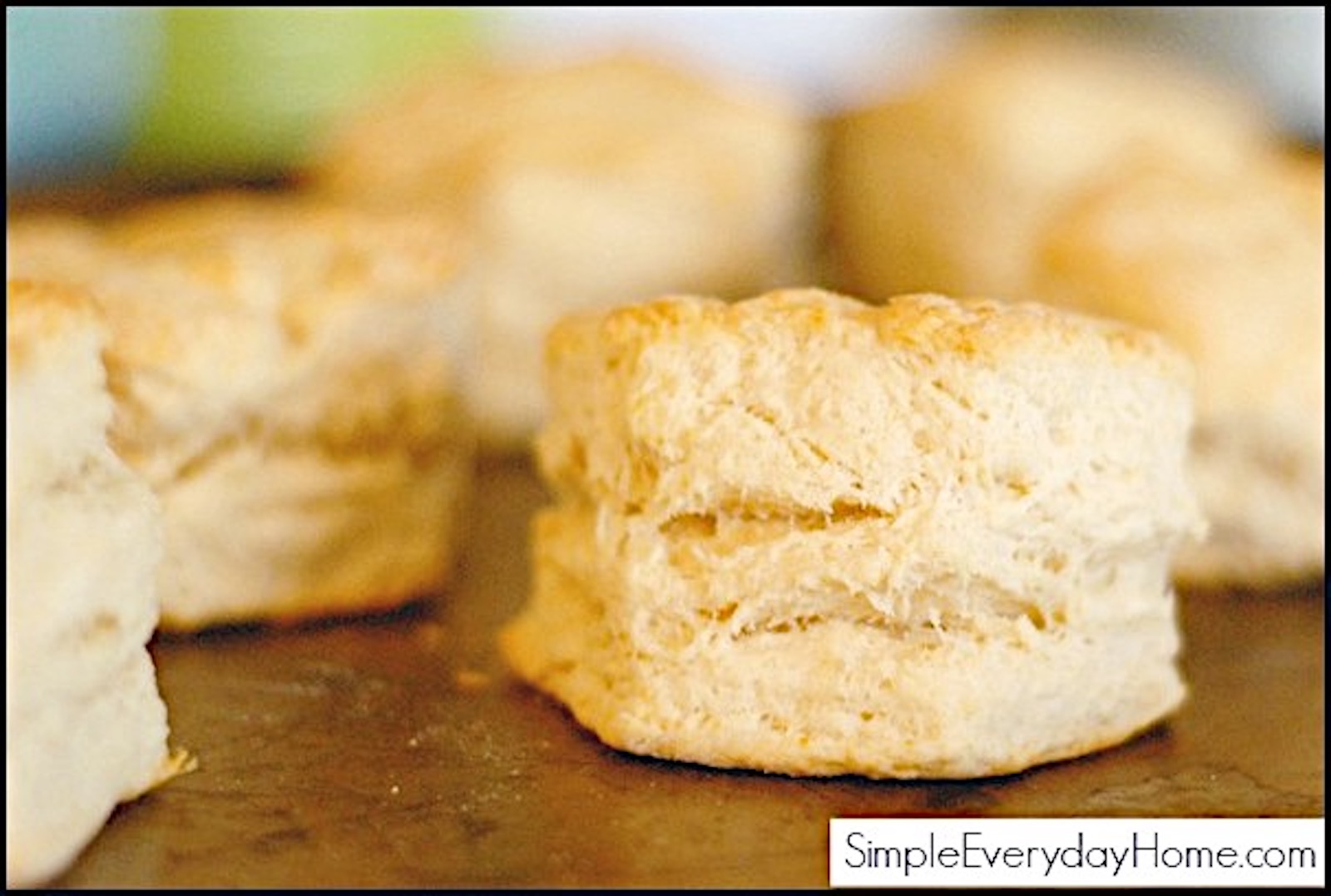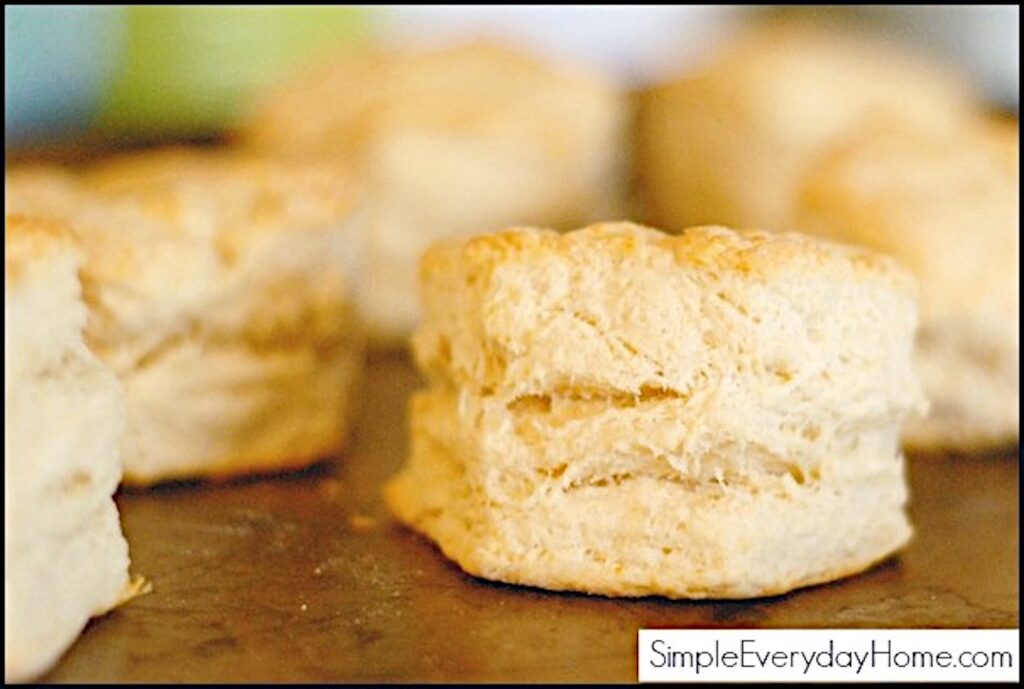 Place the cut-out biscuits an inch or so apart on an ungreased pan. Bake them for 10 to 12 minutes, or until they're all fluffy, and golden, and yummy-smelling.
These are great to make when you're having Simple Vegetable Soup, the Best Navy Bean Soup, or even a special Simple Ham dinner!
Here's the handy, dandy printable recipe: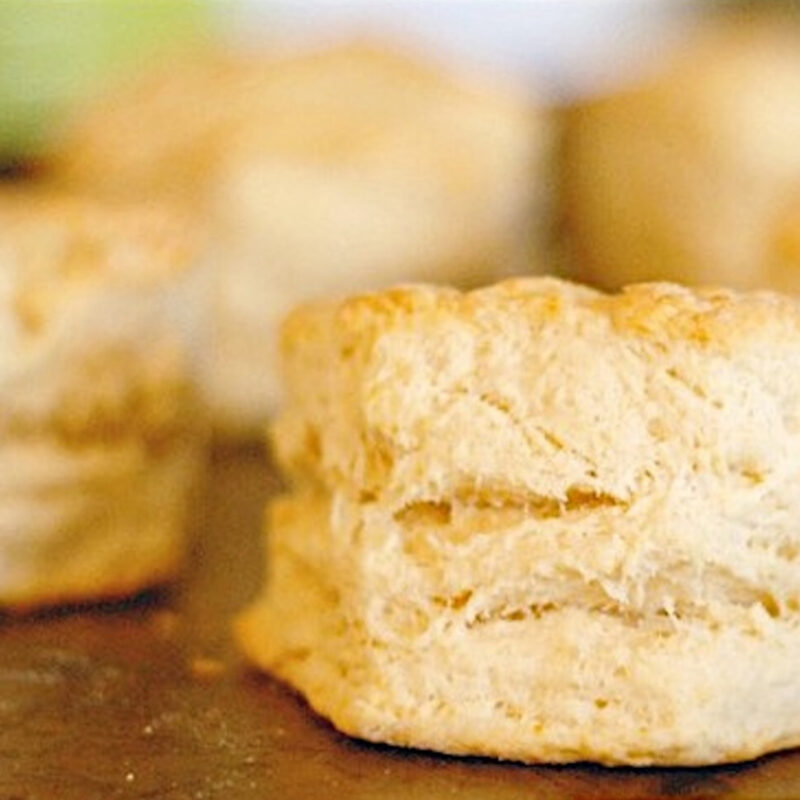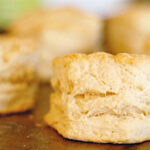 Print Recipe
Everyday Biscuits
These Everyday Biscuits are so light and fluffy that the whole family will love them (and beg for more). Plus, they're quick and easy to make – perfect for breakfast, brunch, or dinner!
Ingredients
2

cups

all-purpose flour

1

tbsp

baking powder

½

tsp

salt

⅓

cup

butter

½

cup

milk

¼

cup

sour cream
Instructions
Stir together the flour, baking powder, and salt. Cut in the butter until the mixture resembles coarse crumbs.

Combine the milk with the sour cream. Pour the milk mixture into the bowl with the flour mixture. Stir just until the dough clings together. Knead a few times in the bowl to incorporate all the flour.

On a lightly floured surface, knead the dough a few more times and roll or pat to 1/2-inch thick. Cut the dough using a floured cutter and place on an ungreased baking sheet. Bake for 10 to 12 minutes, or until golden.